5 Tips for A Modern Rustic Living Room Design
A rustic is always associated with shabby and unappealing. As time goes by, when it comes to house design, it becomes trendy and interesting.
The rustic design always embraces simplicity and authenticity. Though it seems traditional and old-fashioned, you can add a little touch of modernity, so it looks more diverse. Rustic is really flexible to combine with another interior style.
To nail the rustic look, here are some tips for a modern rustic living room design to perfect your interior.
1. Solid Wood Vaulted Ceilings
Vaulted ceilings give more natural light to your house so you can save electricity more. They also make your living room look spacious and emphasize the ethnic look. The solid wood offers high durability and a nice warm tone to your living room ceiling.
Currently, there is a trend to decorate a house with a rustic theme. You can start your home decoration in the living room on the ceiling which is made like a dome. The combination of teak wood with white melamine on the ceiling further strengthens the rustic theme of your living room. In this room you can also add a stone fireplace to warm the room maximally. The combination of teak wood with white melamine on a rustic vaulted ceiling from designingidea.
The wooden dome-shaped ceiling in the living room will maximize the light in the room. Besides making the room look more spacious, it can also make your living room more rustic and unique. Use thick pieces of wood to make it sturdier and not easily porous, cream paint emphasizes a warm and dramatic rustic style. Complete with beautiful classic furniture. Thick pieces of wood from the vaulted ceiling from designingidea.
2. Stone-covered Walls
Just like solid wood vaulted ceilings, stone-covered walls are incredibly durable. Having a strong characteristic—perfect for house materials, the walls are more resistant to chipping and breaking than other wall materials. The texture highlights the rusticness of your house and finishes the authentic touch perfectly.
In addition to the wooden dome ceiling, you can also highlight a rustic theme in your living room by using white stone walls. An open white stone wall will give your living room a natural impression so that a rustic theme will appear optimally. Instead, use the entire stone wall with teak framed glass windows. White stone walls from designingidea.
Using a wooden dome ceiling will be more optimal if you try to combine it with natural stone walls, don't forget to add a fireplace as an item that warms the room perfectly. You will find serenity and comfort when your guests visit the house. Leather chairs in brown give a warm and classic impression. Natural stone walls equipped with fireplaces from designingidea.
3. Soft Gray Table Set
Place a soft living room table set to add the modernity to your room. Modern design is all about being simple and innovative. The soft gray color is a perfect option to do your modern rustic living room design. With this table set, you can see and feel the most sophisticated living room ever.
The rustic theme in the living room will be even more real if you also use a soft gray table set. The gray table set here gives its own rustic impression because it has a color that looks old and worn. That way your guests will be amazed to see the unique appearance of your living room. Standing cabinets are a great storage idea that you can use so that the room doesn't look cluttered. Gray table set which looks old and worn from homedit.
The rustic theme you choose won't look dated if you use a soft gray table set with a hint of modern style. Because with this your room will still give a rustic impression to the living room. Also equipped with a large fireplace, it will certainly warm up the conversation when entertaining your guests. The open rustic living room frees your space without being claustrophobic. Soft gray table set with a hint of modern style from homedit.
4. Not Too Many Colors
Because the rustic interior is all about authenticity and simplicity, putting too many colors will only ruin the look. All you need is just a natural and warm tone color to perfect your aesthetic room.
The solid wood vaulted ceilings and stone-covered walls already set the examples of the colors. All you need to do is just adjusting the rest of the interior color to match the walls and ceilings.
The choice of color in a rustic theme is very important, choose a color that matches wood and stone accents to keep its simplicity. The right color combination will produce the perfect living room decor look. The brown color on the walls with exposed stone materials, wooden floors, and a wooden dome ceiling will match well with a beige table set. Wooden floors make for comfortable footwear. A rustic living room in matching colors with wood accents from homedit.
If you have used a lot of wood accents in your rustic living room, you can add another color to one of the interior of the room. Try to choose a color that is not too flashy or you can try with a dark color, for example, dark red on the table set and rugs. These colors will look harmonious when combined with wood accents in your rustic living room. This color combination is intended so that the room is not easily boring. The combination of wood accent colors with dark red in a rustic living room decor from homedit.
5. Wide Apertures
Wide apertures help the vaulted ceiling to give natural light perfectly. They help you to enjoy the outside view more while radiating the warmth as well. You can feel less stuffy and more comfortable thanks to the existence of wide apertures.
If you are worried about using dark colors in the living room which makes the room look cramped, don't worry, you can try using a wide open vaulted ceiling so that the light can enter the entire room, so the room will look wider. In addition to assisting the entry of light from outside, the wide opening at the top of the wall can also regulate air circulation which can keep the living room fresh because of good air circulation. Wooden ceiling vaulted wide openings from homedit.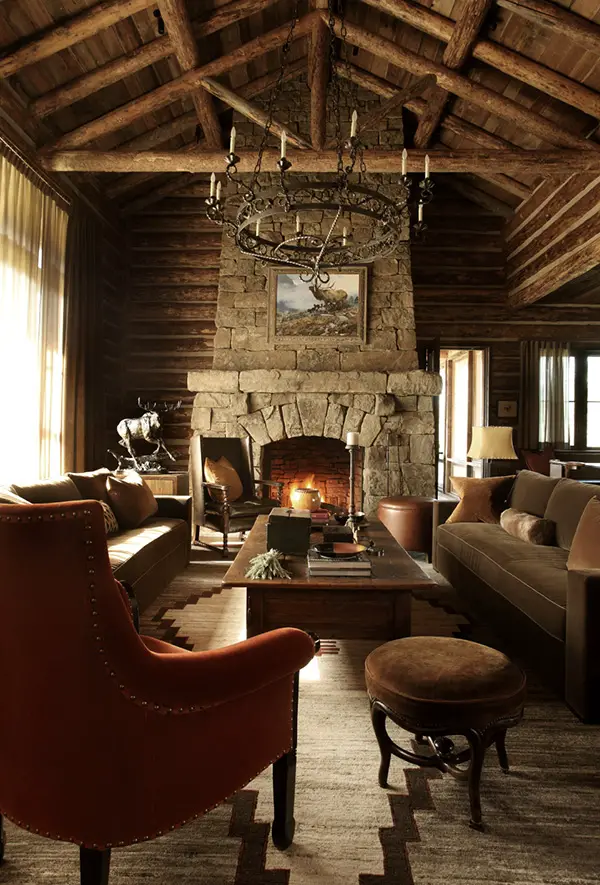 The wooden vaulted ceiling will get maximum lighting if you make a wide opening on one side of the living room. Using large glass windows can be a solution in your modern rustic living room. With a combination of a wooden dome ceiling, walls with open stones, choosing the right color and wide opening will make your modern rustic living room theme more perfect and beautiful. Classic furniture becomes a comfortable relaxing area. Wooden vaulted ceiling with large glass window from homedit.
Do your modern rustic living room design right and liven up your dream house!