Gorgeous Kitchen with Stone Tiles Flooring
Stone material might do not look sleek like the ceramic or marble materials but it has the impression to awe you. It has an artistic character with its strong nature element especially when you have it in an unfinished look. However, although its natural character is really strong it doesn't mean that you can't apply it to your modern kitchen decoration. Here, the stone floor material could be divided into two parts, those are the one that has the modern look and the other one is the stone that has the rustic look.
Modern Look
For the modern stone tile flooring, it won't be that sleek and modern. It still has the natural touch which sometimes even needed to calm down the rigid modern impression. The difference will be on the final touch where the modern stone flooring will have the finished look more than the rustic one. For the color, there will be white, beige, brown, or even black. You can choose the one based on the decoration style you are going to bring to your kitchen.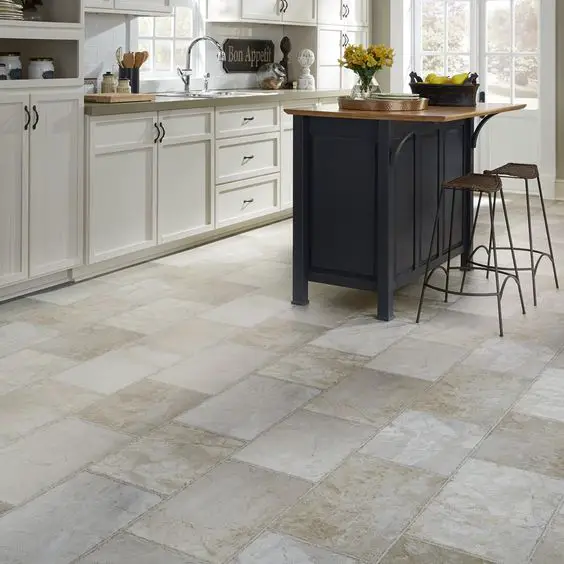 The white stone flooring works perfectly against the white and black wood on your cabinets and kitchen island. You can choose a stone with a square shape to create a more flawless and elegant impression of the room. Besides that, stone material also has a cheap price and is easy to find around your home. White stone floor from digsdigs.
You can choose a stone floor with two different shapes to add a beautiful artistic impression and not too much. Polish the top surface of this floor to make it look more shiny when exposed to light or the sun. Stone material has a cheap selling value so it is perfect for those of you who want to create modern kitchen decorations on a budget. To emphasize the modern style, you can repaint all wooden furniture with white color. Stone floors combined with wood furniture repainted from digsdigs.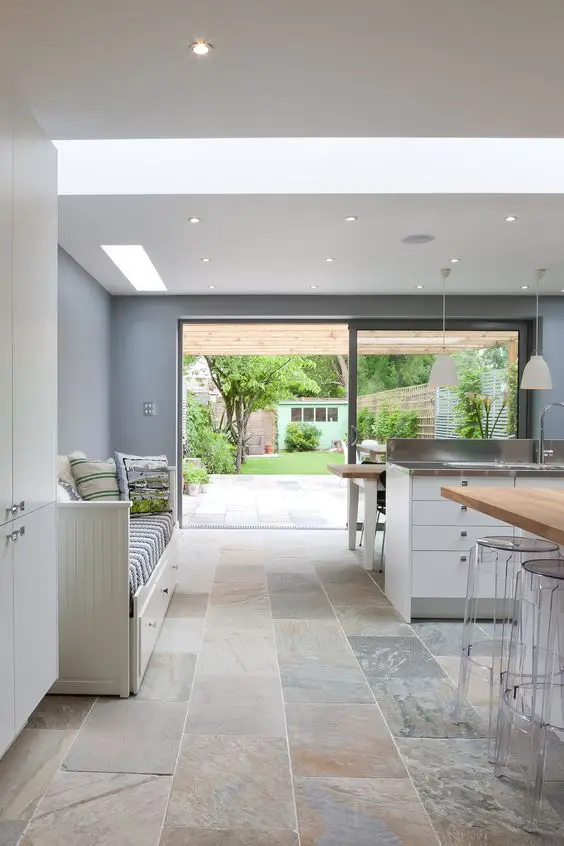 The advantage of using a stone floor is that it has a non-slippery surface so it is suitable for those of you who have small children. Choose a square stone floor with different textures and colors. The modern style in this kitchen is characterized by open space and some minimalist furniture. You don't need to use too much furniture to get free space. Square stone floors with different textures from digsdigs.
To give the impression that the kitchen room looks wider, then you can try applying a large stone floor. You can harmonize this stone color with the current kitchen nuances, white is your favorite color choice and is highly recommended for you. There is nothing wrong with including wood accents in several kitchen interiors such as stools, floating racks and window frames. The combination of wood and stone adds a warm natural impression. The stone floor is bigger than from digsdigs.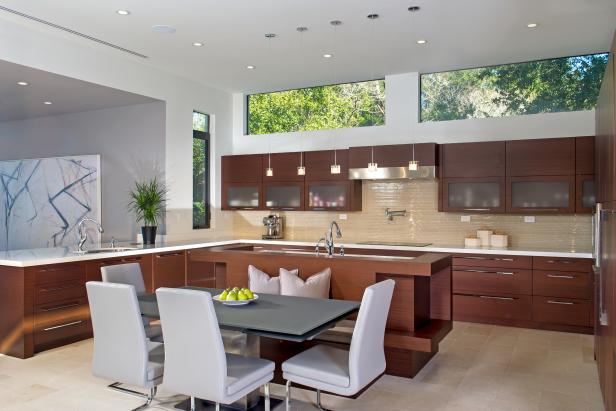 An easy way to use modern style with stone floors is to combine it with minimalist furniture around it. You can choose a modern set dining table that is comfortable to use. This limestone floor has a neutral color so that it fits well with whatever interior surrounds it. Limestone floor with minimalist and modern furniture from hgtv.
Rustic Look
To choose the stone flooring with a rustic look will be so much easier. You just need to find the one with the unfinished look or the one that has the weathered appearance. There will be so many color choices for the rustic look stone flooring. You can even find the one with red shade stone to add the beauty of your kitchen. Anyway, having the rustic flooring look for your kitchen doesn't mean that you can't combine it with modern furniture. Here are the examples of stone flooring with a rustic look.
Old stone kitchen flooring adds a rustic impression to a room. Stone material is also very on budget because it has a selling value that is not too expensive. In this kitchen you can combine it with a reclaimed wood dining table set with chairs covered in white cloth. Make this kitchen decoration more spacious by using enough furniture. The wood on the cabinet and ceiling also emphasizes the warm and natural rustic style, take advantage of the empty and plain wall space with some beautiful artistic paintings. Old stone kitchen flooring from digsdigs.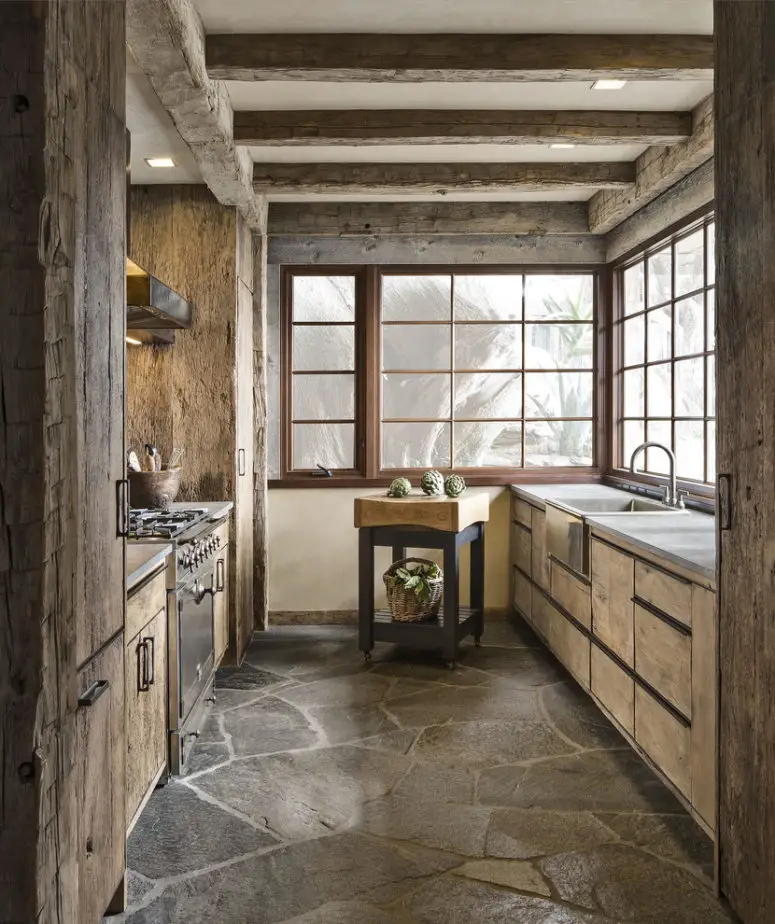 Allowing natural stone to be the bottom of the kitchen also creates a warm and distinctive impression. Not only does it look rustic, but also a room that presents a traditional impression that follows the current trend. For furniture and ceiling ideas, you can try using rotten reclaimed wood. There's no need to repaint this wood to emphasize a simple, straightforward rustic style. This large window provides sufficient lighting to the room. Natural stone flooring with weathered reclaimed wood interior from digsdigs.
Although this natural stone floor has a rougher surface, it is not slippery and very safe for those of you who have small children. Besides that, the stone floor also emphasizes the rustic style of the kitchen more easily and comfortably. You can complement this kitchen décor with a classic yellow light chandelier. Don't forget to use kitchen cabinets with shabby wood and paint that has worn a little. Natural stone floors are suitable for those of you who have children at home from digsdigs.
Choose several stone floor colors for a more colorful kitchen decor look. This rustic kitchen will be more perfect when combined with wood accents in several areas. For example on poles, cabinets, kitchen island and dining table set. The combination of these two materials will never fail to decorate a warm, natural rustic feel. Flowers blooming with bold colors is a decoration that is not boring. Stone floors with several different colors from digsdigs.
The black and white combination in this rustic kitchen decor brings a cool masculine feel. This black stone floor has a neutral color that can be combined with other interiors around it. You can also add a warm, soft texture to a faux fur blanket that is tossed over a wooden bench. Choose a teak ceiling for a sturdier and stronger appearance. Black stone floor from homedit.
Basically, whether you want to choose the stone flooring with the modern look or rustic look, both are awesome and possible to be combined with any decoration style. Then here, what you have to do is just simply choose the one based on your personal taste. Since you have seen the pictures references above that both stone looks can be absolutely used to create any style you want, then your task is just preparing the furniture to be matched with the floor.