Unwittingly, a backsplash becomes something that has such a big impact on your kitchen. The first one is for its cleanliness where the backsplash is really prone to be exposed with the dirt. That is why choosing the right backsplash tile material can really bring the difference to your backsplash. Hence, some people prioritize the beauty of the tile than for the ease of the cleaning process and that is not wrong at all since you can manage to maintain its cleanliness. For your references, here are some different tiles that might possible to be applied for your kitchen backsplash.
Ceramic Tile
For you who prioritize for the cleanliness and the look at once, ceramic tile is the best choice. It is because of the ceramic material that allows you to clean in easily. Moreover, ceramic also has so many different patterns and colors nowadays where you can choose the one as you want. Just simply adjust it based on the kitchen decoration style that you want to adapt. You can even combine two or three different ceramic patterns to get the perfect design to fulfill your imagination.
So that the appearance of your backsplash looks more luxurious and shiny, then you can sprinkle the glass material on each of these ceramic backsplash patterns. White is always a neutral color choice that can be combined with any interior around it. The combination of ceramic and glass pattern backsplash from hgtv.
The designs and colors of ceramic backsplashes in these modern kitchens always look artistic. The combination of green and white on the ceramic backsplash will look shiny when exposed to light. This navy blue kitchen decoration gives the room a brighter and fresher impression. You can use unique shaped lighting. Ceramic backsplash with green and white color from hgtv.
Glass Tile
Just like the ceramic material, the glass material also has the characteristic that makes it easy to clean. The other advantage of the glass tile backsplash is that it can give a spacious impression which is good for you who has the small kitchen space. Then, talking about the beauty, the glass material has an ability to reflect the things around that can be the uniqueness of this material.
In order for your kitchen decoration to look more perfect, then you can try glass tile backsplash with two different colors. Use a pattern on this backsplash so that it doesn't look boring. Glass material is easier to maintain because you can simply wipe it with a cloth and cleaning liquid. Glass tile backsplash with two different colors from hgtv.
There is nothing wrong with choosing glass mosaic tiles with striking colors as a beautiful focal point in this kitchen decoration. Reflect the light in this yellow color for a clearer and more realistic backsplash. Try combining it with a metal countertop for a perfect match. Glass mosaic tile backsplash from hgtv.
Marble Tile
The thing that comes first when talking about marble material is how it could create a luxury impression although it might only in a simple white with black line pattern color. You can use this material if you want to create a classy and luxury style for your kitchen. In addition, talking about the cleanliness, marble material gives you ease to clean it which will be really worthy for your backsplash material.
Marble is one of the favorite kitchen decoration materials to present a modern backsplash. The advantage of using a marble backsplash is that it is easy to clean at any time from oil stains or water splashes. To prioritize the beauty of the kitchen, you can enhance it with the dominant blue wallpaper. Modern style marble backsplash from hgtv.
Wood Tile
In case you want to accentuate the warm impression for your kitchen more than the ease of the cleaning, then wood is the best choice for you. You can manage to have it in its natural color without any pain touch so that you can bring out the nature element strongly. Here, to maintain the durability of your wooden backsplash, you can provide the window that let the sunshine in to help you manage the backsplash dry. Moreover, giving good air circulation to your kitchen will also help you to maintain the humidity in your kitchen.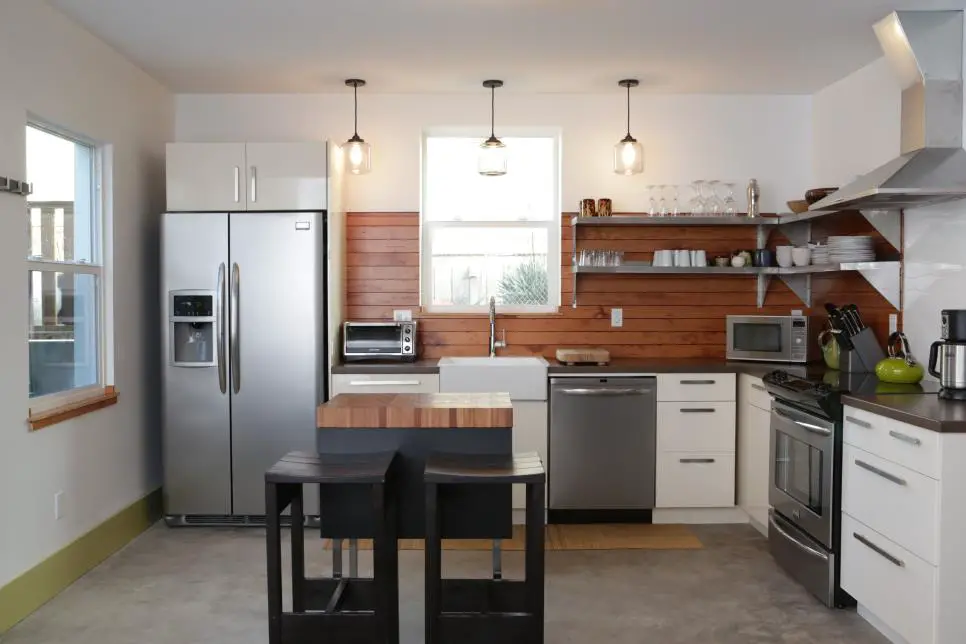 There is nothing wrong with presenting natural nuances in your kitchen decor. This wooden backsplash is a cheap and environmentally friendly accent, for a shinier look you can repaint it with dark brown color. Wood will fit in any space and in any style. Dark brown paint wooden backsplash from hgtv.
Natural Stone Tile
Having the natural stone for the backsplash with unfinished touch can also worthy because it will bring out a certain artistic look that you won't get from the sleek material. Anyway by utilizing the rustic material doesn't mean that you should apply the rustic decor style. Here, you can combine it with other styles. Look at this kitchen decoration where the unfinished stone backsplash combined with the sleek marble countertop material.
Try pairing a stone backsplash with a marble countertop into a different blend in your kitchen decor. Stone backsplash is not only used in rustic kitchen decorations but can also be applied in modern styles. You can combine it with a white ceramic countertop which looks more modern and minimalist. Combination of natural stone backsplash with ceramic countertop from carlaaston.
Metal Tile
For the modern style with the luxurious look, a metal backsplash tile could be your choice. Here, you can choose the one that has texture or pattern just like what we have here. It will be awesome because the metal material could be shining which is really effective to create a luxurious impression. Combine it with the calm bold color scheme if you don't want to make it look too standout like the dark blue and white.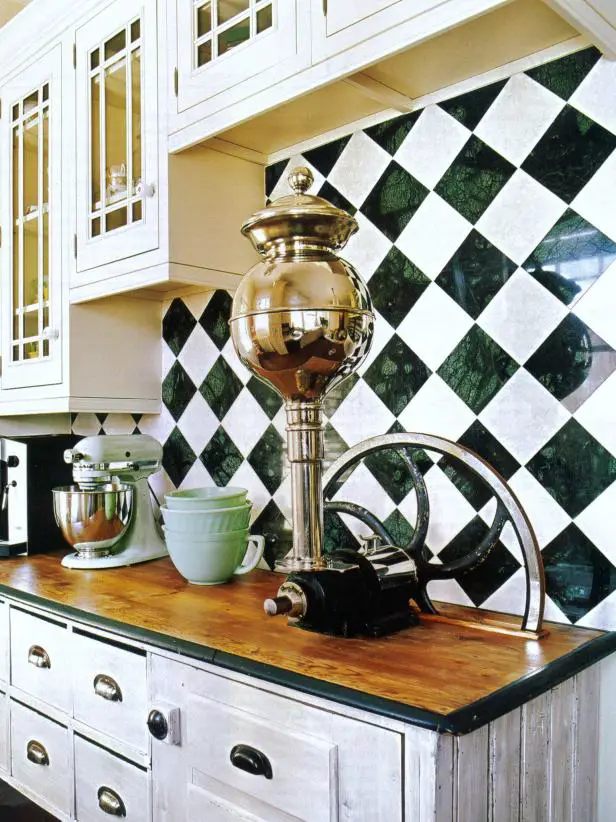 If you want your kitchen decoration to be more beautiful and striking, then you can choose a metal backsplash with a chessboard pattern in a black and white color combination. This chessboard backsplash is not boring and gives the room a more creative atmosphere. A cheerful backsplash motif can also balance out kitchen utensils at home that are usually neutral in color. Metal chessboard backsplash from hgtv.
Red Brick Tile
Besides the stone, for the unfinished look, you can utilize the red brick to be applied to your backsplash. In this case, although it might won't be easy to be cleaned but it has a really good look. Look at how the red color of the brick can perform its prettiness in rustic style. It will great if you combine it with the wooden floor which is really harmonious. Anyway, to minimize the difficulty in cleaning the dirt, you can apply the ceramic material for the bottom part of the backsplash which has the risk to be exposed by the dirt.
Another inspiration of kitchen backsplashes are those made of red brick. This backsplash refreshes the room without being old-fashioned and boring. As an alternative, you can reflect the light of a lamp that is equipped with green plants that are hung by hooks on a galvanized pot. Natural red brick backsplash from bobvila.
Wallpaper Tile
There are some advantages that you can get from the wallpaper backsplash. The first one is the ease that you will get when you want to change the design in case you are bored with the old one. The second one, it is so much cheaper because you just have to buy the wallpaper with the pattern and style you want to have without changing the material of your backsplash at all. Moreover, if the dirt is too much, you can easily change the wallpaper with the new one.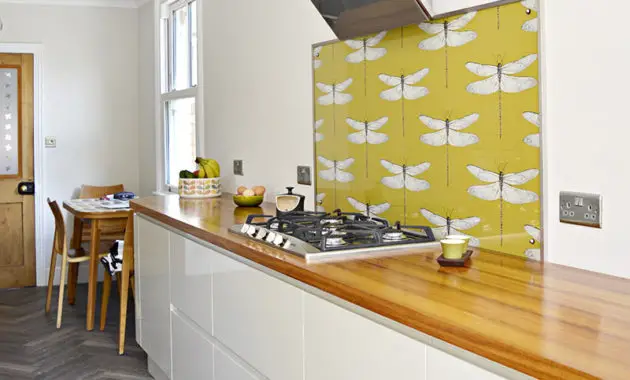 If you want to include a motif in kitchen decor, then try it on your backsplash. Dragonfly wallpaper tile is the inspiration for this kitchen for those of you who like animals. The yellow color makes the kitchen design more minimalist and shines beautifully. Dragonfly wallpaper tile from hgtv.
Completing the kitchen decoration with the right backsplash tiles surely will enhance your kitchen looks. In order to the kitchen backsplash tiles above, find the right one and you will get beautiful kitchen decor.
(Visited 92 times, 1 visits today)
Tags:
kitchen backsplash
,
Kitchen backsplash tiles
Last modified: March 18, 2021