Remodeling is necessary when your kitchen starts to look dingy. However, a complete kitchen remodel can drain your bank account. Unless your kitchen is severely damaged, why not try smaller upgrades to change your kitchen's tone completely?
Some small upgrades only require small costs, yet they bring a total change in the atmosphere. Here are several upgrade tricks to improve your kitchen.
1. Change the Walls
Repainting the walls sounds simple, but it will immediately transform your kitchen. Use a color that you normally will not use. Red or orange can increase your appetite. Light blue or green makes the kitchen look more relaxing. Dark grey, bottle green, or dark plum creates a moody atmosphere. Don't want anything permanent? Use wallpaper or wall decals to change the look.
Repaint your kitchen walls with mustard color for a brighter and of course colorful appearance. You can use a kitchen cabinet in light gray for a color combination that blends well, it's not enough, you can also use a wooden countertop with a splash of jet black and a clean white ceiling as a neutralizing color that seems very simple. Mustard kitchen wall paint from housebeautiful.
If you use light green kitchen wall paint, then try installing a dark green tile backsplash that looks so shiny when exposed to the reflection of sunlight that enters through the transparent glass window. The green color makes the kitchen decor seem fresher and more natural, you can use the empty wall area to apply some floating wooden racks that are used as open storage ideas and on budget. Light green kitchen wall paint from housebeautiful.
Gray paint applied to shiplap walls in kitchen decorations is a smart idea that you can try to display room decorations that seem more elegant and unobtrusive. Combine this kitchen wall paint with some white interiors, for example on the countertop and patterned tile backsplash. The combination of white and gray will be a favorite nuance this year. Gray shiplap kitchen walls paint from housebeautiful.
2. Install Appliance Hangers
Don't hide your appliances in the cabinets! Install hanging racks and showcase your stainless, bronze, or cast-iron appliances. You can hang them on the wall or from the ceiling. Exposing your appliances also creates a farmhouse-style charm.
Take advantage of your kitchen ceiling for ideas for storing some kitchen tools neatly and of course not taking up floor area at all. You can hang iron pots right above the kitchen island table that you have. These hanging pots are equipped with several hooks that are sturdy and not easily porous when used to hang your kitchen utensils in larger quantities. Hanging pots on the kitchen island table from goodhousekeeping.
Instead of using a backsplash with metal open shelves that are used as an area to hang kitchen utensils vertically. To make it easier for you when storing, you can add some sturdy metal hooks to hang teapots, pans, and other kitchen utensils that you have. Metal material is one of the best choices that are not easily porous or rusty when used for a longer period of time. Wall-mounted metal storage rack from goodhousekeeping.
Do you have an empty kitchen wall area? If yes then you can use it for effective kitchen storage ideas. You simply install an open stainless steel shelf equipped with a hook accent to make it easier for you to hang some of the kitchen utensils you have. Arrange and hang this shelf vertically according to the size of the empty wall, try this idea easily and cheaply. Vertical stainless steel shelf from goodhousekeeping.
3. Change the Countertop
If changing the cabinets or kitchen island is too expensive, replace the countertop. A different countertop will instantly change the kitchen look. Painting the countertop can be cheaper, but if your goal is a long-term investment, replacing it is a better option.
The appearance of the kitchen will seem more luxurious and modern when you use a marble countertop with a black tinge pattern. Complete the look of this kitchen with a touch of gold that is applied to the faucet and pendant lights as a vintage style that never goes out of fashion. Neutralize the feel of this kitchen with a white ceiling that looks cleaner and more spacious. White marble countertop from goodhousekeeping.
The natural look in kitchen decorations can be obtained easily through the use of the right furniture. Start by using a plywood countertop with a light brown color that seems bright. Complete this countertop with a purple kitchen island, then you can combine several patterned tiles that are applied through walls and backsplashes. Plywood countertop in bright brown color from goodhousekeeping.
Natural materials are the best choice for any kitchen style this time of year. Start using a hardwood countertop with a darker color so that it is easier to combine with pastel kitchen cabinets. Re-polish this wooden countertop to get a smoother and shiny surface. Match the colors of your floating shelves with the cabinets to work well together when combined in one room. Hardwood countertop from goodhousekeeping.
4. Repaint the Cabinets
Another cheaper alternative than replacing cabinets, repainting them will give your kitchen a fresh upgrade. Try pastel colors to open a small kitchen. You can also experiment with bold colors, like orange and teal. Make sure to consider the light source and kitchen size before choosing the coat color.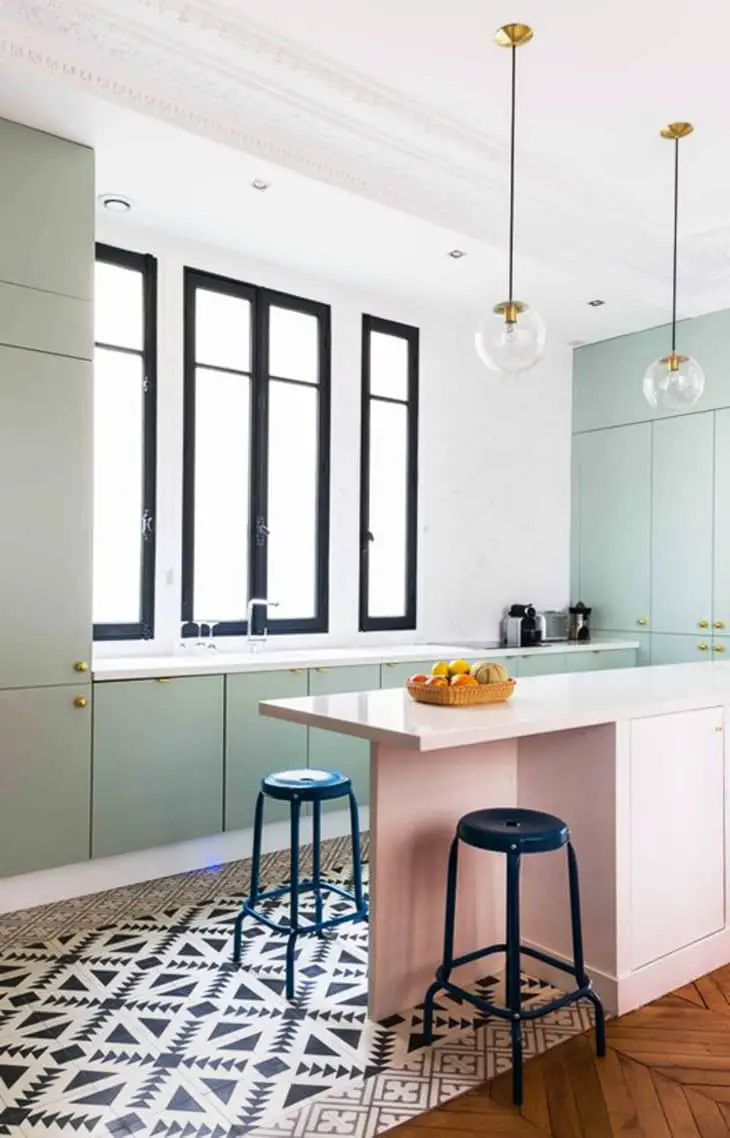 The appearance of the kitchen will seem more colorful and clean when you repaint the kitchen cabinets and kitchen island. Splashes of different color paint on these two pieces of furniture make the kitchen room look more eye-catching. Combine the green cabinet kitchen color with a pale pink kitchen island as a color combination that can blend perfectly when applied in one room. Patterned tiles make for an elegant finishing touch. Combine the green cabinet kitchen color with a pale pink kitchen island from apartmenttherapy.
Present a fresh and calm kitchen decor with the use of mint green kitchen cabinets. It's not enough to stop here, you can also enhance the appearance of this cabinet with green plants that are quite large. Kitchen cabinets with the letter U shape provide wider kitchen space and can be used for the activities of two different people. Mint green U shape kitchen cabinet from apartmenttherapy.
The kitchen room will look brighter when you use the right furniture. Currently, you can try using an ice blue kitchen cabinet made of melamine wood so that it looks shinier when exposed to sunlight or the light around it. This cabinet holder with solid black color makes it easier for you to open or close the cabinet, besides that the black color also looks very contrasting but beautiful. Ice blue kitchen cabinet from apartmenttherapy.
5. Refresh the Lighting Sources
A good kitchen must be well-lit, but don't get stuck with regular lightbulbs. Install a funky, elegant, or eye-catching pendant lamp as your main lighting source. If your kitchen is large, install two or three lamps with identical styles. They will instantly lift your kitchen.
Lighting in the room of the house is an important accent that must be owned. For decorating a small modern kitchen, you can use a white pendant lamp that has a fairly large size. This lamp can be used as the main lighting in the kitchen at night. Hang this lamp just above the kitchen island to reflect the light throughout the room maximally. White hanging pendant light from mydomaine.
If the pendant lamp is not enough to illuminate the kitchen decor when the room starts to feel dark, then you can combine it with a recessed lamp that is applied to the ceiling regularly. Both of these lights will work well to help your kitchen activities at night, for example, at dinner or preparing food to be served. Combination of pendant lamp with a recessed lamp from mydomaine.
Choose and use pendant lights that have a color that matches the feel of your current kitchen, for example, a glass pendant lamp with a splash of clean white. Add a touch of gold at the top of the lamp for a luxurious and glossy color combination. There is nothing wrong with adding green plants in the room like a touch of color that is natural and environmentally friendly, of course. Glass pendant lamp with a touch of gold color from mydomaine.
You can also conduct cheap kitchen remodel by replacing small appliances like coffee makers, kettles, food processors, or toasters. Choose cute, colorful products to improve your kitchen.
(Visited 57 times, 1 visits today)
Tags:
Kitchen remodel ideas
Last modified: June 6, 2022