A dining room is not only used to enjoy your meals but also functions as a space to entertain guests and get together with the family. Therefore, this particular part of the house should present a cozy ambiance and elegant look at the same time. One of the best ways to achieve such goals is to design your dining room in a rustic style. Follow some basic steps below to create a warm and elegant rustic dining room on your own.
Step 1: Apply Wooden Flooring
Varnished wood flooring in either light or dark shades is an excellent starter to achieve the authentic look of rustic design. You can also make the rustic floor setting more comfortable by placing a soft rug made of knitted materials.
A simple step that you can try for a rustic look in the dining room is to use a wooden floor covered with a thick rug that will warm the atmosphere of the dining room. Choosing a floor with wood accents is a smart idea, because it is easy to care for when cleaned. Wooden accents will be more harmonious if you combine it with the all-white dining room nuances. White rustic kitchen nuance with wooden floors from home-designing.
To keep the rustic dining room decorating, you can use some environmentally friendly interiors such as wood accents on the floor, door, window frames and dining table. Here you can try to coat the teak floor with a woven carpet that has a smooth texture when you step on it. This carpet has a very affordable selling value, making it suitable for you when you want to save on expenses this year. Teak wood floors covered with woven rugs from home-designing.
Step 2: Let the Light in
Get the best rustic look by installing windows with a wooden frame in your dining area. The windows will provide enough natural light that makes space look brighter and warmer.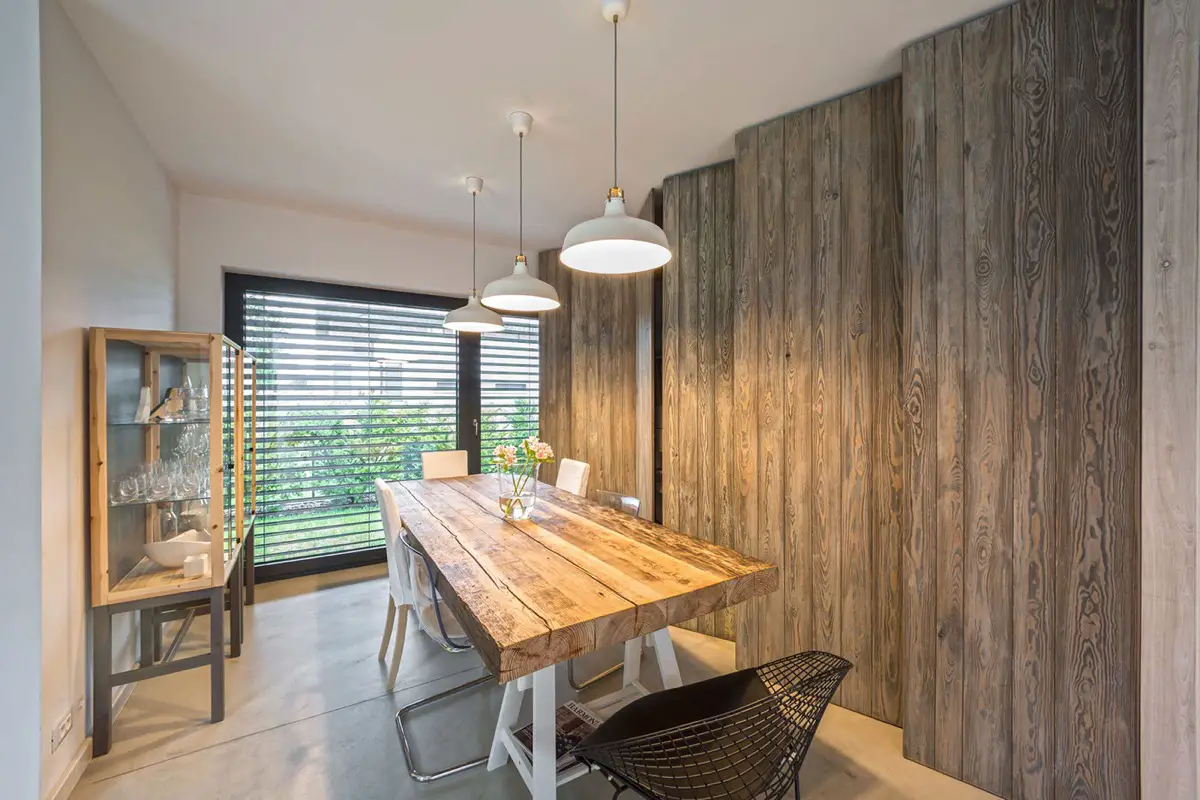 Shutter windows allow your home room to get enough sunlight because they will enter through the gaps in the shutter window. With the sun, you don't have to worry about the wood accents in this dining room that are moldy and easily weathered. Another advantage that you can take advantage of is turning off the pendant lights during the day to save electricity. Shutter windows from home-designing.
The transparent glass that is applied to the windows to the roof of the dining room serves to enter as much sunlight into the room. This sunlight will help your activities during the day in detail, besides that, sunlight is also very useful for maintaining this moldy wooden furniture. If you use a curtain on this glass window then open it as wide as it is during the day. Transparent glass windows to the roof from home-designing.
Step 3: Opt for Natural Colors
The color schemes for a rustic dining room is not that hard to choose. Sticking to natural hues will simply do the trick. You can choose soft neutral shades such as beige or gray for the wall. Add some pops of colors through greenery or bright-toned flower wreaths.
Usually rustic-style dining rooms never use flashy colors, this decoration predominantly uses earth tone colors which create a warmer and environmentally friendly atmosphere. Wood accents combined with greenery dominate this dining room. You can line the wood floor underneath the dining table set with a faux fur carpet for smoother, softer footwear. Earth tone color dining room from elledecor.
This reclaimed wood dining table surrounded by back seat chairs creates a more natural color nuance. This dining table furniture set has a dark brown color that will work effortlessly when complemented by greenery in a vintage ceramic vase. Don't forget to add footwear such as rattan woven rugs that have the same color as your current dining table. Dark brown dining table set from elledecor.
Step 4: Choose Hardwood Furniture
Hardwood furniture serves as the prominent feature in a rustic design. A farm dining table, wooden chairs with metal legs, hand-painted lampshades, or chandelier are some essential elements you can add to a rustic dining space.
One way to bring a rustic feel to the dining room is to use a teak table combined with black metal legs. This combination is very firm with classic elements so that it will make your dining room more rustic. Not only tables with wood accents, you can also add vintage reclaimed wood chairs, using all-wood accents will make your dining room warmer and more environmentally friendly. Dining table that made of teak wood with black metal legs from nextluxury.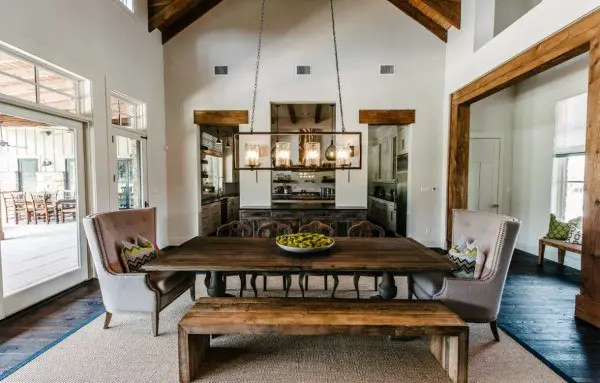 The rectangle dining table in your dining room will make the atmosphere feel warmer and rustic if you use a combination of wood and iron elements. Wood is a material that is easily available, so it would be more interesting if the top surface of the table used a wide hardwood. To strengthen the support on the table, you can use the table legs made of iron. The wooden benches and tufted sofas that surround this dining table will be comfortable sitting mats to use. Rustic rectangle dining table from nextluxury.
Step 5: Add Some Vintage Features
Complete the rustic ambiance in your dining room by adding several vintage features and adornments. Find some inspiration regarding this matter by visiting an antique shop near you. You may find some vintage decoration that perfectly suits the style and color schemes of your dining room.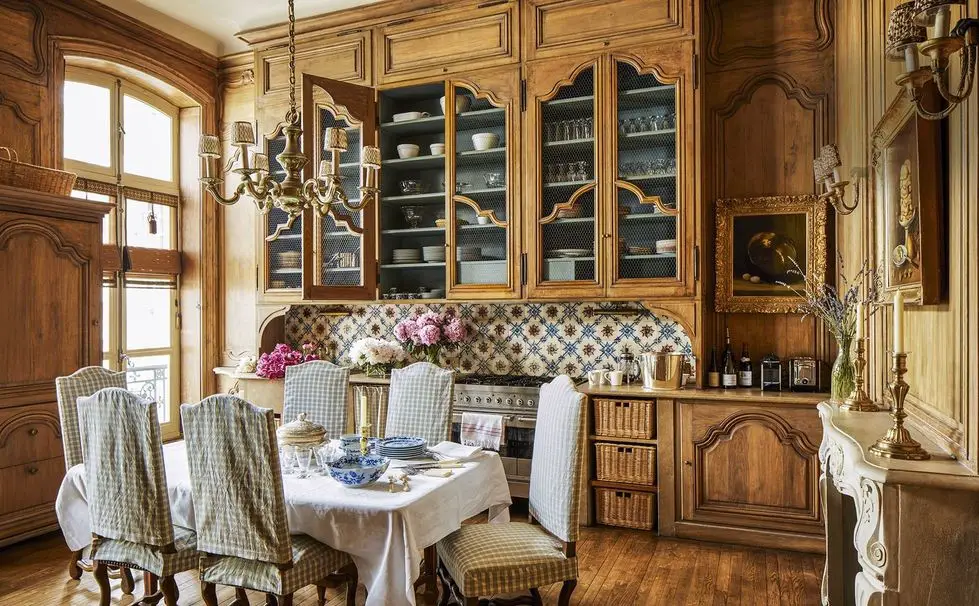 Try using classic wood cabinets and a vintage dining table set that will make your dining room rustic. The wooden cabinet as high as the ceiling makes your dining room background, don't forget to fill this wooden cabinet with ceramic cutlery with classic nuances. These weathered chandeliers are the main lighting idea that you can hang right on your dining table. Ceramic cutlery in classic wood cabinets from elledecor.
If you have several collections of Chinese ceramics, then you can display them for decorative items that will enhance your rustic dining room. Place it neatly on an open shelf on one side of your dining room. In addition to furniture and ceramic collections, you can also attach large paintings that are very artistic as the center of attention when doing activities in the dining room. You can buy this Chinese ceramic collection idea at the nearest antique shop. Collection of Chinese ceramics as decorative items from elledecor.
Those are some basic steps you need to design a rustic dining room. Following those steps will make you one step closer to have a cozy dining room that radiates a relaxing vibe and elegant appearance.
(Visited 58 times, 1 visits today)
Tags:
dining room
,
Rustic Dining Room
Last modified: March 30, 2021