Modern house fencing is popular nowadays mainly because of its functionality. It helps to keep your home off of intruders and provide more privacy while you're spending time in the yard. As it happens, many front yard fence is now designed in various shapes and sizes, made from a wide range of material to match with the functionality and serving the decorative purpose.
To give you better insight, here are some gorgeous decorative fence ideas to follow.
1. Picket Fencing
One of the most popular fences is the picket fencing. It has traditional design yet very versatile to be decorated with vines and flowers. Picket fencing is likely less than three feet high, and it's made of wood or vinyl.
A wooden fence decorated with green plants like the one in the picture above is perfect for you to use. With this wooden fence, your home will have a beautiful decoration for the outdoor yard. You can paint the fence white to create a stunning outdoor decoration. You can shape this curved fence to decorate an attractive garden. Curved picket fence from diynetwork.
2. Wrought Iron Fencing
Modern-Day fencing with wrought iron is preferable mainly because of its openness. This type of fence comes in different heights and has transparent nature that makes your front yard looks welcoming. Dark-colored wrought iron is popular, and they are made from powder-coated aluminum.
Using a wrought iron fence for use in a yard like the one in the image above is a brilliant idea. With this wrought iron fence your house will look more perfect and look attractive. Using this idea, your home will give you a stunning look and you can try it right now. Combined with a few other greenery to create a fresh and natural looking garden. Wrought iron fence from airtasker.
3. Screen Fencing
If you want to reclaim the ultimate privacy, installing screen fencing in the front yard is the best option. This type of fencing is usually made of wide boards with pergola that marks an opening date to the front door. Be sure to keep a few distances from the sidewalk for the plants to grow.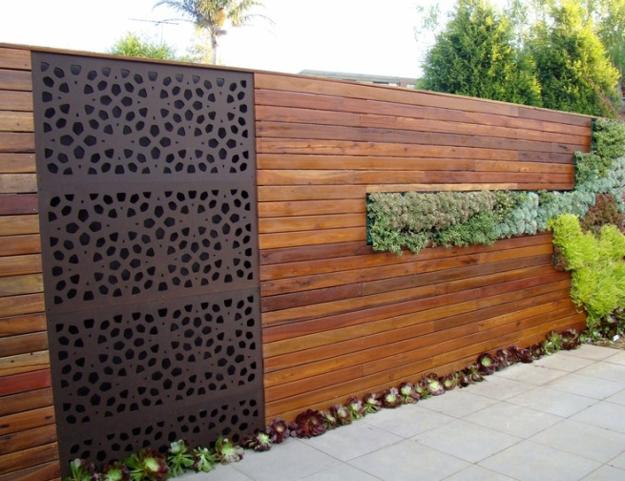 To maintain the security of your home, you can use a gauze fence as shown above. With this fence, your home will have the highest privacy. You can also combine it with a wooden fence to create a natural impression into the room. This fence is the best choice because it will create a stunning garden decoration. Adding some greenery will make a fresh garden. Screen Fencing front yard from lushome.
4. Timber Fencing
Modern and sophisticated timber fencing is suitable for many houses. With its vertical design, this fence works best if you also plant some shrubs in between the vertical line; perfect for keeping outsiders off yet still concealing the beauty of your front yard.
One way to increase privacy in your home is to use a vertical wooden fence as shown above. Apart from that, for added privacy, with this vertical wooden fence your house will also have a stunning appearance. With a vertical design, this fence works best and will protect you from insect infestation. You can also add some other greenery to complete the look. Vertical timber fencing from nextluxury.
5. Black Steel
A minimalist design, that is, channeling your front fencing with the overall modern architecture. The black steel is arranged in stunning horizontal slats for an elegant look, creating a simple yet stylish appearance.
Creating a simple and minimalist front page look is very simple. Just use black steel for the fence idea. Mount it in a horizontal shape for an elegant look. You can protect your home from insect attack and it will be safe. Don't forget to add some green plants to complement your garden decoration. Black steel fence from architectureanddesign.
Choosing a vertical black iron fence for the front yard of the house is the right choice for those of you who like a minimalist style. With a sleek appearance, this fence also provides an elegant look. This method will create a stunning fence decoration and you can complement it with some greenery to give fresh air into the garden. Vertical black stell fence from airtasker.
6. Concrete Fencing
Sturdy, durable, and theft-free! This concrete fence is not like any other front yard fencing as it offers many benefits to your house. It can be made of blocks coated in cement with geometric lines for a more attractive finish.
Using a concrete fence for use in your yard is a good idea if you want a fence that is durable and sturdy. To enhance your appearance you can place a pile of stones so that it will beautify your yard. This concrete fence will steal the show because of its durable material and free from theft. Add some green grass to give the room a fresh impression. Concrete fence with pile stone from divesanddollar.
One of the best fence options is a concrete fence combined with wooden pallet as shown above. By combining these two materials, you will get a classic and aesthetic look. It can be made from blocks covered with cement with geometric lines for a more interesting finish. This fence design will look sturdy so that it will be durable and will protect your house from insect attacks. Concrete fence combined with wooden pallet from divesanddollar.
7. Bamboo Fencing
Suitable for Asian-inspired home design, the bamboo fencing style creates a more natural touch. You can arrange the bamboo frame vertically or horizontally to create a dramatic view. It covers well and easy to make. Choose one from our recommendation and build your own front yard fence to match with your house architecture.
If you have a house with an Asian design, you can use a bamboo fence like the one in the picture above. This vertical bamboo fence will make your Asian home look more elegant. This bamboo fence is able to create a dramatic appearance and will give you privacy in the front garden of the house. Combined with some greenery and pebbles for an attractive decoration. Bamboo fence front yard from divesanddollar.
One of the fences that are suitable for homes with Asian designs is a bamboo fence like the one in the picture above. You can combine them in horizontal and vertical settings to make them look more aesthetically pleasing. With this fence, your house will have a high level of security and at the same time look natural. In addition, you will have a colorful motivation in your front garden. Pair it with greenery for a stunning look. Horizontal and vertical bamboo fence from divesanddollar.
Installing the best and proper front yard fence will give you a beautiful outdoor look and privacy at the same time. Choose one that you think is best and see the fence will enhance your exterior design.
(Visited 317 times, 1 visits today)
Tags:
Fence ideas
,
Front yard fence ideas
Last modified: March 31, 2021