Who doesn't love rustic interior? This simple, nature-inspired design is oftentimes associated with luxury homes. However, it is not the case at all. When applied right, rustic design is coarse, simple, and beautiful. So, it is not a surprise, then, that a lot of people want their home to have at least some elements borrowed from rustic interior ideas. The question is: will it fit?
If you are reading this article, chances are you're currently considering rustic interior ideas for your home and wondering if it fits. The answer is a striking yes! Need some design ideas to start your project? Read on.
1. Use organic textures in your house
When you think about rustic interior, wood is the main material that comes into mind. There are several types of woods that will look just right in a rustic interior. To add some variation, woods and wrought metal can also be used in rustic home design.
The rustic living room decoration with the touch of a metal fireplace adds to the attractive impression. Pair it with ceilings, walls and hardwood floors for a warm and cozy feel. These classic chairs and sofas are an interesting room decoration for you to try. A large window was added which was complemented by layered blinds to create a dazzling look. The lighting in the corner of the room also brings a dramatic look into the room. Metal fireplace from houseandgarden.
This rustic living room is furnished with metal accents in the fireplace. Using a natural wood texture will create a warm and comfortable impression in the room. The rooms are furnished with large carpets throughout the room and hardwood floors for a stunning view. Some of these classic chairs complete the décor of this rustic living room. Wall decorations in the form of candlesticks with candlelight also provide dramatic enrichment. Natural textures Wooden from houseandgarden.
You can design the interior of a country house with an organic texture to bring out a real rustic feel. Try using hardwood floors and wooden walls so that it will give your bedroom a warm rustic feel. Don't forget to add an iron fireplace so that it will present a stunning room furniture. You can also add wicker baskets for a simple storage idea in this living room. Hardwood floors and wooden walls from houseandgarden.
To bring a rustic style to a rustic kitchen, using a metal texture is the right idea. You can use wooden floors and combine them with metal accented furniture so that it looks simple but still perfect. This kitchen island with metal legs will make a perfect room decoration. With metal it also creates an attractive space and becomes an attractive kitchen focal point. These open ceiling shelves use wood and metal materials to create a stunning kitchen. kitchen island with metal legs from realliving.
2. Explore the use of sturdy fabric
Sturdy fabrics, such as weaved rug or a faux animal fur, could instill a sense of coziness around the house. Fabrics also enhance overall natural house aesthetics. Even better, re-purposed fabrics will look absolutely stunning in your rustic home.
The soft color of an animal fur rug is perfect for a country bedroom. You can put it under the bed and you can combine it with some wooden furniture for an eye-catching look. Hardwood floors, brick walls, and large windows on one wall to let sunlight into the room. The room is furnished with tall drapes in a checkered pattern to give the illusion of a tall space. This table lamp provides the perfect lighting for this rustic bedroom. Bedroom with animal fur rug from digsdigs.
To create a room with more character. A soft fur rug is perfect for attaching it to your rustic living room. Add a large rug for extra warmth. You can put it under the sofa and it will warm your feet while indoors. Don't forget to pair it with a leather sofa and a fireplace on one wall to add extra warmth to this rustic living room. The natural lighting from the large windows behind the fireplace also gives the room a large expansion. Layer animal fur carpet from countryliving.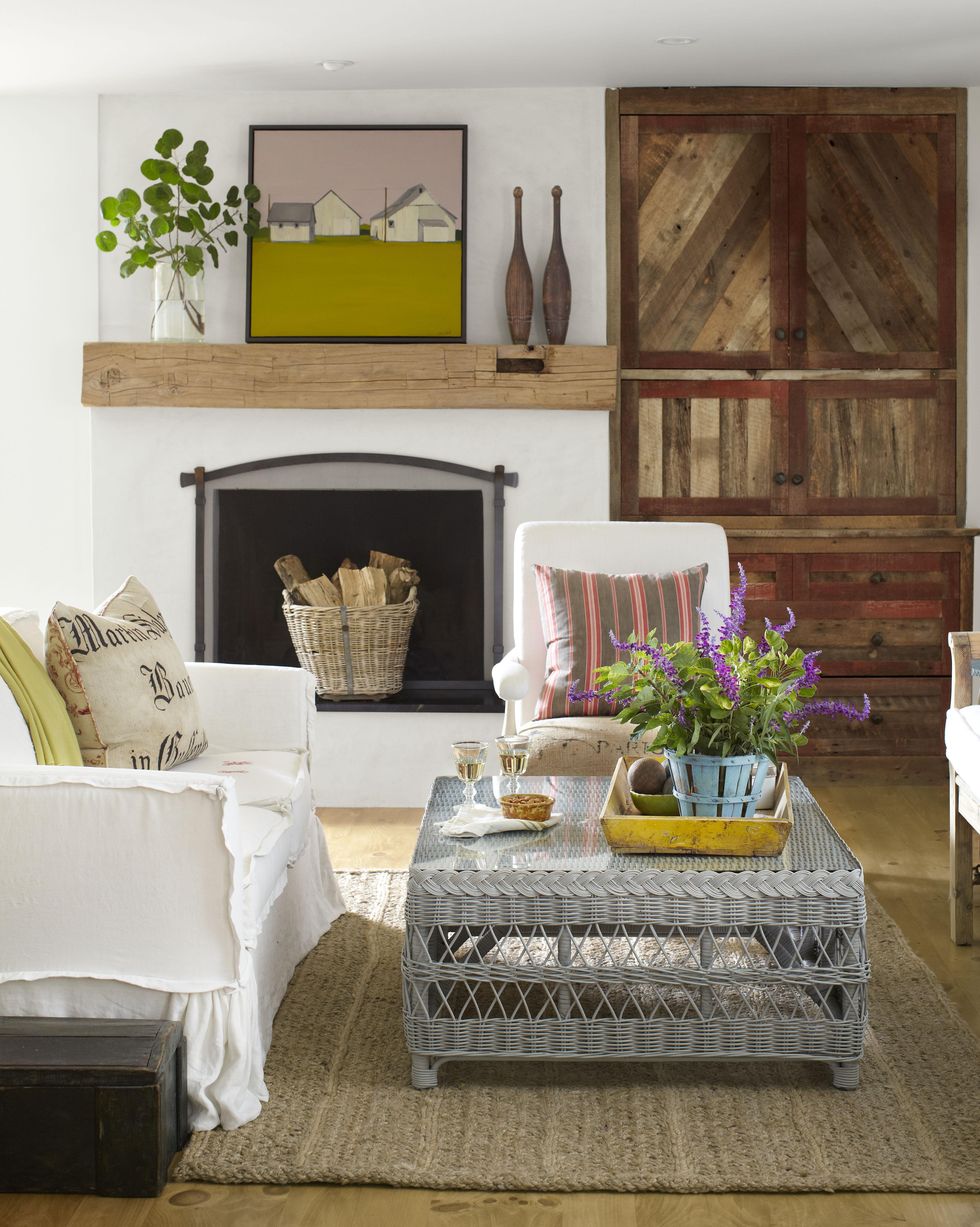 Adding a woven rug that covers the wooden floor in your living room will reinforce the rustic style in your living room so that it looks stunning. Sealin that will vibrate the warm impression on your feet and you can combine it with wooden floors for a natural impression into this guest room. A rattan coffee table and a fluffy linen sofa with a few cushions will give you the perfect rustic look. A fireplace with wood finish also complements the decor of this living room. Living room with woven rug from countryliving.
3. Choose furniture from recycled and reclaimed materials
Rustic design is all about nature and recycle, and there's no better way to create a sense of earthiness than using furniture made from recycled and reclaimed material. Not only it looks good on your rustic home, it is also environmentally friendly.
Using a coffee table made of reclaimed wood will give it the perfect rustic touch. Don't forget to complete the storage underneath so you can easily store various collections of books. This method will make your room less cluttered and still look tidy. You can combine it with a large sofa and chapet under the sofa to make the room comfortable and inviting. Reclaimed wood coffee table from homecrux.
You can use a reclaimed wood TV stand to decorate your rustic living room giving it a classic, eye-catching feel. This way it will create a homely feel with interesting recycled materials. This TV stand is the perfect room focal point and will create a rustic feel to the room. You can add greenery and floor lamps to complete the look of your home. Reclaimed wooden tv stand from homecrux.
Choose a bed made of reclaimed wood so it gives the perfect rustic touch and classic look. You can choose reclaimed wood that is not used so that it will bring a rustic impression to this bedroom. Equipped with wall hangings in the form of animal skulls and used windows to create a space that attracts people's attention. It is paired with white and a concrete floor to complete the décor. Reclaimed wood bed from homecrux.
All these tips are just a start. Here, you can find out more about rustic interior design in various blogs and sites. Then, as usual, the sky is the limit for creativity. Enjoy designing a rustic home!
(Visited 405 times, 1 visits today)
Tags:
interior design ideas
,
Rustic interior ideas
Last modified: May 17, 2022