A patio is an area overlooking the garden, or the street can be a great relaxing area. Spending time there can be very memorable and relaxing. You can add some cheap furniture for the patio to make it all perfect. Here are some great affordable pieces to enhance your patio area.
1. Antique Furniture
You can find some great classic items from an antique or thrift store. It can be a small wooden table, a unique outdoor chair, or a simple waterproof carpet. The best way to decorate a patio is to color coordinate with the rest of the house. It gives a continuous atmosphere from the inside of the house to the outside. So, look out for some interesting old pieces.
This sofa set made of iron features antique patio furniture that many people around you are interested in. On the sofa, you simply add a pillow to get a softer and warmer surface. No need to repaint this furniture, let the furniture look vintage. Antique iron sofa set from architecturaldigest.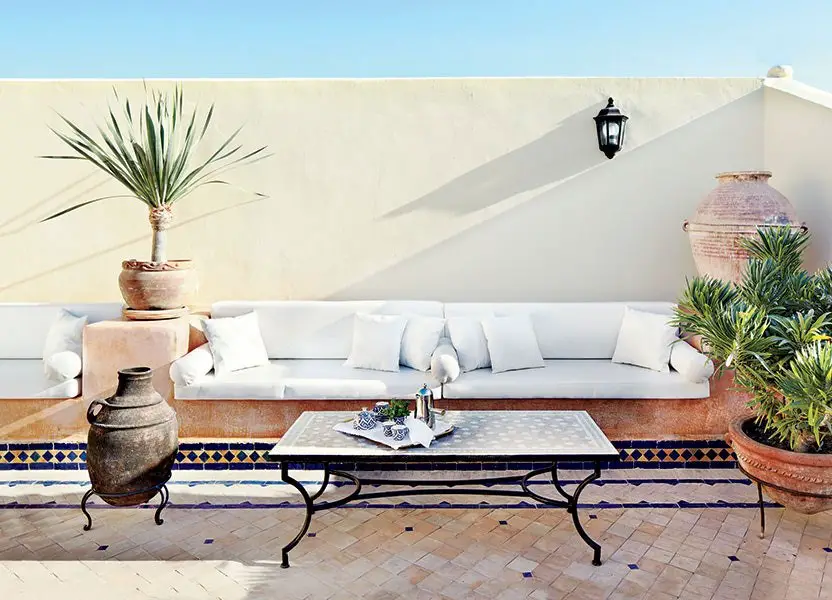 Not only using antique furniture with a shabby look, this time you can try an iron table that has been repainted using solid black so it looks more modern and clean. Wall scones lights into lighting ideas that you can try to help with night activities while on the patio. Several types of greenery make beautiful patio decorations. Antique table repainted from architecturaldigest.
Instead of using expensive furniture to decorate your patio, this antique canopy bed frame that is moved outdoors will become a comfortable and warm sitting area. This sitting area bed frame has a wider surface so that it can be used more by several of your family. Don't forget to use bedding and pillowcases with different motifs to make it seem more cheerful. Vintage canopy bed frame as a sitting area from architecturaldigest.
Do you need furniture to fill the empty patio floor area? If so, then you can use an antique dining chair set which is covered with shabby patterned fabric that never goes out of fashion. Then you can surround this outdoor furniture with several types of tropical plants for a fresher look. Antique dining chair set from architecturaldigest.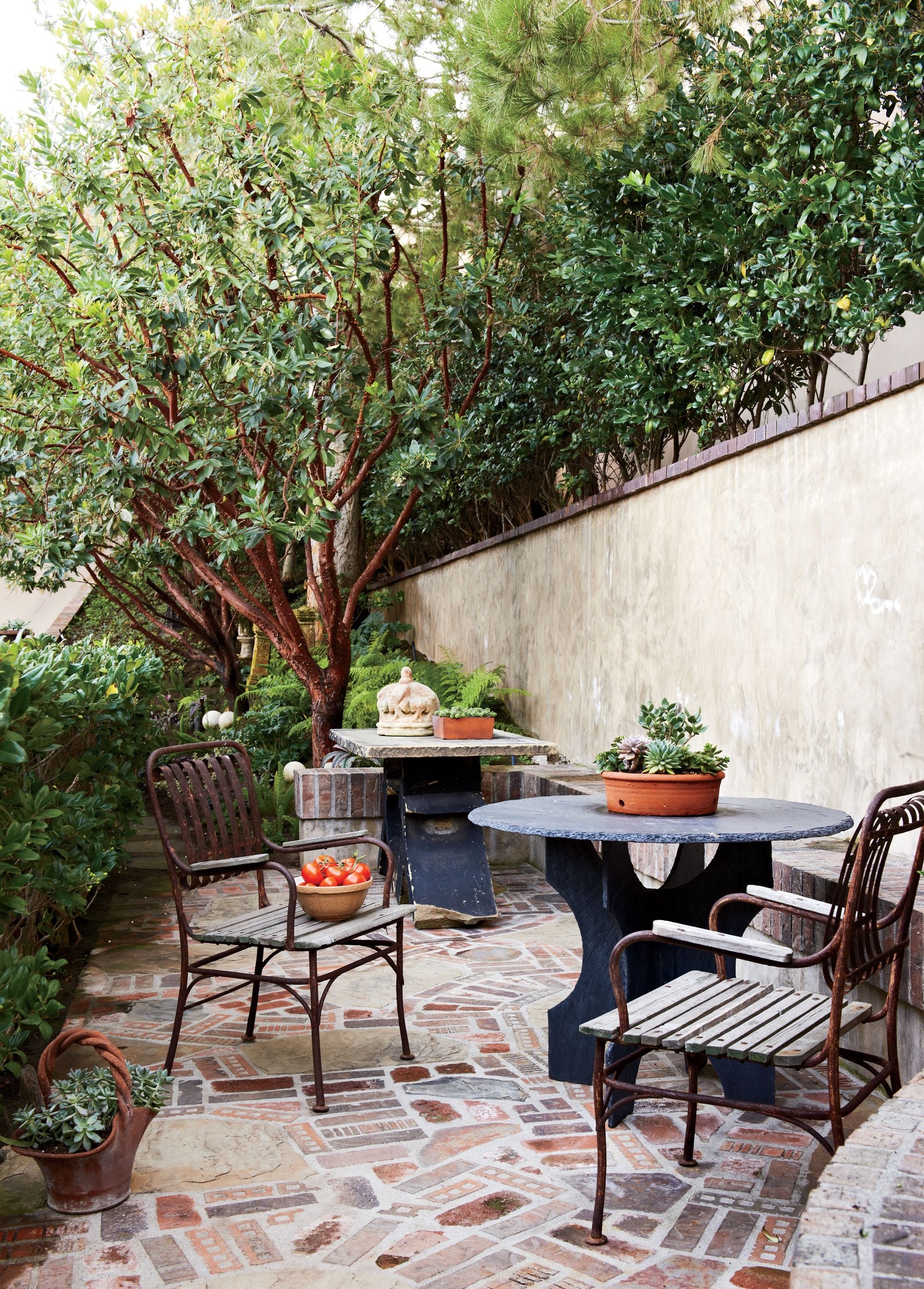 This antique chair combined with a round table becomes a sitting area that can be used with friends or family comfortably. Chairs with iron legs will be more sturdy and not easily porous when exposed to changing outdoor weather. No need to repaint the furniture for a simpler and vintage look. You can decorate this table with a fairly large terracotta pot. Antique iron leg chair from architecturaldigest.
2. Recycled and Repurposed Furniture
Why spend money when you can use the thing that you already have. Recycled and reused old items are great and cheap furniture for patio material. From stacking up old crates into tables or chairs, you can be very creative when doing this. That way, you spend almost nothing on the furnishings.
If you have a bathtub that is no longer in use, then you can use it as outdoor furniture that can be placed in your patio decor on your budget. Here you simply cut the bathtub to resemble a sofa, then you can coat the surface of the bathtub with floral pillows to make it more comfortable and softer when used to relax. A few throw pillows add warmth to this inexpensive DIY sofa. Bathtub sofa with floral cushion lining from funkyjunkinteriors.
DIY wooden spool coffee table is one of the recycled furniture that is suitable for patio decoration on a budget. For this table idea, you can add wheel legs to make it easier to slide anywhere as needed. Place this vintage-themed table right in front of the chair at a distance that is not too far away to make it easier to reach when used to place snacks and drinks. DIY recycle wood spool coffee table from funkyjunkinteriors.
If you want to save on expenses when decorating your patio, then you can use some recycled furniture made of pallet wood that is in your warehouse. Change the function of this wooden pallet into a sofa and a small coffee table that does not have legs so it looks smaller and lower. Furthermore, you can cover this sofa with pillows and blankets to make it warmer when used at night. Green plants become natural and fresh decorations. Recycle pallet wood outdoor furniture from funkyjunkinteriors.
So that your expenses are more efficient when decorating your patio, you can use old wood as the main material idea that is used for furniture on your patio. No need for polishing and repainting, let this old wooden chair look more natural and vintage. Pillows covered in burlap add a simple vintage feel without being too overwhelming. Old wooden chair with burlap cushion cover from funkyjunkinteriors.
There is nothing wrong with reusing some of your old wooden pallets as a simple and on a budget patio sofa. A layer of burlap fabric adds warmth and comfort to this sofa when used. Blankets and throw pillows are complements that you can use at the same time. Decorate this small patio with flower plants that have a brighter and bolder color. Repurposed wooden pallet sofa from funkyjunkinteriors.
3. Second-Hand Home Decor
Always on the lookout for any good discount. You can walk home with a beautiful vase, unique basket, or an exquisite lamp. The homeowner needs to pay close attention to the items. That way, you can get the best price and decide whether it needs some repair or not. Some home decor can be old or covered in rust, so also think of how to clean it.
Of course, your patio decoration needs lighting at night, now you can try a bulb string light that has orange lighting so it looks more dramatic and very romantic when used to relax with your partner. Use some chairs and rugs as furniture that is comfortable to use and of course has a selling value that is not too expensive. Bulb string light from nextluxury.
You can repaint this set of outdoor chairs made of rattan using green to make it seem more in tune and in harmony with the umbrella that is used as a shade accent. Don't forget to add a rug as a footbed for this outdoor furniture for a more elegant look. Roses placed in galvanized vases become table decorations that give a fragrant aroma. Rattan wicker chair set from nextluxury.
You can use this small patio decoration as a dining area by installing iron chairs and dining tables that have stronger materials when exposed to changing outdoor weather. On this patio, you can also use a string light as an inexpensive outdoor lighting idea and not too complicated when installing it. Attach this light to the wooden fence area. Small dining set in the patio from nextluxury.
This simple patio furniture is an idea to save expenses, on this patio you can simply install a wicker rattan chair, patterned rug and a fireplace stand as body warmers. Do not forget to also put green plants as a refreshing decoration and suitable to be placed in any area according to your wishes. While the string light can be used as the main lighting. Rattan wicker chair with string lighting from nextluxury.
This wooden sofa and coffee table are perfect for displaying natural and eco-friendly patio decorations. You can add some greenery as an easy decoration in your daily maintenance. The rug is also an accent warmer for footwear that you can try at the same time. Wooden sofa and table from nextluxury.
Check out the antique store and garage sale to get your hands in some of the simplest cheap furniture for the patio. From something completely free to pay a small amount of money, you can always find a great object that goes perfectly for the patio.
(Visited 130 times, 1 visits today)
Tags:
Cheap Patio Furniture Ideas
Last modified: May 30, 2022