People often forget to decorate the hallway in their homes. It is a small area which often left empty, yet it is the first thing that guests see when they come to the house. It is time to think about some simple hallway furniture ideas to maximize your home. From something small to something useful, there is one piece of furniture that can lighten the hallway.
1. Mirror on the Wall
The best way to make a room bigger and more spacious is by adding a mirror. You can hang a big full-size mirror for you to look at before going out. The mirror on the side also brings more light into the hallway.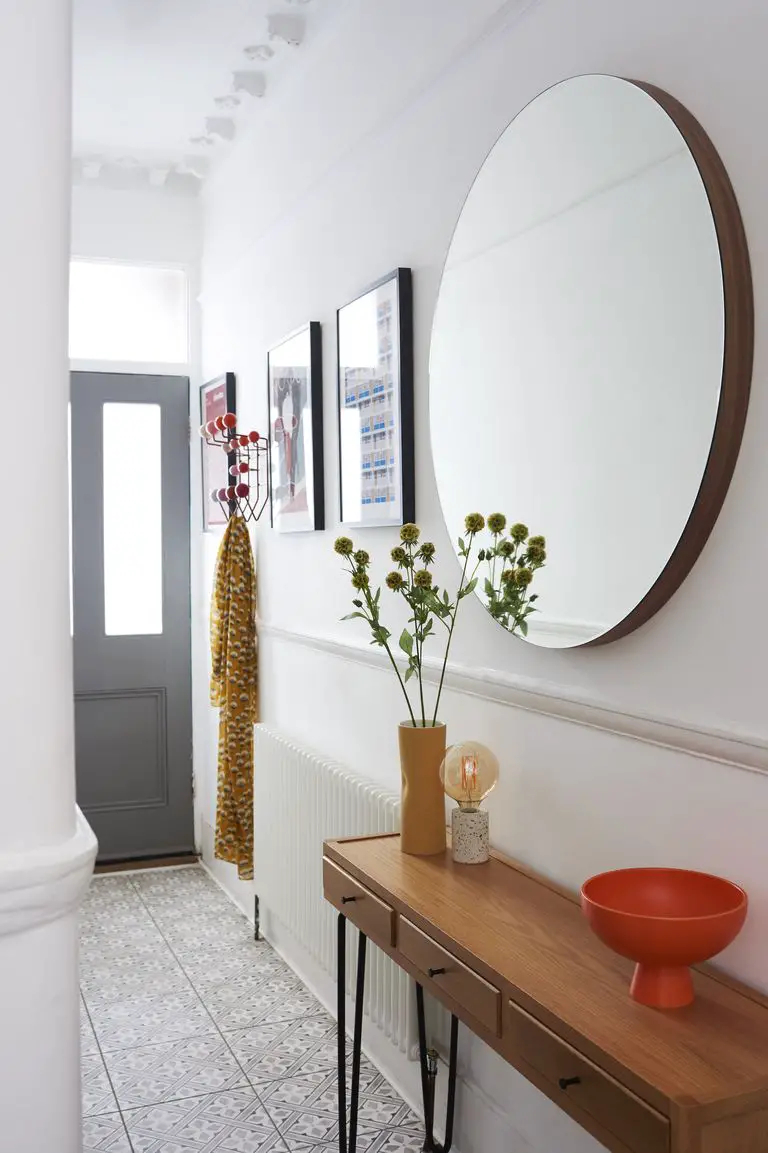 To make the hallway in your house look more spacious, you can use a mirror as a decoration that is very suitable for this situation. Use a frameless round mirror to get a unique impression on your hallway decor. For maximum results, choose a mirror with a size large enough and hang it on an empty wall area. Frameless mirror hallway from housebeautiful.
Bring a classic and unique feel to your hallway by using a uniquely shaped mirror with a gold frame decorated with beautiful carvings on it. In addition to decorating the hallway of your home, mirrors can also give the impression of being wide and wide, so it is very suitable if installed in a hallway that has a limited area. Gold frame mirror hallway from apartmenttherapy.
2. Pattern Wallpaper
Give a touch of color and pattern by using a decorated wallpaper. It is one of the easy hallway furniture ideas that cost very little. You don't need to cover all the walls. The idea is to make focus attention on one area.
Presenting a different atmosphere in the hallway of your house at a low cost and maximum results is to use floral wallpaper that is evenly applied to the walls that are still plain. This floral wallpaper is suitable for a room that wants to present a feminine feel, combine it with several interiors made of wood so that it can blend in perfectly. Floral wallpaper design from apartmenttherapy.
To give the impression of your minimalist home hallway, try to use vertical striped wallpaper. The minimalist impression is very pronounced if you use this pattern, use a combination of black and white neutral colors so it doesn't feel boring. To give a cheerful impression to the hallway, you can add pink chairs and large green plants at the front. Black and white striped wallpaper from housebeautiful.
3. Plants
A table with a vase of flowers in the center of the hallway makes a classic decoration. Green plants located in various area in the hallway also gives a variation to the room. Besides, it is a useful item to absorb dust.
Bring a natural feel to the hallway in your home by putting some green plants there. You can set up a small table to put green plants with different pots, so your hallway will get a natural freshness every time. In addition, green plants will give their own color to the all-white hallway in your home. Indoor greenery with a variety of different pots from housebeautiful.
Flowers in pots can also be used to decorate the hallway in your home, add a table in front of the hallway as a place to put this container flower. You can use a vintage wooden table to give the hallway a classic impression. In addition to providing natural freshness, flowers in pots will also give a cheerful impression with the colorful colors of this flower, so of course, it will become a new focal point in your hallway. Silver flower vase from housebeautiful.
4. Hanging Shelves
Shelves are very neutral hallway furniture ideas suitable for any hallway. It can be a decoration, display, or useful furniture to put all you need like keys, books, and other items.
A simple thing that you can try to perfect the hallway decor is to use hanging shelves. The easy way of installation and the simple shape make this hanging rack very popular with everyone. Feel free to use a wooden hanging shelf or two, because it will make a lot of photos or other decorations that can enliven your small hallway. Floating wooden shelves from apartmenttherapy.
Hanging shelves are a new innovation for those of you who want to maximize hallway space with a narrow floor area. With this hanging shelf, it will make the room look more spacious, so it is very suitable if applied to the hallway in your home. You can attach a hanging shelf to the decoration part of the windowsill. For a finishing touch, you can use this shelf to place some low-maintenance green plant pots. Decoration windowsill from apartmenttherapy.
5. Hooks and Pins
Make use of the empty hallway to put your coats, jackets, and bags. Some hooks or pins in one corner can be a quick stop to grab some essentials before you open the door.
Take advantage of the blank molding wall in the hallway to attach hooks or pins. You can use these hooks or pins as an alternative to store items that you use frequently, place the hooks or pins on the side of the door or in several different areas of the wall so that they are easy to find. For example, to store a coat or umbrella, that way when you rush to use it, it will be easy to reach and find. Hanging hook storage from apartmenttherapy.
Not only as an alternative storage place, you can also use hooks or pins as a place to hang unique wall decorations according to the artistic theme of your home. You can hang tassel decorations and knitted bags with unique motifs as attractive wall decorations. That way this pin can be the center of attention of everyone who sees it. Hanging pin storage from apartmenttherapy.
So, have you considered what hallway furniture ideas are suitable for your home? Each piece gives different effects to the hallway, from something classy, playful, or useful. Choose one or two that best describe you at home.
(Visited 136 times, 1 visits today)
Tags:
Hallway Furniture Ideas
Last modified: May 30, 2022