From body care products to bathroom cleaning products, there are many things to be stored in your bathroom. Do not just toss them in a box or let them scatter around. Check out the bathroom cabinet below to help you store efficiently.
1. Wall Mounted Cabinet
If we observe the bathroom, the wall is actually the widest part of the room. Why not maximize it to finish your storage problem? Install a wall-mounted cabinet and let your floor free. You can install several cabinets to meet your need. Each cabinet drawer can be designed for specific products. Label each cabinet if necessary, to prevent confusion.
This wall-mounted bathroom cabinet made of wood gives a natural impression that you can repaint with black paint on the outer surface. This pull-out cabinet really saves floor space because it is installed on an empty wall, besides that this cabinet is also equipped with several plywood shelves that store more toiletries. Wall-mounted wooden cabinet from homebnc.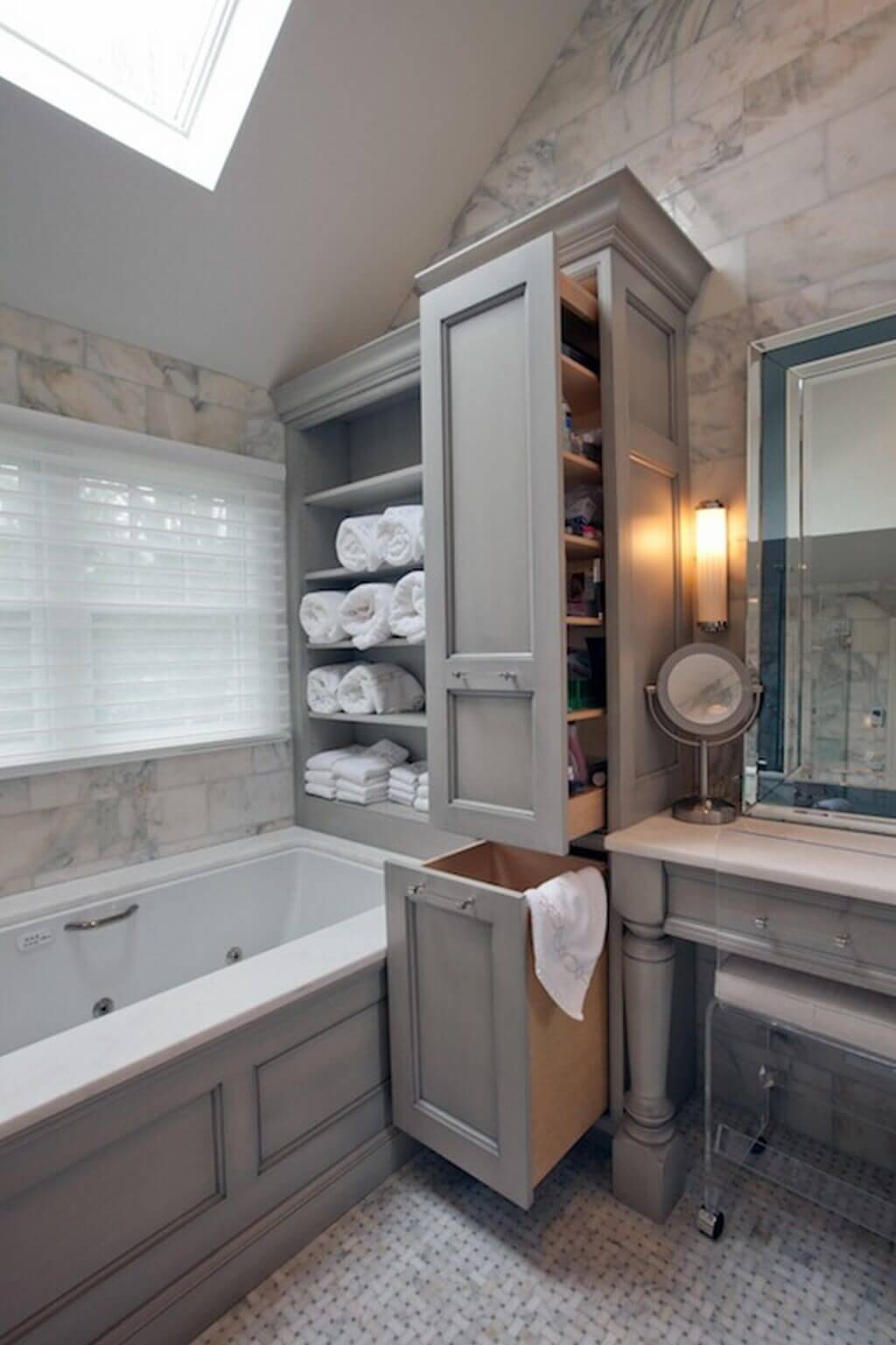 The pull-out bathroom cabinet is one of the smart storage that you can try. You can match the color of this cabinet with the outer surface of the bathtub for a more elegant and perfect appearance of the room. This cabinet has several vertical shelves that you can use well. Gray pull-out bathroom cabinet from homebnc.
Modern bathroom decor will appear more minimalist when using some appropriate furniture. Start by using a floating cabinet sink that has several storage sections so that it can be used to store toiletries and toiletries as needed. Use a marble countertop for a soft surface that is easier to clean when splashed with water. Floating cabinet with marble countertop from mydomaine.
Don't let your bathroom wall decor not be as useful as possible, now you can use it as storage by installing a floating rectangle cabinet made of melamine wood so it looks cleaner and modern. Install this cabinet right above the toilet to make it easier for you when taking tissues. Floating cabinet above the toilet from mydomaine.
2. Tall Cabinet
A small bathroom is not an excuse for unattended bathroom products. If space is not available horizontally, then switch to the tall cabinet to expand the use of vertical space. This tall cabinet offers an elongated look as well as extra space for your bathroom stuff. Feel free to arrange your product at each level according to your usage frequency. Mostly used products are better to be placed in the middle so you can easily reach them.
Make the best use of bathroom walls for smart bathroom storage ideas. This wall-mounted cabinet which is equipped with a pull-out drawer adds storage so that it can be used to put several items in larger quantities. Also, take advantage of the cabinet door for storage by installing a minimalist-sized wooden shelf. Wall-mounted tall cabinet bathroom from homebnc.
If you want a storage idea with a larger amount, then you can use a tall built-in cabinet with several vertical shelves that are neatly arranged. Use each shelf to store toiletries according to their function. You can close the bathroom cabinet when you are finished using it so it doesn't get dusty. Built-in tall cabinet bathroom from homebnc.
3. Marble Top Cabinet
This bathroom cabinet offers not only storage space but also an elegant look. The marble which still wins the bathroom trends for 2020, will bring a rich and bold look to your bathroom. The marble top can add endurance to your cabinet so you can put some heavy products on top. The marble also protects the cabinet from stain, in case you put some perfume or lotion that can easily leak and leave a nasty stain.
Repaint the cabinet sink in gray to make it easier to combine with the white marble material on the top. You can use this top surface to put some toiletries such as soap and flower decorations that are applied to a black ceramic pot that has a larger size. Not only for the countertop, but you can also use matching materials on the backsplash for a more luxurious and clean bathroom impression. Gray cabinet with white marble top from nextluxury.
Bring a natural feel to the bathroom decor by using a hardwood cabinet which is equipped with several pull-out drawers and an open shelf at the bottom. Combine with a white marble top as a smoother surface and is very suitable when decorated with green plants on it. No need to repaint this cabinet, let this furniture look more rustic. Hardwood cabinet with top marble from nextluxury.
If you have a narrow bathroom floor space, then you can use some effective furniture such as a floating sink cabinet made of melamine wood. This cabinet sink design is equipped with a marble countertop so that it looks more modern and never goes out of style. The top surface with marble material is easier to clean when it starts to get dirty and is certainly more sturdy. Modern melamine wood cabinet with marble countertop from nextluxury.
4. Open Shelf Cabinet
The storage problem is identical to the space limit. Open shelf cabinet provides space for you to control. You can put your product directly or add a container to your liking. The container can be mix-matched with your bathroom style preference. Also, an open shelf cabinet allows you to decorate it with a vase or decor statue.
This open white cabinet sink in the bathroom would be a smart storage idea that you can use to stack some clean towels and put your makeup tools in a plastic cup in neat order. Use a rattan wicker basket as a container for some tissues so they don't scatter everywhere. Don't forget to decorate the top surface of the countertop with a white ceramic vase filled with green plants. White open cabinet sink from decoist.
Take advantage of the bathroom wall area as a storage idea that saves floor area by installing an open floating cabinet equipped with several vertical shelves that are suitable for putting some towels, mason jars, and some decorations such as photo frames as a different bathroom view. An open cabinet that is installed close to the bathtub makes it easier for you to take toiletries so that it is more effective. Vertical open cabinet from decoist.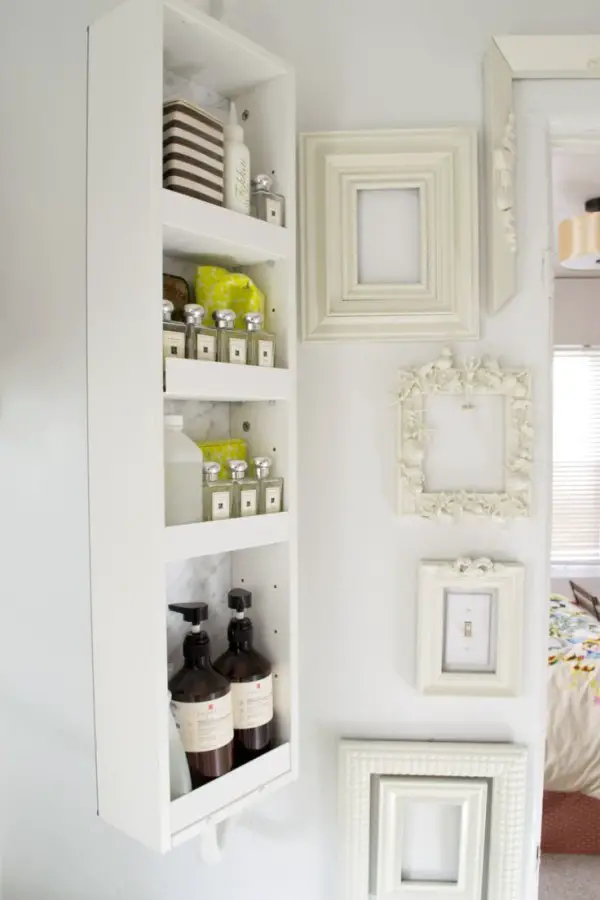 A tall open bathroom cabinet that is hung on one part of the wall is a very effective and efficient storage idea because it does not take up floor space at all. This storage cabinet is suitable for those of you who have bathroom decorations with limited space, repaint the cabinet with white to match the neutral color tone of the room. Tall open cabinet bathroom from decoist.
5. Louvered Cabinet
This cabinet is identical to its structured strip that creates excellent ventilation. If you are afraid of mold, this type of bathroom cabinet can prevent you from that nightmare. Feel safe to store your cotton, tissue, and linen without worrying about mold or musty smell.
Complete your coastal bathroom decor with a louver storage cabinet with a slatted outer surface that has more air vents so that it allows you to store some toiletries safely and avoid mold, of course. Flowers with bold colors can be placed on top of the cabinet by using a transparent glass vase filled with water to ensure your flowers stay fresh all day long. Coastal louver cabinet from decorpad.
Match the color of the louver cabinet with the feel of the bathroom to match the elegant color tone of the room. White is always the choice for a room decor that wants a neutral feel and of course, it is more suitable to be combined with any interior that is around it. Cabinet louver is a safe storage idea and is not easily damp when used to store clean towels or tissues. White paint louver cabinet from decorpad.
Use oak wood as the main ingredient of the bathroom louver cabinet to make it durable and not easily porous when used for a long time. This oak wood cabinet is very suitable to be placed on the dry bathroom floor area, the slatted door on the cabinet becomes an air vent inside so it doesn't smell easy when used to store some tissues, towels, or cotton. Oakwood louver cabinet bathroom from decorpad.
Be ready to have a neat and clean bathroom by installing a bathroom cabinet.
(Visited 161 times, 1 visits today)
Tags:
Bathroom cabinet
,
Bathroom storage idea
Last modified: June 7, 2022