Flowers are not only pretty, but they also radiate positive energy. Based on the inspiration, many people bring floral-themed ideas to remodel or create their living room to make more relaxing and comfortable space. In addition to bringing the real, fresh colorful flowers in vases or baskets, there are many other impressive alternatives to do.
1. Floral wallpaper
These wallpapers, in their different pattern sizes and soft to bold color pops, are great for any interior style you want to pursue: modern, folky, traditional, vintage, country, and many more.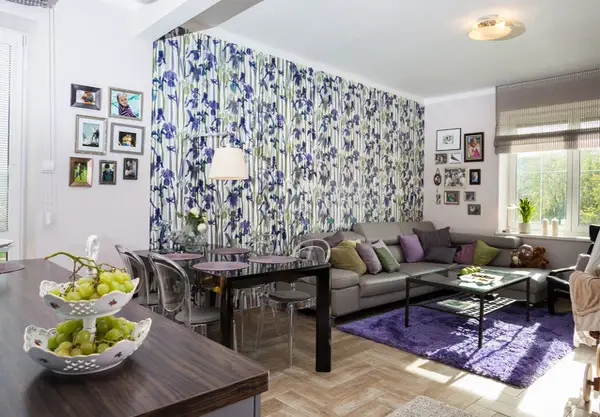 To create an elegant living room decoration, apply floral motifs for the wallpaper theme. Choose in a soft blue color and combine it with a soft sectional sofa and a coffee table to add to the impression of a more dazzling living room decor. This open living room design will make the design of the room look wider. Floral motifs wallpaper living room from homedesignlover.
The atmosphere of this living room creates a cheerful feeling by applying yellow flower wallpaper for an attractive appearance. Combined with the geige color scheme and brown sofa, this will make you feel at home for a long time in this living room. This dramatic lighting comes in a white table lamp shade for an interesting room design for you to try. Yellow flower wallpaper living room from homedesignlover.
2. Floral Curtain
This kind of window treatment is perfect for spring and summer times. Pick the lightweight one in fabric. As to pattern, you can choose the large or smaller prints, as well as the colors that will fit your interior.
Cream-patterned curtains cover the window that sits above the blue floral section of the sofa lit by a large oil-rubbed bronze with blue floral hue. A wall-mounted lamp with a flower-patterned shade will also provide dramatic lighting. Green leather tufted vintage chairs and blue floral backrests also sit around the coffee table. Cream-patterned curtains from decorpad.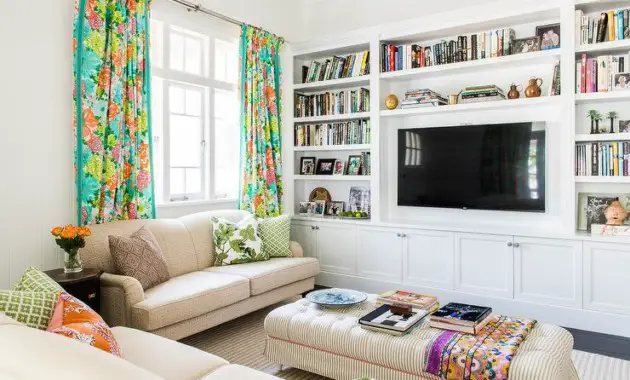 Apply flower curtains for your living room decoration. choosing green for the curtains combined with colorful flowers creates a cheerful room. The white built-in living room bookshelf complete with open shelves and closed storage blends in with the decor of the surrounding room. A beige striped tufted bench as a coffee table surrounded by a cream roll-sleeved sofa with green cushions will complete the look of your living room. Green flower patternd curtain from decorpad.
3. Floral Sofa and Chair
Having a fresh living room with cozy seating to snuggling, flowered sofas and chairs are just perfect. You can try the contemporary edge or turn to more traditional motifs of cottage or romantic look.
Modern traditional style living room with floral sofa and some cushions combined with soft wooden chairs and plush round ottoman. Here comes a brilliant decoration that you can try. Combined with the beige color scheme and adding a large mirror above the sofa, it gives a spacious touch and becomes the perfect focal point of the room. Floral sofa and some cushions from decorpad.
Complete your classic living room decor with a pink floral sofa. Combined with classic furniture and a large carpet will be the most comfortable classic living room decoration. Don't forget to add a wooden coffee table that will give a natural impression to this living room. A large French-style door on one of these walls will provide natural lighting and have a spacious feel to the room. Pink floral sofa from decorpad.
4. Floral Pillows
Flower inspiration also can be transformed into the accent pillows and throws to make your seating furniture wonderful and complement the whole interior decor. The rule in mixing and matching pillows and throws is one in a solid color, one in geometric, and one in floral. They can be paired with solid-colored sofas or chairs, or come in a matching set.
Using floral pillows creates a cheerful living room design. Combined with a soft sofa with a vintage design and the addition of an ottoman with the same pattern makes the living room decoration special and elegant. The white color scheme and a touch of yellow on this table lamp provide the perfect and inviting contrast. Floral pillows living room from idealhome.
Give a cheerful touch to your home by placing a small floral pillow. This pillow can give a contrasting look to your neutral living room décor. In addition, you can also add sofas and chairs with floral patterns to give a cheerful room. The white color scheme, which is complemented by a framed wall decor, will make your home look more attractive and attract the attention of many people. Small floral pillow from idealhome.
5. Floral ottomans
Don't forget this little but stunning interior furnishing. These floral ottomans can be found in different shapes of round, square, and rectangle. They can be legless or with wooden legs serving as a stool, table, or even storage compartment. Simply pick your favorite ones.
One of the coolest things about having an ottoman that doubles as a coffee table is that you can choose a bold pattern or color and turn it into a centerpiece for the entire room. Choosing a floral pattern on this ottoman will result in a cheerful and inviting room design. Floral pattern ottoman from homedit.
6. Floral Rug
Finish the look of your flower-inspired living room with a beautiful floor covering. As to floral carpets, match them with neutral-toned wall and ceiling. Or else, pair your floral rug with other bright-colored furnishing and decorations. You can choose either a small area rug or the full larger one.
Bold summer living room with colorful floral rugs, floral artwork, blooming flowers in vases and colorful patterned pillows for a cheery feel to this room decor. Choosing this neutral colored wall will provide the perfect focal point. The large window behind this sofa will let the sunlight into your home. Colorful floral rugs living room from digsdigs.
There are still countless more ideas of a living room in floral inspiration. They will definitely satisfy your personal preferences in sprucing up your space.
(Visited 54 times, 1 visits today)
Tags:
Floral inspiration for living room decor
,
living room decor
Last modified: October 7, 2022