You have a lot of kitchen stuff to store, but the kitchen doesn't have enough space for them. The solution: get creative with the kitchen organization strategies. There are so many creative and unused spaces you can utilize in your kitchen, even if it is not too big.
What unique places can you use to organize the kitchen stuff? Here are some surprising ideas you probably don't think before.
1. Storage above the Window
The place above your window can accommodate some more stuff. Install a floating shelf or cabinet above the window. Use it to store things that you don't immediately need. You can also use it to display simple decorations, like ceramic vases or mini planters.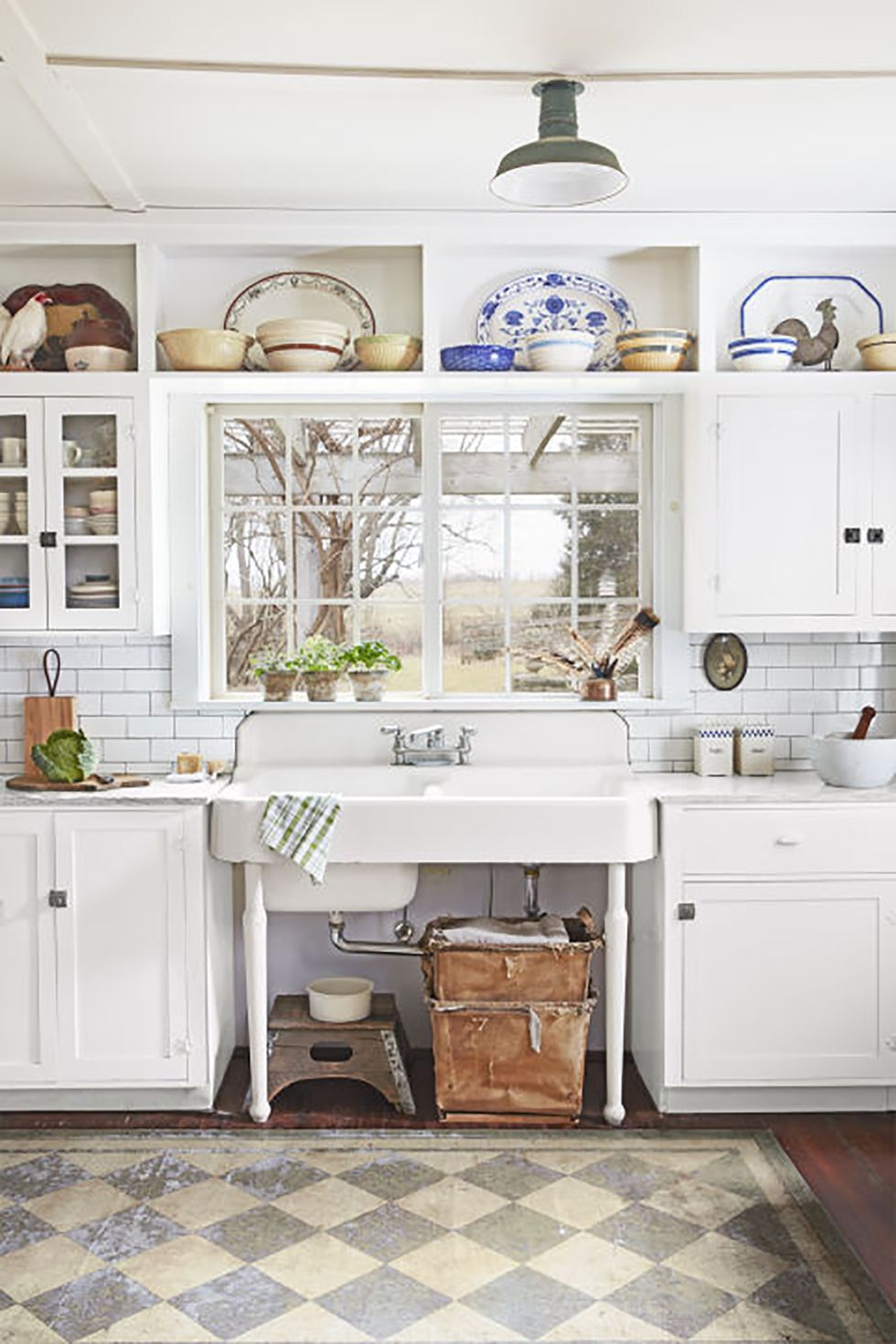 If you need more storage in the kitchen decoration, then you can use the wall area at the top of the window to install a floating rack that can be used as an antique plate storage idea that can also be used as a vintage-looking room decoration. This built-in open shelf has a color that matches the feel of the kitchen room so that it can blend in perfectly without destroying the color tone of the room. Built-in open shelf from countryliving.
Wooden floating cabinet equipped with an open surface on it you can use as a storage for some antique ceramic cutlery which will become the focal point of a beautiful room. This shelf above the window has a height that cannot be reached by children so it is safer and minimizes the occurrence of mess or breakage. Floating cabinet with open shelves above from countryliving.
This rectangular shelf design that hangs above the glass window becomes an area to display and show off some patterned china plates which are dominated by blue and white, you can arrange these antique plates according to their size to make it look neater and artistic. The feel of the kitchen room which is dominated by white makes the room look cleaner and more spacious. Rectangle shelf design above the glass window from countryliving.
2. Glass Shelves on Backsplash
Do you know that your kitchen backsplash has potential storage spaces? Install floating glass shelves on your backsplash, especially under the cabinet. Glass shelves give you extra spaces to store glassware and other kitchen goods without ruining the visual of the backsplash.
The appearance of your kitchen will seem more modern and contemporary when you use transparent floating glass shelves that can be used as open storage ideas. You can apply this shelf right in the backsplash of the kitchen as a perfect accent with several appearances of glass cutlery that look luxurious without being excessive. Floating glass transparent shelf from kitchenbathdesign.
Open glass shelves with gold iron supports are a combination of the two materials that are very suitable when applied in a modern-style kitchen decoration. In this kitchen area, you can choose a glass shelf with a thicker size to make it more sturdy to accommodate several items or cutlery that are stored in larger quantities. In addition, iron supports are also not easily porous or rusty when used for a long time. The combination of thick glass shelves with gold iron supports from victoriaelizabethbarnes.
Perfect your kitchen backsplash design with a glass shelf standing combined with a sturdy and strong iron pole. This glass storage rack is arranged vertically so it doesn't take up a lot of countertop space that will interfere with your cooking activities. Look, doesn't this glass shelf look more luxurious and modern, you can try it as the right first step. Vertical standing glass storage rack from victoriaelizabethbarnes.
3. Hangers under Floating Shelves
Floating shelves are practical enough as additional storage spaces. However, you can utilize the underside of the shelves by adding hooks. Use them to hang cups, mugs, or cooking utensils, especially if you often use them.
In order for your floating wooden shelf to function more optimally, then you can add an iron hook as an additional storage idea that can be used as an area to hang your coffee cup. You can attach this iron hook along the hanging rack so that it can be used for storage in larger quantities. Natural wood shelves are the best choice of environmentally friendly materials. Natural wood rack with iron hook from digsdigs.
If you have a floating wooden shelf, then you can change it for the better when you combine it with a gold-colored hanging hook that has a color resembling the color of your floating wooden shelf. This gold hook can be used to hang some vintage patterned cups that you have for better organization without creating a messy and uncomfortable kitchen. Hanging gold hook from homedit.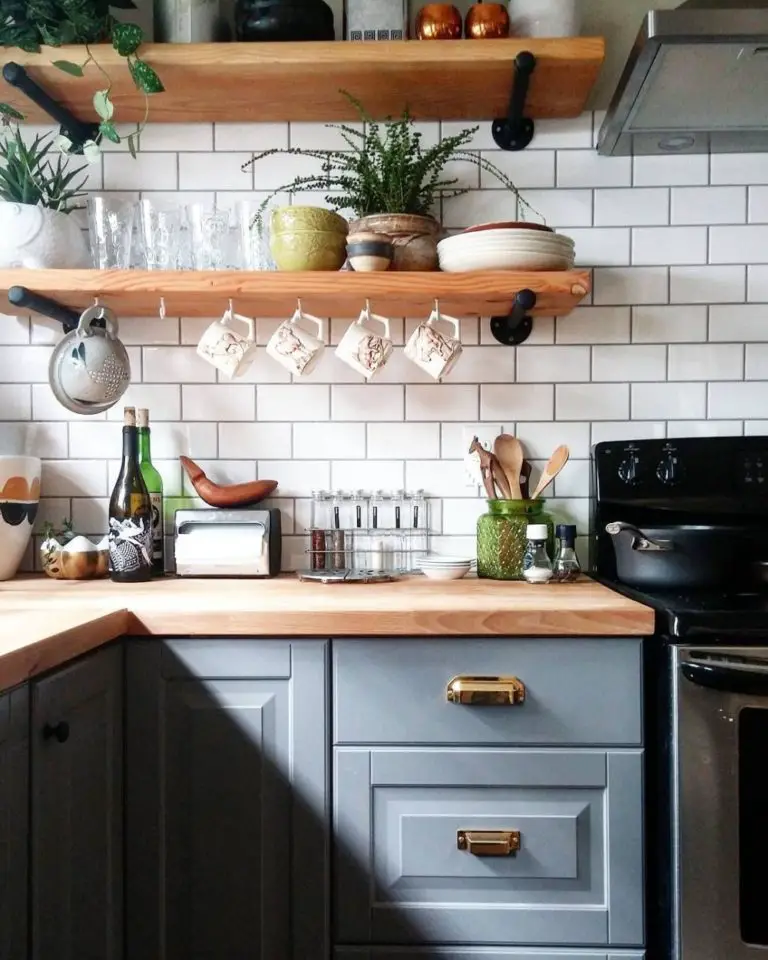 The wood material with a thicker size is very suitable to be used as the main material for floating shelves that are installed in the tile backsplash. This floating shelf design is also equipped with a hook that is installed on the bottom shelf so it is safe to hang your coffee cup which has a smaller size. This hook is made of iron so it is stronger and not easily porous when used for a long period of time. Thick wooden shelf with hanging hook from homedit.
4. Behind the Cabinet Doors
The inside of your cabinet doors can serve as extra storage spaces. You can install mini racks behind the door panel. Use them to store dried spices and other kitchen products, hidden when unused. The simplest solution is to attach several hangers behind the door.
Do you have a kitchen decor with limited space? If so, then you can use the door area in each cabinet as an additional storage idea for your cooking utensils such as cutting boards. You can install a wooden shelf that has a size according to this door so that it can be used to the maximum without having to spend a lot of expenses. Storage rack in the cabinet door from familyhandyman.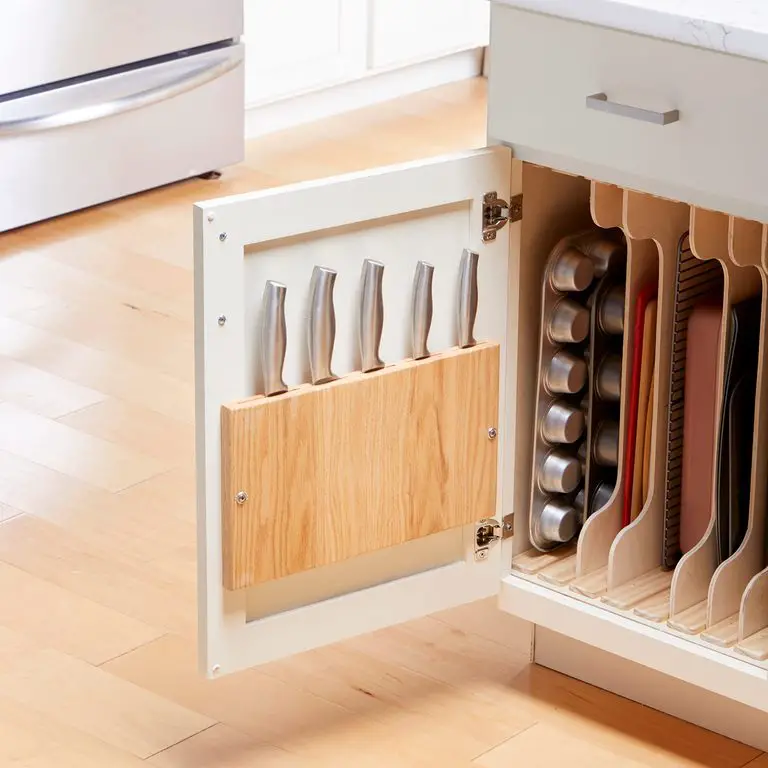 Install several knife racks in your wooden cabinet door area for a safer storage area out of reach of your children. Make a rack with the amount that is adjusted to the knife you have. Plywood with bright colors is the best choice that you can try easily and cheaply. You can try these DIY storage ideas easily without spending a lot of money. DIY knife rack behind cabinet door from familyhandyman.
So that the plastic bag crackle in the kitchen room is not scattered everywhere, you can install a DIY storage container made of paper that has a thicker size. Put all the crackle plastic bags in this container so that they can be reused when needed. It's not enough to get here, you can also install this container right behind the cabinet door to minimize messy kitchen decorations. Plastic bag crackle container behind the cabinet door from familyhandyman.
5. Corner Wall Spaces
The corner areas are often underutilized. You can install floating shelves or L-shaped racks to make use of the awkward angles. Corner floating shelves follow the sharp contours of the walls. You can use them to store things like mini plants and decorations.
The L shape wooden shelf that is installed in this kitchen decoration is the best storage idea that you can use to put some cutlery that is often used to make it easier to reach. Do a repaint on this shelf in accordance with the floating cabinet that is used to harmonize the color tone of the room which looks brighter and more elegant, light gray pastel is the best color choice you can try. Pastel color L shape storage rack from decoist.
You can use two L-arrangements of minimalist wooden shelves in the kitchen decoration as an additional storage idea that doesn't take up a lot of kitchen space because it is installed in the corner of the wall that is rarely exposed by people. Besides being used to store some cutlery, it can also be used to put room decorations such as green plants and painting frames that have the same size and are not too big. Open storage corner shelf from lushome.
The L shape corner shelf will appear more modern and perfect when you equip it with spotlights that can be used as lighting in the kitchen or more precisely in your marble countertop. The built-in lamp that is used has a fairly dim lighting so it is very energy efficient. Use wood that has been painted and re-polished to make it seem more modern and not out of date. Modern floating corner shelf with spotlights from cannibalnyc.
The kitchen organization requires all the storage spaces you need to create a convenient, beautiful kitchen. Open your mind to all possibilities of storing your goods here.
(Visited 103 times, 1 visits today)
Tags:
kitchen decoration
,
Kitchen organization ideas
Last modified: October 13, 2022