Every family who does a lot of craft projects understand the importance of proper storage. Without an organization system, a crafting room will be left in disarray, ruining the creative process. Luckily, there are many ways for creative souls to organize supplies in the crafting rooms.
Make your crafting room more organized by using these ideas.
1. Framed Pegboard
A pegboard is great for vertical supply storage. You can hang scissors, looms, thread spools, brushes, gift wraps, and many more. You can even attach small shelves to store paint tubes. Since you are organizing a crafting room, make your pegboard more interesting by framing it. Alternatively, paint the pegboard with fun colors.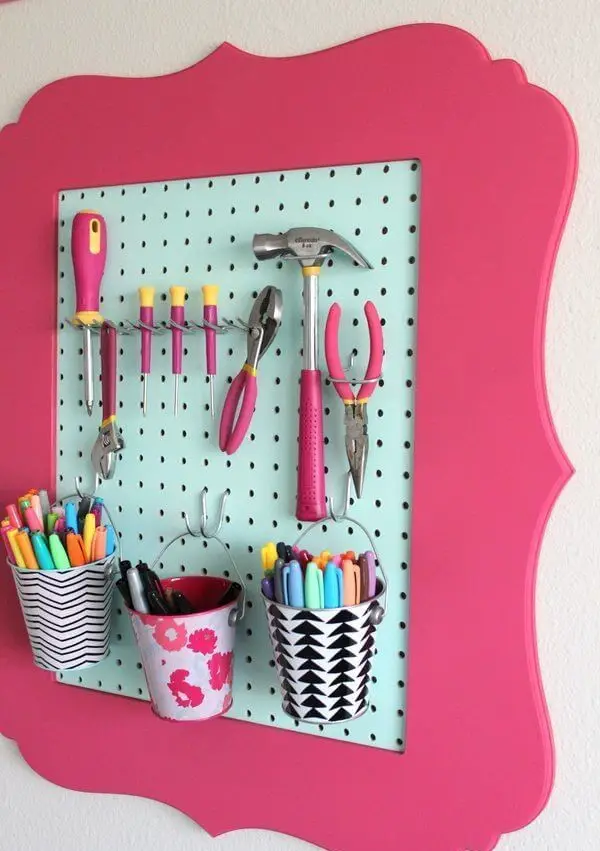 Awesome framed pegboard with cute colors. All you have to do is get creative and create your own shape. Paint with pink to make it look chic. Besides being able to organize your belongings, it can also beautify your room decor. You can store a variety of scissors tools easily and produce a neat and clutter-free room. Pink framed pegboard from homebnc.
This white framed pegboard provides an attractive room design and will look stylish. This is brilliant vertical storage so it won't take up much space. You can use this pegboard to store your jewelry neatly. Hanging on the bedroom wall is a unique look that you can try. White framed pegboard from homebnc.
Do extraordinary things with this framed pegboard by hanging everything you want like paper, scissors, brushes and thread. To make it more interesting, you can paint the pegboard and frame in Tosca and soft green colors. In addition, you will create a neat room design and will avoid clutter. Framed pegboard storage from familyhandyman.
2. Labeled Wicker Baskets
Use wicker baskets instead of plastic boxes to store your supplies. Label each basket to avoid confusion, especially if you buy wicker baskets in bulk. The texture will add a rich element into your crafting room, making it more interesting.
Craft room organization doesn't have to be ugly or monotonous. You can add this craft room with a wicker basket complete with a label to make it easier for you to pick up the items you want to use. Putting it on a cube cabinet complete with several other ornaments gives an attractive appearance. Wicker basket with labels from thespruce.
Creative idea to put labels on wicker baskets, easy and cute to do. It is also useful for identifying your items. So you don't take the wrong thing. Putting this cabbage in storage will make the room neat and look more stylish. You can use it to put some other ornaments to produce the perfect room design. Wicker baskets storage from blesserhouse.
Labeling a wicker basket is a brilliant idea. You can divide the goods according to the type. The result also looks neat and clean. In addition to wicker baskets, you can also add labels to the drawers to make it easier for you to pick up items as needed. You can also try adding a pegboard to easily store your small items. Labeling a wicker basket from justagirlandherblog.
3. Painted Rolling Cart
A rolling cart provides practical and convenient storage for your crafting room. You can buy an old bar cart or tall narrow cart (usually for a small kitchen) and repaint it with fun colors. The rolling cart has ample room to store paint tubes, brushes, knitting tools, and many more.
Another organizer idea for your home is to use a wheelbarrow. You can buy or reuse your old cart. To make it look attractive, you can paint it yellow to make it look cute. Use them to organize your things and your craft room will look neat. You can also add extra storage in the form of boxes and drawers to organize your many items. Yellow bar cart from bhg.
Reusing a bar cart and painting it blue will make for an attractive storage design that will grab the attention of many people. You can use it to store various tools in your craft room. It looks more attractive and will steal the attention of many people. Adding these cute storage boxes and drawers makes for the perfect design. Painting bar cart from athoughtfulplaceblog.
For practical storage in your home, you can use a stroller. This storage area is easy to move so it doesn't require a lot of energy if you want to move to another place. Feel free to repaint the sled if you don't think the color fits your style. You can use this storage idea to easily put a few things in and it will spruce up your room. Bar cart storage in craft room from smartfundiy.
4. Floating Shelves
Floating shelves are simple but efficient, ideal for keeping glass jars and boxes that store your craft supplies. You can increase the storage capacity by adding small hooks under the shelves, turning them into simple hangers for scissors and other crafting tools. You can use repurposed boards and repaint them with bright colors.
Floating shelves on the wall give you a neat place. combine it with pegboard to put some of your crafting tools. You can also add lights under this shelf to give a perfect room design and steal the attention of many people. Adding this black wire basket will add extra storage to your space. Floating shelves storage from digsdigs.
This simple but efficient floating shelf will give an attractive appearance and steal the attention of many people. Using this brass holder will look more sturdy and durable. At the bottom you can add a storage cabinet complete with baskets and wicker drawers. White floating shelf from digsdigs.
To make your craft space more organized, install some floating shelves and use them to store your things. For extra storage, you can add rods and hooks on the side of the shelf and make it easier for you to store your things. Additional storage You can use a jar to beautify the design of your craft room. Floating shelves with hooks from digsdigs.
5. Simple Modular Shelves
The simplest modular shelves from the store can be great storage spaces for a crafting room. These shelves are great because you can adjust their sizes based on your needs. The shelves are recommended for a small crafting room.
You can use this wooden modular shelf to easily store your various utensils. Adding baskets and wire boxes will create an attractive room design and give your craft room a neat impression. Its size that does not take up much space will give a sleek room design. Wooden modular shelf from digsdigs.
Implementing a modular shelf on this idea complete with multiple storages will make it easier for you and adjust the size according to your needs. Adding these white wire baskets and boxes provides extra storage and will spruce up the look of your craft space. Modular shelf craft room from digsdigs.
Neat and clean modular shelving ideas in your home craft room. Multiple box shelves and wicker baskets make it easy to find your favorite items, and they look stunning too. Moreover, this shelf becomes the perfect focal point of the room and will steal the attention of many people. This shelf is recommended because of its design that does not take up much space. Modular shelving ideas from digsdigs.
You can also add efficient storage in the crafting room by investing in a crafting desk, with additional shelves. Having a good storage system will allow your creativity to flow more freely.
(Visited 110 times, 1 visits today)
Tags:
Craft room organization ideas
Last modified: October 17, 2022