While there are people who prefer the luxury of a bedroom, some prefer a comfortable bathroom to relax after a long day of work. Therefore, creating a bathroom needs more consideration than its functions.
Rustic bathrooms are amongst the most popular style out there. Comprising of a cabin-like relaxation by wooden furnishings and a slab of modern simplicity, rustic bathrooms offers you the best of both worlds.
From reclaimed woods, rough stone, to galvanized metals, listed below are inspirations for rustic bathrooms, surely adding depth and character to your bathroom interior.
1. Modern-Rustic Bathroom with Glass Door
Creating a perfect combination of sleek black and rustic woods, this bathroom functions an open space that can be used two-ways. The union of the metal sink and brown stand creates a sense of modernity and warmth at the same time. As a final touch, the well-lighted candles give a homey atmosphere to the overall look.
Attach and use wood planks to the bathroom walls and ceiling to create a rustic backdrop for the vanity and mirror. An easy way to bring a modern feel to the bathroom at the same time is that you can use a transparent glass shower room which makes the bathroom look more spacious and open, for the shower area you can use ceramic materials to avoid damage due to moisture. Transparent glass shower room from homedit.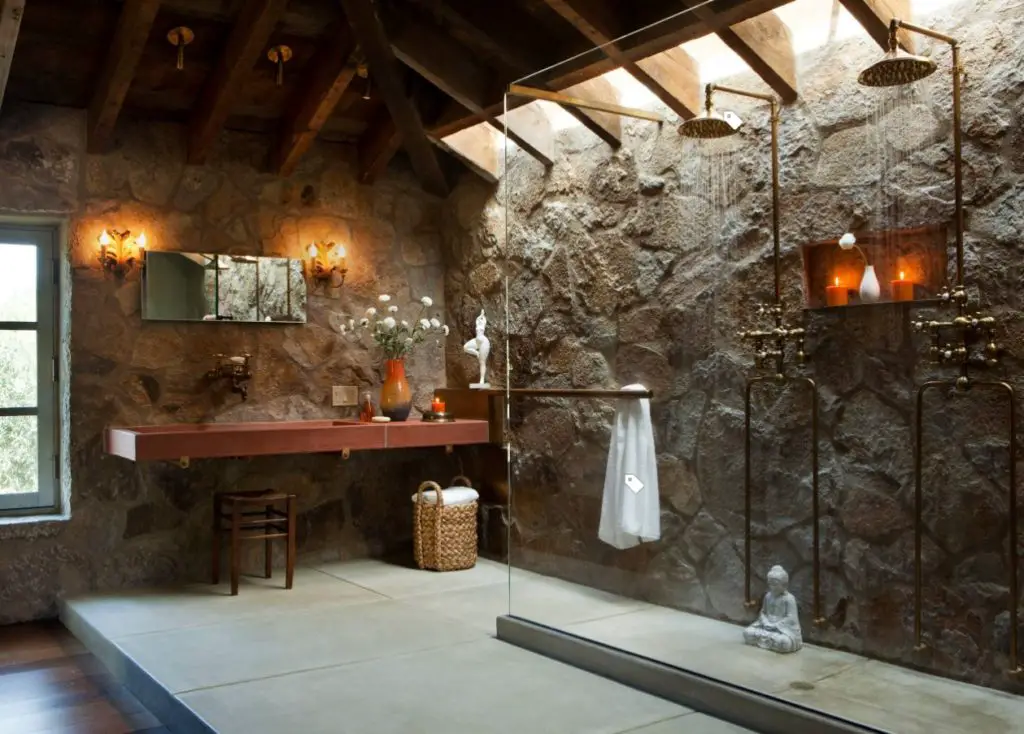 The combination of stone and wood materials can be more efficient to create rustic bathroom decorations, the two materials used both have a harder surface and are not easily porous. It's not enough to get here, you can also use a glass shower room to get a modern style instantly, this glass material makes any space look cleaner and more spacious, so you can try it in bathroom decorations with limited space. Stone and wood bathroom with glass door from homedit.
To distinguish wet and dry floors in modern rustic bathroom decorations, you can use a transparent glass shower room with thicker materials so that they are not easily broken when used for a long period of time. You can use this glass shower room according to the shape of the bathroom and its size. Logs that are applied to the walls add a warmer and natural impression to the room. Thick glass shower room with log cabin wall from homedit.
2. Hunter-Style Rustic Bathroom
Consisting of all-wood furnishing, this hunter-style bathroom might be one of the most to-go rustic bathrooms. Moreover, the decorative lamp above the mirror resembling deer's antler enhance the hunter-y ambience even more.
The combination of reclaimed wood with stone has become a rustic bathroom interior decoration idea, then when you want to bring the feel of a hunter then you can try using wooden chandeliers that have a shape resembling deer antlers. These chandeliers have lighting generated from several candles that give the bathroom an instant warm feel. The large glass window becomes an area of view that you can enjoy whenever you want. Wooden chandeliers design with candlelight from decoist.
If you need lighting in the vanity area, then a wall scones lamp that resembles the shape of a deer's antler is the best choice you can try. You can install more than one wall scones to get a brighter room atmosphere at night. Look at this deer antler wall scones lamp, doesn't it look unique and classic? Classic deer antler wall scones lamp from homedit.
This hunter-style rustic bathroom can be created easily through the use of wooden interiors with stones and more importantly using lamp lighting that has the shape of deer antlers with wood or iron as the main material. You can try the shape of this deer antler into the wall scones lamps and chandeliers which have a fairly large size. Hanging chandeliers are able to provide bright lighting throughout the room evenly. Combination of wall scones lamp with chandeliers in the form of deer antlers from homedit.
3. Classical Rustic Vintage Bathroom
Combining rural elements with classic beauty, this rustic bathroom is suitable for vintage lovers. White paint and equipped with gold plates to add a touch of luxury. Overall, this is a perfect choice for rustic bathroom fans who need a little elegance.
One of the bathroom interiors that looks classic and can be applied to white rustic bathroom decorations are faucets, mirror frames and gold glass door handles. The teak wood chairs and wicker basket under the sink are an interior that is able to present a rustic style in a classic-style room. Use this wicker basket to store some clean towels. Gold accents with wicker basket from digsdigs.
You can try the combination of white and gold in rustic bathroom decorations for a more vintage and classic look. You can start by using showers, faucets and gold wall scones that are complemented by wooden floors. There's nothing wrong with adding another color through indoor greenery in pots placed next to your marble sink. The combination of white with a rustic gold bathroom interior from digsdigs.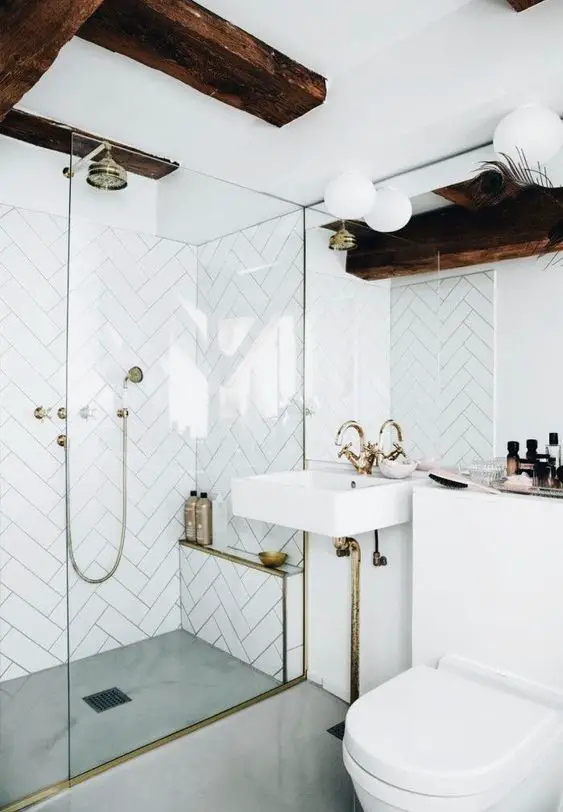 The nuances of a white rustic bathroom will look a little more luxurious when equipped with some gold accents that can be applied through the use of a faucet, a small bowl of soap and a chandelier just above the sink. Some of these gold colors are made of copper so they are not easily porous and are very suitable for instant classic impression. Herringbone tile shower room enhances modern rustic decor. Gold touch in the white rustic bathroom from digsdigs.
4. Log Cabin-Styled Rustic Bathroom
Comprises of exposed logs and beams, this earth-colored bathroom will remind you of a cabin in the woods. With walls, cupboards, and decorations full of reclaimed logs, it's hard not to lounge around while bathing in a warm tub.
The log cabin that is applied to some walls and ceilings gives a natural impression to the rustic bathroom decor, some walls with stone are the perfect combination that can be tried simultaneously. Wooden floor is a comfortable choice of footwear, enter sunlight into the room through the use of glass windows to minimize the occurrence of damp wood interiors and cause damage. Log cabin with stone wall design from architectureartdesigns.
Woooden logs are one of the materials that are often used in rustic-style rooms, including bathroom decorations that look simple without being excessive. Cooper bathtubs, vintage carpets and classic chandeliers are a combination of several interiors that can give a warmer feel to the room. Choose some lamp lighting with yellow light to give the room a dim atmosphere. Wooden log material with vintage interior from architectureartdesigns.
Choose and use reclaimed log materials to be used as some of the materials for vintage rustic bathroom decorations. To add a natural impression to the room, you can combine it with stone material that has a smoother surface so that it can be applied to the walls and floors. The two materials used have a harder surface so they are not easily porous and damaged when used for a long period of time. Combination of reclaimed logs with rustic bathroom stone from architectureartdesigns.
5. Rustic Bathroom with a Minimalist Touch
If you're one for minimalist bathroom, this rustic bathroom might suit your taste best. A narrow hallway could be instantly transformed into a shabby sink with wooden baskets to store dirty towels and laundry beneath.
Minimalist rustic bathroom decorations can be created easily through the use of the right interiors, you can start from using wooden vanity cabinets and shower room wall tiles that look clean and shiny. Then you can use the bottom empty space in the vanity as an idea for storing dirty clothes or towels by adding a wicker basket that has a size large enough. Wooden vanity cabinet with wicker storage basket from decoist.
Take advantage of the empty space at the bottom of the reclaimed wood for small storage by adding two rattan wicker baskets placed together. You can use this basket to store some dirty clothes or bathroom utensils so they don't scatter everywhere, causing uncomfortable room decorations. Reclaimed wooden vanity with rattan wicker basket from decoist.
There is a wide range of rustic bathrooms you can experiment on. Whether it's a combination of modern and rustic or purely rustic bathrooms with exposed logs, you can never go wrong in installing this timeless trend of bathroom design.
(Visited 178 times, 1 visits today)
Tags:
Rustic bathroom decor ideas
Last modified: October 17, 2022