To design something professionally, you need guidelines that will result in a visually pleasing form. In garden landscape and interior garden design ideas, there are some basic principles that should be followed to achieve it. Sometimes, these basic principles are not only about design but also about sense.
1. Balance
Human's eyes tend to be attracted to something that is balances – whether it is symmetrical or asymmetrical. In exterior and interior garden design ideas, the balance should be created for the whole composition of the area.
Using the principle of a balanced garden decoration will present an attractive decoration and will steal the attention of every guest who comes. You can balance the look of your garden by adding various blooming plants and flowers that will create a stunning display. Balanced garden decoration from digsdigs.
This balanced garden decoration idea uses a small garden design and is complemented by some greenery according to taste. Adding a seating area from this rattan chair will also create a comfortable garden decoration to spend your time. This green grass area will also give the impression of a fresh and inviting garden. Small garden decor from loveproperty.
This small garden design uses Japanese style for a charming decoration. Using this concrete garden bed will also produce a neat appearance and look more stylish. Some of these green plants and trees will also create a unique look for you to try. This brick path will also make for an attractive garden. Japanese style garden from loveproperty.
Building a big garden is a great idea to express your ideas. Creating a garden path will beautify your decor so that it looks more organized. You can also add some greenery and blooming flowers for an attractive garden decoration. Adding green grass between these paver paths will result in a fresh garden decor and steal people's attention. Big garden decor from homedit.
2. Simplicity
Simplicity can be interpreted as an uncluttered design. Keeping everything organized would make your landscape garden design look and feel comfortable. Pay attention to details such as pattern, color, line, and material to keep the composition simple.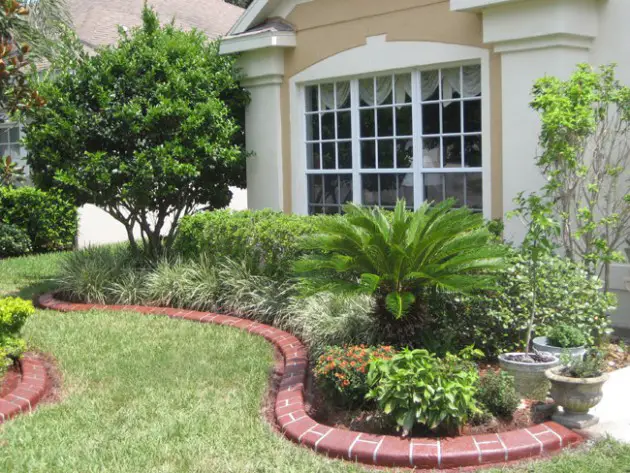 This simple garden has several green plants that line the garden of bricks. This will make your room decor look more attractive and neater. Add green grass around the garden bed to create a fresh and cool garden. This design will make the garden look more stylish and steal the attention of many people. Green plants from homesthetics.
An easy garden decoration with greenery and grass among the rocks looks simple but still looks stunning. You can also add large natural stone paths to create an interesting look. This simple design won't take up much of your space and budget. Greenery garden from homesthetics.
A neat garden design will beautify your garden decoration so that it is more beautiful. Using a garden path made of natural stone will look neat and comfortable with the garden. Don't forget to add a green grass area to make the room decoration perfect and steal the attention of many people. Garden path from homesthetics.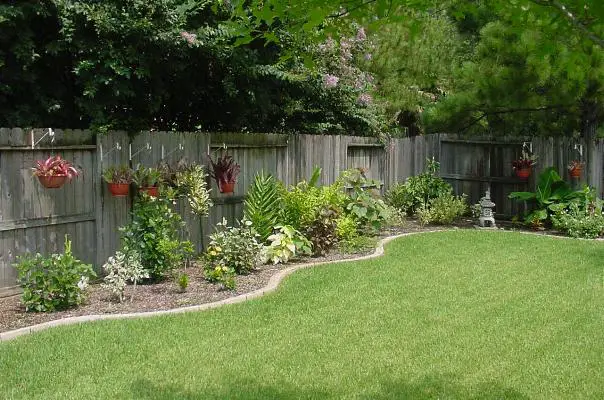 Decorating the garden by applying this dividing line will create an attractive garden decoration and look neater. Placing some house plants is a perfect idea to decorate your garden and will look minimalist. This green grass area will also make your garden feel fresh and inviting. Garden decor from homesthetics.
3. Focal Point
Though you don't always have to apply a focal point in your design, it will be a great option to make the design come to life. The existence of a focal point drags the attention and keep the design sensible.
The focal point draws the eye towards them and makes the space more interesting, and these large urns really do the trick. This is a charming garden display. Adding a barn door behind this urn will make your garden more stylish and will steal the attention of many people. Some of these greenery also create a natural and fresh feel throughout your garden. Focal point draws from balconygardenweb.
A tall planter can be a great focal point. Create an eye-catching arrangement of containers for the best look. By choosing this green ceramic planter, it will balance the appearance of your garden. Telis wood and some greenery around this planter will create a fresh and charming garden decoration. High ceramic planter from balconygardenweb.
Installing a sitting area in the garden will be a very comfortable place to relax. Place a wooden chair and coffee table in the middle of the garden so that it will become a beautiful focal point in your garden. Pairing this with some greenery and black oagar will make a cool and stylish garden decor. Seating area from loveproperty.
Installing a worker's home decor on the garden fence behind this house would be a very interesting place and would be the perfect focal point of the garden. In addition to your bird cage, you can also add some vertical hanging plants to give your garden a natural feel. Use a white fence to produce an attractive garden display design. Worker's home from loveproperty.
4. Proportion
People see a design in their own perspective. Creating a proportional design mean that your design is appropriate for all audiences. The relationship between vertical, horizontal, and partial lines in the design should be thought carefully.
If you have a small garden, just plant some flowers that are blooming around your garden to make it look more simple and neat. You can also add lush wall plants to give your garden a fresh impression. This green grass area also gives a natural look and makes your garden decoration more charming. Lush wall plants from loveproperty.
Decorating a garden is a very fun idea. Namely the concept of a garden with a sitting area and pot placement. The garden will be full of fun and comfort for you. Choosing some greenery with these blooming flowers will also be a perfect garden decoration and will steal the attention of many people. Sitting area from loveproperty.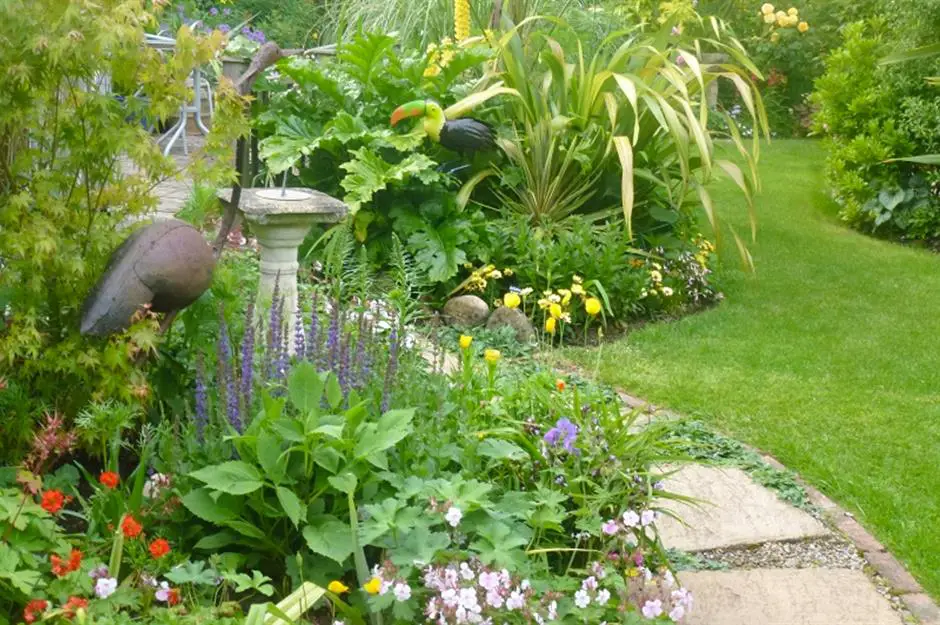 Don't forget to add stone paths and paving to make it easier for you to walk in the park. Complete the look with some greenery and blooming flowers that will make the garden decor fresh. Add an area of green grass next to this path for a natural and charming garden design. Stone and paving path from loveproperty.
Though the basic principles are there to create guidelines, sometimes it is our sense and eyes that get the feeling of the right design. The exterior and interior garden design ideas should reach a sense of unity, especially when the basic principles are applied.
(Visited 231 times, 1 visits today)
Tags:
Garden Design Ideas
Last modified: October 21, 2022