Not only for the living room and other important rooms that should be decorated well based on the season. But here, if you have the foyer, then it is also important to be decorated well including this winter. The foyer can be the spot where you welcome your guests which is functioned to give your guests the first impression of your house. That is why make sure that you put your efforts there. During winter, decorate your foyer by using evergreen that can be presented in form of garland, wreath, or small Christmas tree. Then, you can also use pinecones, candles, snowflakes, or some layering to the furniture that exists there. Not only about that, in case your foyer is near to the stair, then you can make the harmonious decoration between your foyer space yo the stair that will be really interesting. Check the references out below!
Decorate the winter foyer with a big floor Christmas tree and wreaths hanging from the windows for a festive Christmas mood. Complete your décor with a bench and some cushions to create a cozy atmosphere in this room. Hardwood floors and large carpets give the room a warm feel. Large floor Christmas tree from homebunch.
This garland with a string of lights completes your winter patio décor. Adding burlap trees, skyboards, worn windows and a console table complete with drawers complete the holiday season decor. This white color scheme and hardwood floors add extra warmth to your space. Garland with string light from digsdigs.
These red-painted wooden chairs and garland plants will brighten up the winter season. These decorating ideas will welcome your guests with a cheerful feeling. Its simple design will steal the attention of many people and look more trendy. Red wooden chair from digsdigs.
This winter foyer is equipped with some interesting winter ornaments. This wooden lantern complete with ribbon and tartan will give the perfect look. A garland of green plants complete with several ornaments hanging in the mirror adds to the beauty of your winter foyer. Winter foyer from worthingcourtblog.
The idea of decorating the foyer of a farmhouse this winter is that you can add a small Christmas tree complete with string lights for a pretty look. Combined with several wall galleries, it will give an attractive appearance and add to the beauty of your winter foyer decor. Small Christmas tree from homebnc.
This large Christmas tree is decorated with red ornaments and some gifts at the bottom to complete your room decor. This green scheme with a red green striped rug will exude a Christmas feeling in your foyer décor. Large Christmas tree from housebeautiful.
Wrapping a garland on this stair railing will enliven the winter in your foyer. This gift stack will also be an attractive room decoration and welcome your guests with a unique look. This wooden bench complete with pillows and blankets provides extra comfort in this foyer. Garland on stair railing from idealhome.
Choosing a garland ornament on this railing will make your home foyer decoration more festive. Using gold ribbons, red ornate balls, and pine cones, gives the room an elegant design. Don't forget to add a vintage console table to add a vintage touch to the foyer this winter. Garland ornament from architectureartdesigns.
This rustic wooden wardrobe equipped with a Christmas tree gives a fresh room design. The wreath on the wall will create its own charm in the foyer and will never fail in winter. You can also complete the stair railing with a garland to enliven this holiday season. Wreath wall ornament from architectureartdesigns.
This spacious winter foyer is complemented by some interesting winter ornaments. Placing a wreath on this stair railing makes your foyer decoration look more attractive and suitable for winter. This white color scheme and hardwood floors add a rustic touch to your foyer décor. Rustic winter foyer from architectureartdesigns.
This winter foyer decor features oak floors and a white wall scheme to give the room a warm and spacious design. Several red ornaments arranged on this console table give this foyer a festive winter look. Farmhouse winter foyer from digsdigs.
A garland of fiery green flowers and a few branches for this winter foyer enliven your holiday season. With a farmhouse style, you can complete the decor with some woven baskets and shiplap walls to give an interesting room design for you to try. Festive winter foyer from digsdigs.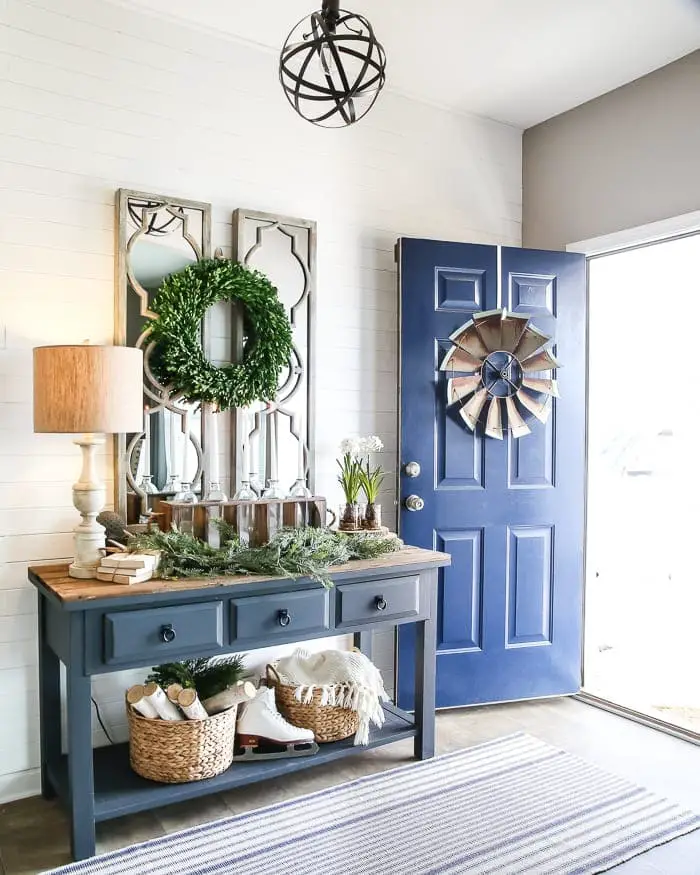 Hanging a wreath on this panel mirror adds a natural touch to this space and creates a luxurious foyer in your farmhouse. These few pillars and verdant candles also complement your console table décor and provide a dramatic glow to the entire foyer this winter. Wreath greenery from blesserhouse.
Wooden benches in the winter foyer have many benefits. You can use it for more storage options or even store stuff on top. Complete the look with a snowy Christmas tree and a garland in a round mirror for an eye-catching and fresh décor. Woden benches winter foyer from decoist.
This square fir wreath and green garland hanging from the foyer window shakes the winter chill. This wreath will make a beautiful backdrop in your foyer. This wooden furniture also features a plaid blanket and wicker basket to complete the stylish holiday entryway décor. Evergreen garland from shelterness.
Add some stockings to your bouquet display by letting the ends of the branches hang gracefully on the floor. As well as adding a bouquet of flowers and this seating set also makes for attractive room decor and provides extra comfort for the entire foyer this winter. Draped garland from goodhousekeeping.
This green wreath is complemented by gold accents on the stair railing to bring out a cheerful winter atmosphere. Opting for this classic wallpaper against a white background gives the foyer a fresh look this winter. The wooden chandelier also provides dramatic lighting and vintage touch to the entire room. Green and gold garland from goodhousekeeping.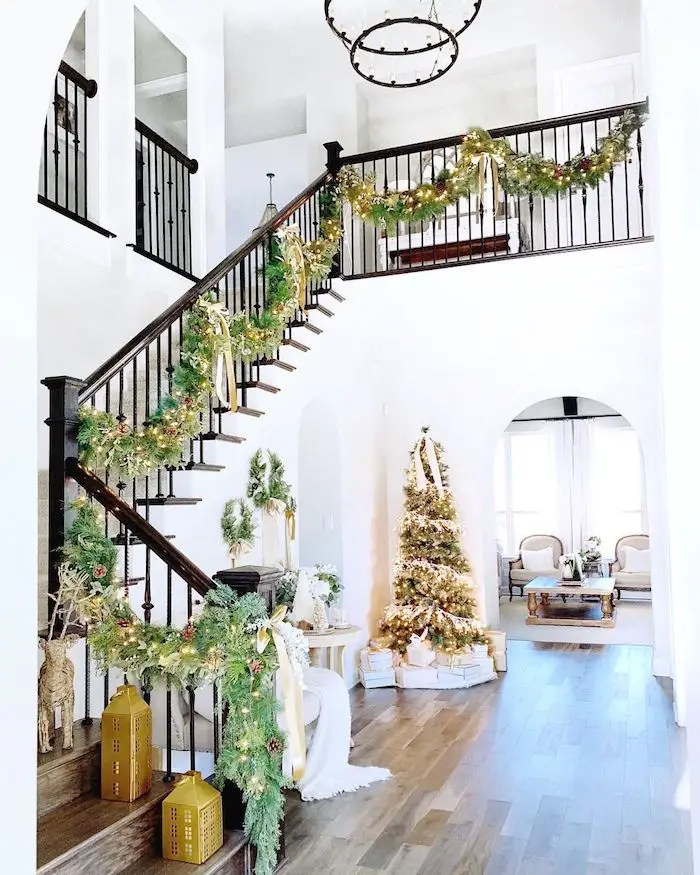 This golden Christmas ladder and green wreath give your foyer a festive look. This Christmas tree, complete with ribbons and string lights, will make your winter porch look charming. Wooden floors and white walls give a warm and spacious feel to your entire winter porch. Gold and green garland staircase from curatedinterior.
Decorating the winter foyer in a farmhouse style will give your home a warm feel. A wooden bench complete with pillows and blankets in this rattan basket can provide extra warmth to your entire room. Garland hanging on the railing is able to provide a festive winter atmosphere. Striped pillows and blankets from curatedinterior.
A galvanized Christmas tree pot, a few velvet cushions on the bench, and this snowy Christmas wreath with berries make for a festive holiday foyer decor. White walls and wooden floors complete with soft carpets give the impression of a bright room and extra warmth for the whole room. Galvanized Christmas tree from deavita.
(Visited 58 times, 1 visits today)
foyer decoration
,
winter foyer
Last modified: December 23, 2021