8 Well-Designed Backyard Garden Pond to Raise Your Landscaping Game
When your flowers, succulents, and lush green lawn are reflected in a handcrafted water feature, the entire look truly pops in a fresh light. And the best part about wanting a garden pond for yourself is that, with enough time and effort, they do not have to cost a fortune to enjoy. For the investment, there are few gardening projects more rewarding.
There are so many variety of scale and style of backyard ponds nowadays. From the large one with with a wooden bridge and moving water feature, or even the one that feature lavish waterfalls, check out these 8 well-designed backyard garden pond to raise your landscaping game below that will interest you.
1. Creek Feature Garden Pond
This garden pond is part of a larger "creek" feature, ending in this kidney-shaped pond, wrapped in stone. A small waterside deck complements the rustic wood bridge over the creek segment, while a spare but thoughtful arrangement of plant life surrounds the pond.
2. Raised Garden Pond
This raised garden pond is framed in a low concrete stone wall, with a small upper-level reservoir feeding into the main body.
3. Garden Pond with Slim Metal Liner
A slim metal liner set into the soil creates the shape of the pond, while embedded rocks, lilies, and grass anchor it into the natural surroundings. This is a smaller ponds , but no less beautifully placed in its garden.
4. Garden Pond As A Border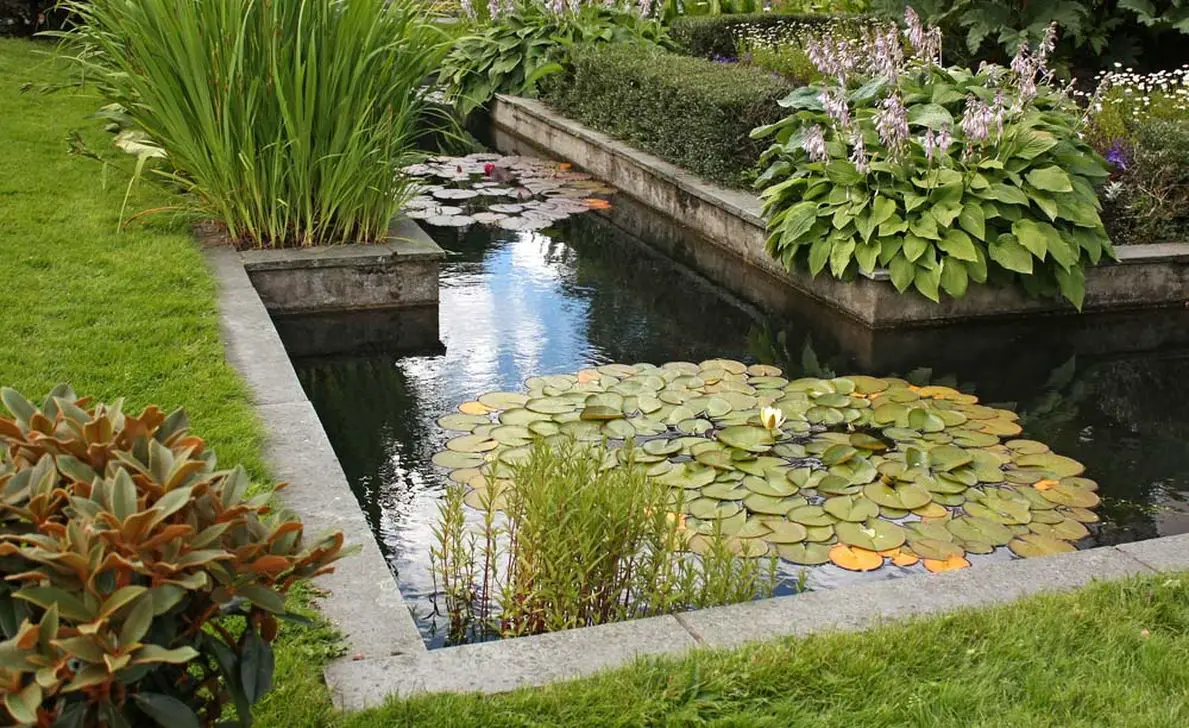 This bespoke garden pond acts as a border to the raised garden at right and lawn at left.
5. Garden Koi Pond
An adorable garden koi pond, using the bold stone surroundings and elaborate waterfall feature to cultivate high visual appeal. Keep the pond clean and moving via the waterfalls and embedded pumps, allowing it to sustain life within the garden.
6. Zen Garden with Koi Pond
This garden koi pond, flourishing as part of a larger zen garden, replete with moss covered stones, lanterns, and an immaculately placed collection of small trees. The water is act as centerpiece to the detailed yard.
7. Elegant Little Pond
This pond is shaped in a natural oblong manner, resides at the center of a lawn, wrapped in polished stones sprinkled with greenery and various handmade elements.
8. Garden Pond In Massive Stones
This garden pond stands wrapped in massive stones, fed by a tall waterfall at left. A variety of shrubbery and flowering plants surrounds the cozy body of water, with manicured bushes dotting the landscape. The entire scene of this garden is so handcrafted and purposeful.