When you get married, then it's the right time for you to decorate your house. You will stay at home with your beloved person there. So you should have a discussion about the right home decoration that you will apply in your house. And here, we recommend you to mix masculine and feminine styles as the home decoration. The masculine style has a strong, minimalist, practical, and cool impression. And the feminine style presents a soft, warm, detailed, and cheerful impression. In combining these two styles, you should consider colors and furniture. That's because color and furniture are aspects that will affect the appearance of the room. And not only that, but you can also place pretty feminine ornaments combined with charming masculine ornaments in the room that you are decorating as a sweetener. Then, to inspire you, let's look at the pictures about decorating the room in masculine and feminine styles below.
Living Room
Living room as the first place to be seen and important room in your home, surely you will show the character of the owner. If you want to mix between masculine and feminine decoration in your living room, you can use a dark and sharp color scheme for the room decoration. Mix this style with a touch of flower vase and soft color for the furniture or ornaments.
Combining masculine and feminine styles in the living room is an interesting idea for you to try. The feminine touch of flowers on the facade adds a feminine impression to the room. Masculine and feminine living room from decoraid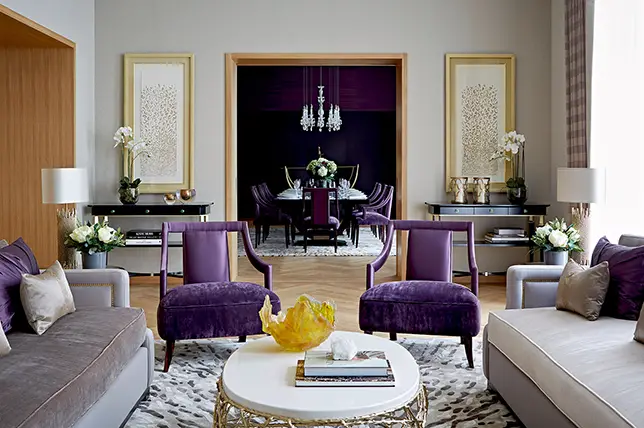 A purple chair and a few flowers in a vase add a feminine feel to a masculine living room. This mix of styles will create an attractive look for you to try. Purple chair fromdecoraid
Dark gray shades are a color that can be used for both masculine and feminine living room styles. Your rosy pink sofa vase creates a feminine look into the room. Dark gray shades from hgtv
You can choose neutral colors as the colors that dominate the room. You can pair a black leather sofa and a black and white framed wall gallery with a pink otoman and some pink cushions. Neutral colors living room from kelliellis
For an elegant masculine living room, you can add a pink sofa for a feminine touch into the space. Hardwood floors and rugs are added to add a warm feel to the evening. Pink sofa masculine living room from soholighting
Bedroom
It is very important to make your bedroom as comfortable as you can. As the private place for you both, dealing between masculine and feminine is very important. You can apply dark colors such as black, grey, dark blue, or another dark color. To give the feminine touch, you can install a flower wallpaper, add pink stools, using a mirror with a touch of gold, and you can add a flower vase to beautify the room.
Dark and gray bedroom with contemporary furniture will really make your room more attractive. The placement of the pink chairs gives a feminine touch to the room. Contemporary furniture from swatchpop
Dark gray shades and some wooden furniture make the room look different. The touch of a pink flower vase provides the best combination of masculine and feminine styles that you can try in your home. Dark gray shades and wooden furniture from decoist
Having a masculine bedroom decor with a feminine touch on a pink floral wallpaper gives it a different look. Right and left bedside lamps will complete the look. Masculine bedroom decor from sebringdesignbuild
You can choose neutral shades as the color for the walls, a pink blush bed cover and a soft rug. With decorations like this, you will always feel comfortable in your masculine and feminine bedroom. Neutral shades masculine and feminine bedroom from interiorzine
Bathroom
If your bathroom using a dark color scheme, add a flower vase on the bathroom vanity to add a feminine touch. You can use a dim light for the bathroom lighting fixture to create a romantic and dramatic nuance.
You can decorate the bathroom in a masculine style with soft dark tile nuances that you can match with the blooming flowers in a vase to add a feminine accent to the space. Blooming flowers with soft dark tile nuances from digsdigs
A large black sink with a black marble countertop adds a luxurious feel to a masculine bathroom. The touch of white orchids gives a beautiful impression to the bathroom. Large black sink with a black marble countertop from digsdigs
Choosing neutral colors such as black and white as the color for floors, walls, doors, bath up, and storage is an interesting idea for you to try. The flowers blooming in a vase give a feminine touch. Flowers blooming from styleathome
Kitchen
Since the kitchen is the heart of the home, decorate it with a masculine and feminine combination is sounds interesting. Usually, you can apply a sharp and cool color scheme for the whole decor then complete it with a touch of flower arrangement and soft color.
Make your kitchen look more attractive with a combination of masculine and feminine styles. You can choose a black hue and a touch of blooming flowers for a very feminine look. Masculine and feminine kitchen from digsdigs
Smooth and elegant black kitchen with glossy backsplash, sleek cabinets, dining table set with black chandelier and attractive. Add accented blooms for a feminine look. Black kitchen with glossy backsplash from digsdigs
Dining Room
Doing a detailed decoration for your dining room can be started by choosing some decorative item to make your dining room looks beautiful even though it mixes with a masculine style. In this case, you can choose the dining chair is a soft color such as pink, cream, peach, or another soft color. Even, you can insert a gold touch for the mirror, lighting fixtures, or chair legs.
Don't forget to add some blush colored chairs to add a feminine impression to your masculine dining room. A round wooden table and a rustic chandelier will complete the decor. Blush colored chairs from hgtv
A navy feel complete with a round wood dining table and some velvet chairs will complete the look. The tulips in a vase will add a feminine impression to the space. Round wood dining table from mbrdomesticstyling
To give a feminine impression to a masculine dining room, you can add pink chairs and blooming flowers in a vase. With this decoration, you will enjoy your meal there more. Masculine dining room frommbrdomesticstyling
Enjoy your meal in the dining room with a masculine-feminine cool style. You can choose a wooden dining table in brown and white. Then add flowers in vases and rattan chandeliers. Dining room with a masculine-feminine from runtoradiance
Home Office
As a couple who both work, so you need a home office in your home. If you just have a one-room that can be used for a home office, why you don't decorate it with a masculine and feminine style? It will look interesting without dominating each other. Use a dark color scheme for the whole decor then doing detailed decoration for the accessories and ornaments to complete the decor. You can place a flower vase, add feminine wall art, use unique lamps, and add a gold touch.
Dark brown shades with Scandinavian furniture in a masculine home office will create a different nuance. The feminine touch of the chairs, pendant lights and purple flowers add to the eye-catching look. Dark brown shades with Scandinavian furnitur from ballarddesigns
Choose dark tones paired with comfortable red chairs that represent masculine and feminine in the home office. The tribal patterned pink carpet adds to the attractive appearance of the room. Tribal patterned pink carpet from homedit
A masculine nuance with a black work desk complete with a flower vase in bloom will add to the perfect look with a masculine and feminine style. A rug with animal patterns and wooden floors will complement the décor. Black work desk with flower vase from homedit
Blue is another great option for adding a masculine look. Flowers blooming in star-patterned vases and rugs will look professional and stylish. Flowers blooming from homedit
Classic home office decorating ideas in black and white nuances will create the perfect decor. Adding white orchids in a vase will beautify your office. Classic home office from homedit
Balcony
Spending your time with your beloved ones on the balcony is a pleasant time. Then having the cozy and romantic balcony decor is a good idea. Even though you have to mix masculine and feminine decor but you can do it well. You can use a neutral color and simple furniture for your balcony then complete it with flower decoration and romantic lamps.
Create a romantic atmosphere on your balcony by decorating it in a masculine and feminine style. To give a warm atmosphere, you can place candle lanterns, candles, and decorative lights. Balcony masculine and feminine style from dailydreamdecor
Applying a masculine tone to the balcony with blooming pink flowers will create a feminine touch. Wooden floors and some lighting will complete your balcony look. Blooming pink flowers balcony fromdailydreamdecor
You can add a bohemian style to your masculine balcony. Add flowers in a pot for a feminine touch. Burlap rugs and wall hangings from a straw palette will beautify your balcony. Bohemian masculine balcony from dailydreamdecor
Use your favorite color to paint the balcony floor and flower pots to make the masculine balcony as creative as possible. blooming flowers add a feminine touch to your balcony. Masculine balcony floor and flower pots from homeartmania
Blooming flowers can be a great addition to your masculine balcony along with an ottoman coffee table and large sofa. Blooming flowers masculine balcony fromhomeartmania
You can mix different furniture styles on your large balcony. A rattan armchair looks great with a leather sofa. Add a few blooms for a feminine final touch. Rattan armchair masculine balcony from homeartmania
Patio
Mixing the masculine and feminine decor also can be applied to the patio. Because this is an outdoor decoration, besides pay attention to the color, you have to consider the material of the furniture. You can use wood or rattan chairs in a gray or black color. To bring a feminine touch and looks beautiful, add colorful throw pillows, flower decoration, and romantic lamps.
You can try decorating the patio with a masculine theme with dark shades. Add some bright patterned pillows for the perfect look. Patio with masculine theme from hgtv
Black sofa and tribal patterned rug will add a masculine feel to your patio. Adding a feminine accent to the pink blush lanterns will create a different look. Black sofa and tribal patterned rug from diyoutdoor.selbermachendeko
Decorating the patio by placing a wicker sofa with black pillows will give your patio a cozy impression. Yellow blooms will give a feminine touch to your decor. Yellow blooms feminine touch decor from nextluxury
(Visited 486 times, 1 visits today)
Tags:
Masculine and Feminine Decor
Last modified: March 9, 2023