Scandinavian style comes and gives a new vibe for home decor. It emphasizes on a bright look of a room with simplicity, minimalism, and functionality. The use of natural elements lets it be famous home decor to adopt since 1950. Then, its developments allow this amazing style to combine with others to create adorable home decor. On the other hand, bohemian home decor brings perfection to balance this Scandinavian style to make your home more stunning. Why? Because it gives touches to Scandinavian home decor with patterns, plants, ornaments, and electing to accessorize. Thus, every room with a bohemian Scandinavian style will have its own fancy look to make it inviting.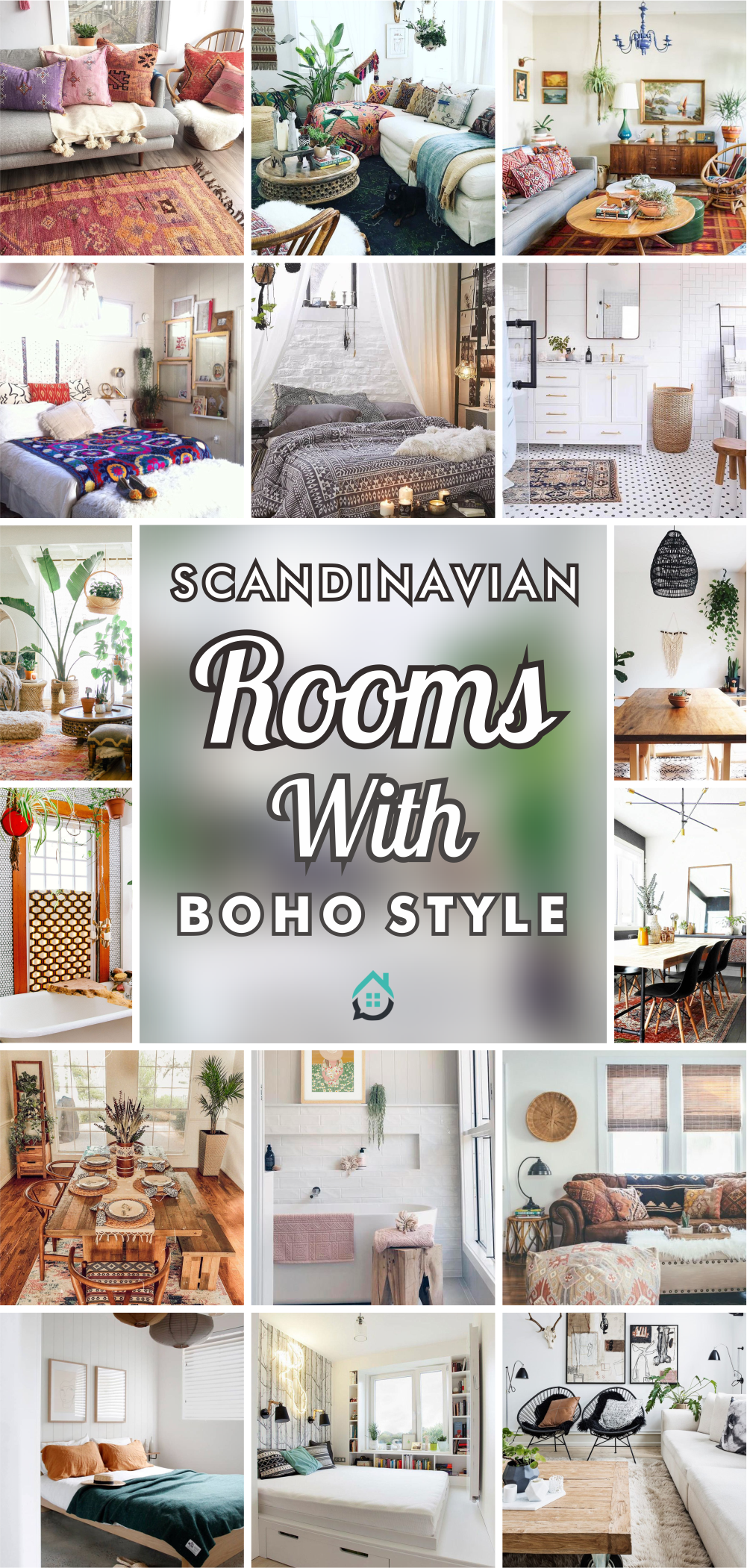 Living Room
Bringing a bright ambiance is a must for Scandinavian home decor, especially for a living room. In this room, you can make your guests get amazed because of the bohemian touch. If Scandinavian home decor will let your living room simple with minimal ornaments, boho style won't let it be. To balance every natural element that Scandinavian style brings, the bohemian starts it with the presence of greenery. Moreover, a white or grey sofa can be referenced. But, you can add a leather armchair or unique rattan chair to make a perfectly bohemian style. In addition, get the ornaments that represent bohemian style, like a macrame or dream catcher.
This Scandinavian living room has a bohemian touch. On top of that, the leather puff of the armchair makes it even more classic. Bohemianliving room from inspiraspaces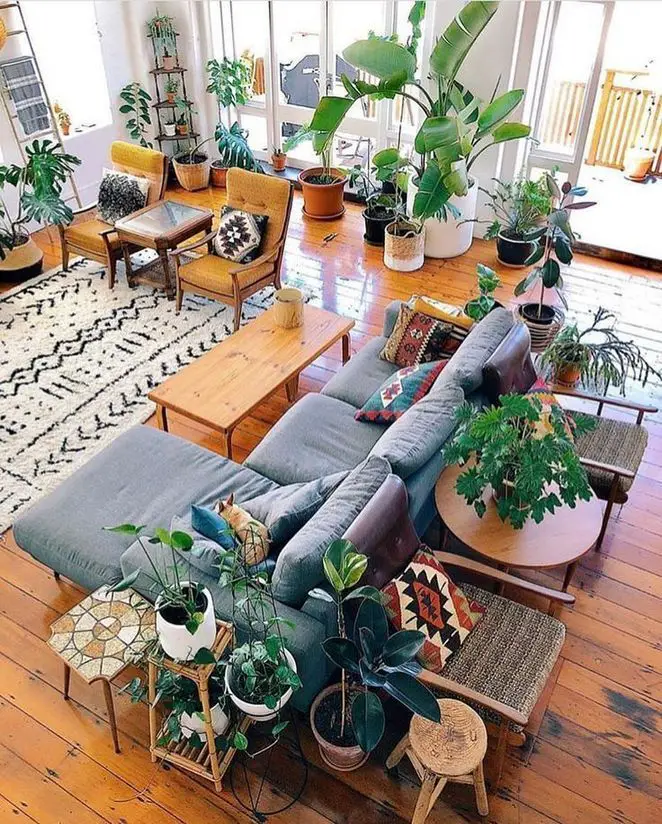 The wooden elements balance the wooden flooring design. Bohemian style can be seen from patterned cushions, rugs, and the presence of houseplants that freshen up the room. Wooden elements from inspiraspaces
The white sofa is the focal point of this living room. Scandinavian makes this cozy room more elegant with wicker chairs and tribal patterned rugs. White sofa from inspiraspaces
It will be an interesting idea to combine Scandinavian and boho styles for the living room. This simple Scandinavian living room looks cozy with a gray sofa, jute rug and some greenery on the table. Combine Scandinavian and boho living room from inspiraspaces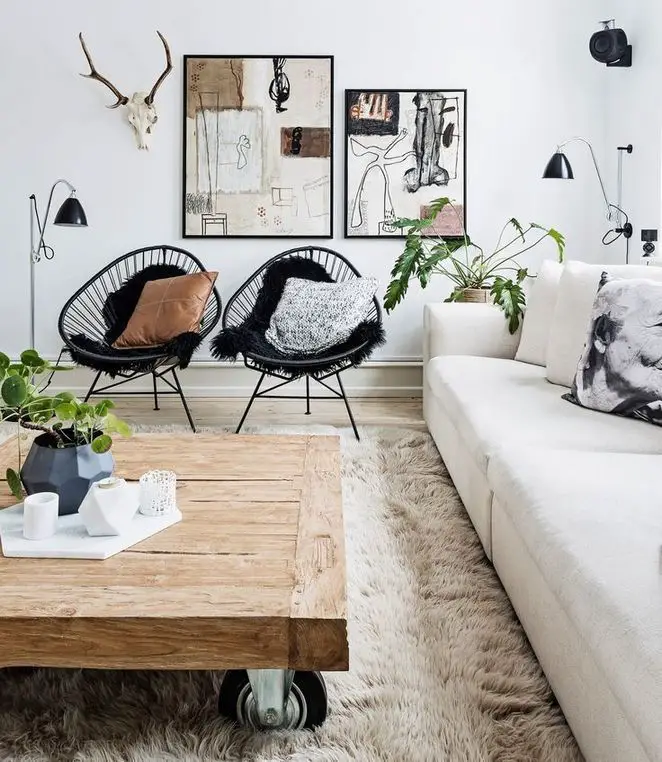 The white color will always beautify the Scandinavian living room. Plus, the boho touch that comes from the greenery will make the room more fresh and stunning. The iron chair and faux fur rug go well with all the ornaments in this Scandinavian decor. Greenery and faux fur rug from inspiraspaces
A white sofa complete with a tribal patterned blanket will reinforce the boho style in this Snadinavian living room. Add wicker chairs, macrame and greenery to complete the décor. Tribal patterned blanket from digsdigs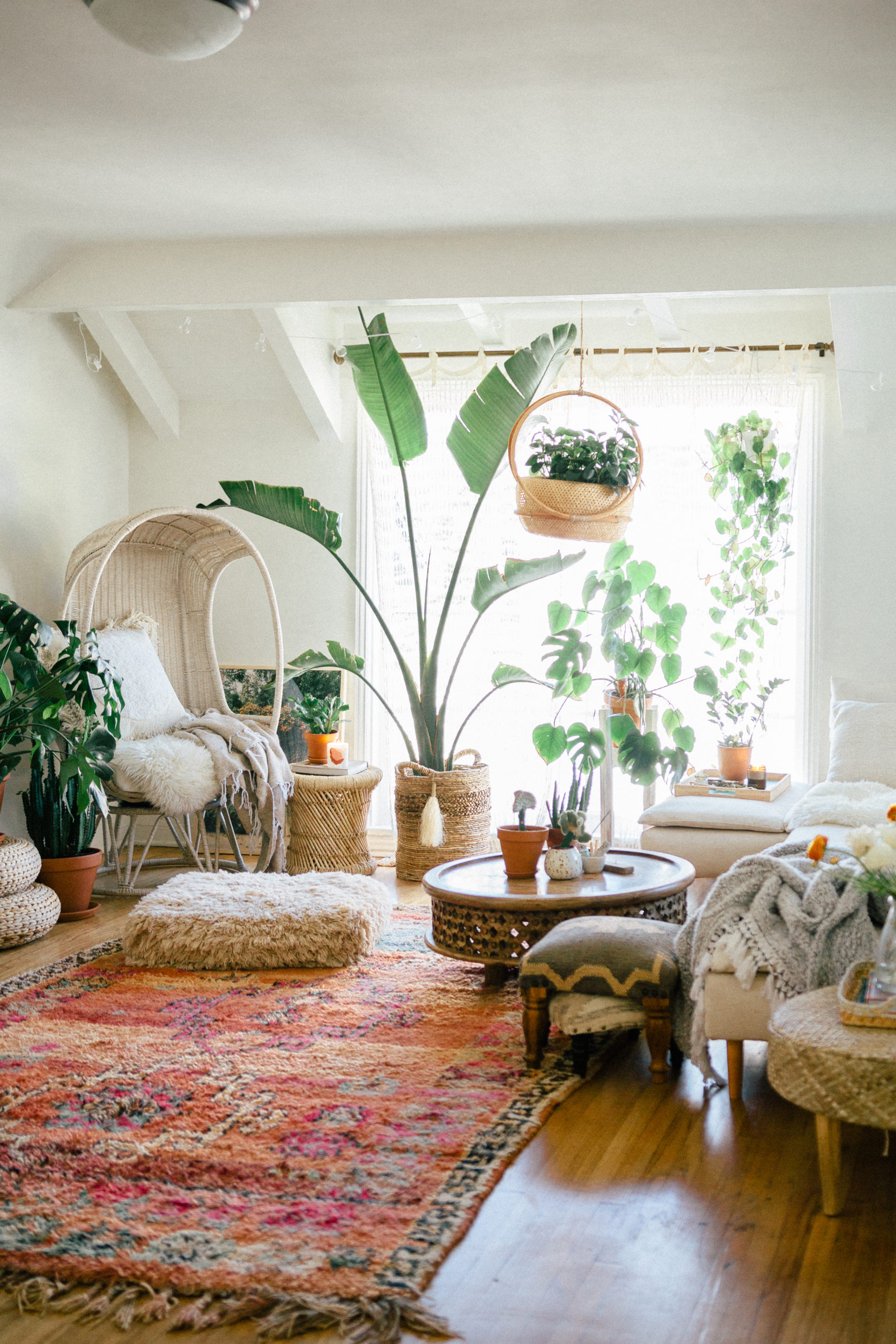 Bohemian living room decoration with a touch of greenery will create a beautiful Scandinavian living room decoration. Wicker chairs, white sofas, and boho style rugs will create the perfect look. Wicker chairs from hgtv
Rattan chairs are added to create a natural impression in a combination of bohemian and Scandinavian living room decor. A gray sofa complete with boho style pillows and blankets will create the perfect décor. Rattan chairs from digsdigs
This brown leather sofa complete with boho style cushions will make your living room decor even more perfect. A boho style ottoman complete with a rug will complement the décor. Brown leather sofa from digsdigs
It's not to be hard to make your Scandinavian living room looks fresh and becomes more interesting. Just combine your gray sofa with a wooden dresser and coffee table. Give a touch of pattern on the rug then it will be a good combination of Scandinavian and bohemian living room decor. Scandinavian and boho living room style from digsdigs
Bedroom
The next room to design with bohemian Scandinavian home decor is your bedroom. Because your bedroom simply represents the real you, with these inspiring styles you will make it the most relaxing room at home. A white bedding set is still the most favorite item to create a luxury Scandinavian style. Also, applying a sheer curtain will make a minimalist look for the window treatment. Apply a tribal rug so that it brings a colorful Scandinavian decor that enhances a boho style. If you think that your main lighting fixture is not enough, give some decorative lightings with a unique shape. Then, it is possible for you to have artworks and paintings to decorate the white wall.
It is just a simple way to make your Scandinavian bedroom looks stunning and not bored. Just install rattan pendant lamps for the lighting fixture ideas. It will give a different look to your white bedroom decor. Rattan pendant lamps from inspiraspaces
The idea of combining Scandinavian and boho styles sounds great. Walls with wallpaper and decorative lighting provide an attractive bedroom decor. Then a white bed and beautify the look of this Scandinavian bedroom. Patterned wallpaper from inspiraspaces
The bohemian Scandinavian style will make this bedroom more inviting. It can be seen from the sheer curtain and white bedding set. Installing string lights will make the room looks beautiful. Sheer curtain and white bedding set from inspiraspaces
The white sheer curtains give it an elegant look. The classic chandelier additional lighting ideas are inspiring and give off a chic boho vibe. Classic chandelier from inspiraspaces
White makes this bedroom look simple. However, the bohemian style gives a touch of black color to the bed and some ornaments which certainly make this bedroom even more beautiful. Monochromatic bohemian bedroom from decoholic
Decorate the bohemian bedroom by applying white bedsheets and bohemian style blankets. Light curtains and wall decorations are added to create an eye-catching décor. White bedsheets and bohemian style blankets from homedit
Dining Room
A dining room is another room that is used to be the place to get together with your family. Boho Scandinavian will transform this room into a cozy room to get an intimate ambiance. Scandinavian uses natural elements for this room in the form of a wooden dining table and chairs. Likewise, to freshen up the ambiance, the presence of greenery will be a consideration. With woven pots, every houseplant will look more impressive. To get a boho touch, apply a woven rug or tribal rug just to enhance the decor. Furthermore, you can have a decorative lighting fixture with woven lamps, pendants, or any other ideas.
A warm atmosphere is created from the brown furniture. The wooden dining table set and wicker pots will beautify the dining room. They will make a different atmosphere. Wooden dining table from digsdigs
This colorful tribal patterned carpet gives a different look to your bohemian Scandinavian dining room decor. Pair it with some potted plants for an eye-catching look. Colorful tribal patterned carpet from mydomaine
To combine your white dining table and chairs, the tropical patterned curtain will freshen up your dining room. To give the boho touch it can be represented throughout the rattan rug installed under the dining table. Wicker pots and yellow console tables reinforce the boho style. Tropical patterned from mydomaine
This bohemian style dining room is furnished with a wooden dining table and wicker pots. Add a black rattan pendant lamp to complete the decor. Rattan pendant lamp from mydomaine
Scandinavian style lets this dining room bright with large windows. With a touch of bohemian style, a wooden dining table and chairs make it impressive. Wooden dining table from digsdigs
This Scandinavian boho dining room is totally modern. Not only do they use a neutral color scheme, they also add color to the whole atmosphere. Scandinavian boho dining room from digsdigs
Bathroom
Just don't be worried because an inspiring boho Scandinavian home decor will also conjure up your bathroom into a special room. Like in the bedroom, you usually want to get relaxed in the bathroom. Therefore, the bohemian style brings greenery to males with a fresh ambiance for a Scandinavian white bathroom. Get a wooden ladder to hang the towels and a woven basket to put your laundry supplies. Although Scandinavian offers a minimalist look, you can make your bathroom more relaxing and peaceful with candles and flowers. Now, get your relaxing moment in a beautiful stylish bathroom.
This Scandinavian bathroom is adorable with white subway tiles. The greenery makes the nuance fresh. Also, the airy ambiance will give a relaxing moment. Scandinavian bathroom from inspiraspaces
Dotted tile brings a stylish and modern look. Two square mirrors enhance the vanity look. This boho Scandinavian-style bathroom is very bright and neat. Two square mirrors from inspiraspaces
Bring a dramatic feel to a Scandinavian bathroom by lighting a candle. Boho style is seen in wicker rugs and potted plants. Ornamental plants are a natural touch for a fresher look. Wicker rugs from homedesignlover
The potted plants make a statement for this bohemian bathroom. There are wooden shelves to organize things so that the bathroom looks neat. Potted plants from homedesignlover
The Scandinavian style keeps this bathroom clean and tidy. Additionally, patterned rugs and wicker baskets provide a colorful bohemian touch. Wicker baskets from homedesignlover
This bathroom space is nothing but peaceful and calming. A burst of color against an all-white background gives the character space. Don't forget to add some greenery to give the room a beautiful impression. Greenery from homedesignlover
Well, those are some ideas that may inspire you on designing your house with both Scandinavian and boho styles. This style combination surely gives a new look that balances each other. With minimalist Scandinavian home decor, bohemian makes it more perfect with pattern and color so that the rooms will be more eclectic and mesmerizing. Now, consider this home decor as yours.
(Visited 438 times, 1 visits today)
Tags:
Scandinavian-Boho home decor
Last modified: March 1, 2023