A farmhouse style is always associated with rustic and country touch. It radiates a warm and pretty look at the same time that makes it perfect for any interior. If you want to create the best one, follow these tips so you will not mess it up.
1. Avoid Any Striking Colors
A farmhouse style mainly uses neutral and earth tones. They highlight the rusticness and bring a sense of calm and warmth. Any striking colors such as orange or yellow mustard will only make the interior look unpleasant and ruin the theme.
Decorate a farmhouse living room with neutral colors for the walls and furniture. Gives a touch of wood materials through the furniture and floor to present a feeling of calm and warmth. Wooden furniture and floor from diyhomeart
A farmhouse living room that uses any striking colors will make the interior unpleasant and ruin your current decor. So you have to apply one color that is a neutral color to bring coziness and calm nuance. Strengthen the farmhouse style with vintage furniture to look perfect. Farmhouse living room from diyhomeart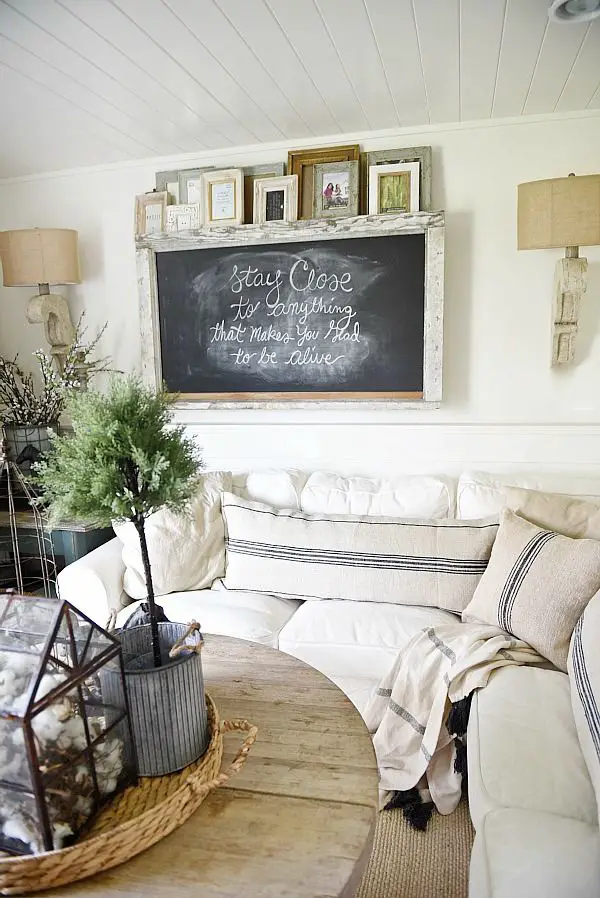 Neutral shades paired with wooden furniture will make your farmhouse living room decor even warmer. You can add some wall ornaments to get the perfect look. Wooden furniture from diyhomeart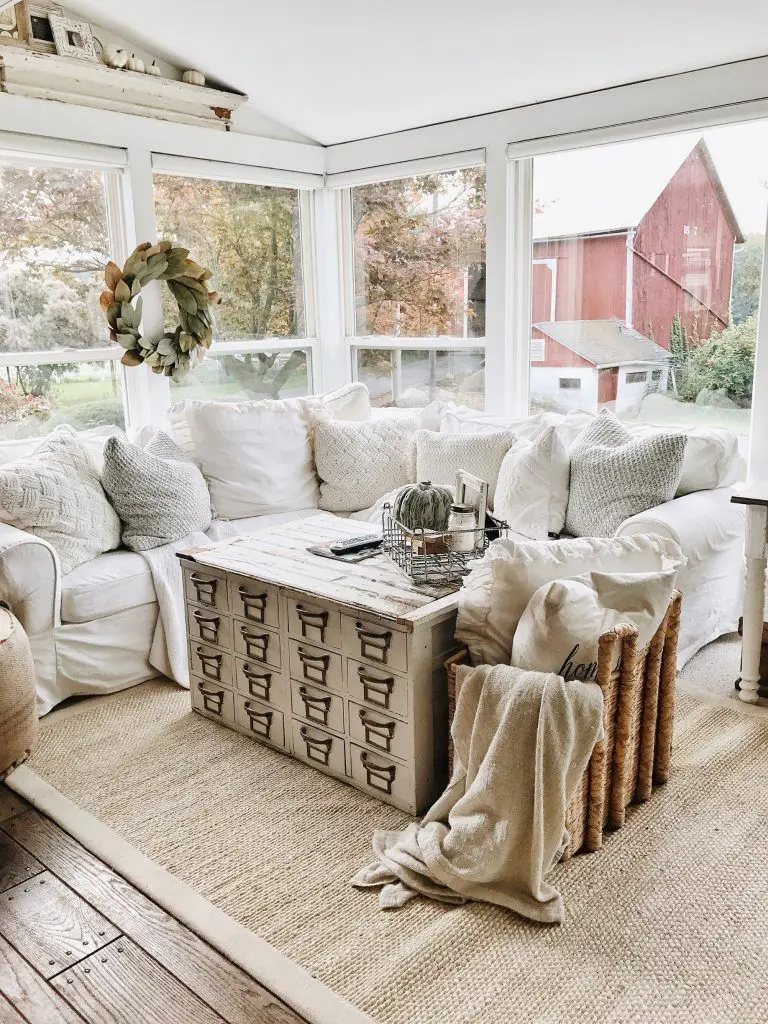 Applying large windows to a farmhouse living room will bring sunshine all its own. Pair it with the white color scheme and vintage furniture to complete the look. Large windows from diyhomeart
In decorating the farmhouse style, you have to make sure that you uses a neutral color for the color scheme idea. Don't bring any color to the decoration because it will break the farmhouse style. In this case, you can use a white or light grey color for the wall paint. The existence of wooden furniture is very important to add a warm touch to the room. Light grey color from rocktherm
Another farmhouse living room idea for you with an elegant wooden table and wood panel for wall decoration is a good idea to bring a farmhouse vibe. In this case, you can use wall decorations with chevron-shaped wood decorations. Chevron-shaped wood from diyhomeart
2. Add A Little Bit of Vintage Touch
You can start by having a plain skirted vanity or table that has embroidery on it. Make sure to choose the right color, such as beige or broken white. This will add a cutesy yet sophisticated look to the interior. Or you can also place an antique item that will emphasize the vintage touch more.
A vintage touch is also one of the hallmarks of farmhouse decor. You can start with the use of vintage vanity tables made of wood as a whole. Complete with a vintage wall lamp as a beautiful finishing touch. Vintage vanity tables from onekindesign
This broken white vanity adds a vintage touch to your farmhouse bathroom. Adding vases and wall lamps will create a vintage feel to the room. Broken white vanity from onekindesign
A wooden vanity with a white farmhouse sink will emphasize a sophisticated farmhouse touch to your interior. To bring a little bit of vintage touch, complete your vanity with an antique mirror. Besides that, choosing the right color so as not to spoil the decor of the farmhouse theme. Wooden vanity and antique mirror from onekindesign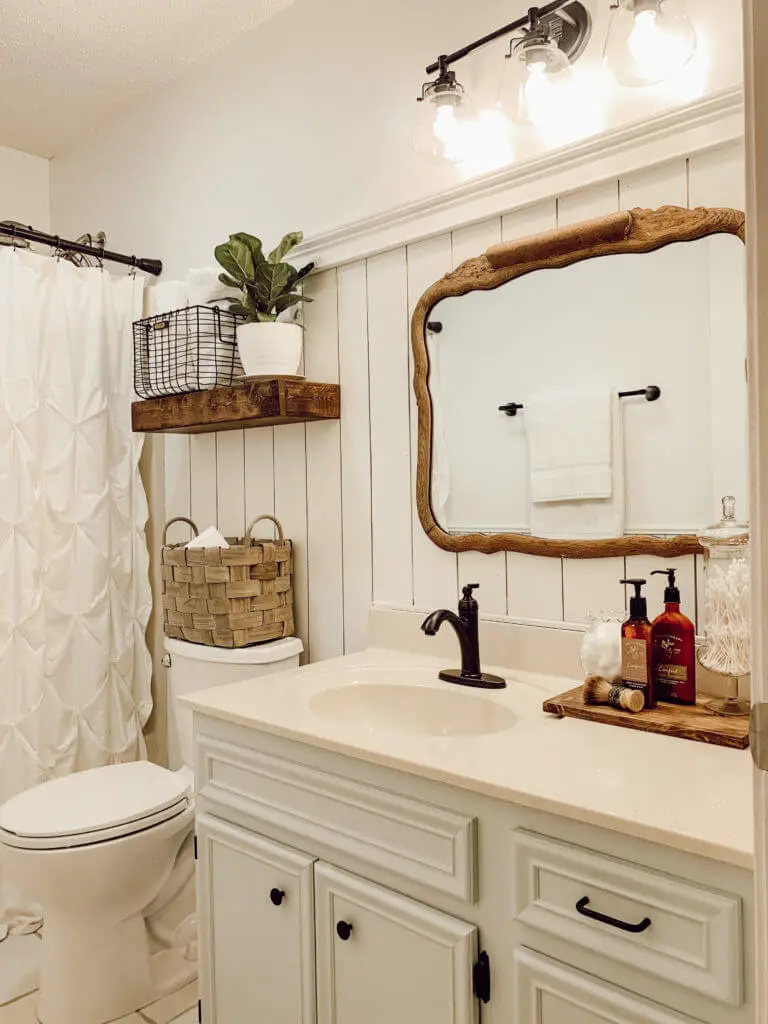 Wood brings a little natural feel to your farmhouse bathroom. The wood around the white vanity and wooden shelves offer the right texture to keep your bathroom décor from looking flat or bland. The mirror with a vintage frame will make your farmhouse bathroom more stuuning. White vanity and wooden shelves from homebnc
If you want to lean more towards a vintage farmhouse look, then this bathroom style can do you a favor. A small white dressing table and a touch of greenish help add color to the room if necessary. Vintage farmhouse bathroom from homebnc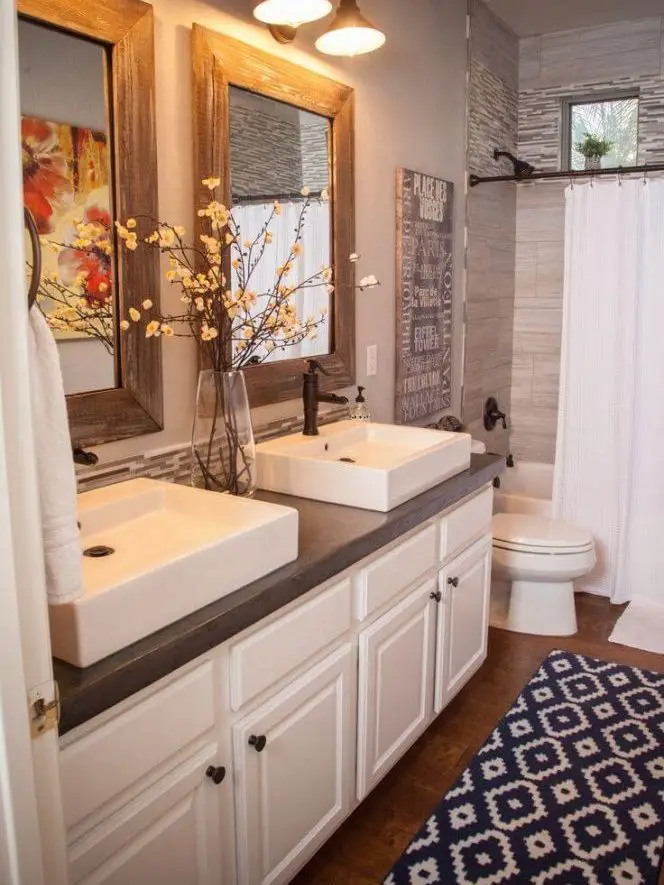 Sophisticated with a rustic touch, this bathroom design won't go out of style. White vanity and white square sink keep it bright and classic. Wooden framed mirrors and copper fixtures add to the warmth. white vanity from homebnc
3. Choose Wooden Material
You do not need to go all-wood for the furniture items. Just two or three items are enough. Wooden furniture always gives a different kind of aesthetic. They are really eye-catching and offer a good impression to anyone who sees it. Plus, wooden furniture usually tends to last longer and is easier to maintain.
You can try a farmhouse bathroom design with a touch of wood on the cabinet. You can pair it with a white marble dressing table for the perfect look. Wooden cabinet from curatedinterior
These reclaimed wood accents create the perfect look for your farmhouse kitchen. You can add a wooden table that tends to be durable and easier to maintain. Reclaimed wood from curatedinterior
Touch of farmhouse living room with soft white color. Using a wooden coffee table furniture accent that gives an elegant aesthetic. Besides wood material will be more environmentally friendly, durable, and easy to care. Wooden coffee table from curatedinterior
The wood accents in this farmhouse bedroom create a warm and eco-friendly impression. These wooden floors and bedside tables convey a true farmhouse décor. Wooden bedside tables from farmhousehub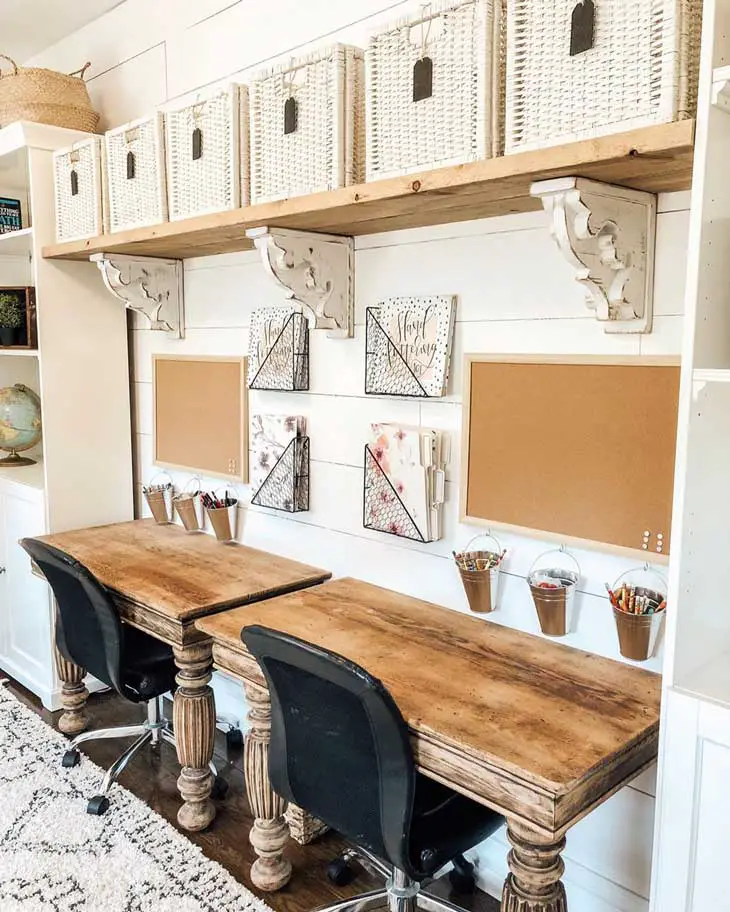 This wood workbench completes the look of your farmhouse workspace. Add an open wooden shelf and a few wicker baskets for the perfect decoration. Open wooden shelf from farmhousehub
The use of wooden furniture on this one is enough to give a warm impression to the kitchen. In addition, the farmhouse kitchen decoration also provides fresh and comfortable air circulation. Wooden furniture from elledecor
4. Big Windows
A farmhouse style is commonly referred to as a style that offers a traditional, chic, and rusticness. That is why you need big windows to support and highlight the style. Not only it gives a pleasant look to the entire room, but it also allows you to breathe fresher air and absorb the sunlight more. With big windows, you will get the perfect look and healthier soul at the same time.
Large windows become an important part of decorating the farmhouse kitchen as a support and to make it more attractive and fresh. This window helps you get good sunlight. Large windows fromhomebnc
The combination of large windows and patterned curtains will create the perfect decoration. You can let sunlight into the room, which will create a neutral tone into the room. Patterned curtains from homebnc
Large windows with high blinds make your farmhouse look spacious. Adding greenery will create a natural feel to the room. Large windows with high blinds from homebnc
The large windows in this dining room let sunlight into the space. You can combine it with a burlap curtain for the perfect look. Burlap curtain from homebnc
Decorating the farmhouse kitchen with large windows will create a fresh room. You will get the perfect look and a healthier spirit at the same time. Farmhouse kitchen with large windows from homebnc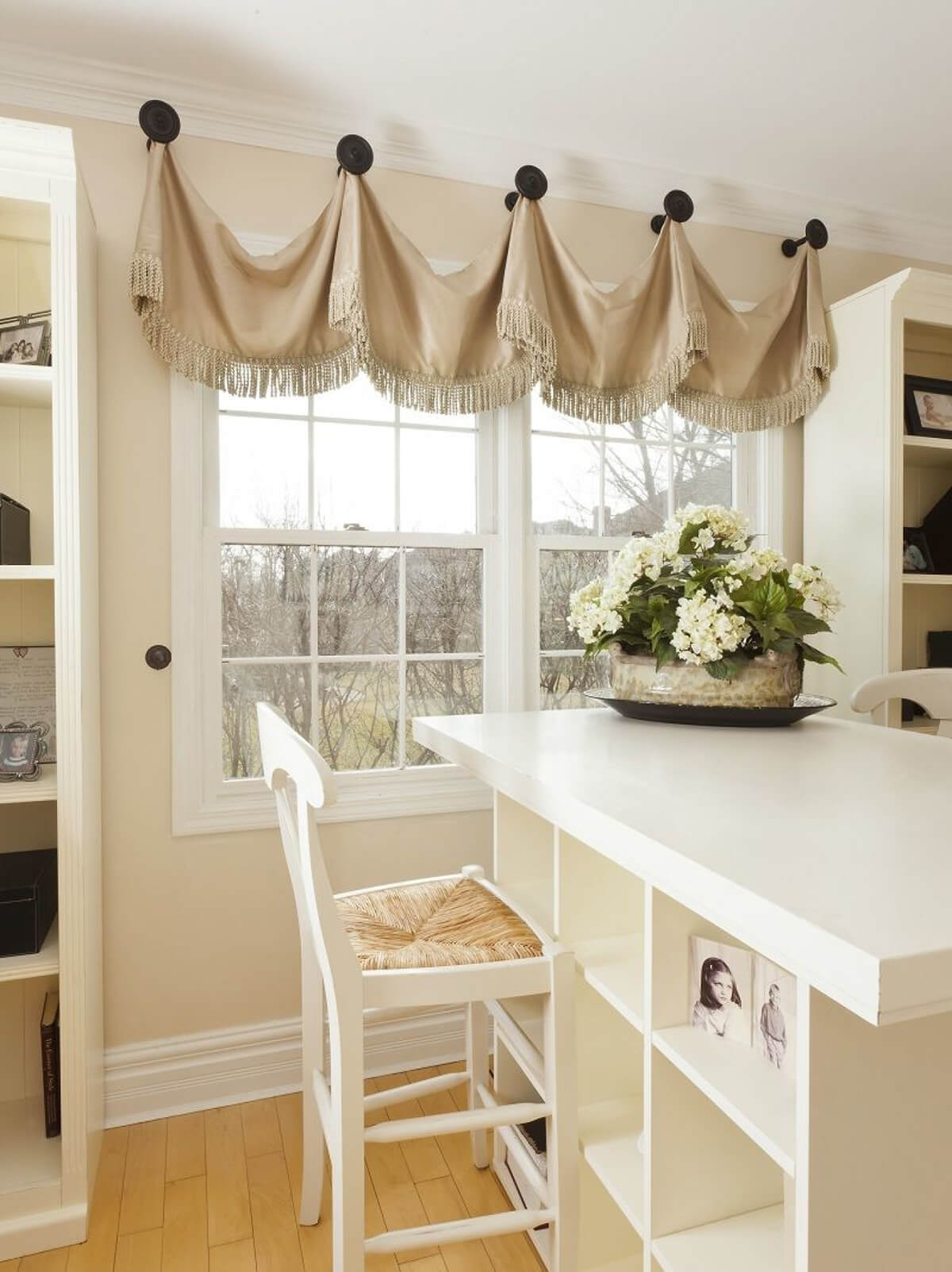 The style of the farmhouse will offer traditional and modern styles. When you want to perfect your dining room decor, the use of large windows becomes an important part that you must do. Because it will be able to bring a better and comfortable atmosphere. Farmhouse dining room from homebnc
5. No Partition
Any partition will not suit this theme. It will only make the interior look stuffy. Let the room opens so you can enjoy the spacious room more. A room without any partition is also more kid-friendly so kids can play and run around more freely.
There is no need to partition in the living room of your farmhouse home. Because it will be able to give a broader and not stuffy feel to the room. Living room from farmihomie
A living room without partitions is highly recommended for you. Because with this theme you will avoid the humidity of the room and can enjoy a wider space. Living room without partitions from thespruce
Combining the living room and dining room without a partition you should try, so that your room looks spacious. Living room and dining room combo from thespruce
This dining room with a kitchen without a partition will make your room decor feel spacious. so that children can play and run more freely. Dining room with kitchen without partition from digsdigs
Modern farmhouse inspired kitchen and dining area with rustic dining table will add a distinct look to your home. In this way a large room will be created. Modern farmhouse from digsdigs
This open kitchen and dining area provides ample space. You can add wooden furniture and patterned carpets to make it look more attractive. Open kitchen and dining room from maisondepax
You need to make sure you do not mess up your farmhouse themed interior. Hopefully, those tips above will help you create the perfect one.
(Visited 201 times, 1 visits today)
Tags:
farmhouse
,
Home Decor Ideas
Last modified: March 1, 2023