I think most general people understand that the key to having an ultimate farmhouse-style home is to have an airy, spacious, expansive room to decorate. But what if you don't have that roomy space to start with? Can't you get the look?
The answer is, yes, you can. Fortunately, there are some important notes to take if you want to create farmhouse decor in a small house. Here's some useful information for your inspiration.
1. Keep it simple
Despite going for a buying spree, save your bucks for practical furnishing. Keep everything natural, including the painting that can make a small room appear bigger. Simple farmhouse decor with a loveseat and a coffee table is enough for your living room.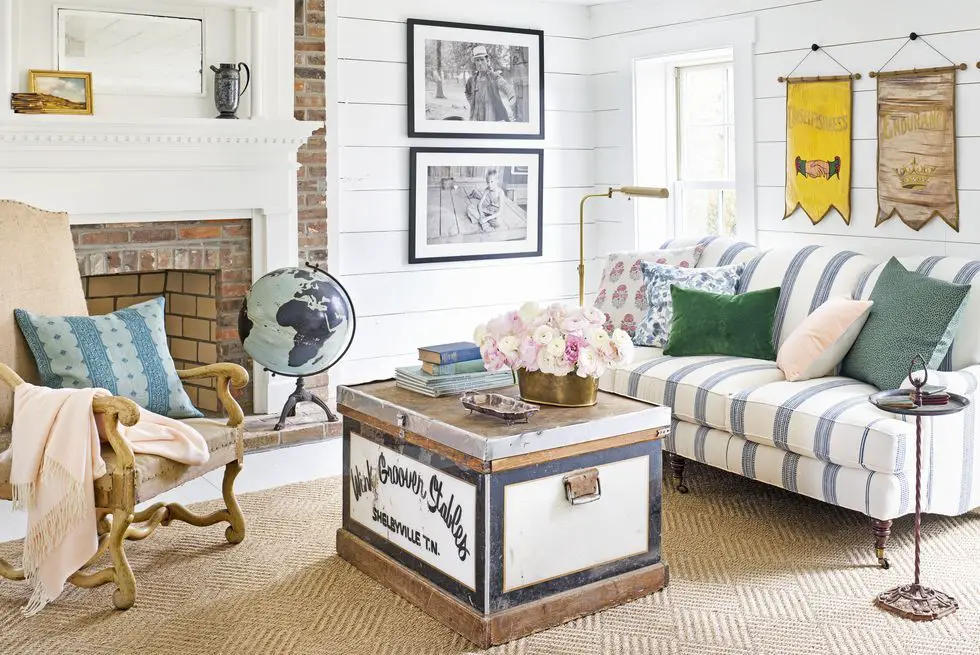 It is very important to keep a simple decoration when you are applying a farmhouse decor to your small house. Don't place much furniture to avoid the cramped situation. Just place a loveseat sofa, a classic chair, and a simple wooden coffee table. Wooden coffee table and striped sofa from countryliving.
The simple white loveseat sofa is enough to decorate your small house in a farmhouse style. This sofa looks match with a white color scheme that applied in this farmhouse living room. Loveseat and coffee table from decorilla
In decorating the farmhouse style for the small house, it is very important to make sure that you don't place much furniture and wall decoration. Just install a simple wooden board sign and use a simple tufted loveseat sofa in the black color is a great idea. To warm the nuance, the dim light is highly recommended. Wooden coffee table and black sofa from decorilla.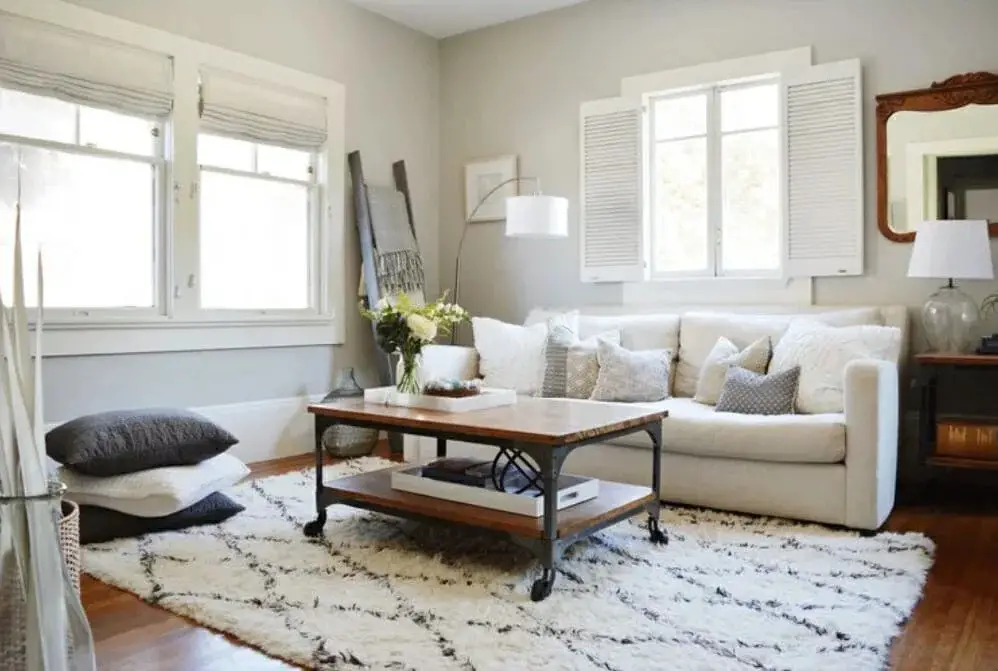 If you decide to apply farmhouse decor in your small house, first you have to use a bright color scheme to bring a wide and large appearance. In using the furniture, the loveseat sofa and simple coffee table are enough for the farmhouse living room. Try to choose the sofa in the same color to get a matching look. Wooden coffee tables and soft sofa from decorilla.
2. Neutral hues
Now, don't get this idea wrong. Neutral choices don't always have to do with white, cream, or grey. While most farmhouse looks incorporate such color, neutral means something versatile. Opt for neutral hues that you can easily decorate without needing much space to create an accent.
The neutral hues are identical to the farmhouse decor. If you applying this color to your kitchen, it will be easy to match with another neutral color. For example, if you applying white color for the walls and you can combine it with brown color for the kitchen cabinet. Brown cabinet from mymove.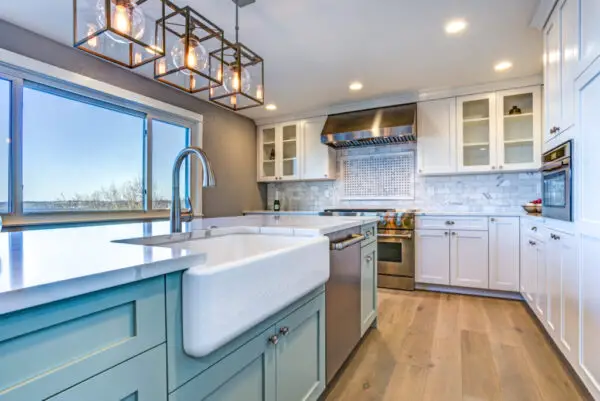 Choosing to use a white color scheme for the kitchen farmhouse decor will give benefit for you to match and decorate it with another color or another decoration. In this case, you can pair it with a wooden floor to bring warm nuance and add a light blue color for the pop of color in the kitchen. White shades and blue cabinets from mymove.
A neutral hue is a versatile color that can easy to combine with another decoration or color. This white and grey farmhouse kitchen decor will look more stunning by combining with the pendant light as the lighting fixture. Dark gray cabinet and white shades from mymove.
3. Galvanized look
It's one of the most traditional ways to keep things in order; a tray of magazines or a brass bucket for your silverware or a crock for your flower will do the trick. Choose some old materials that deliver an antique look.
The simple way of decorating the farmhouse decor is using galvanized materials for decorative items. You can take the galvanized tray for the flower vase and candle holder. Place it on the table and then it will be an antique centerpiece idea. Galvanized metal tray with pretty cotton bouquet from homebnc.
If you need some ideas to decorate your dining table in farmhouse style, just use a metal tray then fill it with some pumpkins, flower arrangements, and antique ornaments. Surely, it will add a vintage look to your farmhouse dining room decor. Metal basin with glitzy pumpkins and topiaries from homebnc.
Go to the flea market and look for a metal item to complete the farmhouse decor. Such as the picture above that using tiered metal storage for the farmhouse kitchen decoration. This storage is very useful to keep the kitchen always neat and strengthen the farmhouse vibe at the same time. Tiered metal storage from homebnc.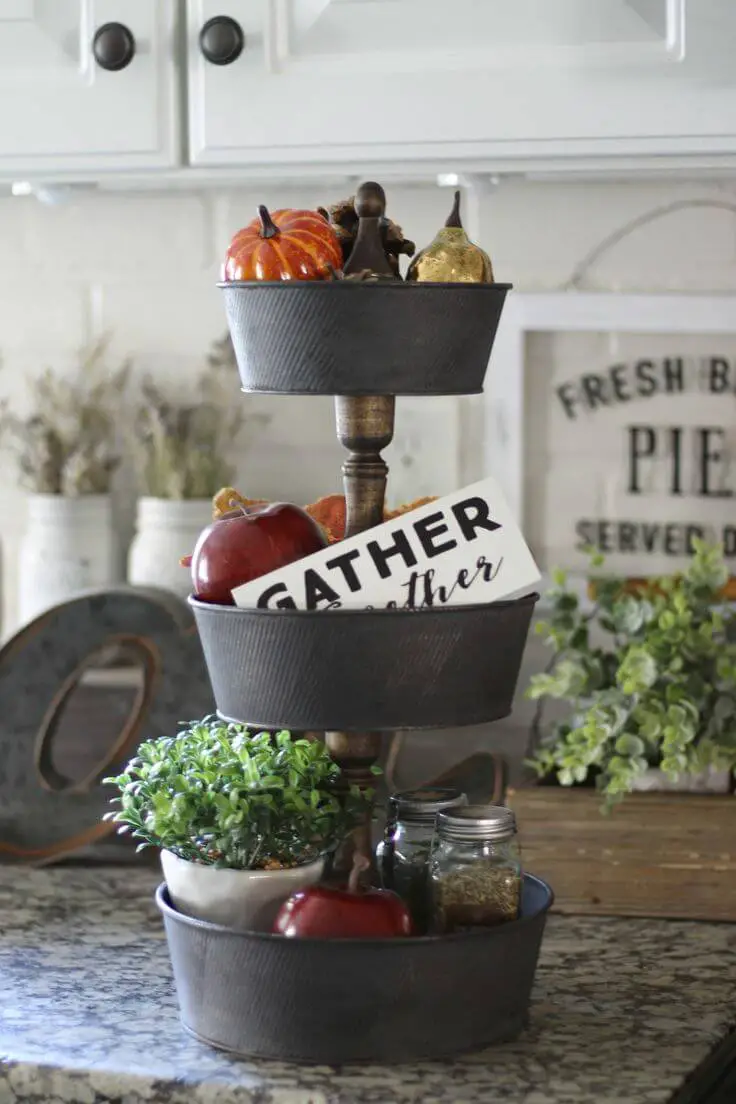 Don't get confused if you don't have an idea to complete your farmhouse decoration. You can take a tiered fruit basket made from a metal material. Fill it with some decorative items then use it for the centerpiece idea. Wood and metal tiered fruit basket from homebnc.
To keep your egg, you can utilize the tiered metal tray to store your egg. Beside being able to bring a neat look, the metal tray also will strengthen the farmhouse style. Tiered metal egg storage from homebnc
4. Breathing space
Avoid squeezing elements that will make your small space appear cramped. Allow the air to flow inside by putting away furniture from the window. Give space, and make sure you have enough room for the traffic area.
Putting away your furniture from the window to bring a breathing space in your living room. Arrange your sofa face to face and place your coffee table in the middle to bring space for the traffic. Milk can coffee table with large window from homelovr.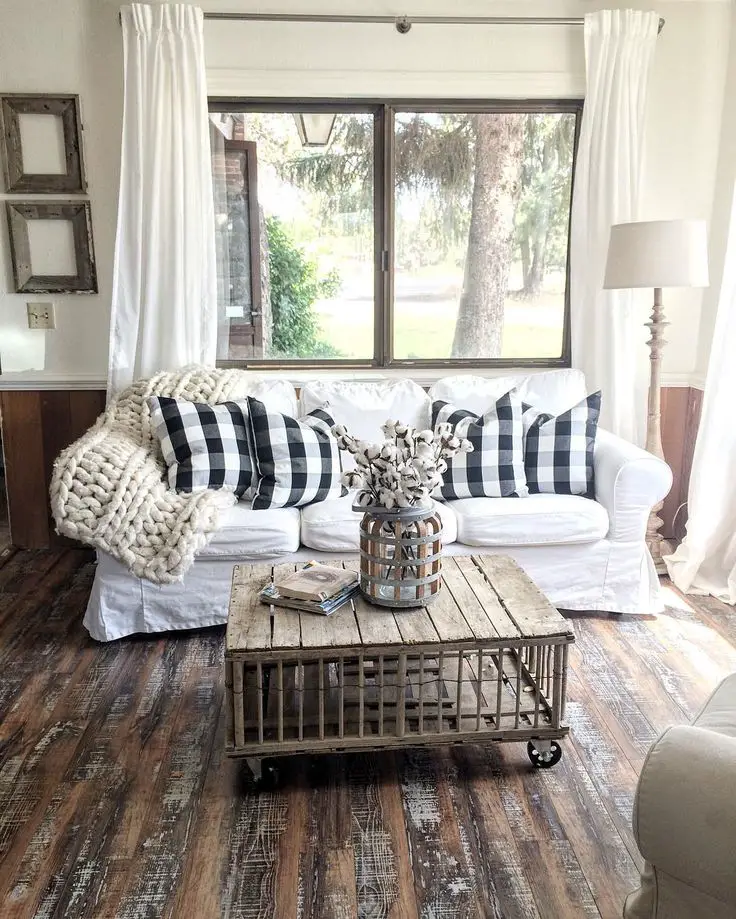 Consider placing your sofa far away from the window to bring a breathing space and airy feel. Just use a loveseat sofa and a simple coffee table to avoid a cramped look. Small sofa and large window from homelovr.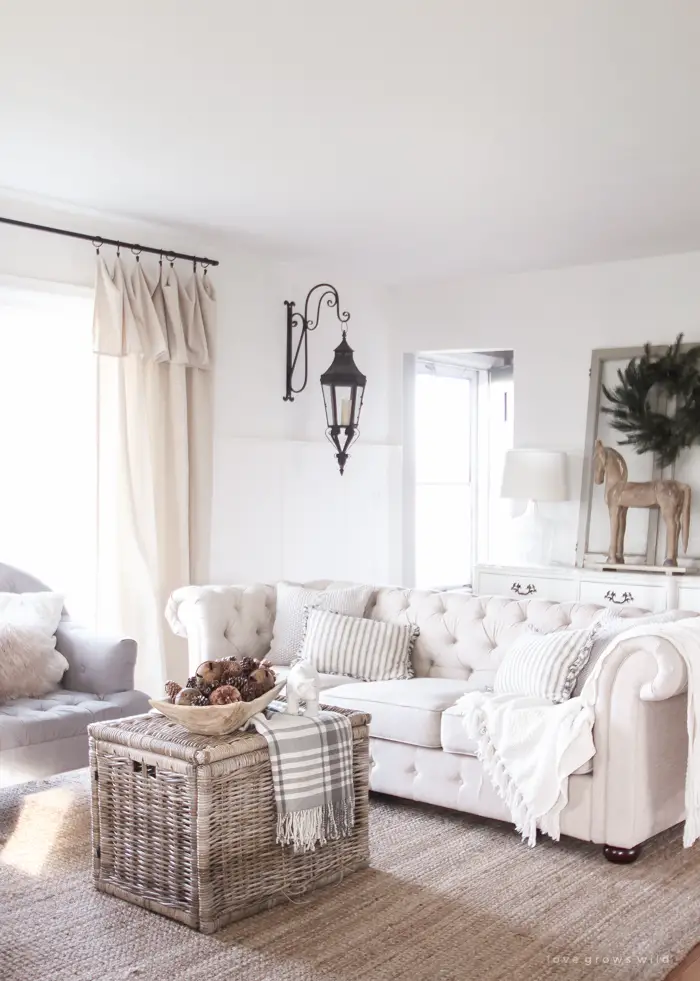 Let the fresh air comes to your room by installing a large window and use not too much furniture. The loveseat sofa in white color will make your farmhouse living room feel bright and airy. White loveseat sofa from digsdigs.
Applying face to face sofa arrangement for the farmhouse decor in the small house is a good idea. This idea will create a breathing space, has a decent space to move, and makes the room looks bigger. Face to face sofa arrangement from digsdigs.
5. Lights up
A subtle classic chandelier or a metal pendant light works best to create farmhouse decor in a small house. Both serve functionality and style that can illuminate the space properly. Choose one from your local flea market for a heavy antique, used, secondhand look.
Complete your farmhouse decor in a small house by installing a crystal chandelier. This classic lighting fixture will bring a bright and antique look at the same time. Crystal chandeliers from homebnc.
Make your small farmhouse dining room looks bright and interesting with a farmhouse pendant light. The sleek frame of the pendant light will make your small dining room looks simple but able to illuminate the small space. Small pendant light from homebnc.
The metal pendant lighting is suitable to bright and gives aesthetic look to your farmhouse kitchen decor. The old-school look from the lampshade will strengthen the farmhouse vibe. Metal pendant lights from homebnc.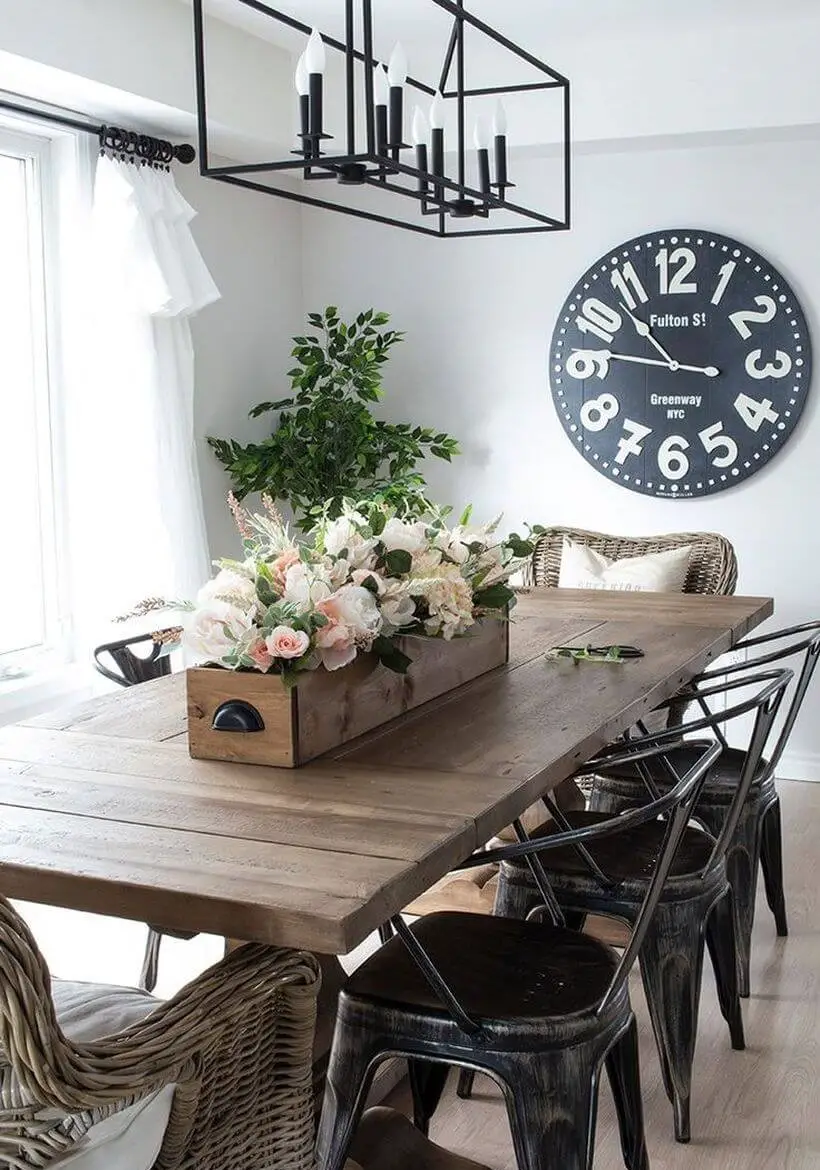 If you need an aesthetic lighting fixture of farmhouse dining room decor and still able to light up your small space, install a pendant lamp. Choose in black color and it will look match with neutral hues of the farmhouse dining room. Black pendant lamp from homebnc.
There are many options to create a perfect farmhouse decor in a small house, including sticking to simple furnishing, highly practical accessories and neutral ambiance.
(Visited 261 times, 1 visits today)
Tags:
farmhouse decor
Last modified: December 24, 2020