A lot of talk about decorating the room in a french country style. One thing you should not miss is the romantic decoration of the bedroom. French country elegant living room decoration can we imitate for romantic bedroom decoration. We can do a lot to decorate this country-style bedroom. Among them is by installing a bed crown, installing a chandelier, or changing the theme of the bedroom. We have collected some romantic french country style bedroom decorating ideas. So you can make it your dream bedroom inspiration.
Bed Crown
One thing that is interesting about the bed crown is that it is royal bedroom design. Thus, the first bedroom decoration we will talk about is the bed crown. The bed crown is a blanket that covers the bed above the headboard. Not only makes the bedroom design more stylish, but also makes the bedroom more elegant. Various bed crown designs are available, you can apply almost all of them well. For single beds or bedrooms with double beds, the results will still be romantic.
Tasseled bed crown support with luxurious design and floral motif. The crown of this bed goes well with the romantic floral brown sheath. Tasseled bed crown from hgtv.
The addition of a white bed crown to the double bed makes sleeping for you and your child more comfortable. Add a bedside table furnished with an antique table lamp. White crown bed from hgtv.
This is a luxurious bedroom design with white linens. White color appears between the wall color and the color of the bed. Adding shabby chic furniture adds a vintage feel to the room. White linens bed crown from hgtv.
The matching color and motif design between the floral wallpaper and bed crown will create a harmonious look. The shade that used of this bedroom color scheme will bring a calm nuance and comfortable feel. Floral wallpaper and bed crown from hgtv.
The combination of floral and gold motifs on pillow sets, pillowcases and bed crowns is the best idea. Vintage-style bed designs harmonize tassel designs on the bed crown. Floral and gold bed crowns from hgtv.
Vintage Bedding Set
French country style room decor is very identical to the vintage style. So, we were inspired to present some vintage style bedroom decorating ideas. Vintage style is one of the room decoration ideas using old furniture. But some like it as a way to show the romantic side. Let's take a look at some warm vintage style bedroom decorating ideas.
Using an antique metal bed adds a vintage feel to the bed set. With white nuances, floral patterned pillows and classic chandeliers add a warm impression to the space. Metal bed from homedit.
This French vintage-style bedroom design is complemented by a matching wall color scheme and bedding set. This wooden bed frame adds a vintage feel combined with a floral arrangement. Vintage wooden bed frame from homedit.
Make the atmosphere more romantic between all-white decorations. The addition of a charming vintage wooden headboard and other old furniture will strengthen the vintage vibe of your bedroom. Vintage wooden headboard from homedit.
This vintage bedding set is completed with bed crowns in red floral motifs. Pair it with white shades on the sheets to get a comfortable impression in the room. Vintage bedding with floral motifs from thespruce.
A vintage bedroom design with the presence of a white vintage bedding set with yellow plaid accents is a must for you to try. Pair it with sconce lighting and vintage table lamps. Vintage bedding set with yellow plaid from thespruce.
Muted Color and Wooden Elements
Wood furniture is always interesting to talk about and easy to apply. The addition of wood elements in each room results in warm and pleasant decor. Moreover, for a French country style room that is very closely related to natural wood furniture. Pair of natural wood elements are some dull colors. Which then produces a unique vintage decoration.
The room decoration with muted colors is even more beautiful with the addition of several wooden elements. Additional vintage dressing table with table lamp complete with a statue in the center. Several wooden elements from flourishmentary.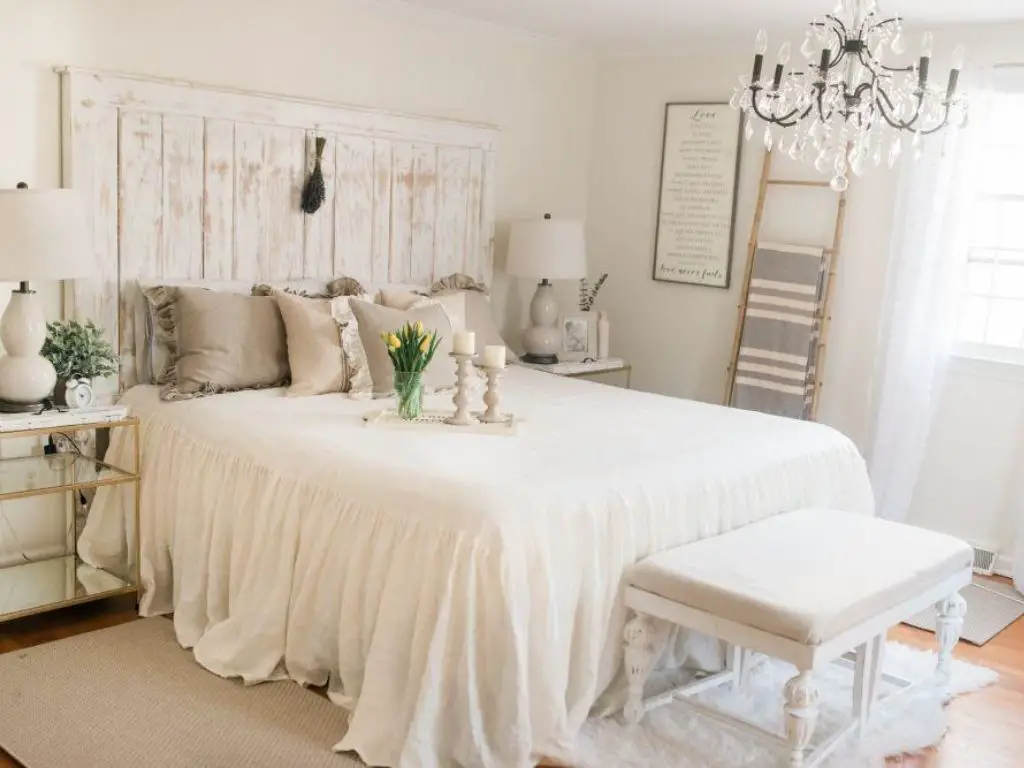 A shabby headboard and nightstand make a really lovely mix. The pale hues of the French bedroom and rugs create a serene atmosphere. Shabby headboard from thearchitectsdiary.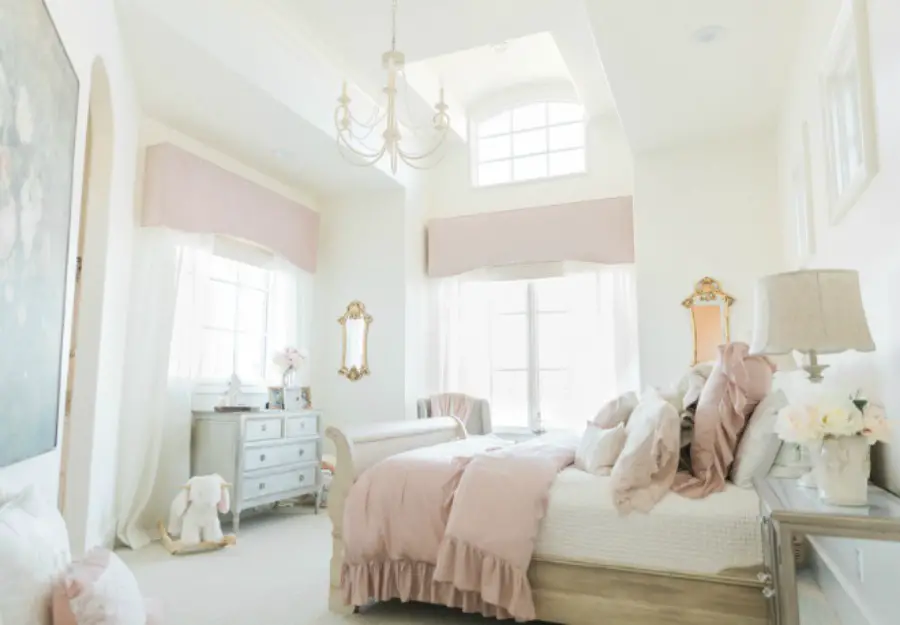 A nightstand in a shabby color adds a vintage feel to a French bedroom. The wooden bed makes the atmosphere of the room stand out even more. White nightstand from thearchitectsdiary.
Wood makes the bedroom has a more natural feel. The carved motif on the gray barn door creates an ancient feel that is thick with French history. Gray barn door from hellolovelystudio.
Decorate the room with some interesting and historic wood pieces. The addition of floral patterned wallpapers creates a different romantic atmosphere. White nightstand from homebnc.
Pretty Chandelier
Furthermore, the presence of a chandelier. The beautiful and unique design of the chandelier design will perfectly produce the romantic side. Especially for the decoration of the bedroom. The design of the bedroom chandelier has a design that is almost the same as the chandelier in general. But, it tends to have a smaller size and more unique design.
The beautiful chandelier shines even more in the middle of the natural feel of the French bedroom. The use of this candle chandelier adds a vintage impression to the room. Candle chandelier from senseandserendipityblog.
Elegant chandelier design with gold and crystal combination. This design blends very well with the shady bedroom texture. Crystal chandelier from senseandserendipityblog.
Decorate your romantic bedroom with the addition of a very beautiful empire chandelier. Simple and elegant design with golden nuances. Empire chandelier from senseandserendipityblog.
Look luxurious with a chandelier filled with crystals. Medium size looks beautiful in the middle of a romantic bedroom design. Vintage candle chandelier from senseandserendipityblog.
Adding vintage candle lamps creates dramatic lighting for your bedroom. With a touch of this chandelier makes the design more perfect. Brass vintage candle lamps from senseandserendipityblog.
Finally, we have presented various French country style room decorating ideas. Decorating the bedroom with romantic nuances you can present from various sides. Starting from the additional bed crown or add wooden ornaments. You can also add a pretty chandelier decoration to enhance the look of your bedroom. The dominance of pastel colors is one way to bring a romantic atmosphere. Besides presenting a variety of furniture, color is the key in a decoration. In addition, the use of patterned furniture and combinations with others can produce beautiful textures.
(Visited 283 times, 1 visits today)
Tags:
French Country Bedroom
Last modified: January 18, 2021