The masculine master bathroom is not only about where to do your business but also about aesthetics. Despite the name, the masculine bathroom will leave women impressed when done with appealing aesthetics. Looking for ideas to create a masculine master bedroom? Take a look at some ideas below.
Blend Wood and Metal
There is something about metal and timber that speaks masculinity. Rather than only using marble and tiles in your master bedroom, incorporate wood and metal in the interior. The use of both materials also presents a good opportunity to go for industrial and rustic styles.
Bathroom design that uses wood and metal is very suitable for you to use. With this design you will have a bathroom with an elegant appearance. Wood and metal from thefauxmartha.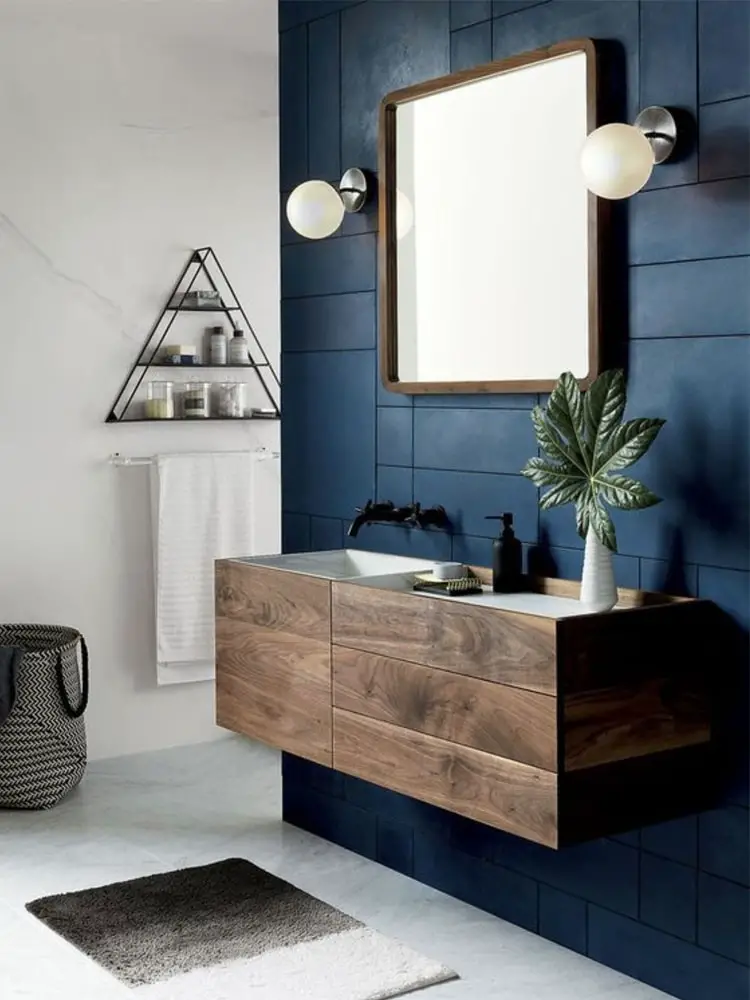 A wooden sink creates an elegant look in a masculine bathroom. Plus a metallic touch on the faucet adds a dashing impression to the room. Masculine bathroom from manofmany.
This wood and metal finish comes in both wood sinks and metal faucets. Add a large mirror complete with a wall lamp for the right lighting. Metal faucets from manofmany.
This metal handle adds a masculine look to the bathroom. Combine with the wooden cabinet adds a warm feel and makes the look of the bathroom become stronger. Metal handle from manofmany.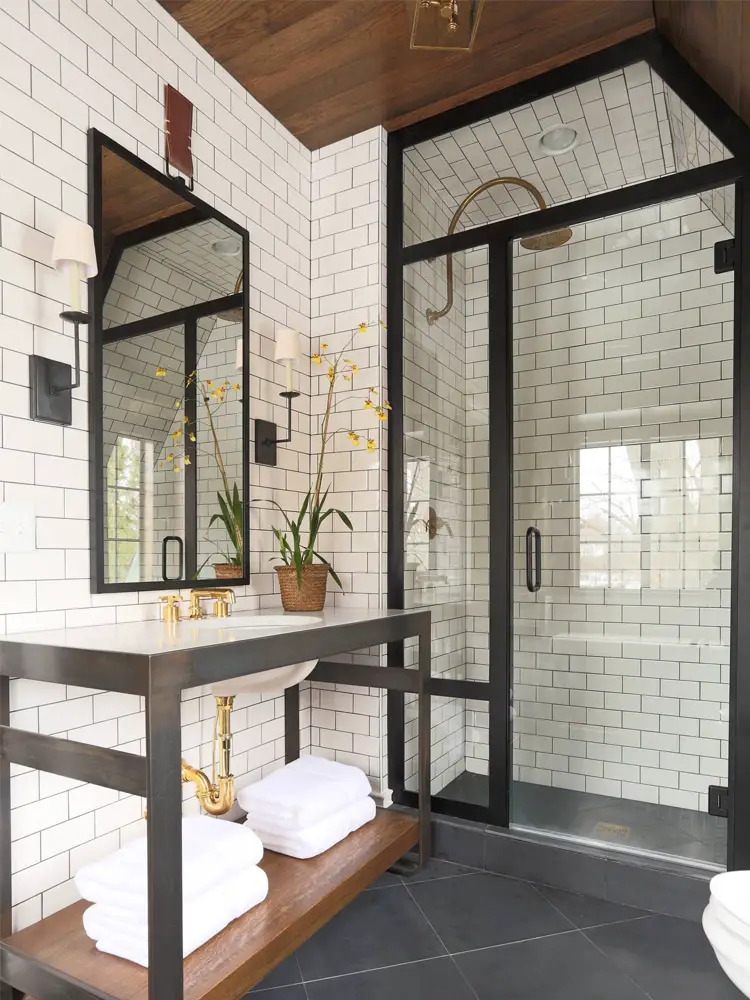 If you want to have a fabulous bathroom look, you can apply the design as shown above. Use a combination of metal and wood for your vanity area, so that the appearance of your bathroom looks sharper and manly. Metal and wood sink from manofmany.
Neutral Colors Leaning to Dark
Masculinity and machismo in fashion are often associated with a black leather jacket and black shoes. It's safe to say that masculinity is associated with dark colors. Although for your master bathroom, you don't have to go all dark. To keep things bright but not too bright, you can use neutral tones like light grey and blue, paired with darker shades. You can also go black for a modern aesthetic and pair it with warm lights to avoid colder vibe.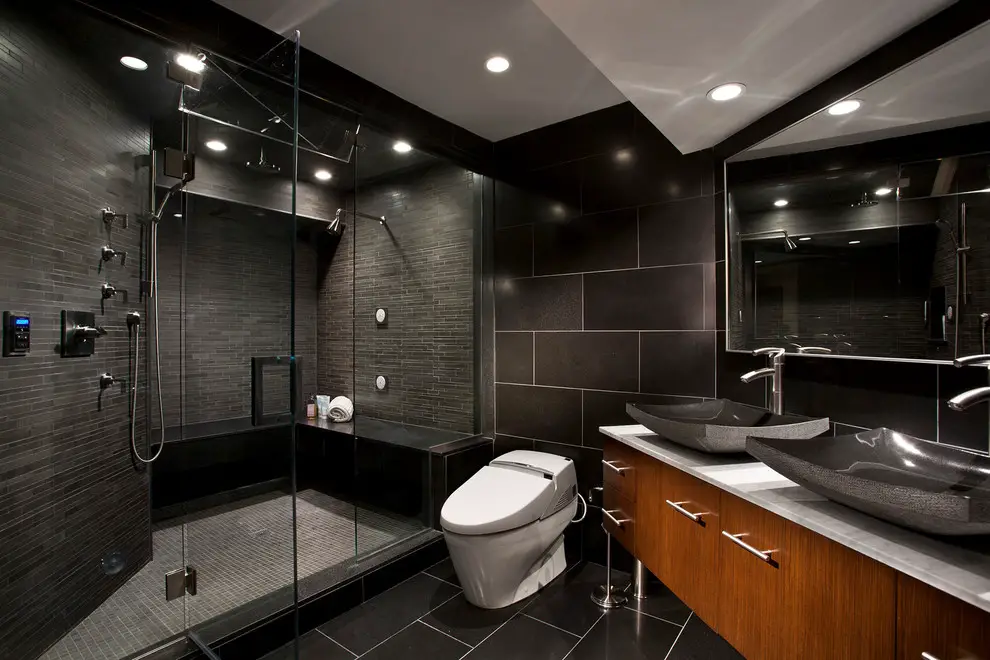 If you want to use black for the masculine bathroom color scheme, don't forget to add lighting. Provide the lighting fixtures with white lamps for a bright atmosphere in your bathroom. Black Nuance from digsdigs.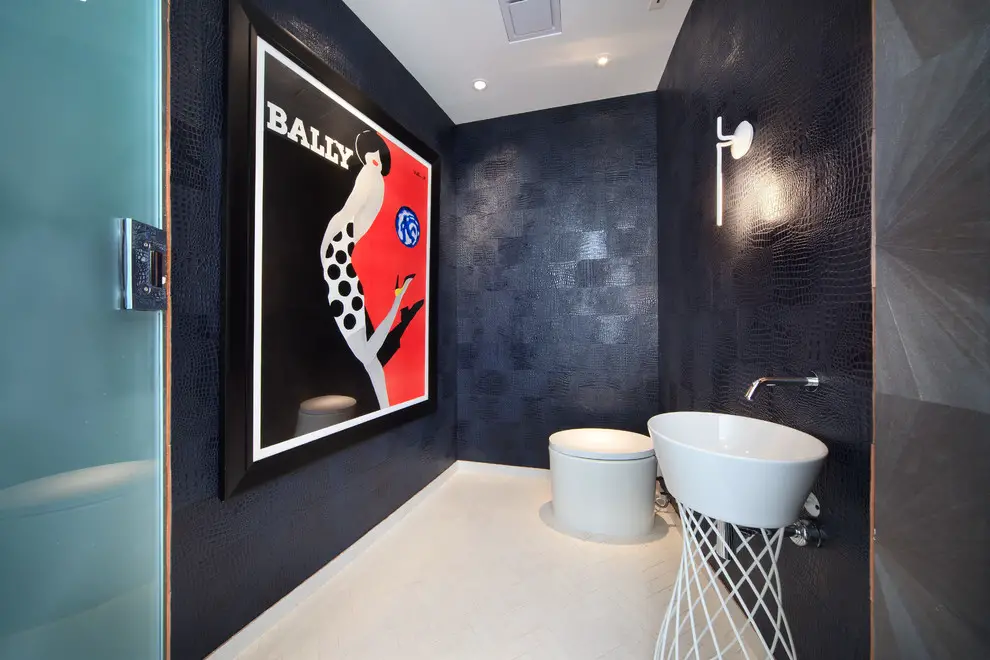 Shades of black are attached to this masculine bathroom. To keep the space bright, you can add sconces lamps for a minimalist and interesting room decoration. Black masculine bathroom from digsdigs.
If you don't like regular concrete, there are plenty of tiles nowadays that can help imitate but in more sophisticated ways. You can apply this kind of tile to the floor and even to the shower room. A dark shade from the tile is suitable for the masculine style. Then install a minimalist lighting fixture to get a matching design. Black nuance with lighting from digsdigs.
To get a masculine bathroom look, you can use light gray with black accents on the wall tiles. Add warm lighting to create an elegant look. Light gray with black wall tile from digsdigs.
The shade from the concrete walls and black tile wall completes the look of your masculine bathroom. The lighting on the ceiling with orange light gives a warm impression into the room. Black tile wall from digsdigs.
Match with home interior theme
When decorating your master bathroom, be sure to match it with the style of the entire home design. Don't forget that your bathroom is also part of the house. You'd want it to feel like an extension of the theme established in your home. If you go for an industrial style, for example, the bathroom should also incorporate industrial aesthetics.
The use of industrial themes in masculine bathrooms adds an attractive appearance to the room. The floating wood cabinet vanity complete with industrial pendant lights adds to the unique feel. Industrial pendant lights from decoholic.
This white brick wall adds an industrial feel to a masculine bathroom. A black wooden countertop and a white sink will create the perfect contrast. White brick wall from decoholic.
If you have an industrial-style house, you also need to make a bathroom in the same style. Making a bathroom with brick walls will make the industrial impression stronger in your bathroom. Industrial Bathroom from decoholic.
An industrial bathroom style that uses brick walls and modern touch with glass windows will make the masculine vibe more feels to the bathroom and make it even more perfect. Masculin industrial bathroom from decoholic.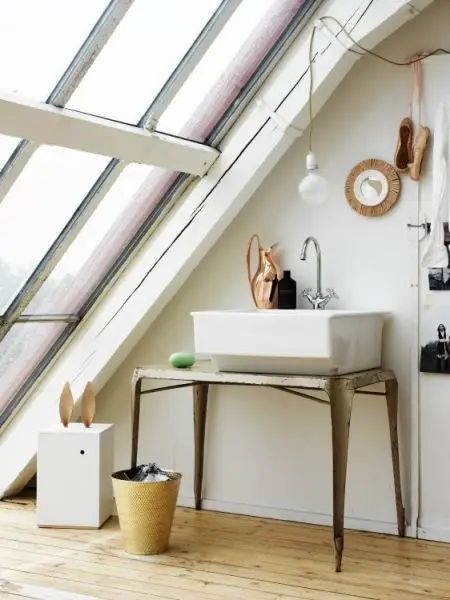 This masculine bathroom is reinforced with an industrial style. Equipped with a metal table for the sink countertop will work well between masculine and industrial style. Metal table from decoholic.
Pay attention to details
With a masculine bathroom, you'd want every little detail to speak masculinity. When you have taken care of the big elements, from flooring and walls to toilet and bathtub or shower, pay attention to smaller items. The floor mat, air freshener, shower head, wall hangers, and wall art should match with your masculine theme. Give them enough attention to perfectly complement the overall decor.
This masculine bathroom using a wooden mat to complete the function of the bathroom and also wood material is able to represent masculinity. This makes it easier for you to dry your feet when leaving the bathroom. Wooden Mat from contemporist
Masculine bathroom ideas with the addition of a showerhead will complement the decor. Use a glass divider to make a large space in the bathroom. Showerhead from availableideas.
Adding a bath mat with a neutral color will make your masculine bathroom more complete. The simple patterned stripe of the mat is suitable with the masculine character that identical to the simplicity. Bath mat under sink from contemporist.
This masculine bathroom uses a unique wall hanger. This will make it easier for you to hang your clothes while in the bathroom. Unique Wall Hanger from contemporist.
Applying a framed face painting next to the sink gives an interesting impression to your masculine bathroom. This will be the focal point in your room. Framed mural from digsdigs.
Stay Organized
Go beyond the stereotypes than men are messy and slobby. Staying organized shows that you're a mature individual who takes complete control of your life. To keep things neat and clean, have some organizers like corner caddies. Closed shelving units also come in handy to keep the clutter away from sight and leave your master bathroom clean.
The corner wood floating shelves will help your master bathroom looks tidy and organized. This is the smart idea to create simple but smart storage in your masculine bathroom. The rough texture of the wood shelves will strengthen the manly look. Rough wood floating shelves from digsdigs.
This hanging cabinet above the toilet serves to store some of your toiletries. This way you will make your masculine bathroom more organized. Hanging rack from availableideas.
If you want a neat and clean bathroom, you can use a mirror cabinet. The mirror that has storage on behind will make it easy to store your bathroom supplies. You will have two benefits with this furniture. You can dress up after taking a bath and easily store your items at the same time. Mirror cabinet from availableideas.
Using wooden storage in the corner is a brilliant idea to organize your masculine bathroom. The simple idea of the storage will not affect your masculine style instead of will make your bathroom more organized. With this wooden cabinet, you can store towels and other items to make it look more organized. Wooden storage from homebnc.
Corner caddies are one type of storage suitable for a masculine bathroom design because of the simple shape that owned. With these corner caddies, you can store your small bathroom items like soap, shampoo and brush for a tidier look. Corner caddies from thespruce.
All in all, the master bedroom, just like any other part of the house, is about you and your comfort. So, whatever theme you want to style it in, be sure it exudes your vibe!
(Visited 394 times, 1 visits today)
Tags:
Masculine master bathroom ideas
Last modified: January 27, 2021