When stepping into a bathroom, lighting probably the least thing people will notice. However, lightings play an important role in creating a perfect ambiance. If your restroom features a vanity, it is important to match it with proper lighting. To help you achieve that, here are five incredible lighting fixtures for bathroom vanity you can't miss.
Above the mirror
Vanity lighting above bathroom mirrors is a great recommendation for an elegant minimalist look. This idea is terrific for you who have a small bathroom. You can select LED wall light, light bars, 3-light nickel, or 4-light brass vanity lights.
You will be more comfortable using the make-up bathroom. Because with a charming touch, using the lamp above the mirror gives a more modern and easy feel. choosing a 3 lamp nickel lamp will make a room decor sophisticated and attractive. Paired with a round mirror with a wooden frame will also provide a spacious and bright decoration. 3 lamp nickel lamp above mirror from apartmenttherapy.
The lighting design in the vanity gives an elegant impression. By using this type of light bar lighting. The lamp bar that is placed directly above the mirror creates a more charming mirror touch. In addition, the feel of the bathroom is more minimalist. Paired with a rectangular mirror, the white washbasin and the blooming flowers in this vase will provide a stunning decor and create the illusion of a spacious and fresh space. Bar lighting on mirror from diynetwork.
Ceiling Fan with Light
Achieve a relaxing bathtub time with a modern and chic ceiling fan with lighting. This item can be put for a small toilet or a large place. You can go fashionably classic with the type that features fan leaves, lampshades, and cord switch. Or you can be stylish with a simpler design.
This is a sumptuous and glamorous vanity decoration. A charming lighting touch by using a ceiling fan with light gives an elegant impression. Also, looking in the mirror in front of the vanity will be even more charming. With this classic room design it will give the perfect vibe to this bathroom. You can style with a simpler design. Ceiling fan with light from magicbricks.
Hanging Pendant Lights
If you are looking for something that will stun whoever who step into the restroom, these hanging lighting will do it all for you. Hang it low over your vanity mirror. To make a strong statement, pick the best fixture design like blown-glass lights, hexagon industrial, or triangle oak pendant lights.
Surely you will be amazed by the appearance of this bathroom. The luxurious touch of the decorative lighting through the pendant lamps gives a dramatic look. Apart from giving a more dazzling appearance, it also adds to the concept of functional furniture. You can add a few chandeliers for a bright and stylish room decoration idea. Glass bubble lamps from digsdigs.
The beautiful vanity concept using a water droplet pendant will add a dazzling touch. Hang it in front of a mirror to jazz up the look of your bathroom vanity. In addition, it will provide a bright and dramatic room decor. The all-white color scheme of this bathroom will create the illusion of being spacious and clean. This double vanity will maximize the space in this classic bathroom. Droplet pendant lamp from digsdigs.
A thin, cone-like glass pendant lamp that fits perfectly into modern bathroom styles. With this navy and white color scheme, it will give a stylish room decoration and will steal the attention of many people. Don't forget to add some white furniture and green plants in a pot for a fresh and airy decor. This patterned floor tile will provide the perfect decoration and will grab the attention of many. Cone-like glass pendant lamp from digsdigs.
Wall Scones
Having wall scones on the side of your bathroom vanity mirror create a dimming light that is, of course, what a bathroom needs. The side-by-side wall-mounted scones will not make you seem to overdo it but perfectly in place. Bathroom lighting scones also come in different models.
Of course this will provide the perfection that is present in the bathroom. Namely through vanity accents with lighting wall sconces next to the mirror. In addition, the white wooden walls give a strong and special impression. You can complement it with a double vanity to create a stylish bathroom that catches the eye of the crowd. Using a white cabinet will create an interesting room. Lighting wall sconces next mirror from nextluxury.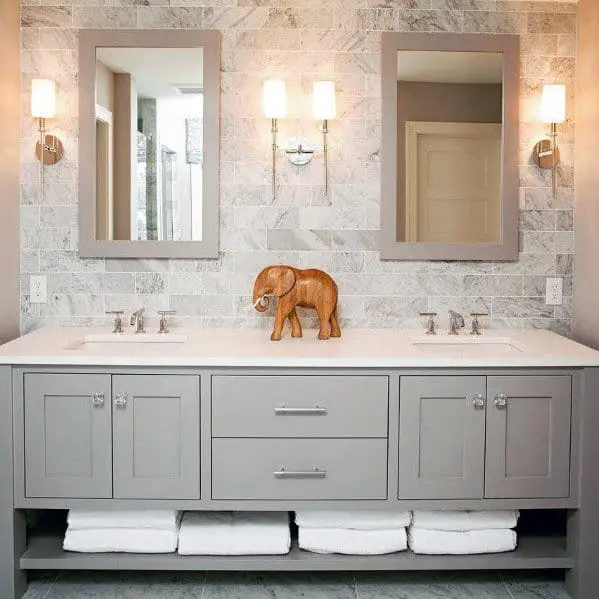 Having a tube wall scone next to the dressing mirror creates a dim light. In addition, this wall sconce concept will create an elegant and alluring feel. You can put it on the right and left side to make a perfect and inviting room decoration. Combined with the beige color scheme this natural stone wall makes for the perfect space. Wall sconce lamp from nextluxury.
Mirror Lights
Lighting coming from the back of your looking glass is what your lighting fixtures for bathroom vanity needed. Implement by lots of modern and trendy restroom; this lighting idea will make your make-up time a lot easier.
A modern dressing table design with a mirror finish comes from your glass back and will give off an interesting vibe. In addition, this lighting concept combined with dark accent walls adds to the beautiful atmosphere. The heringbone tile walls will make for a modern look and will make for a trendy bathroom. This large oval mirror will make a stylish room decor. Lighting behind oval mirror from nextluxury.
The lighting behind the mirror gives it a modern touch. In addition, an elegant nuance is created through the mirror appearance and lighting. Choosing this LED light will make for the perfect decoration of the room and will be the perfect decoration. These lighting ideas will make your makeup time a lot easier. Combined with wooden walls, it will give the perfect room and have a rustic feel to your modern bathroom. Lighting behind the mirror from nextluxury.
Picking Lighting fixture for bathroom vanity may look simple. However, a perfect pendant will implement the whole look of your private space.
(Visited 197 times, 1 visits today)
Tags:
Bathroom vanity lighting ideas
Last modified: May 27, 2021