10 Brilliant Storage for Small Bathroom Decoration
A bathroom can be easily cluttered with bathing and make-up supplies, thus messing up with the whole decoration. But you can always be creative with what you've got to get the most function in your bathroom and keep it in style. Level up your small bathroom decoration with these brilliant multifunction bathroom storage ideas to keep your make-up and toiletries organized.
Mirror cabinet with LED
The mirror cabinet is great for a small bathroom. When closed, it's a mirror perfect for an outfit check. But when open, its shelves keep all your beauty products. Many modern mirror cabinets now come with LED, which will be super helpful for your make-up routine. It ensures a perfectly clear view for applying make-up or shaving. Some products even come with a built-in Bluetooth speaker, allowing you to play music from your smartphone.
In order not to look plain, then you can add an LED to a storage cabinet equipped with a mirror to present a futuristic modern minimalist bathroom interior. Choose a mirror frame with gold color to maintain a luxurious feel that is not excessive, to save it you just need to open it. LED gold frame mirror cabinet from homedit.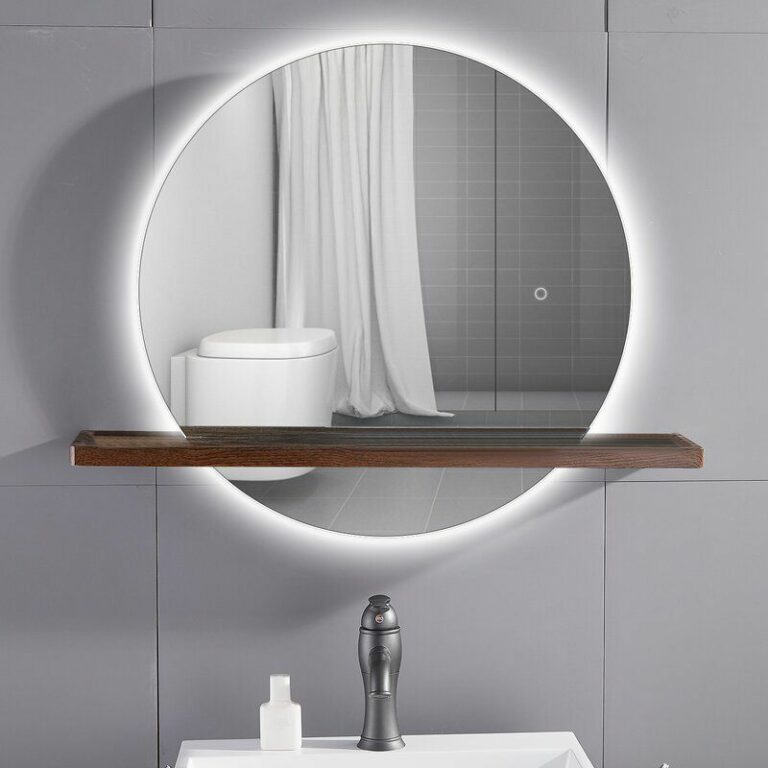 Add a wooden hanging on the front of the LED glass cabinet for an open bathroom storage idea. You can use it to put soap or a toothbrush, with this you will find it easier to take bathroom necessities. Besides that, the wooden shelves also give the impression of a simple and natural farmhouse. This mirror also gives the illusion of a wider bathroom decor. LED mirror with hanging wooden rack from homedit.
The LED lighting integrated into the mirrored square wardrobe not only greatly simplifies the cabinet application, but this furniture can be a stylish accessory. These modern touches will create a comfortable and attractive atmosphere throughout your bathroom decor. LED square mirror cabinet from homedit.
Wall Mounted Organizer with Hook Hangers
If you don't have that much bathroom supply, this versatile bathroom storage will be enough to organize all your items. You can place shampoo and soap on the top and hang the towel and shower sponge on the hook underneath. This wall-mounted organizer with hook hangers is great to keep your day-to-day bathing needs with ease.
Choose and use a wooden wall mounted shelf equipped with a hook under it as a towel storage idea to make it look tidier and more organized. Galvanized buckets make it easy for you to organize bathroom fixtures according to your needs, besides that, galvanized buckets are also not easy to rust and porous when exposed to water. This shelf is a storage idea that frees up your floor area. Wooden wall mounted shelf with hooks underneath from homebnc.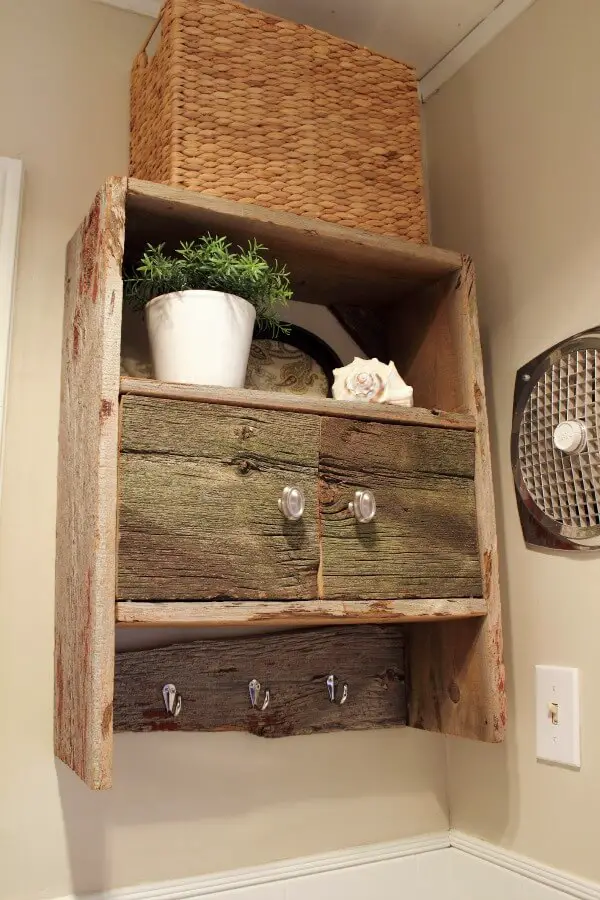 You can get a rustic nuance in bathroom decor by using reclaimed wood hanging racks, iron hooks are additional storage ideas that you can apply. Place a wooden wicker basket on a shelf as an effective storage aid, with these shelves and baskets all bathroom fixtures will be tidier, organized and efficient. Hanging reclaimed wood shelves from homebnc.
The shower rack storage attached to the ceramic wall gives a modern and minimalist impression. You can use this built in hook to hang your sponge. Choose this storage rack with stainless steel material which is more durable and sturdy for a long time, you can buy it in stores around your home. Stainless steel shower rack storage from homebnc.
Corner shower shelves
Corner shower shelf is another perfect organizer for keeping your shampoo, soap, facial cleanser, brushes, lotion, and so on. For easy installation without damaging your wall, opt for the ones that come with adhesive stickers. Also, since it will be used in the bathroom with a lot of exposure to water, be sure to pick durable material that doesn't rust, such as stainless steel or high-quality plastic.
Use tiered basket corner shower shelves to store more of the bathroom amenities you have. Stainless steel is an option that is strong and not easily damaged. Put all the soap and shampoo bottles in this basket so it doesn't look messy. You can try this shelf idea in your bathroom right now. Tiered basket corner shower shelves from homebnc.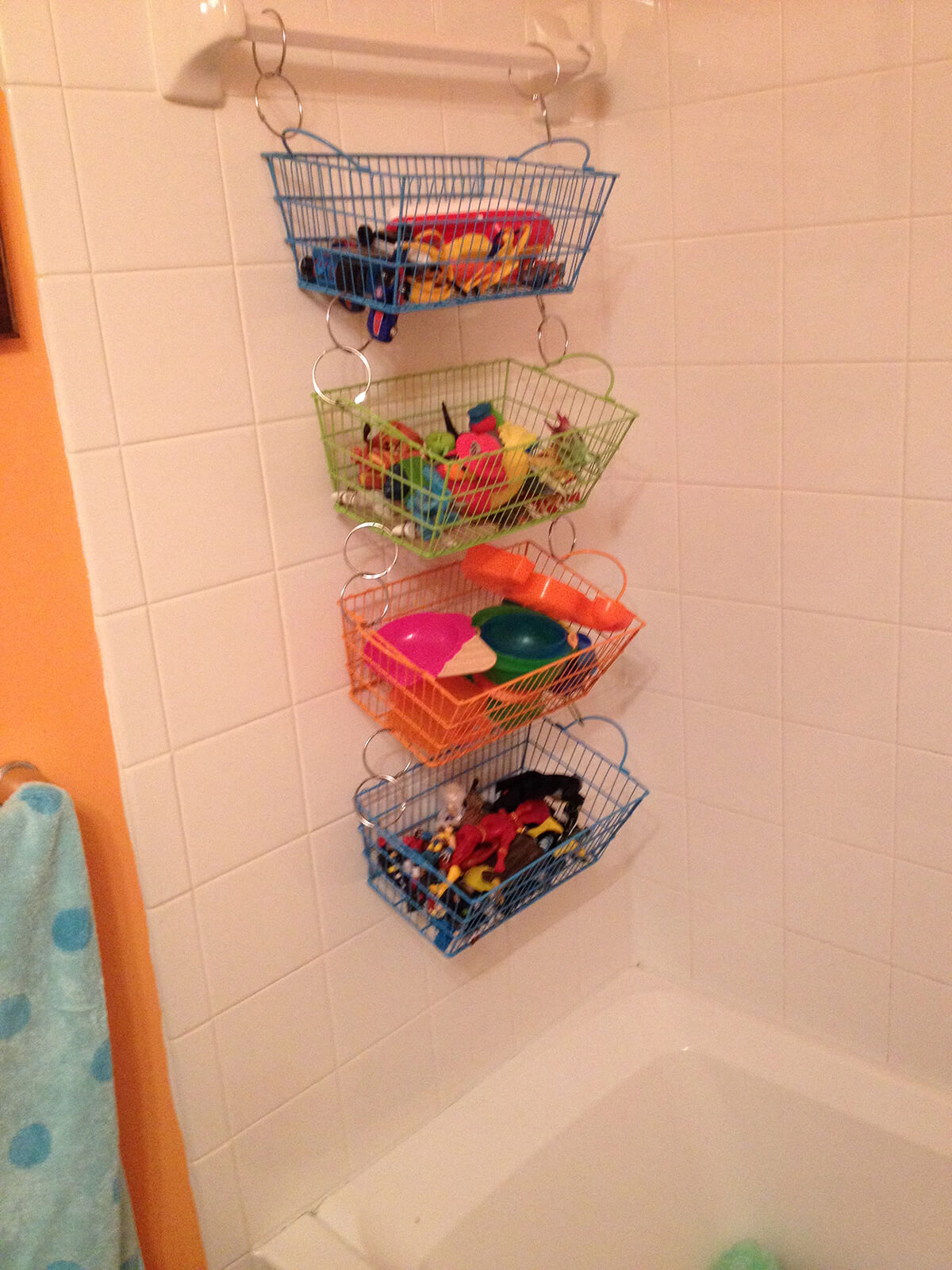 Colorful wire storage baskets placed in the corner of the bathroom provide a vibrant and vibrant color. You can hang several baskets for more storage ideas, this storage idea doesn't take up much space so it doesn't interfere with your space when you're in the bathroom. Colorful wire storage baskets from homebnc.
Above the door and toilet
Running out of space to keep your items organized without messing up the small bathroom decoration? Use the area above a door and toilet! These can be a great place to install storage. Use the space above the door to keep extra toiletries that you don't need daily. As for the space above the toilet, get a tier wire shelf, and you will have plenty of room for necessary items like toilet paper, towels, and more.
Hang a teak rack right above your toilet to make it easier to store tissues, cotton wool and towels. Add some ornaments to beautify the appearance of your storage rack. Green plants, carved frames and ceramic flower vases are items that you can put on this shelf. Do not forget to use iron to hang this storage rack to make it stronger and stronger. Hanging teak wood storage from homebnc.
Take advantage of the empty wall above the toilet as an area to hang a storage basket. Not only using wood for storage ideas in your bathroom, instead of using a plastic material that is sturdy and not easily porous. A white ceramic vase filled with lavender flowers in bloom is a fresh decoration idea, which you can easily try. Plastic storage basket above the toilet from homebnc.
These brilliant storage ideas help you organize bathroom supplies without sacrificing valuable space. When everything is tucked away in their place, your small bathroom decoration will stay clean and chic as you want it to be.