To have such an appropriate decoration for your small bathroom, you don't need to be too much. You just need to do a quick and simple bathroom decoration project with something that you really need. Don't be worried since you can still get the beauty for sure since there is also beauty in simplicity. Anyway, to do a quick bathroom decoration, you need to consider two basic things those are the color scheme and the things you are going to provide into the bathroom which is something that you really need.
Applying Single Neutral Color Scheme
When having a small bathroom, what you need to concern about is how you can make your bathroom looks spacious. There is a simple way to do it, that is by applying a single color scheme in neutral color choice. It is ok! if you want to combine it with the other colors, as long as you can manage to have the dominant color. It is because when you don't create the color dominant and there are too many color combinations applied, your small bathroom will look crowded and narrower.
Shiplap walls that are repainted in white are the best choices that you can try in your minimalist bathroom decor. The advantage of using white paint is that it is easier to combine with the furniture in it, try using an easy gray wood vanity that is placed in the corner of the room. Splashes of gold on the lamps and mirror frames add a slightly extravagant color. White paint shiplap wall from hgtv.
Complete the look of your white walls with a marble vanity that has a matching color. This marble vanity brings a modern and minimalist impression to the bathroom so it never goes out of style, white is the favorite color to give a spacious impression to a room that has a limited size. Put some greenery on the surface of the sink like a natural decoration that is easy to get. White wall with marble vanity from hgtv.
There's nothing wrong with entering other colors besides white for your minimalist bathroom decor. In this room you can use patterned tiles that have a combination of blue and white, this tile becomes a bold color which makes the room look fresher and has a cool color. Enter sunlight through the glass window as natural lighting that helps the bathroom design look brighter and wider. White walls with blue patterned tiles from hgtv.
This wall design with two different paint splash colors is a favorite choice that you can try in your small bathroom decor. The combination of white with beige is a neutral color combination that can blend perfectly. Match the color of the bathtub and floor according to one of the wall paint colors that are applied. The combination of white paint walls with beige from hgtv.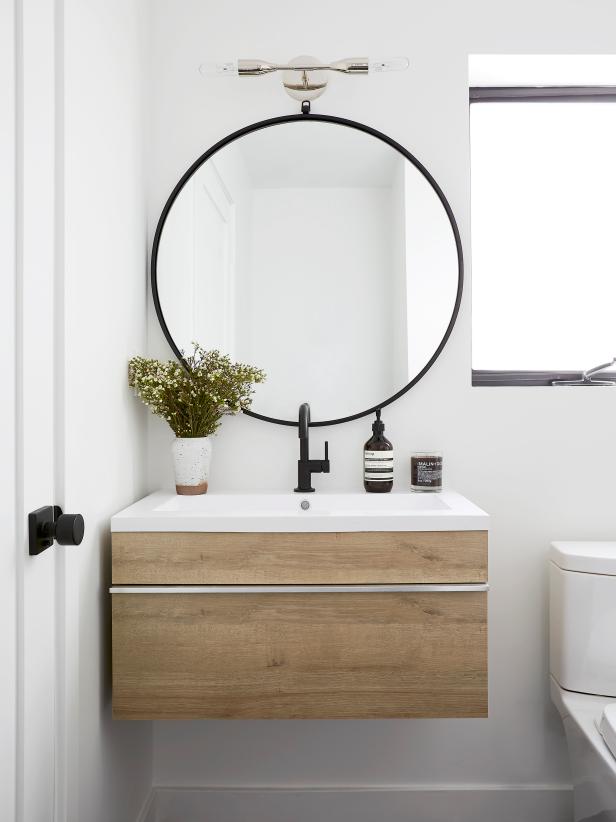 The white bathroom nuance will appear more elegant and neutral when you complement it with the use of vanity plywood which has a light brown color. This floating vanity also supports small bathroom decorations to save more floor space in use. There's nothing wrong with adding a little black to the faucet and mirror frame as a splash of dark color that will bring a monochromatic style. White bathroom with vanity plywood from hgtv.
Provide Important Stuff Only
It is important to provide things that are really important and become must-have items. If you have a small bathroom, you can put things as you want if those things do not have a clear function. You don't want to make your small bathroom looks even narrower, right? Here we have provided the furniture and even the ornament that could be functional and needed for your bathroom. It might be based on your own perspective for something that you'll need. But, at least it could be your references. Go check these out!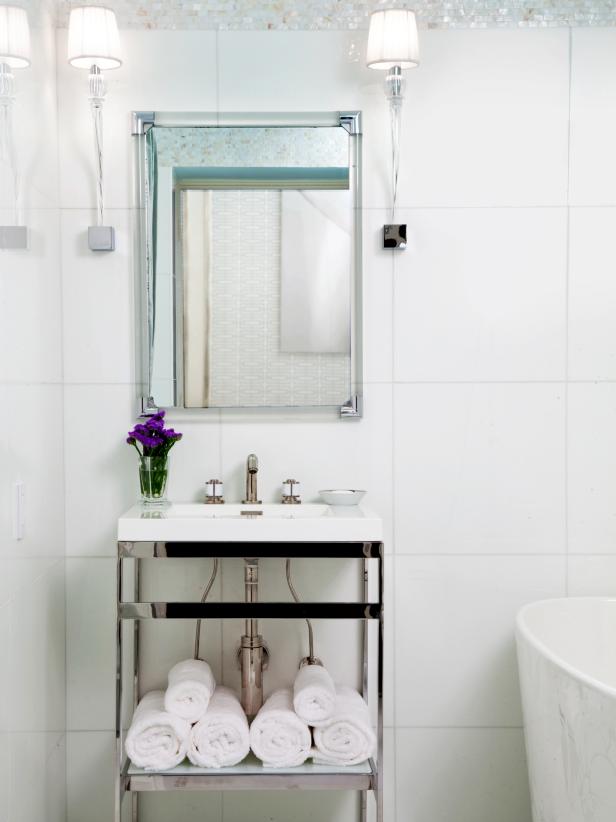 Choose and use multifunctional furniture to compliment your small bathroom decor, now you can choose a stainless steel vanity that is equipped with an open storage shelf underneath. This rack can be used to store several clean towels in quite a lot. The material used is also more sturdy and not easily porous. Multifunction stainless steel vanity from hgtv.
If you have a bathroom decoration with limited space, then you can use only a few important interiors that are often used. For example, you use a standing vanity, toilet, and mirror that is hung on an empty wall. The shades of orange and white really support the decoration of a small bathroom to make it look brighter and seem spacious. Furniture that is often used from hgtv.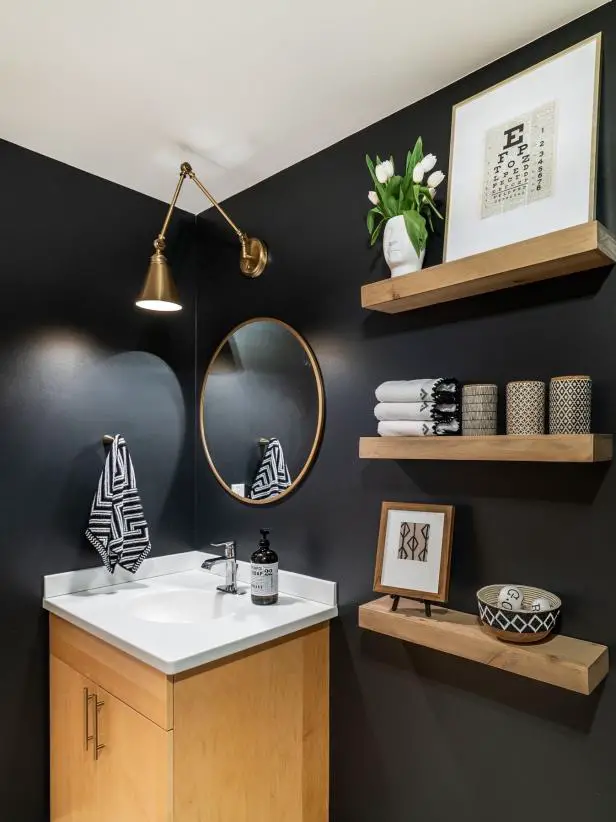 Take advantage of the empty wall as a storage area that saves floor area by installing several floating wooden shelves arranged vertically. Let this shelf appear naturally without repainting to save even more expense. This shelf will be the area to put some amazing decorations. Floating wooden rack from hgtv.
Corner vanity equipped with closed storage underneath is a smart furniture idea that you can use in decorating a small bathroom. You can also add a basket next to the vanity as a container for your towels or dirty clothes to keep the room neat and organized. No need to put in a lot of furniture to get more floor space. Corner vanity with closed storage from hgtv.
Of course, minimalist bathroom decorations require sufficient storage to have extra space. Now install a standing cabinet in the corner of the room without taking up a lot of floor area. This cabinet is equipped with a glass door so that it is easier for you to find items that will be used, it is not enough here, the use of a single sink is also the right choice for decorating a bathroom with limited space. Standing cabinet with single sink from hgtv.
To fulfill your need in providing the proper bathroom and in a quick way, those two things might be the best ways you can do. As a conclusion, after deciding the color scheme, then prepare for things to be provided. The most basic things will be a bathtub, shower, vanity, storage, greenery, and a little bit of ornament. However, if you think that your bathroom is still possible to be added with other things, then you can have it for sure. Simply adjust everything based on your needs and space condition.
(Visited 85 times, 1 visits today)
Tags:
Bathroom Design
,
Small Bathroom Decoration
Last modified: June 10, 2022