10 Multi-Functional Furniture for an Effective Decoration
Nowadays, having everything in a multi-functional characteristic is really desired especially when talking about home decoration. That will be really functional too for you who have a small house. You can really do effective home decoration by providing multi-functional characters for your furniture ideas. Basically, it could be in any furniture, but the most common and proper will be the table and bed. Here are the examples of multi-functional furniture you can have.
Multi-Functional Table
Since the table is really varied from the coffee table, tea table, dining table, and more, then, of course, you can apply the multi-functional one for each of those. Manage to have the table that can be functioned as the storage whether by adding the drawer under the table surface, or the table that the surface can be opened and closed. It will be great also if you have the table in a high height so that you can apply the rack on the possible side of the table.
One idea to complement the contents of your home in this modern and practical era is with versatile furniture. For example, by using a multi-purpose wooden table like this that you can put in the living room area. You can use a modified table with hidden drawers on the side for magazine storage ideas to make it look neat. Wooden table with hidden storage from digsdigs.
If you have a hobby of reading but are confused when storing your collection books to make them look tidier, then you can try a multi-functional coffee table with shelves and drawers that have been designed in such a way that they have many functions but still look simple. You can use wood that is painted and varnished to make it look more shiny. Coffee table with shelves and storage drawers from digsdigs.
What you should not miss in choosing furniture is the dining table. If you only have a dining room that is not that large, try using a small dining table but also has many functions. Suppose with a small table that has a shelf on one side. You can use this shelf to store various tableware. Making it easier for you to save as well as retrieve it. Dining table with storage shelves on the side from digsdigs.
The table in the living room like this will be the center of your guests' attention when visiting. You can lift the modern table top for storage, because at the bottom there is a space that you can use as a storage for books to accompany your guests to wait so they don't get bored. Modern desk with storage underneath from thegardengranny.
Yang tak kalah menarik lainnya adalah meja dengan fungsi yang serba guna di ruang tamu minimalist anda. Dengan warna putih mengkilap dan elegan, meja ini memiliki fungsi yang tak kalah membuat kita terpana. Meja tiered yang dilengkapi dengan built in laci yang bisa anda gunakan untuk menyimpan sesuatu pada bagian depan dan anda dapat membukanya pada bagian atas sehingga menjadi sedikit lebih tinggi untuk meletakan sesuatu. Tiered table with drawer storage from thegardengranny.
Multi-Functional Bed
When talking about the bedroom, it will be closely related to the small room impression where you should be able to manage your decoration so that it could be as effective as possible. Well, in this case, the multi-functional bed could be your solution. You can provide the bed that could be utilized as the storage at once. It could be by providing the drawer under the bed, or simply a bed in which the surface can be opened to reach the storage.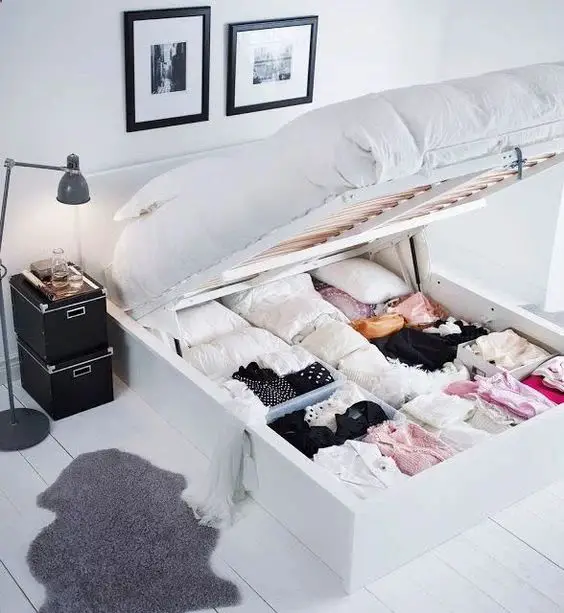 If you have a bedroom that is not that large, try using a multi-functional bed that when lifted up on the mattress has a hidden place for storage ideas. That way you can use it to store your clothes, so you don't need a special wardrobe to store them and that will definitely make your room more spacious and tidy. The bed is equipped with clothes storage underneath from digsdigs.
The choice of a bed is one that is equipped with a pull out drawer on the side. This can also be applied to your minimalist bedroom decoration. By storing your clothes in the bed drawer, it will certainly make your room look neat and spacious. Choose a bed with a color that blends well in your modern minimalist bedroom decor. Minimalist modern bed with pull out from drawers from digsdigs.
When going to storage in this bed you can lift it upwards. Put a few pillows and bolsters here so that your bed still looks neat. This bedroom is recommended for those of you who want to have a modern bedroom decor, white is a neutral color that matches with any other color furniture. A bed with storage underneath from fantasticviewpoint.
Select and use a bed equipped with storage on the headboard. You can use a hollow headboard to store your favorite books. Add green plants as decorations that can help freshen up the room. A faux fur rug makes for warm, soft footwear. Headboard equipped with book storage from fantasticviewpoint.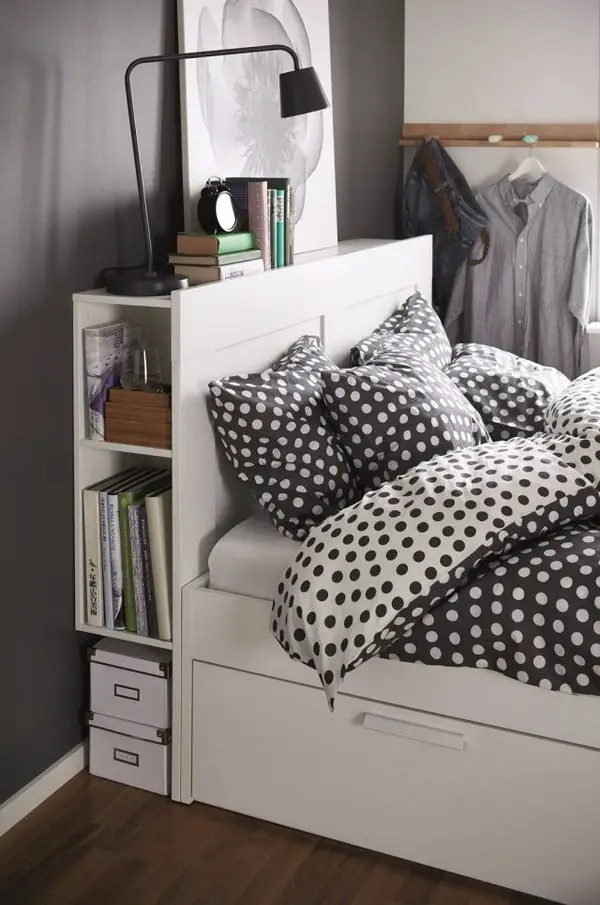 Pay attention to the selection of the bed for a small bedroom decoration, you can choose a bed with a headboard which is equipped with a bookshelf. Organize and organize all of your favorite books on this headboard to make it easier for you to read them. The built in drawers are also a smart additional storage idea. The headboard is equipped with a bookshelf from fantasticviewpoint.
The use of multi-functional furniture will really give you the advantage to store your things just like the cabinet. It is really effective as you don't need any other cabinet so that you can save your space and money. Your room will look even more spacious too, that is why it is really recommended for you who have a small house. Between table and bed, all are great if you can provide it. Even more, if it is possible, you add other multi-functional furniture like the foldable table that you can use as an ironing board and more.