Old-Fashioned Way to Decorate Your Vintage Bedroom
It's old yet antique. Decorating your bedroom in vintage style is one way to make a statement. This room design is characterized by some charming aesthetic, old-fashioned, a little bit quirky, and heart-warming. Choosing the design that's very much influenced by the style of the 1940s and 1950s is the key, as you can also mix and match decorative pieces to show creativity. Here's how you can decorate your vintage bedroom beautifully.
1. Head to The Local Thrift Shop
You're less likely to find vintage items at a convenience store, so I suggest heading to the nearest local thrift shops. From old carpets to secondhand drawers are displayed, often still in good condition. Since vintage furniture is often referred to as "used" or refurbished, you can also get the old pieces at the flea markets and antique shops that provide other alternatives.
Using old bedside ladder storage to use as storage space in a vintage bedroom is a great idea. To get a place to store this ladder, you can buy it at a thrift store or use a ladder that is no longer used. You can keep a collection of old ornaments and a few books safe and tidy. Added a basketball basket to provide extra storage in your room. Old bedside ladder storage from homebnc.
Vintage bedroom dressing table decorations that use vintage vintage suitcases found in antique shops are perfect for use. Because with a dressing table decoration like this your bedroom will have a classic impression. Complete the look with antique wooden chairs to create the perfect bedroom decor. Dressing table with vintage suitcase from homebnc.
2. Shabby Chic
To give a vintage impression without giving away the aesthetic side, try to incorporate shabby chic design in your bedroom painting. Soft colors like mint, broken white, olive, ash grey or pale turquoise make an excellent choice. The key to creating popping vintage paint character is to create the matte and chalky-look finish, as well as traditional.
A bedroom that uses a shabby chic design for a vintage bedroom is a great idea. Using a shabby white wall color will make this room even more perfect. Added several gold framed paintings in various shapes to create the perfect look for you to try. Place it over your wrought iron bed to make it the perfect focal point of the room. Shabby chic vintage bedroom from digsdigs.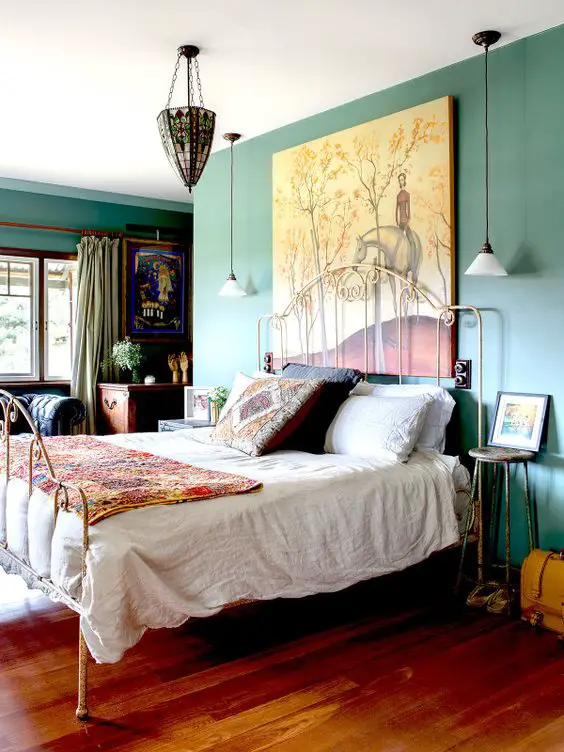 To give a vintage impression without giving it an aesthetic side, try giving your bedroom a shabby chic design. To add a vintage impression you can also use mint wall color. This large painting on the bed will complete the look of your tidurr shabby chic room. This stained glass chandelier will provide the right lighting making it the perfect room decoration. Mint color wall decor from digsdigs
3. Old Books Prop
You don't have to go overboard with decoration in the vintage bedroom. Look for old books, your unused diary, or novels to have a variety in the room. Stack them together and tie with a rope or lace ribbon to place it in an unused toolbox with a post or you can use the old book for the creative headboard.
Old books that serve as vintage bedroom headboards give the bedroom a more charming impression. Plus, its attractive design will make your rest even more enjoyable. This will be the perfect spatial focal point for you to emulate. This rattan pendant lamp provides an attractive sleeping appearance. Vintage bedroom headboards with old books fom curbly.
Using old book decorations that are stacked and placed on the headboard of the bed will make your bedroom look more attractive and will become the perfect focal point for the room. Add a bright color pattern to your bed for a fun vintage bedroom decor. This way you design the room to your creativity level. Old book headboard from decoist.
4. Wall Decor
The most traditional way of having your vintage bedroom decorated seamlessly is with wall decor. Simple artwork like shoe paintings or dried flowers in frame showcase a true vintage style that matches well with your neutral wall color. Vintage arts sometimes also characterized by words written on a blackboard.
Decorating a vintage bedroom wall using beautiful paintings is a great idea. Placed on a bed of paintings, this will make your bedroom look even more perfect. Don't forget to add a gold frame to add a glamorous look to the room. Pair it with a used shuter door heasboard to give the vitage room vibe. Vintage bedroom with painting frame from youramazingplaces.
Decorating a vintage bedroom wall by adding a beautiful painting accent is an easy way to decorate a wall and doesn't cost a fortune. You can use gold frames to give this bedroom a luxurious look. Place it on the wall above your headboard to make it the focal point of the room. Nunasa white was chosen to give this decoration a spacious and airy impression. Gold frames painting from digsdigs.
5. Vintage Drapery
Old but gold, using drapery in your bedroom will make it look "aged". Many people are now using window screen in modern decor instead of curtains, so installing one can help you bring out the old fashion to life.
This bedroom, which uses vintage beige curtains, is a great idea. With these vintage curtains, your bedroom will look prettier. The added red color pattern will give you a stunning look for you to try. Match this curtain to your canopy so that it will create a colorful room decoration. Some vintage furnishings were added for a stunning look. Vintage beige curtains from realhomes.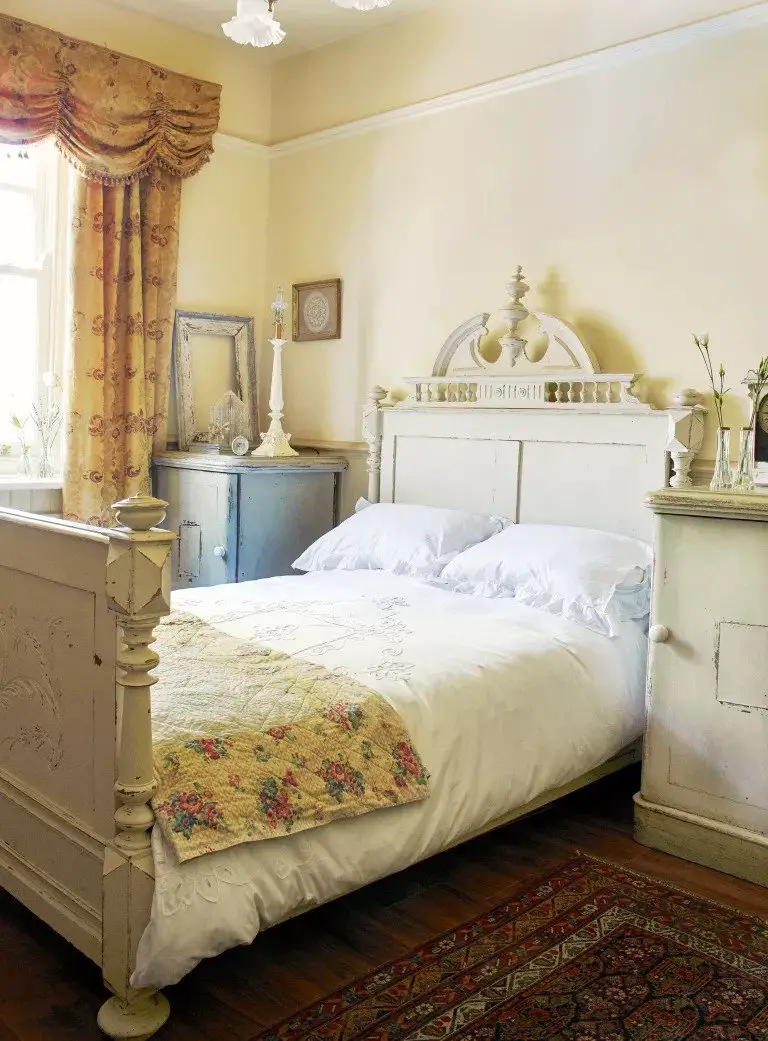 Curtains are one of the important things that should not be left out when decorating a bedroom. Choose vintage curtains for a vintage bedroom to match. With a gold color with a floral pattern, it will make the room elegant and luxurious. Equipped with some antique furniture, it will give you the impression of a perfect bedroom and it is worth trying. Gold vintage curtains from realhomes.
Decorating a vintage bedroom is not hard if you know where to start. Choose wise and make your bedroom a comfortable retreat.