Children have specific dreams of how they need to enliven their rooms. Their thoughts are usually influenced by epic film sets and elaborate fantasies or fairy tales' backdrops.
The main keys of the kids' bedroom are creative and colorful spaces. Check out these bedroom ideas for your children's room.
Energize Children's Imagination
We all already knew that kids love places where their imaginations can go unlimitedly. Paint their bedroom walls with colorful pictures, such as the shady countryside or a fun playground with hued balloons. It will embrace their imagination.
To arouse the imagination of our children while in the bedroom, painting it with cute cartoons makes it even more fun. Decorate the wall according to your child's wishes to make it more comfortable in the bedroom. Examples of simple pictures with some sea animals will also complement your child's bedroom decor. Wooden floors will also bring a warm impression into this room. Sea animals painting from homedecorideas.
Apart from painting the walls, you can also add big tree accents and swings to make it more character for your child. Decoration ideas make children's imagination more creative. These all light brown and green shades add a forest accent to this bedroom. Large windows equipped with curtains from floor to ceiling will create a high decoration of the room. Big tree accents and swings on kids bedroom from homedecorideas.
Create Hand-Painted Headboards
Cute and attractive headboards might be expensive, especially since there are two headboards needed for a mutual room. Hence, use covering tape to paint fake headboards on the walls. Pick the one which is fun and makes children happy. If your kids want some change, you just need to paint over the headboards.
Putting a wall on the headboard of the bed becomes a sophisticated and creative children's bedroom decoration idea. Use beautiful and colorful elements like rainbows for your child to have better imagination. You can make it yourself if your child wants a change, you just need to paint over the headrest. Adding wall decorations in the form of tassels and other ornaments also makes your room look more stylish and inviting. Rainbow headboard from deavita.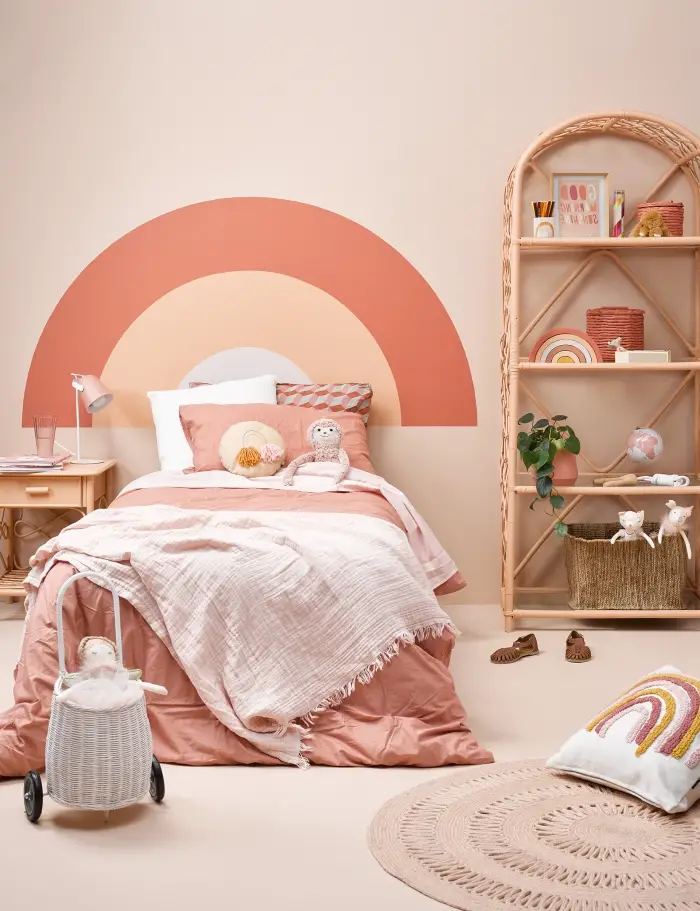 The colors in one room make the child's room decor attractive, making a curved design resembling a bed headboard. Besides being cheap, this headboard paint idea is also highly recommended for those of you who want to change the appearance of a child's room so that it is not monotonous. Choosing light and dark pink also provides a perfect contrast to this headboard and will give it an eye-catching look. Pink painting headboard from mydesiredhome.
Bring a Play Room Along
One of the awesome kids' bedroom ideas will bring joy and fun instantly. Combine adjusted lines and muted tones for your girls' bedroom. Furthermore, build a playroom by using a ladder and bring the slide to get down.
You can try adding a playroom in a child's bedroom because its unique design will also present an attractive room. stairs and slides were chosen to complement the décor. These decoration ideas will instantly bring joy and fun to your children. Decorating the walls with the appreciation of children's handiwork will create an interesting bedroom decoration to try. Stairs and slides on kids bedoom from hgtv.
By using the ladder to reach the child's bed. Bring the playroom to your child's room so that it feels comfortable lingering in this place so that children avoid playing on the street or outside the room. You can also add a slide because the design will steal your child's attention. Using a wooden bed also gives a sturdy and stylish look. Ladder and slide on child's bed fom deavita.
Have Map Quest
Draw a large and full world map in your children's room. It will make a vibrant and creative ambiance immediately. Besides, your children will acquire knowledge of the vastness of the world.
The map wall can be applied to your child's bedroom as a multi-functional, easy-to-use decoration. In addition, a map with a large size or covering the entire wall of the child's room. This map is your child's initial knowledge of the vastness of the world. Combined with wooden furniture and wooden floors it also provides the perfect decoration for the room. Map wall kids bedoom from decoist.
Make a Space Station
Create additional space to shade and store stuff by incorporating a clean-lined hanging table. It can be done without occupying any valuable floor space.
The idea of completing a child's bedroom decor by adding storage for toy cubes is something you need to try because its eye-catching design will also spruce up a child's bedroom. Using yellow it has a matching look to this calcic bedside table. Paired with all-white shades and patterned blue curtains also provide the perfect contrast to this bedroom. Cubes storage from idealhome.
Make a Toy Story
For the boys' bedroom, put an array of toy collections. Whether contemporary toys, vintage toys, or superhero figures, just put them orderly on the shelves above your son's bed. It's not only working well as a wall decoration but also as a headboard.
By placing a collection of toys on the top shelf of the bed, it can give a more attractive impression. Apart from being a decoration, it can also help children imagine more creatively and make it easier to store. Adding a striped accent to the headboard also provides color and will create the perfect contrast. This classic floor lamp will provide the right and dramatic lighting. Toy story above headboard from elledecor.
Connect It with Children's Favorite Activity
You need to know what are your children's hobbies or favorite activities. Then, connect those favorite ones with their bedrooms. For example, put a canopy over the bed like a tent, so the room truly feels like an outdoor experience.
Using a tent on your bed is a great solution you can do. Complete with several toys that children like to add attraction before going to bed. Adding the property of a campfire and floor cushions that resemble chunks of wood will make your child's camp feel even more pronounced. The atmosphere of the bedroom using forest wallpaper will make the display more mean. Tent on bed from countryliving.
Applying those kids' bedroom ideas will make your children's bedroom creative, colorful, and vibrant. Are you ready to decorate your children's space right now?
(Visited 173 times, 1 visits today)
Tags:
bedroom
,
Kids Bedroom
Last modified: April 26, 2021