When it comes to decorating your home, you are free to choose what kind of décor you are going to apply. Whether you want antique or modern style, you will need some references to make your home décor as great as possible.
For those of you who are in search of antique and vintage home decoration, here are some helpful inspirations. Check these ideas out!
1. Use Old Ladders as Shelves
Old ladders can be used as a piece of home décor or even display shelves. You can easily organize your stuff in this ladder. You just need to put an old ladder in the corner of your bedroom, living room space, or your office. Make sure that your ladder is still sturdy and not rotten.
A unique decoration in a vintage style by adding an old staircase as storage with tree trunk steps is an interesting idea. You can paint it white color to get a new look. Old staircase storage furniture with tree trunk steps from architectureartdesigns
Home decor with old stairs will create a unique and neat appearance. You can use it for the plant holder to beautify your terrace. Place some greenery and other ornaments for interesting decorations. Home decor with old stairs from architectureartdesigns
The extra storage of old stairs will bring a vintage look to your farmhouse room. Place it in the corner of the room and add string lights to make it look elegant and attractive. Corner old ladder from architectureartdesigns
Get a vintage look in your home by utilizing the old ladder for storage to display your decorative item. Arrange neatly your collection there and you will see how it can enhance your home decor. Let the ladder in natural color to strengthen the vintage vibe. Storage old ladders from architectureartdesigns
Adding old stair storage to farmhouse decor is a great idea you can try. Lean on the ladder on the wall and you can use the ladder to store the blanket in your living room. Blanket storage from architectureartdesigns
Decorating your home office with the right storage shelves will make it look attractive and tidy. Use the shelves from the old stairs to store your books and ornaments so they look classic and attractive. Home office with old stairs storage from architectureartdesigns
Choosing to use ladder racks for storage ideas in a farmhouse bathroom is the right idea. So that it will present a classic look and can save space. Ladder racks from architectureartdesigns
Making use of old stairs for your farmhouse storage ideas is a creative idea. You can show off some of your vintage ornaments which create the perfect décor. Old stairs farmhouse storage from architectureartdesigns
Adding old staircase storage to home decor will give the room a vintage impression, so your room will be tidier. You can place this old ladder in the coffee station as the place to hang your napkins. Old staircase storage from architectureartdesigns
To bring a vintage style to your bathroom, using old staircase storage is the right idea. Place the towels on each of the stair steps to create a tidy room. Vintage ladder style from architectureartdesigns
The old ladder used as a rack to store towels in your home looks simple and still has a vintage vibe. Old ladder towel rack from architectureartdesigns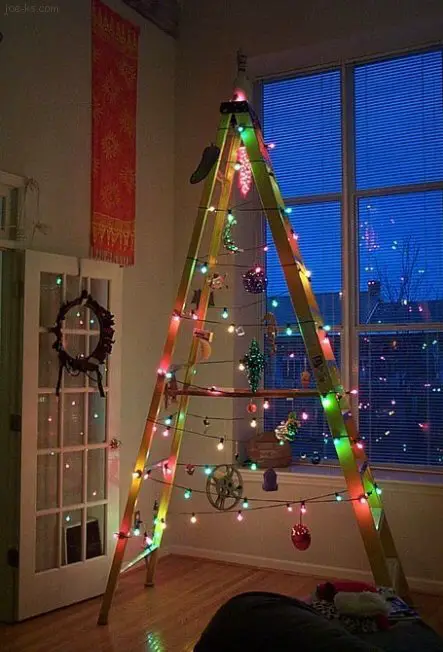 If you want to decorate your living room in a vintage style, try adding an old staircase accent to decorate the room. Colorful string lights and several ornaments are the right ideas to bring out a stunning feel. Living room vintage style from architectureartdesigns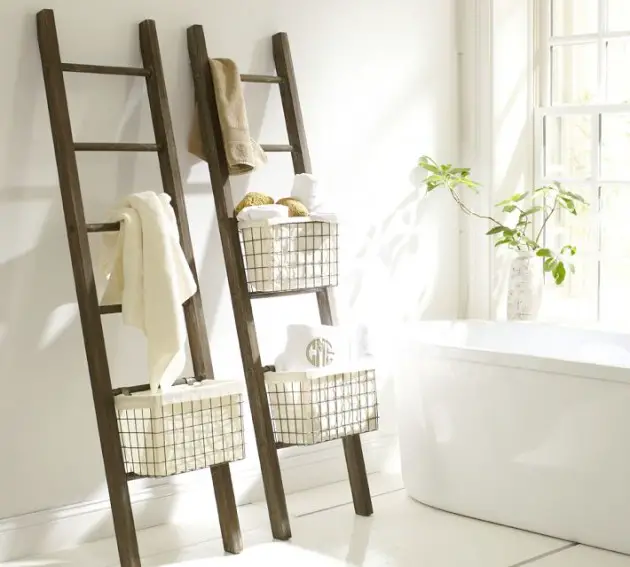 Wood is one of the perfect accents for your vintage home decorating idea. Try using old ladders to decorate your farmhouse bathroom for a natural look. You can use the ladder for the towel storage and combined it with wire baskets to strengthen the vintage vibe. Old ladder from architectureartdesigns
2. Retro Skeleton Key in Photo Frame
One way to decorate your home in vintage style is to hang a few framed pictures of keys as decoration. Or you can just frame the keys with a wooden photo frame. How to do it? For example, attach the keys to the wooden photo frame using glue. Then you can add glass to the wooden photo frame and make it look more aesthetic.
To decorate your home with a vintage touch, add a retro skeleton key on a wooden photo frame to your then use it for the wall decoration. This decoration is able to bring a classic look to your home. Skeleton key from houseofhepworths
Wall decoration using skeleton keys on the wooden frame will make a different look in your home. You can place it on the living room wall to create the perfect décor. Wooden photo frame from knockoffdecor
DIY wall decor with crafts in the form of a retro skeleton key in a wooden frame looks very classic. Use a black wooden frame so that it will look more special. Black wooden frame from decoratorist
This vintage style house is equipped with unique wall decorations. The retro skeleton key in this photo frame gives a different look to your room. Retro skeleton key from michellelunt
These unique photo frames come with a retro lock inside. You can put it on the table in the room to get a vintage impression into the room. Vintage photo frames from sweetlittlebluebird
Unique wall decoration with retro keys on a wooden photo frame makes a different look. This is one of the ways to decorate your home in vintage style. Old wooden photo frame from dengarden
If you have a vintage photo frame and retro skeleton keys that not used, you can utilize it as a decorative item in your home. It's very simple to do. Collect your unused keys then attach them to the old photo frame. To get a new look, you paint the frame in blue color and add a unique background to the photo frame. Blue frame from countryliving
3. Apply Reclaimed Wood Headboard for Your Bedroom
If you want to create a rustic focal point in your bedroom, put weathered wood as a headboard and nail the board to the wall. You can choose or add anything you like to give it some accents. For example, add a string of lights in the headboard or mount a family photo, a wreath, and many more.
To add a vintage impression to your bedroom, reclaimed wood headboards are a solution that you can try. You can complete the headboard with wall sconces for a suitable lighting fixture in your bedroom. Reclaimed wood headboards from interdesain
Utilize your used door for a rustic headboard that looks vintage. Let them in their original colors to display the simplicity of this room. Used door headboard from interdesain
Arrange reclaimed wood pallets to form a rustic headboard in your bedroom. Complete with string lights and wall lights for an eye-catching look. Headboard with string lights from decorationideas
The pallet that is utilized in the headboard is a smart idea to save your budget but able to bring a vintage look. Decorate the headboard with a wreath and wall sconces to get a beautiful look. Pallet headboard from ryobitools
Wooden pallets make a strong and nonporous headboard. In addition, wood is also an accent and item that adds to the rustic impression and creates a vintage look. You can try it now. Wooden pallets headboard from homedit
The simple way to complete your vintage home style, the rustic pallet headboat is a great idea. Make it more attractive by installing a string light. Rustic headboard from everydaykacie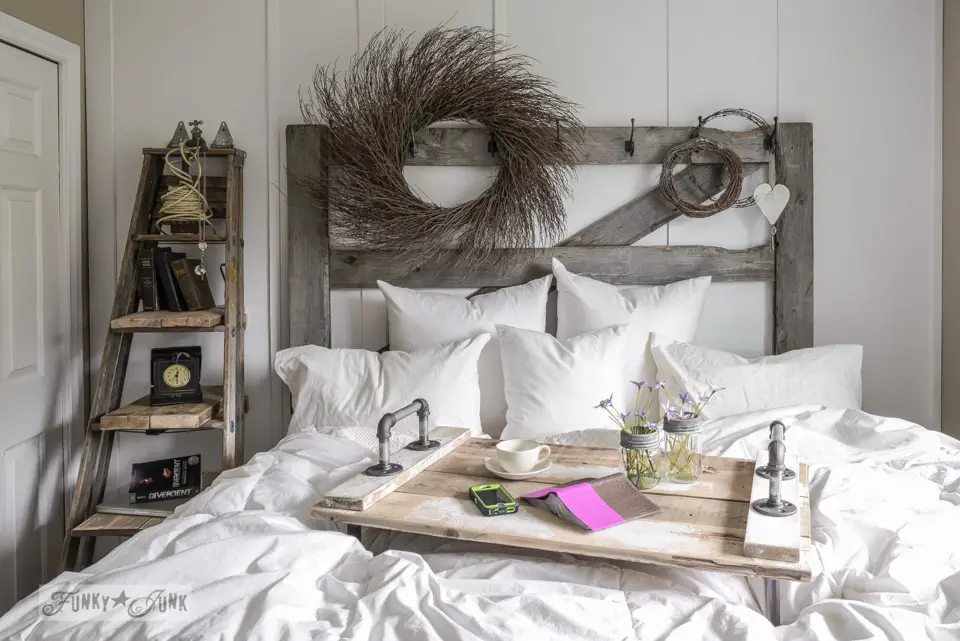 Beautiful headboard design using wood that is deliberately not painted, giving it a vintage impression. In addition, the concept is environmentally friendly and easy to maintain. Vintage headboard from funkyjunkinteriors
Vintage bedroom decor with reclaimed wooden headboards looks simple but perfect. Equipping with lights will provide perfect lighting and make it look better. Wooden headboards with lighting from diyncrafts
4. Antique Plate Painted in Classic Color in Wall
Get a luxurious and old-style decoration by putting decorative plates on your wall with a classic theme. This will give a retro and elegant look to your home instantly.
To get beautiful results, you don't need to spend a lot of money. A vintage-style living room decoration with a touch of blue plates can create an eye catching impression. Vintage-style living room from thedesignsalad
Applying some classic colored plates to the walls of the house will create the perfect look. To look more attractive and beautiful, you can use different sizes and shapes of plates. Classic colored plates from thedesignsalad
Use a wall decor plate is a classic color for a charming decor touch to make your home décor more perfect. Wall decor plate thedesignsalad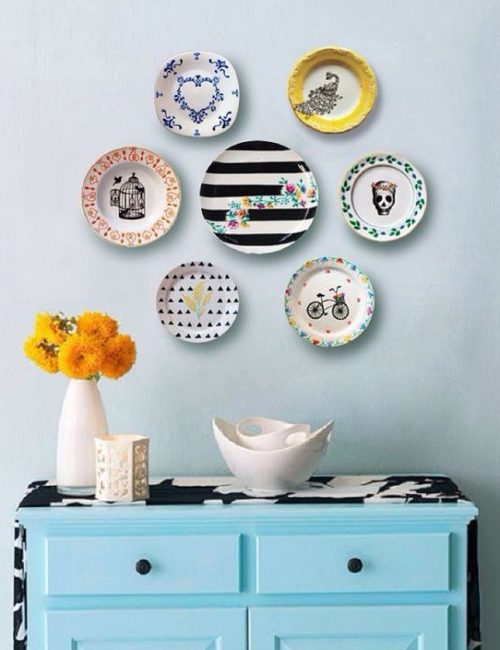 Mount plates to show off vintage style décor in your classic living room. This classic decoration gives an interesting look for you to try. Mount plates from thedesignsalad
Antique plate wall decoration will present an interesting vintage atmosphere. You can pair with neutral tones for the perfect décor. Plate wall decoration from thedesignsalad
Sticking a few plates on the wall will enhance your dining room decor. Choose a plate with a classic color to give it an attractive retro look. Plates on the wall from homebunch
You can use antique plate with classic color paint to decorate the walls of your dining room so that it will give an instant elegant look in your home. Plate with classic color from drivenbydecor
Utilizing used plates for your vintage decoration will never fail. Use plates and paint with classic colors then stick it on your wall so it will look more attractive. Vintage decoration from homebunch
Antiquity is a part of home decoration that is frequently used. It will boost the beauty of your home and make your home cozier. Moreover, using vintage home décor ideas also make your home decoration look timeless and elegant.
(Visited 134 times, 1 visits today)
Tags:
home decor
Last modified: March 1, 2023