Do you dream to have a house in the City of Lights, Paris? Either you want to have or want to renovate yours to become a Parisian home decor, this article will show you how mesmerizing this idea is. First of all, what you should know about this Parisian home decor is that it is simple yet effortless. But, it presents a luxury through the simplicity of every element. Also, it is always eclectic and sophisticated. Everyone will love this style because it brings coziness and an intimate ambiance. For those who are looking for inspiration, find some from these ideas.
High Ceiling
Parisian home decor will transform your home into a more beautiful space ever. It requires a high ceiling to make a spacious and airy impression. As well as, a high ceiling idea leads to a classic concept for room decor. Sometimes, Parisian combines a high ceiling decorated with a white wall and ceiling idea so that your room will look brighter and larger. As you can see from the picture that this living room looks perfect with its high ceiling and larger windows that surely make this room welcoming.
An easy way to make the room look wider is to use a white high ceiling that has the same color as the walls and some of the furniture around it. This white ceiling is decorated with beautiful carvings that make the room look more artistic, wall molding is the perfect combination that you can use together. White high ceiling with carving from digsdigs.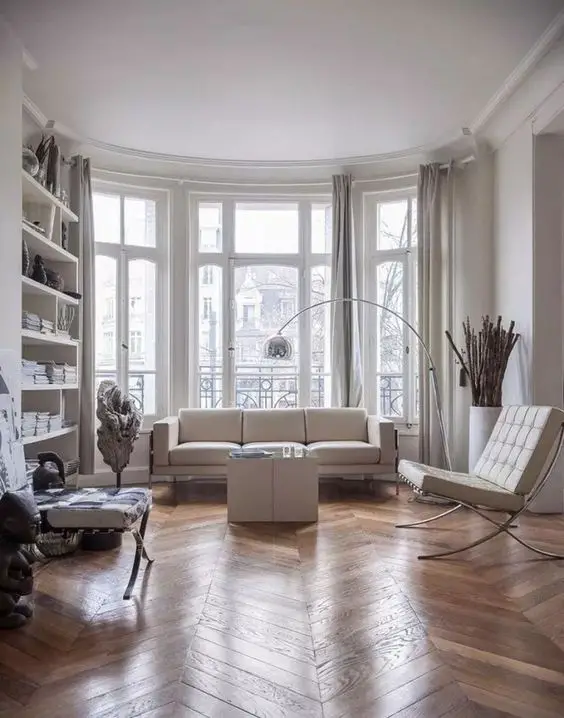 Another option for your high ceiling is to use a neutral color with a plain and not boring surface. This Parsian living room has built in wall bookshelves that will accompany your day to relax reading your favorite book. Herringbone flooring and white furniture will work well in one room. High ceiling with plain surface from digsdigs.
Tall France Window
Moreover, Parisian home decor lets you combine with other European styles, like French. The touches of French details will make it looks more perfect in presenting a classy style through aged elements. One of the things that are clearly seen is by having tall French windows for any rooms. This idea is usually applied to balance a high ceiling design to create a spacious and luxurious Parisian home decor. To make it stunning, complete the windows with a beautiful white or gold curtain.
To incorporate more sunlight into your Parisian living room decor, high transparent glass windows are a smart idea that you can try right now. This idea is highly recommended to be implemented because it will save more expenses at the end of the month paying for electricity. Complete your high windows with gold curtains that have the same color as other interiors, such as painting frames and mirror frames. High transparent glass window from homedit.
In order not to enter excessive sunlight into your Parisian living room decoration, then lining high windows with two curtains is a smart idea and a very easy interior idea for you to try. Here you can layer white sheer curtains with cotton curtains that are quite large and of course thicker. Choose a thick curtain according to the color nuances in your living room so that it can blend more perfectly without any flashy color tones that will disturb the atmosphere of your living room at this time. High windows covered with two different curtains from homedit.
Carved Molding
What makes Parisian home decor more interesting and gorgeous is its carved molding. This carved molding brings a classic touch which will nake everyone gets amazed. Both large and small caved moldings can be applied for crowning the walls, above the baseboards, around the fireplace or on the ceiling. You can choose the design of the molding, like straight and streamlined, or more ornate, based on your personal style.
You can get an artistic touch in Parisian living room decorations easily by using walls and ceiling moldings that are perfected with beautiful carvings. Match the two colors for a more harmonious look, when you choose white, hang a large mirror frame with a gold frame to be a bold color for a beautiful room and of course it never looks boring. White wall molding with carved accents from digsdigs.
Marble Fireplace
Furthermore, one of the important elements to have in Parisian home decor is a fireplace. Why is it essential? Because it is a plus point that features a standout interest. Marble is the material that is usually used as its durability and stylish look for a fabulous fireplace in Parisian home decor. Additionally, it will look more perfect for a marble fireplace to go together with a large mirror over it.
To add an instant luxurious impression to the Parisian living room decoration, then you can use a marble fireplace with a deep black color combined with several gold and white interiors. This marble fireplace has a smoother and stronger surface because it is not easily porous when used for a long time. Don't forget to add a mirror above the fireplace and some paintings and sculptures as a slightly luxurious coat decoration. Black matte marble fireplace from digsdigs.
Herringbone Flooring
In this example, you can see that the herringbone flooring idea completes Parisian home decor well. With hardwood parquet floors of a neutral warm shade, your rooms will surely offer a coziness. Also, it will be more inviting because it is combined with a white wall that is luxurious and bright. Likewise, to add an awesome look, rugs can be the complements to cover this amazing herringbone flooring.
The wooden herringbone floor applied in this Parisian room has a texture and style that is stronger and firmer. Here you can use teak wood for a material that is more sturdy and not easily moldy. The entry of sunlight into the room makes the wood interior in this room not easily porous, so using high transparent glass windows is highly recommended for now. The nuances of a white room are a suitable combination that can be tried. Wooden herringbone floor from digsdigs.
Mirror Application
A mirror helps you to enhance your rooms look. Sometimes, it is used to give your eyes a spacious impression where it makes a larger ambiance for a small space. In Parisian home decor, the presence of a mirror will add a luxurious touch. In addition, a carved wooden mirror in gold will create a glamour impression, like in a living room, over the fireplace, or entryway.
Large mirrors are one of the accents in a room that never fails to give the illusion of a wider room because the light reflects evenly throughout the room. You can use this mirror right above the fireplace to avoid breaking due to being touched by your body or your children. This mirror is equipped with a frame that has a color that matches the feel of your room. Large mirror above the fireplace from digsdigs.
Multitude of Lighting
For Parisian home decor, a sophisticated chandelier is a must. It creates a chic look for the whole room look. Moreover, it balances the ambiance both luxurious and classic. When the furniture is modern and the elements are antique, there will be a perfect Parisian decor that is insanely inviting. On the other hand, if the furniture is aged, you can have a modern crystal lamp to bring a warm ambiance and gorgeous look.
Do you need lighting in a Parisian living room? If so, then you can use crystal chandeliers that hang right above your glass coffee table. This lamp is one of the main lighting that you can turn on when the atmosphere in the room starts to feel dark. During the day you can take advantage of the sunlight that comes through the transparent glass window which has almost the same height as the ceiling of this room. Hanging crystal chandeliers from digsdigs.
Keep Everything Simple
Lastly, Parisian home decor does not need to be too much on combining every element, colors, and patterns. Actually, the application of neutral colors is enough. Like this white and black living room, it is just that simple without lessening the essentials of classy Parisian home decor ideas. With a black sofa which looks comfortable, a white furry rug and the white wall which hugs the room, this living room is one of a rich Parisian home decor examples.
Don't let the feel of your white living room look more boring, now you can use a black sofa with a layer of white faux fur rug on a wooden floor. The combination of black and white in this one room presents a modern and minimalist monochromatic style. This painting stand leaning against the molding wall is a sweet finishing touch and gives an artistic impression that is not excessive. Monochromatic Parisian living room from digsdigs.
How about those Parisian decor ideas? Are you interested to try? Follow those ideas then get a beautiful and luxury home decor.
(Visited 140 times, 1 visits today)
Tags:
Parisian decoration
Last modified: May 19, 2022