In this modern era, making a mini bar at home is a must-try. The bar is an area that is usually found in a cafe that provides a lot of drinks there. However, someone sometimes feels lazy to go to the bar, and for that, you can make a mini bar in your home of course. You can make a mini bar inside the house or outside the house or Indoor and outdoor bars. And usually, a mini-bar inside the house is made in the kitchen, and the use is not only for drinking but also for eating together with family or guests who come to the house. With that, you don't need to create a dining room that will require a large area in the house. However, if you want a portable mini bar, then you can use carts as a mini-bar that you can place anywhere you want, for example in the living room or terrace. For that, we present some mini bar ideas below that can inspire you.
Mini-Bar for Small Space
Take advantage of the small room in your house by making a mini bar for a small space there. You can use under the stairs of your house by placing a small bar table complete with drinking equipment there. Choose a long table design and floating racks to outsmart the small space there. You can choose the table that complete with a cabinet there. So, it has two advantages in one item. And for this mini bar color, you can choose a dark brown color that matches with a white wall.
If you want to make a bar at home but only have limited space, you can try using a mini bar with a design that can be used as a room divider at the same time. Start with a cabinet that has a double function for a table and also a divider at the bottom and leaves a little space above it to put your glass when you relax there. Also use the open shelf at the top to store your favorite drinks and also some glasses of your collection. Divider room mini bar from digsdigs.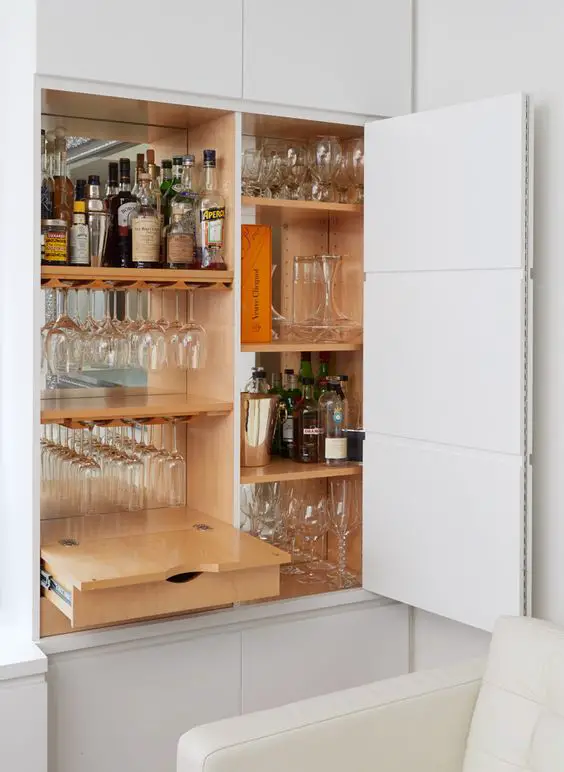 You can also apply a mini bar in the living room to entertain your guests. The built in wall mini bar which is equipped with a small pull out table will be more practical and easier for you when making drinks. Don't forget to add an open shelf for storing some drink bottles which are equipped with a hanger for hanging the glass to make it look like a real bar. Built in wall mini bar from digsdigs.
Mini-Bar Using Carts
If you want to bring up the mini bar wherever you want, then you can choose a mini-bar using carts that will fulfill all your needs. with a portable design, you can put the mini-bar wherever you want. Like the picture above, this mini bar design with a gold color will give a different atmosphere in the room. And with the unique and luxurious shape, this will create an attractive appearance in the room. And in addition, you can put some pretty decoration on the bottom of the cart, which will create a very sweet look.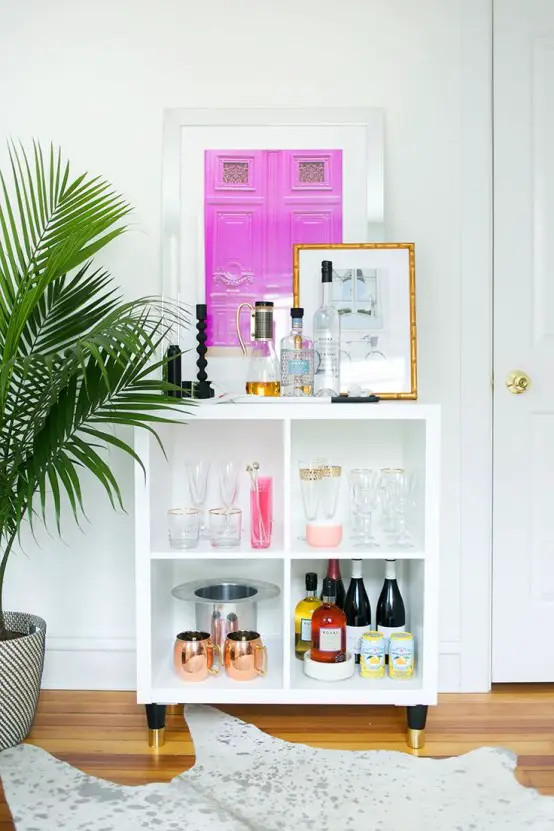 You can also present a mini bar by using a cart with a minimalist style but it really helps your needs as well as for an attractive decoration in your home. A cart with a table shape at the bottom of which there is a shelf which is divided into several parts for storing glasses and bottles of your favorite drink. With this mini bar cart you can put it in any part of your home decor. Minimalist cart mini bar from digsdigs.
To bring a vintage theme to your home, try using a mini bar that uses an old wooden cart with wheels that make it easy for you to use it. The mini bar cart is equipped with a cabinet at the bottom and uses the top of the cart as a table to enjoy the drinks that have been provided. With a cabinet that is on the mini bar cart you can store your drinks and mini bar equipment. Vintage wooden cart bar from digsdigs.
Elegant Mini-Bar
Actually, making an elegant mini bar in your house is very easy and can be done by everyone. For example, you can choose the red color as the color of the mini-bar and cabinet there. Red can create an elegant look, especially with the choice of a shiny red color. It makes the appearance of the mini-bar more stunning. Added with the chairs in white and red colors, the touch of the white door in the cabinet, and a black mini bar table. It looks so harmonious there. So, you must immediately make this elegant mini bar in your house from now on.
By giving a little decorative touch to the mini bar in your home, it will certainly give a different impression. Even though your mini bar is located in the corner of the room you can make it look luxurious and elegant with a red cabinet and a backsplash using a unique ornament with a combination of open shelves that you give gold color, of course it will support the mini bar to make it look elegant. That way your mini bar will become the center of attention that you can't miss for a moment just to enjoy a drink with your guest or loved one. Combination of white with red mini bar from digsdigs.
Farmhouse Mini-Bar
The farmhouse is indeed an idol for you who want a warm atmosphere in your home. And of course, you can make a farmhouse mini bar in your house. The Farmhouse is synonymous with natural materials such as brick, stone, and wood. Then actually, you can create bar tables, bar chairs and cabinets made from wood and combine with a pole from large brick randomly arranged there. Added with the hanging lights, it will make the mini-bar look comfortable, simple, very warm and elegant of course. You have to try it at home.
If you want to have a mini bar with a farmhouse theme for your small house. Start by choosing materials for the main material, choose materials that are easy to natural and vintage, such as wood. Wooden accents on your mini bar are the right choice, because they can bring a warm feel to your mini bar. Wooden farmhouse bar from thespruce.
Minimalist Mini-Bar
When building a house, someone usually chooses a minimalist home design because it is considered practical and simple. And the minimalist mini bar is also one of the right choices for you to place in your kitchen. With a green table bar color combined with a white cabinet underneath, it looks very minimalist and also attractive. Coupled with a black bar chairs that will make you feel comfortable when sitting in the mini-bar. This is perfect for you to apply in a modern minimalist home design that is not complicated and interesting.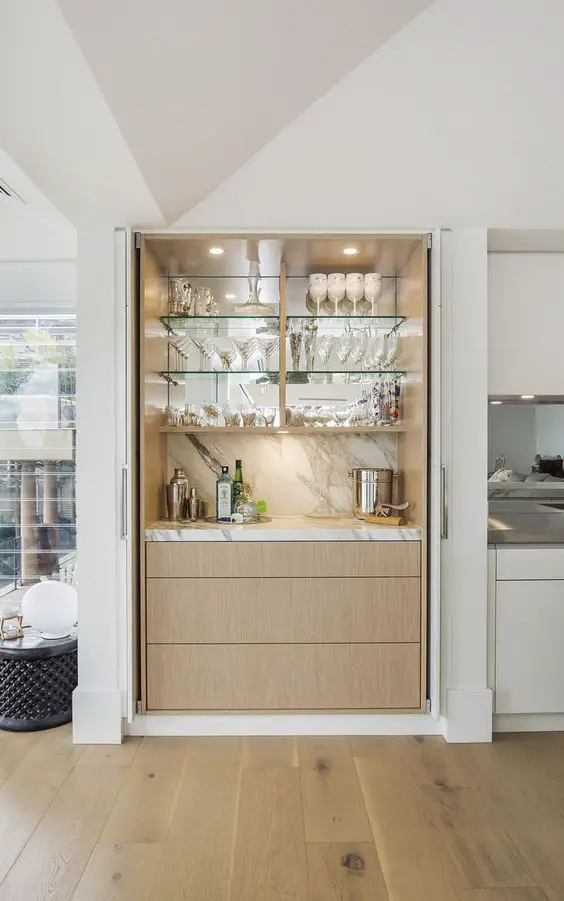 If you don't have much space to make a bar in your house. You can design in a minimalist style as possible by making a mini bar that is embedded in one side of the wall. That way your activities in the room are not disturbed by the mini bar. The combination of classic accents with wooden cabinets and modern accents with glass shelves makes your mini bar look more harmonious. Minimalist glass rack for mini bar from digsdigs.
Fresh Mini-Bar
Anyone will love the fresh things in the house, and you can create it by making a fresh mini bar in your home kitchen. As a color, you can choose green as the color of the bar table and also the cabinet to store various drinks there. Combined with white walls that make the room look cleaner. And in addition, you have to bring indoor plants that are placed in the mini-bar as a tool to make the room feel fresher.
Make one corner of your house a center to unwind and get tired and to relax looking for ideas by creating a mini bar that is designed with a cheerful look. Use a bright blue color for your mini bar with a combination of bright colors to bring a cheerful look to your mini bar. Also, combine the glass cabinet cover with stainless steel frames that give a luxurious impression. Bright blue mini bar from digsdigs.
Outdoor Mini-Bar
If you like something different, then you can make an outdoor mini bar in your house. For example, you can make a mini-bar behind your house that will be one of the places to entertain guests who come to your house. Because it is outside the house, then you can make a mini bar made of bamboo as a bar table there. Don't forget to put some bar stools as a comfortable seat with your guests. And in addition, you have to put some pretty plants around the outdoor mini-bar. It will make the mini-bar look fresh.
Take advantage of the rest of your backyard to make a mini bar, that way you will not be disturbed and have freedom to design in the house. You can make a mini bar table with used materials, for example an unused pallet. The wooden accents on your outdoor mini bar will further unite you with nature. DIY pallet outdoor mini bar from hgtv.
Balcony Mini-Bar
Seeing the beautiful view from the balcony has become one of the exciting activities. And to make it doesn't feel bland, then you can make a balcony mini-bar there. You just need to provide a long table complete with chairs there as your place to enjoy the view and delicious drinks. And don't forget to put a cupboard for storing drinks or food beside the table to make it easier for you to take it. In addition, you can put small plants as beautiful decorations there.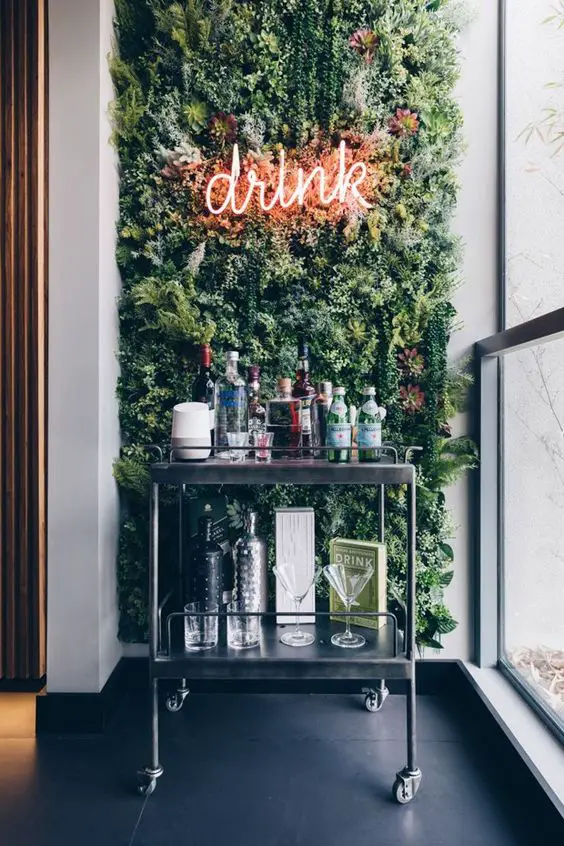 If you have a house with several floors, you can also take advantage of the balcony for a minimalist mini bar. With a mini bar cart, you will find it easier to adjust the position of your bar. The air you get in your home's mini bar balcony will feel fresher and cooler because you can breathe air freely, besides that outside the room is also more fun because you can enjoy the view from the top of the balcony. Minimalist bar balcony from digsdigs.
Having a place to entertain your guest in your home mini bar will bring a pleasant feel. You will have a good quality time with your friends or family while enjoying the drink.
(Visited 214 times, 1 visits today)
Tags:
Home Mini Bar Design
Last modified: March 29, 2021