Most people tend to neglect their windows. No hard feelings, but they are. If you have a farmhouse-style house, you better start thinking about how to beautify your windows, as they play an important role to define your house. Farmhouse decor is known for its traditional and humble attributes, so adding some window treatments can improve the aesthetic embellishment. Draw the inspiration from the following best window treatments suitable for farmhouse decor.
Burlap
A nice additional touch for your windows is burlap, a popular type of fabric for farmhouse decoration. Its rustic and somewhat shabby characteristic is light, giving a warm contrast to your glass windows.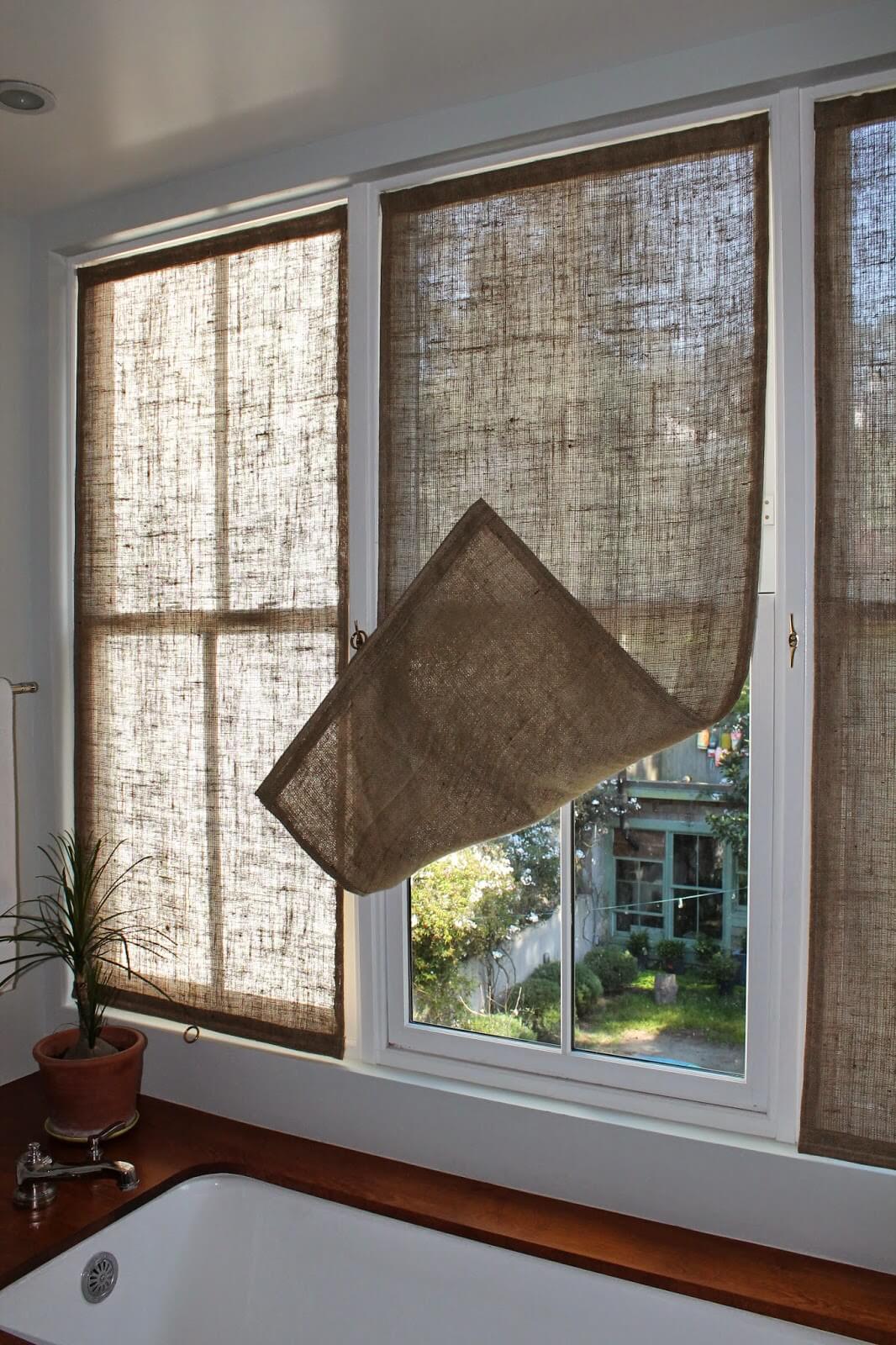 The burlap curtains installed on the wooden framed windows are one of the hallmarks of a farmhouse-style home decor. This burlap curtain has a low selling price, so it is very affordable for all people, besides this curtain also has a large enough fiber to make it easier for sunlight to enter the room optimally. You can open this window during the day to make the room feel brighter and more open. Burlap curtains with wooden frame windows from homebnc.
Not only using plain burlap curtains, in this farmhouse kitchen you can add a little black and white buffalos fabric for additional accents at the bottom of the curtains. With this, decorating your farmhouse kitchen will look more unique, antique, and have a different atmosphere. Green plants with white ceramic pots become windowsill that refreshes the whole room to the maximum. The burlap curtain with the addition of black and white buffalos fabric from homebnc.
Blinds
If you love modern farmhouse decor ideas, installing blinds for your window treatment is the best option. It sends off the contemporary look, allowing you to have control over the amount of lights entering the room.
The blinds that are applied to the kitchen windows of this farmhouse have their own natural accent because they are made of environmentally friendly materials, namely woven rattan which is neatly and arranged so that it filters the excessive entry of sunlight into the kitchen. These small green spherical plants become cheap additional decorative accents because you can find them around your house or at the nearest flower shop at a selling price that is not too expensive, you can buy these two types of plants to be placed on the right and left sides. Rattan woven blinds from blinds.
Shutters
Shutters are the most traditional design suitable for farmhouse window treatments with its elegant feature. They induce protection against any weather and have a neat appearance to keep the farmhouse's minimalist design.
Sunlight will more easily enter the living room with the white shutter lining some of these wooden windows, sunlight will enter through the shutter slit to the maximum. Choose a sectional sofa as functional furniture that you can comfortably lie on for the whole day. Throw in some pillows for additional accents that warm your body when the cold weather starts to feel. Colorful pillowcases give the room a more cheerful impression. White shutter with sectional sofa from homestratosphere.
Match the shutter color with the feel of your living room to match the color tone of the room that is more elegant without any bold colors that will spoil the view of your eyes. The graphic pattern pillowcase adds to the texture of the room to make it look prettier and less boring. You can open this shuttered window during the day and close it again when the sunlight is gone and it starts in the evening. You can try this shuttered window in your living room decoration right now. Match the shutter color with the feel of the living room from homestratosphere.
Solar shade
The sheer, light, and airy characters of solar shade make a perfect option to decorate your windows. This window treatment limits the light without limiting your view outside. You can choose the openness from 3 to 14 percent to control the amount of lights coming in.
You can cover the solar shade curtains with drapery curtains to minimize the excessive entry of sunlight into the living room. These two curtains will work well so that they produce enough sunlight and suit the needs of the room. Choose this curtain in a neutral color like white to make it blend more perfectly. Gold table lamps give a luxurious and antique impression that you can try. Combination of solar shades with drapery curtains from theshadestore.
Roller shade
This type of window treatment keeps your room neat and clean looking. It's easily rolled up onto a tube, highly optional when you want the full or partial coverage from the outside.
When it is morning and bright, you can open the window as wide as possible to help the lighting of the indoor decoration to make it look more open and brighter. You can roll this striped window upwards and then fasten it with a cloth and button. This window can be fitted in any home decor and in any style including bathrooms and kitchens. Apart from being cheaper, these roller shutters are also very easy to use. Striped roller curtain from homebnc.
Drapery
It's the most basic window treatment in any decoration. Drapery or curtains provide excellent functioning light control as well as style. It's available in many different materials and colors for you to choose and complement with the rest of the room.
This drapery curtain in blue color will perfectly coat the high windows, you can install it in the dining area combined with the surrounding greenery. There is no need to use excessive furniture to get a wider, open and less cramped room. You can open this curtain as wide as it is during the day to maximize sunlight in the room. The blue drapery curtains lining the high windows from bhg.
One of the drawbacks of using drapery curtains is that they are easy to wash when they start to get dirty, you can choose this curtain with a neutral white color to make it easier to mix it with whatever interior is around it. Apart from that, the high drapery curtains also give a luxurious impression of its own without being overwhelming. Wall painting becomes the addition of a beautiful and beautiful artistic nuance. White neutral color curtain drapery from bhg.
Panel track
Panel track provides maximum light control and stylish addition to farmhouse decor. It's made of a series of fabric, and perfect for shielding large glass windows. Window treatments in farmhouse decor work best not only to offer privacy but also to control the amount of lights, which is essential in farmhouse design. The more lights and air you can get into your house, the airier and roomy it will look.
You can create a modern farmhouse kitchen with a sliding panel track that has an earth tone color. For this kitchen interior idea, you can choose white color with melamine wood which looks more minimalist and shiny. This track panel has become a trendy window liner this year and has never gone out of style. Sliding panel track from blindsbyjackie.
Those are some ideas of window treatment in farmhouse style. So which one do you like?
(Visited 245 times, 1 visits today)
Tags:
Farmhouse-Styled
,
Window treatment in farmhouse style
Last modified: May 17, 2022