Rustic furniture, cast iron basket, or flourish display? We need that bold statement to have traditional country decor around the house to recreate a warm, homey feeling for everyone. The easiest way is to reach out to the nearest flea market and grab some of those antique drawers or an interesting rusty framed mirror to embellish your living room. If you plan to decor big, here are some essentials every country-style home should have.
A family heirloom
We all have that nostalgic, sentimental recollection passed down through generations like an ancient glass door cupboard or antique chairs and antique trays too. Display one old furniture piece—preferably the large one—to have a vintage vibe on point.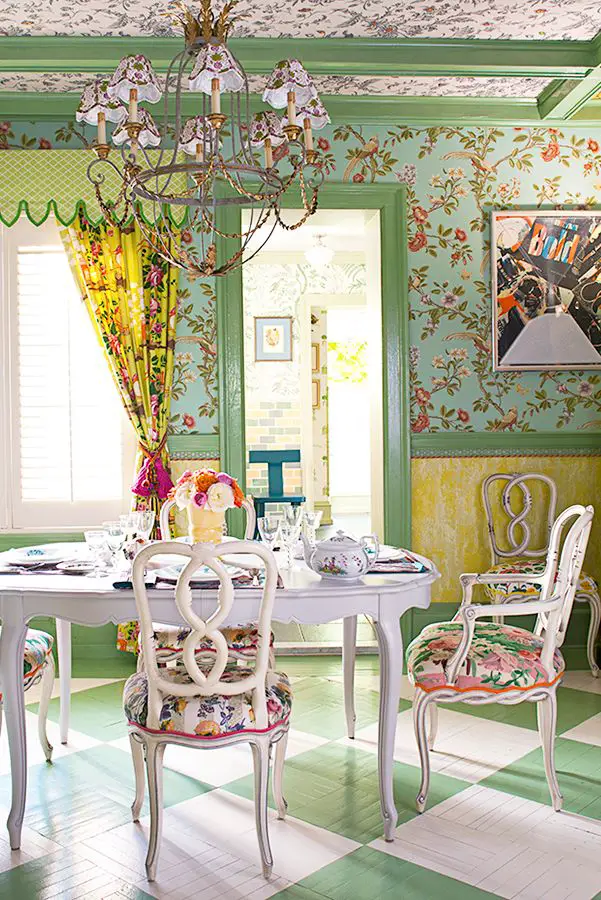 Have some antique furniture in your country home decor to emphasize this style to the maximum, start by using a flower pattern dining chair made of reclaimed wood. Arrange the chair layout by surrounding the oval white dining table. You can find other flower patterns on the walls and curtains that make the room decor seem more colorful and certainly not boring. Classic chandeliers are a mix of the right lighting that you can try. Flower patterned chairs with reclaimed wood backrest from housebeautiful.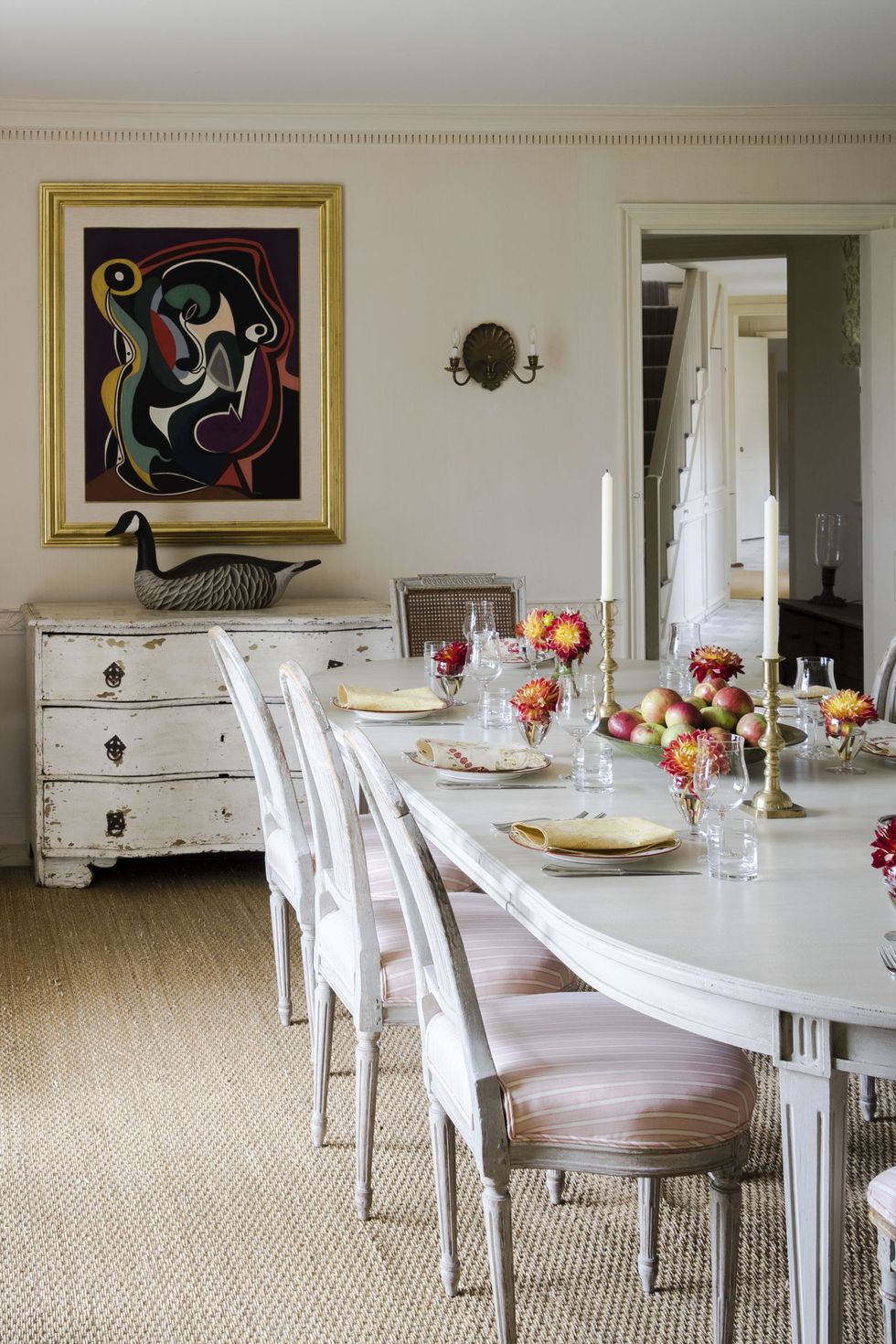 You can use a vintage wooden dresser in a country dining room decoration for a closed storage idea and of course it is safer to use to store your cutlery to avoid dust. The splash of gold on the candle holder gives a luxurious and antique impression that is not excessive, you can place the candle holder directly on the dining table as a functional centerpiece. Vintage wooden dresser from housebeautiful.
Set an outdoor area
Every country decor needs to expand the living space to the point where you can have a place to eat outside or a simple relaxing spot. Build a simple shelter with bamboo screen roofs surrounded by a green garden.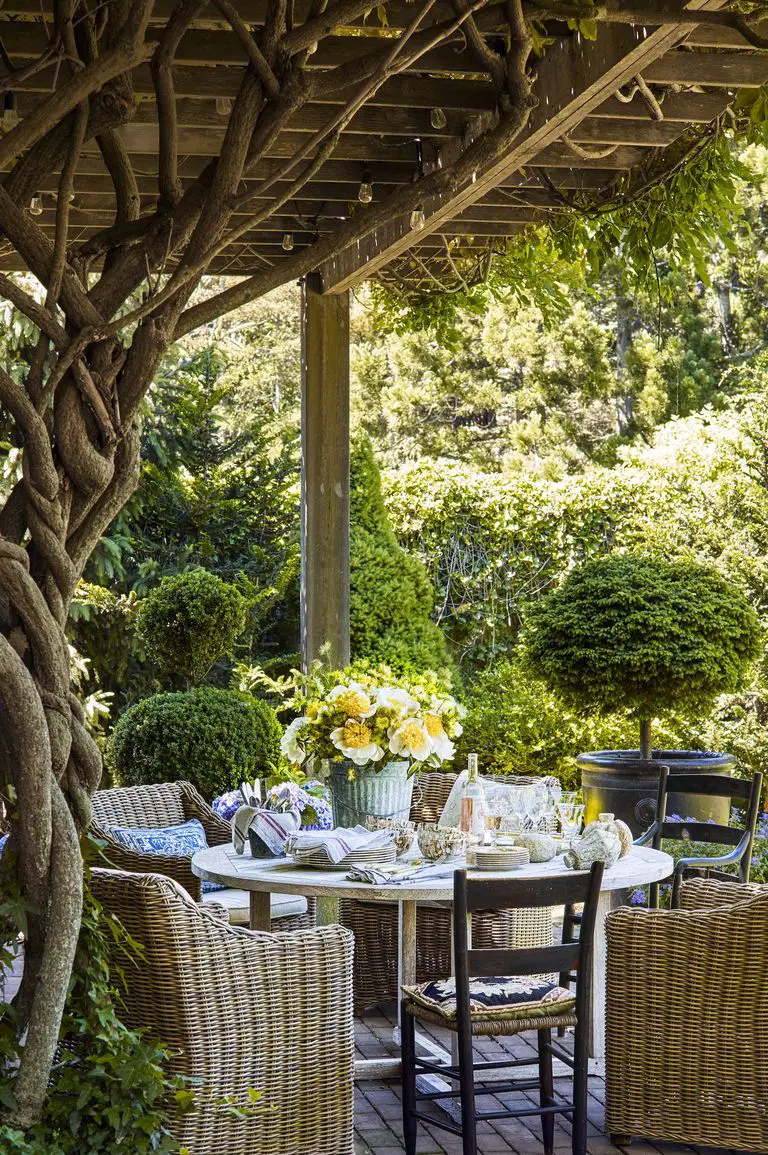 The outdoor dining room gives a different feel so it doesn't make you bored and bored. When you use country home style, pay attention to the use of a dining table set made of woven rattan. Do not forget to use a wooden roof decorated with vines to protect you from the sun during the day so it remains comfortable to use throughout the day. Wooden roof equipped with vines from elledecor.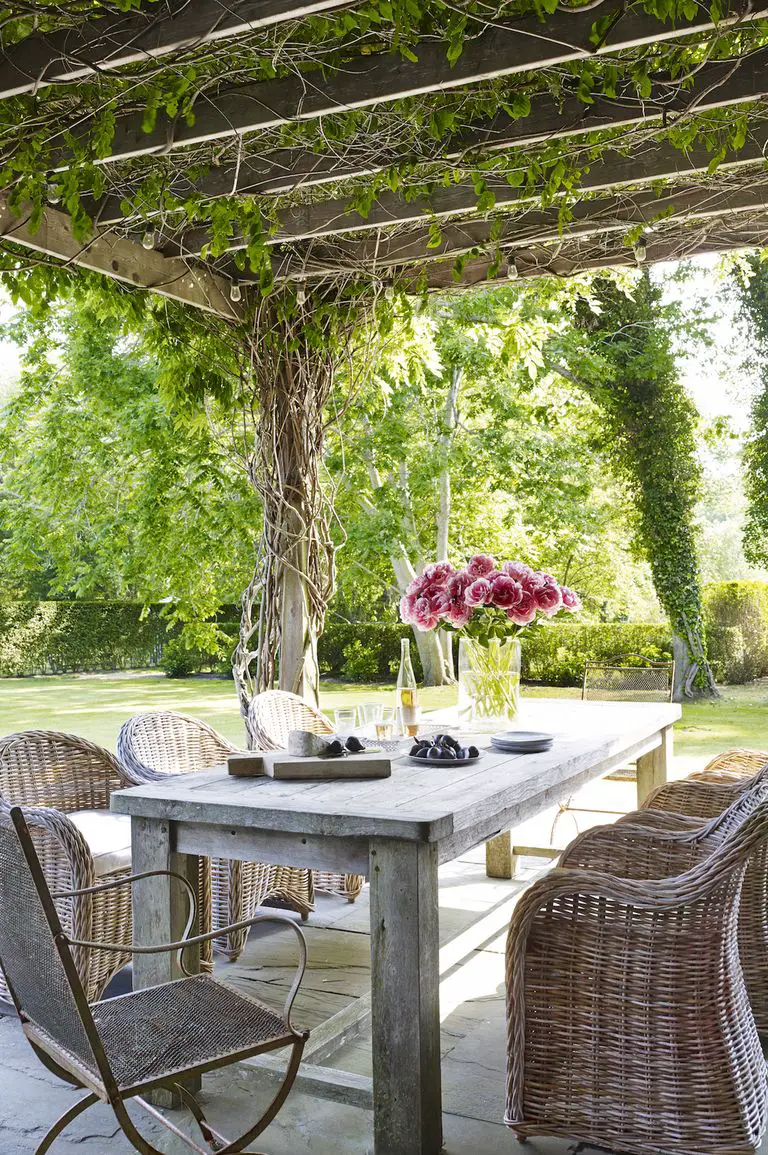 This reclaimed wood dining table surrounded by rattan woven chairs is the right outdoor furniture idea because it has a material that is strong and sturdy enough for all weather. Complete this wooden dining table with a beautiful and beautiful bold vase of roses. To protect you from the hot sun during the day, using a reclaimed wood roof is the right idea that you can try. Reclaimed wooden roof from elledecor.
https://www.instagram.com/p/CdeKJnopZ5K/
A natural image
Whether you have a house with a spacious yard or a small hut, there's always a place for nature. The simplest idea is to bring out colorful potted flowers placed in your front porch. A garden with a gate filled with wisteria will mark a lovely welcome for every guest.
The red flowers that are applied in this country terrace decoration are a decoration that never goes out of style. In addition, flowers are also an accent that adds a bold color by presenting a more feminine feel to the room. To enjoy the outdoor scenery, you can add a rocking chair made of old wood that looks vintage. Make this flower as a welcome for your guests who come to the house. Bold color flowers bloom from diynetwork.
Country front patios are usually furnished with polished wood furniture to make it look more shiny. Don't forget to add yellow flowers that are blooming around the furniture as a fresh decoration that you can easily get. A stone fireplace is an additional accent that warms your body when you are outdoors. Natural materials in furniture and fireplaces will save you more expenses. Country front porch decoration with ornate yellow flowers blooming from diynetwork.
A free-standing bathtub
Every home with serious country decor touch must have a free-standing bathtub in their bathroom sending out a bold message. The large white tub will make an important feature, also creating a classic tub set in any country decor, paired well with your wooden bathroom floor.
The vintage free-standing bathtub, complemented by shabby white curtains, accentuates the simple and classic country bathroom decor. The mirror with a gold frame and a little carving is an additional accent that makes the room look wider, tie this curtain with tassel straps when not in use to bring in more sunlight to avoid damp and uncomfortable bathroom space. Vintage free-standing bathtub from onekindesign.
Place this white free-standing bathtub right under the glass window to get enough and maximum sunlight. In this bathroom, you can add other antique furniture such as classic white benches, mosaic tiles on the floor to make this room look more colorful. In addition, this tile also has a slightly rough texture which does not cause the floor to become slippery when it is splashed with water or soap. White freestanding bathtub from onekindesign.
Rustic style kitchen
You can see that in most country-style houses, people love to cook and eat in the kitchen, which makes kitchen arrangement important. Be sure to have an open pantry style with open shelves arrangement to store your china and utensils. You can also use the counter island as an expansion of the dining room.
Complete the appearance of country kitchen decor by using reclaimed wood from a shabby kitchen island. Use a kitchen island that is equipped with drawers and storage under it so that it becomes functional furniture that saves on the kitchen floor more efficiently. Floating cabinets with glass doors are also an additional storage idea that brings a classic feel. Combination of reclaimed wood kitchen island with floating glass door cabinet from homebnc.
This open wooden shelf equipped with iron at the bottom will be stronger when used to place larger amounts of ceramic cutlery. The advantage of using this shelf is that it can store or retrieve cutlery easily and effectively. Avoid repainting wooden shelves or cabinets to emphasize country style in your kitchen décor. Complete the look of this kitchen with pink roses placed on the countertop. Open wooden shelf equipped with iron supports from homebnc.
To have an ultimate country decor in your house, don't overthink the detail. It's only important if you can channel the rustic and vintage ambiance using one or two bold elements and eventually blend with the overall decoration. 
(Visited 41 times, 1 visits today)
Tags:
country home decor
Last modified: May 16, 2022