Bohemian or known as boho style does not only deal with fashion. It developed for years and gave influence to home decor. Thus, what makes it interesting then? Boho style is so fantastic. You can express your appreciation of art, color, pattern, and texture at once in one style. This inspiring style lets you have an on-budget boho decor as well. Although boho has white beige as the dominant color, it is possible to add colorful accents to create impressive home decor. In addition, boho lets you have some ornaments as its main characters like a macrame or dream catcher. Well, to give you some inspiration, look at the gallery as your guidance.
Clashing Colors
Boho home decor allows you to be a new artist for your own house. It gives you an opportunity to mix and match the colors for a white beige color scheme. Once again, as boho is an expressive style, you can also get patterned furniture to make a stunning look. For example, in this boho living room, the navy couch looks comfy with earthy-colored pillows. The yellow coffee table and green pouf seem to be the complements that bring an artistic uniqueness. The loud colors are seen from the multi-colored rug. It balances with the colorful and beautiful artwork on the wall. Also, to freshen up the ambiance, bring some houseplants in. And, you will get a relaxing time in this boho living room.
To bring a cheerful atmosphere to your home, there is nothing wrong if you choose a boho theme for decorating this living room. Choosing bright and striking colors is one way to decorate this room. You can use the navy sofa which is furnished with a throw pillow with a unique boho pattern on it. The carpet layer becomes the bold color in this room, finally entering the green plants into the room will create a natural freshness. If there are still blank parts on the wall, try to install wall decorations such as large paintings and bamboo ornaments. Colorful interior boho living room from airtasker.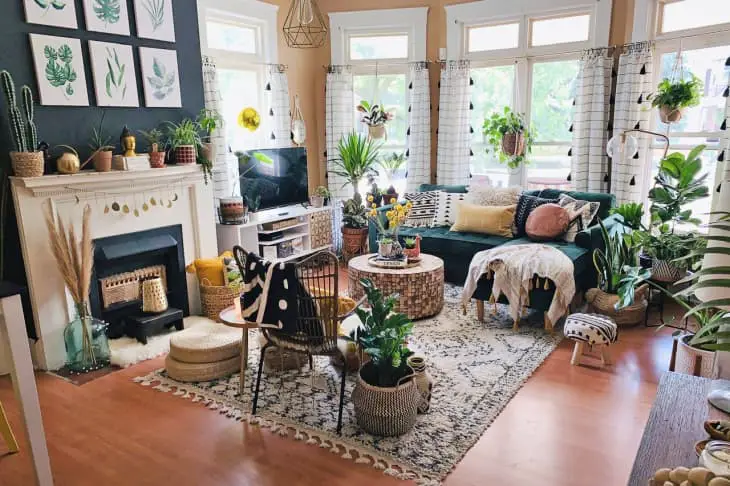 Use an earth tone color in the living room to describe the boho chic decor you choose. For example, if you choose to apply brown to part of the room, try using furniture that has navy and beige colors. The navy sofa with a few throw cushions on it will be the center of attention for guests who visit your house. Also, add some ornamental plants in pots to the room, not only can they be placed on the floor, but you can also hang them on several sides of the room. Earth tone color living room boho from apartmenttherapy.
Artsy Patterns
As we discussed before, the boho style allows you to be creative to express artistic value through patterns. Like this living room, it has earthy-colored pillows with boho patterns that enhance the white sofa. They will give a coziness for those who are sitting there. As well as, there is a faux fur throw to complete these comfy seats. In this warm boho living room, similar tone elements make a seamless look. The Moroccan patterned rug, the pillows, and the wooden coffee table are amazing.
Using earthy tones in your furniture for your boho decor is a good choice. This large synthetic leather sofa looks great when combined with a white throw pillow with a unique pattern. In order to get maximum warmth, you can also add faux fur right on the sofa. A coffee table and a patterned rug with matching colors will make the room look harmonious. You can also use unique ornaments that are mounted on the wall as the background of your living room. Carpet pattern with ground color from apartmenttherapy.
Pour your ideas for decorating the living room to be more colorful and cheerful. Using a yellow long sofa with white faux fur and colorful throw pillows will make your living room look more cheerful. You can also apply a colorful look to the striped pillow case for a more artistic look. You can also try to install geometric patterned wall decorations that have striking colors on an empty wall. A yellow sofa furnished with white faux fur from apartmenttherapy.
Applying Tassels
Instead of being colorful, the boho style makes it possible to create a simple natural color which bright and airy. Pure white and beige blend well to create this peaceful living room. What makes it adorable is the character of a boho itself, it is the tassels. In this living room, tassels can be seen from the rug and cushion. The artistic touch is beautifully delivered by the vessels and makes this living room more inviting. Likewise, the fireplace is a plus point to spend in this living room longer in the cold winter.
If you have a living room that is less spacious but still want to use boho decorations. The use of white is a smart idea, white will give a broad impression to your small living room because it can reflect light throughout the room. Combine it with brown so it is not boring, for example in a fireplace that uses open brick and a floor that has wood accents. Do not forget to also use rugs with tassels to warm and give boho value to your living room. These tassels can also be applied to throw pillows that are placed on a chair in a corner of the room. Boho tassel carpets from airtasker.
Faux Fur
Now, let's talk about your bedroom design. Boho will also offer beauty and warmth to your private room. Dominant white makes it looks bright and airy. The white bedding set keeps an elegant look as the focal point. Moreover, to make your bedroom more interesting, add one or two faux furs. They will add texture to your boho design. Then, the patterned rug, pillows, artwork on the wall, and the greenery are the elements to enhance the whole bedroom look.
If you already use blankets and pillows with unique ornamental motifs to support the boho decoration in your bedroom, there's nothing wrong if you also include some faux fur in your bedroom. You can put this faux fur on the bed or just put it on the floor as a carpet. You can also try to apply green plants in pots to your bedroom, if you don't want to take up a lot of space using a hanging pot is a brilliant idea. Faux fur accents with two different colors from homedit.
Rattan Furniture
The most famous material used in boho home decor is rattan. This material is popular because of its artistic character that can make various woven wicker ornaments and furniture. In this living room, the rattan brings some ornaments like the mirror frame which is really adorable. As well as, the rattan basket sets the houseplant more enchanting in the corner of the living room. The two rattan poufs are the statements that offer comfy seating on the ground. Thus, the natural color that rattan brings, makes this living room warm and inviting.
Choose furniture and accessories that use wicker rattan for the theme of decorating your boho living room. For example, the use of ottomans, pot baskets, carpet, and DIY mirror frames. Rattan is a material that is easy to form and has a neutral color which is perfect for use in decorating your Boho living room, besides that rattan has a strong resistance so that it can be used for a long time. DIY rattan wicker furniture from airtasker.
Lighting Feature
Lighting is the next important part of boho home decor. It creates a mood and surely artistic touch. You know, the boho style is unique. Therefore, its lighting feature must be unique and creative too. Have you ever seen this kind of ceiling lighting before? If you are looking for boho lighting, you can have this one. Unique lighting will be a focal point of a living room. Moreover, you can have the bigger one with tassels. Get the dim lamp to create a dramatic ambiance.
Not only can it be applied to furniture, but tassels can also be applied to existing lights in your Boho living room. Use pendant lights decorated with tassels for a more distinct look. Because it is decorated with tassels so that the lighting becomes a little dim, therefore it would be nice if you also use white on the walls and glass windows so that the lighting in the room is maximized. Neutral color lamp tassels from airtasker.
Greenery Here and There
Because the boho style puts a natural color scheme as its characteristic, you need something to balance it. Yes, what you need is simply put the greenery in. Some houseplants can be put here and there with pots or rattan baskets. Also, you can make a beautiful hanging planter with a macrame to enhance boho decor in your house. Take some houseplants if possible just to freshen up the air and give colors to your earthy decor. Without greenery, your boho room will be fairly and plain.
By including green elements in your boho living room, you can give a different atmosphere when you are doing your activities there. Using some green plants can give a natural impression in the room. A green accent that contrasts sharply with the white walls in the living room will make your boho decor even more beautiful and charming. Indoor greenery from airtasker.
Art Work
The more creative the ornaments, the more interesting your boho decor. Your wall can be the right spot to do decorating. Take some colorful plates and stick them on the wall as a great decoration. It will be a good idea if you have some antique pieces from various countries, like China or Vietnam which have their special designs. This wall decor, then, can be the focal point on a white wall that draws everyone's eyes.
The last idea that you should try for your boho decoration is to incorporate art elements into the room. If you are already using a gray sofa with throw pillows with motifs and faux fur, plus a unique motif carpet and potted greenery in the living room, try to install a unique framed painting to present artwork in a boho theme this time. You can use a gradation painting or a pretty flower painting for an extraordinary finishing touch. Painting frames with different themes from airtasker.
Those are some inspirations for boho chic decor. You can apply all those inspirations or choose the suitable one. Have a nice to try.
(Visited 213 times, 1 visits today)
Tags:
Boho Chic Home Decor
Last modified: May 18, 2021