There are no limits in colors you can choose for designing a house. However, certain interior styles are identified with specific color palettes. A Mid-Century décor typically uses bright and bold colors to symbolize optimism after the war. However, dark and neutral are also used to symbolize the psychological burden experienced after the war.
Interested in creating a Mid-Century look? Here are five color palettes to mix and match.
1. Orange Shades
Orange shades are used to symbolize post-war optimism in Mid-Century décor. To avoid garish look, you can choose slightly demure shades from both colors. Butterscotch, flaxen, and mustard are perfect for the while apricot, marmalade, and sandstone are great orange options.
You can add an orange color palette to a wall in a medieval décor. Try applying it to the wall paint to make it look more attractive. Combined with a wooden ceiling and large windows on one wall, this will present a stylish decor and will present a spacious and bright room. Additionally, this contemporary leather sofa and coffee table complements this lovely space. Orange color palette from timesofsandiego.
Using an orange hue for your mid-century living room design idea will symbolize post-war optimism so it will look perfect. You can dedicate it to an orange velvet sofa for the perfect room decorating idea. You can match it with a wooden ceiling and complement it with a large skylight for the perfect room decoration idea. One of the walls uses natural stone to add a natural touch to the room. Orange velvet sofa from digsdigs.
2. Green Shades
Green shades reflect nature, something that many post-war people wanted to bring into their homes after the war. Jade, seafoam, emerald, and chartreuse are perfect darker shades. If you want to pair them with something lighter, try mint, tea, or Paris green.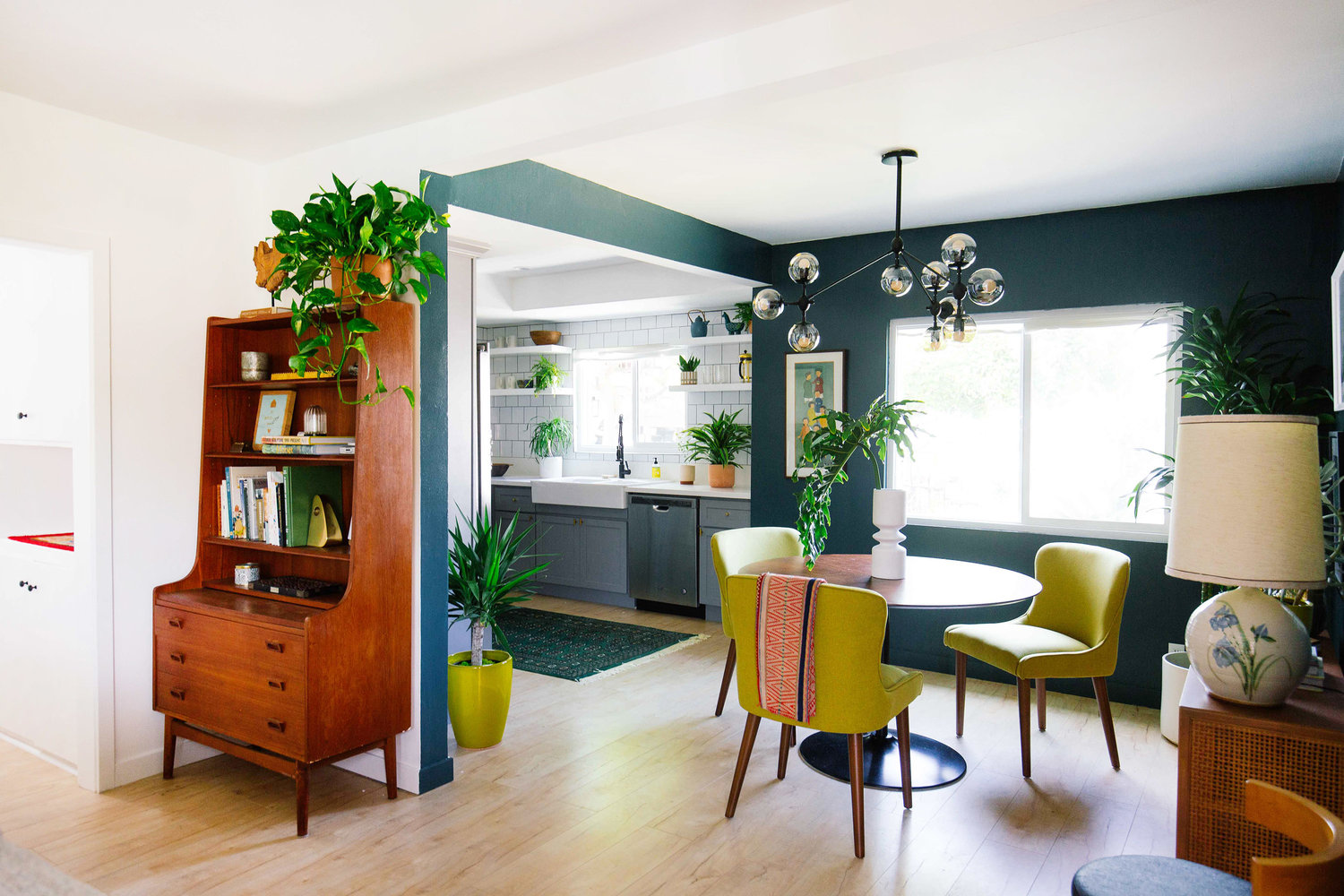 Shades of green are one of the right choices for your modern mid-century dining room design. Emerald you can use for the walls of your living room to make it look fresher. You can also add some lime green dining chairs for the perfect room decoration. You can also add some green plants in a pot to add a fresh and natural impression to this dining room. Emerlad wall and lime green dining chairs from oldbrandnew.
Modern mid-century living room decor with bright mint walls will bring a fresh look and attract the attention of all who see it. Combined with several green furnishings and chairs, this will make your room a stylish and inviting decoration. The green plants in the corner of this room create a stylish decoration and have a fresh impression into the space. Green chair and mint wall from oldbrandnew.
3. Grey Shades
Grey is a popular post-war neutral color, and you can use it to balance the bolder options. Darker shades of grey, like pewter, iron, steel, and charcoal grey add a moody atmosphere. For lighter grey shades, try cloud or silver grey.
Try applying a gray palette for interior decorating ideas in your mid-century modern living room to make it look stunning. This light gray wall color and geometric patterned gray floor make for a stylish room decoration. A few gray velvet chairs will make a stylish and attractive room decor. Several large paintings make for interesting room decorations. Gray palette Mid-century decor from elledecor.
You can use shades of gray for your modern mid-century decor idea to make it look more elegant. Combined with a gray sofa and white built-in storage, it will provide a colorful contrast to this mid-century living room. A large round mirror above the fireplace will decorate a bright and spacious room. A few framed paintings will make for a stylish and inviting room. Gray shades interior mid-centuy from housebeautiful.
4. Blue Shades
Blue, especially the pale and super dark shades, are featured in various Mid-Century patterns and decorations. While it reminds people of nature, blue can also serve as a "mature" primary color outside black. Popular dark blue shades include navy, midnight, and Persian. For lighter options, try azure, turquoise, or sky blue.
Choosing blue for your mid-century modern living room decorating ideas is the right choice. It will serve as a mature color and make your living room more elegant. Equipped with this blue standing storage, it also gives a matching color to your living room. This white wood sofa creates the perfect contrast giving it a spacious look that catches the eye of many. Blue modern mid-century living room from thespruce.
Using a blue patterned wall for the interior of a mid-century modern room to make it look attractive and bright. You can also add a yellow paisley pattern for the perfect contrast. The high curtains from the floor to the ceiling in blue will give a fresh impression and the illusion of a spacious and tall room. The wooden frame bed set will add a stylish decoration to any room. Blue patterned wall Mid-century bedroom from decoist.
5. Red Shades
Red is usually featured as an accent color, but bold red like rose and scarlet are often the least favorites, since people don't want to be reminded of war and blood. You can use dark, brownish red shades as accents or "dark neutrals", such as currant, mahogany, and wine red.
You can add red accents to your mid-century modern living room decor ideas. Try adding unique sofas and chairs in dark red to make it look simple and beautiful. You can also combine it with some wooden furniture and white table and chairs to make the perfect room decoration. The natural stone walls and large windows in one of these walls will make for a stylish and inviting space decor. In addition, this room will look spacious and bright. Dark red unique sofas and chairs from home-designing.
Adding a red leather sofa in your medieval living room will beautify your medieval living room decor so that it looks attractive. Apart from that this sofa will make the perfect focal point of the room. Equipped with a glass coffee table will give a modern impression to the room. Large windows in one wall and wooden ceiling will give a natural vibe to the room so that your room will look spacious and bright. Red leather sofa and chair from home-designing.
Before deciding to apply mid-century modern design in your home, better for you to know some color palette ideas that suit this design. Have a nice to try.
(Visited 193 times, 1 visits today)
Tags:
Mid-Century Modern Interior Color Palette Ideas
,
Mid-Century Modern Interiors
Last modified: May 18, 2021