Rustic and Mid-Century décor sound like contrasting design styles, but there are many ways to combine them. Modern designers and homeowners love creating new, fresh looks by combining vastly different styles. Follow these examples to successfully combine both styles flawlessly.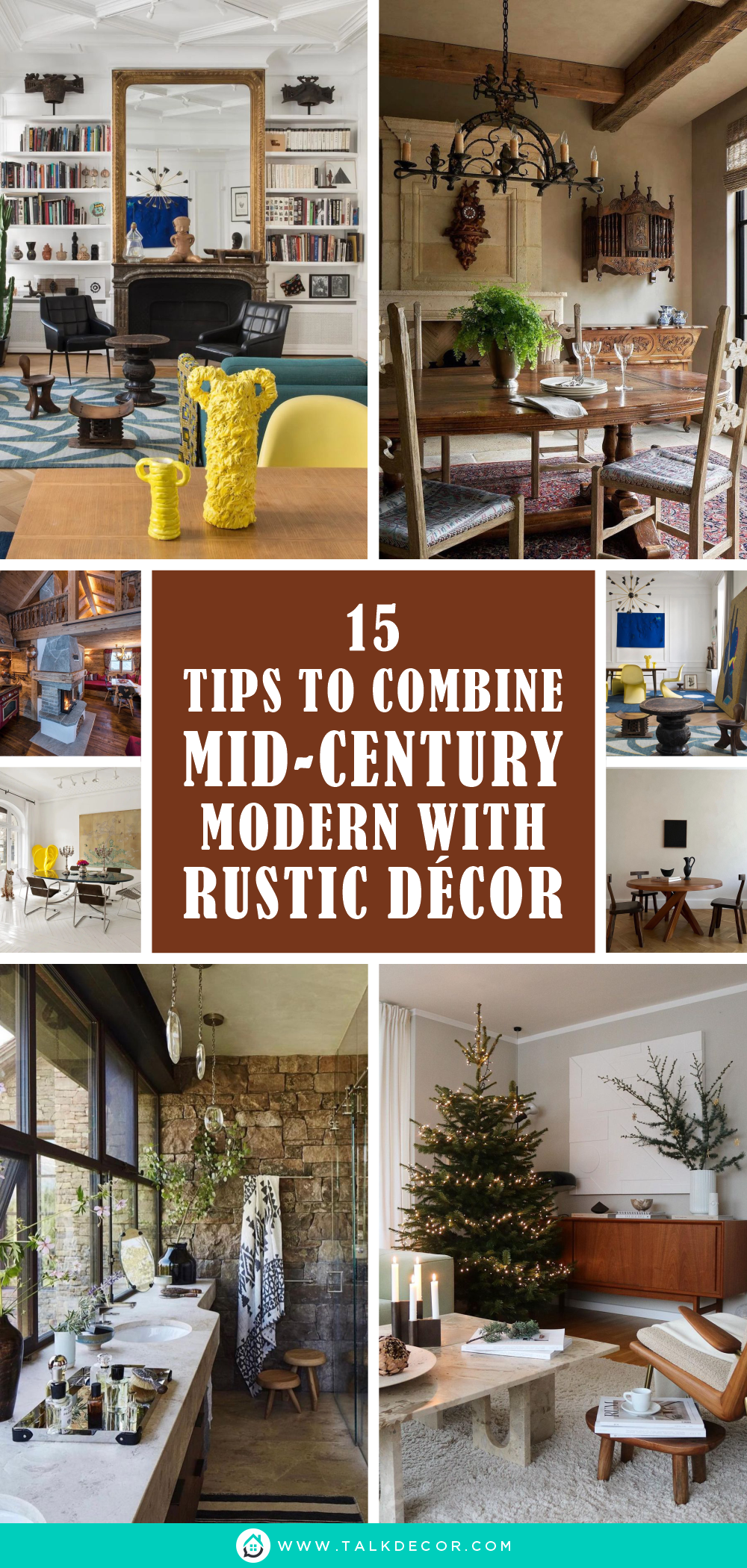 1. Combine Clean Lines with Natural Textures
Mid-Century décor has clean, non-fussy lines as its main feature. You can combine this look with natural textures like exposed wood, woven grass, or natural stone. For example, a coffee table made of exposed wood may have clean lines and slightly rounded edges. Rough, natural stone walls may be cut in clean lines.
One way you can do to bring a touch of mid-century and rustic together in the living room decoration is to use an appropriate interior. For example, you can dominate this room with furniture made from natural materials such as wood and stone. Wood materials can be tried on the use of a dresser and a chair combined with brass legs that are quite sturdy. This stone table with a smooth surface is a solid furniture idea that is not easily porous when used for a long time. Cover the floor with a plain white rug for a more elegant look. DIY Wooden Furniture Living Room from @daves_home
The next natural material that you can use in a room in your home is natural stone. At this time you can try it directly on the bathroom wall which will be more resistant to damp rooms. But here you can also use a wide glass window to enter sunlight into the room in sufficient quantities. The design of this wall seems very rustic, just combine it with a marble countertop which is dominated by white for a touch of modern style that will blend perfectly, you can easily try it right now. Natural Stone Wall Bathroom from @vivirdesign
Wood and marble, which are dominated by white, are a blend of two materials that are suitable for use in a house with a touch of mid-century and modern style that can blend perfectly in one room. Wood can be tried on a number of different pieces of furniture, while for marble you can try the backsplash in the kitchen cabinet area. Wicker rattan on the surface of the chair is an additional natural accent that can be applied in this room. Make sure that this open space room has sufficient natural lighting to minimize room humidity. Combination of Wood and Marble Kitchen from @lemieuxetcie
Reusing reclaimed wood as furniture in the living room is a smart choice that you can do right now to instantly present a mid-century feel. The furniture material used is also one of the hallmarks of a rustic touch that seems simple and doesn't cost a lot. The living room furniture used is in the form of chairs, stools, a coffee table and a standing dresser which is placed in the corner of the room. A touch of gold on the photo frame and an ornament add color to the room which is quite warm. Reclaimed Wood Chair, Table and Standing Dresser from @meier_interiors
2. Incorporate Wood in the Design
You can make the Mid-Century style as the dominant look in the room, but use wood as the focal point. Wood has a natural look that adds the rustic feel in an otherwise neat Mid-Century room. Having a wooden floor, for example, is enough to add a rustic feel in a Mid-Century living room.
The wood material that was tried in several living room interiors looks natural and dramatic. The use of wooden floors and a large enough dresser dominates this room. Just choose the color of the wood with a splash of color that is dark enough to be combined with a bright orange velvet chair. This is not enough, the combination of marble fireplace in this room brings a touch of mid-century, rustic and modern style simultaneously. A painting that is hung on a wall is of high artistic value. Natural Wood Dresser and Floor Ideas from @christianelemieux
You can apply a wooden floor with a herringbone pattern in your mid-century modern living room. The use of this material will never fail in all styles of rooms and in all corners of your home. Apart from having a fairly neutral color, wood also has quite good advantages, one of which is that it is environmentally friendly and makes it easier for you to combine it with other furniture around it. To make it look more textured, you can make a herringbone wood floor pattern with the addition of using a sleek coffee table and velvet chairs in deep black. Patterned Wooden Floor Living Room from @meier_interiors
Not only on the use of the floor, consider also the use of wood in a set of chairs and tables that can be used as a dining table area or an area for chatting with family. There is no need to repaint this wooden interior, let it remain natural and shiny by repainting it with a transparent color. Wood materials for using this floor are also highly recommended for you, choose and use only those that have a simple pattern but still look elegant. Dominant Wooden Dining Room Decor from @meier_interiors
3. Install Futuristic Lamp or Fireplace
Some furniture or decorative items in Mid-Century style are inspired by the post-war space age. If you lean to rustic style in a house, add the Mid-Century element by installing a Sputnik chandelier or space-age fireplace (or both). These design features are popular in Mid-Century houses, and they add a unique touch in an otherwise rustic room.
Lighting is one of the important accents that must be owned in every room of your home. Just adjust the use of lights with the decoration of the room in use. For example, when you use a mid-century modern style, hanging sputnik chandeliers are the right choice for you to use right now. This lamp can be installed in a room that is often used so that it can be used as the focal point of the room. The white molding wall gives the room a more elegant and eye-catching look. Hanging Sputnik Chandelier @homemag_bytyna
Look at the design of the fireplace in this mid-century modern living room, doesn't it look classic and vintage? Yes, the use of this fireplace is very suitable for the mid-century style in your living room. You simply combine it with a large mirror that is perfected with a gold frame that looks shiny. In the area around this fireplace can be used to place two leather chairs which are equipped with a medium-sized coffee table spindle. In this way, your home room will feel warmer and more attractive. Classic Style Fireplace Design from @homemag_bytyna
4. Use Neutral or Earthy Colors
The mid-Century style uses a lot of dark or bold colors, like coral, gold, turquoise, maroon, and sky blue. Bring a more rustic feel by using more neutral colors in the design. White walls with beige, tan, black, and white tones will make a Mid-Century room look more down-to-earth. If you want to insert a fresh color, make it a single focal point, such as a brass table, bar cart, or chandelier.
To change your all-white living room decoration to make it look more charming and elegant, try adding gold. You can apply the gold color to the mirror frame that is installed as a wall decor and also to fill the empty space on your living room wall. Don't just stop at gold accents, you can also pair this gold color with other bold blue wall decorations, you can also use blue abstract paintings to create a mid-century style. Classic Gold Frame Mirror from @studio.vintage_vlc
No less important than the appearance of a room is choosing the right furniture for the style you apply. To create the maximum mid-century appearance, you can use a sofa with dark and elegant colors. The velvet blue sofa is perfect for a mid-century living room, especially if you combine it with green throw pillows on top, it will certainly make the room look more perfect. In addition, you can also include green plants, so that the room gets fresh air all the time. Covering the floor with white carpet can also make the room look cleaner. Velvet Blue Sofa with Green Throw Pillows from @midcenturyhome
Don't let your all-white dining room look boring, add bold color decorations to liven things up. Adding an ornament that has a bold yellow color in the corner of the room will help you solve the problem of a monotonous appearance in your dining room. To fill the empty space on the dining room wall, there's nothing wrong if you also install a painting with a large size and also a touch of gold which will certainly add a luxurious impression to the appearance of your mid-century dining room. The combination of these two elements will enhance the appearance of your dining room to be more elegant and will also add color to your all-white room. Bold Yellow Ornamen and Gold Touch Painting from @homemag_bytyna
5. Create a "Cabin Chic" Look
A "cabin chic" look combines subtle rustic elements with cozy and modern interior. You can combine white walls with wooden ceiling beams, Mid-Century tufted sofa with throw rugs, and wooden coffee table with Mid-Century tile floor.
The wooden beams ceiling in the cabin dining room is complemented by a dining table and dining chair sets using wood as well. What you can do here is to let more sunlight into the room so that the use of wooden furniture in it is also not easily damp or porous. It's not enough to stop here, you can also cover the floor with a vintage patterned rug. Here you can only use chandelier lighting at night, because during the day you can use sunlight that enters through the use of glass windows. Cabin Style Dining Room with Wooden Interior from @home_decor_daily
Mid-century home decor that is dominated by the use of reclaimed wood will never fail to try. Just combine wood with stone materials that can be applied to the use of a standing fireplace in one of the rooms of this house. These two materials will work well together. Also pay attention to the use of the ceiling of your house, wooden beams with splashes of natural wood color give a maximum warm and environmentally friendly impression. Reclaimed Wood Home Decoration from @kastl_media
The use of wooden beams ceiling and linen sofa in this living room will present two different styles that can blend together in the same room. This indirectly brings mid-century, modern and rustic themes together. Also hang a classic chandelier as the main lighting that can be used when the room feels dark. A transparent glass coffee table that can be used in this room will be of good use, use all the furniture to the maximum according to the needs of this room. Wooden Beams Ceiling Living Room from @home_decor_daily
You can easily combine Mid-Century décor with a rustic style. Just make sure you create a balanced look that feels comfortable, not crowded.
(Visited 686 times, 1 visits today)
Tags:
Rustic and Mid-Century decor
,
Rustic decor
Last modified: March 1, 2023