Rustic and Mid-Century décor sound like contrasting design styles, but there are many ways to combine them. Modern designers and homeowners love creating new, fresh looks by combining vastly different styles. Follow these examples to successfully combine both styles flawlessly.
1. Combine Clean Lines with Natural Textures
Mid-Century décor has clean, non-fussy lines as its main feature. You can combine this look with natural textures like exposed wood, woven grass, or natural stone. For example, a coffee table made of exposed wood may have clean lines and slightly rounded edges. Rough, natural stone walls may be cut in clean lines.
To add a rustic impression to a mid-century dining room, you can add a natural texture to the walls. Add a wooden table and natural stone walls to make it look fabulous. Stone walls from interiorzine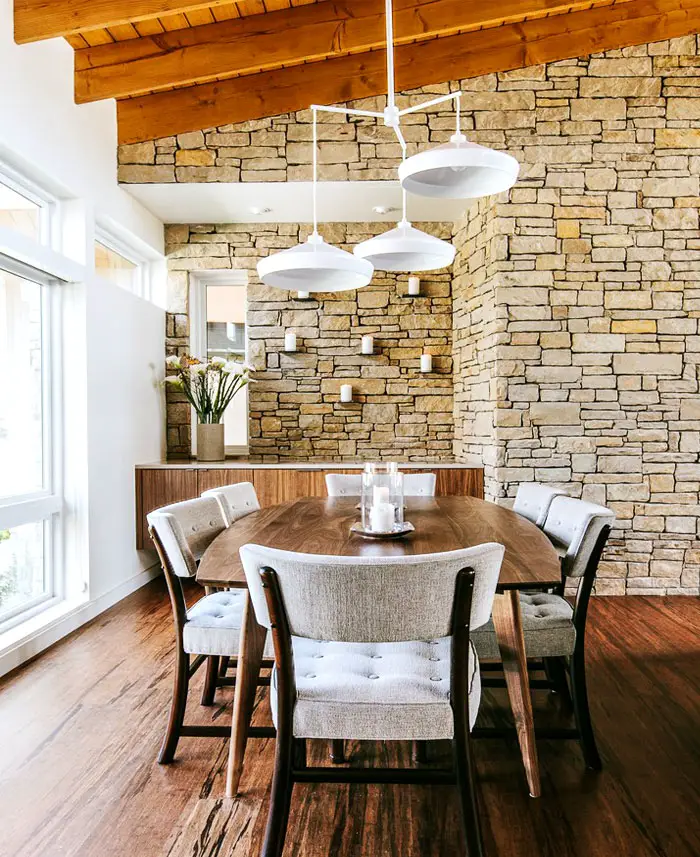 A neatly arranged white natural stone wall will present an attractive room. You can combine a wooden dining table to add a rustic feel to the room. White natural stone wall from interiorzine
Natural stone walls will give the perfect rustic touch to your medieval dining room. Use a round wooden table to give a thick mid-century impression. Round wooden table from interiorzine
Natural stone walls create an interesting rustic feel in a medieval dining room. You can add a pendant lamp for a modern impression into the room. Solid natural stone walls from interiorzine
Natural stone wall interior will add a warm impression to your mid-century living room. Add an exposed wood coffee table to add a warm impression. Natural stone wall interior from impressiveinteriordesign
A curved wooden table is one of the thick medieval accents in your living room decor. Try pairing it with a leather sofa to complete the décor. Curved wooden table from home-designing
Use brick walls and exposed wood tables to combine a mid-century and rustic style in your living room, so it will look attractive. Brick walls from impressiveinteriordesign
2. Incorporate Wood in the Design
You can make the Mid-Century style as the dominant look in the room, but use wood as the focal point. Wood has a natural look that adds the rustic feel in an otherwise neat Mid-Century room. Having a wooden floor, for example, is enough to add a rustic feel in a Mid-Century living room.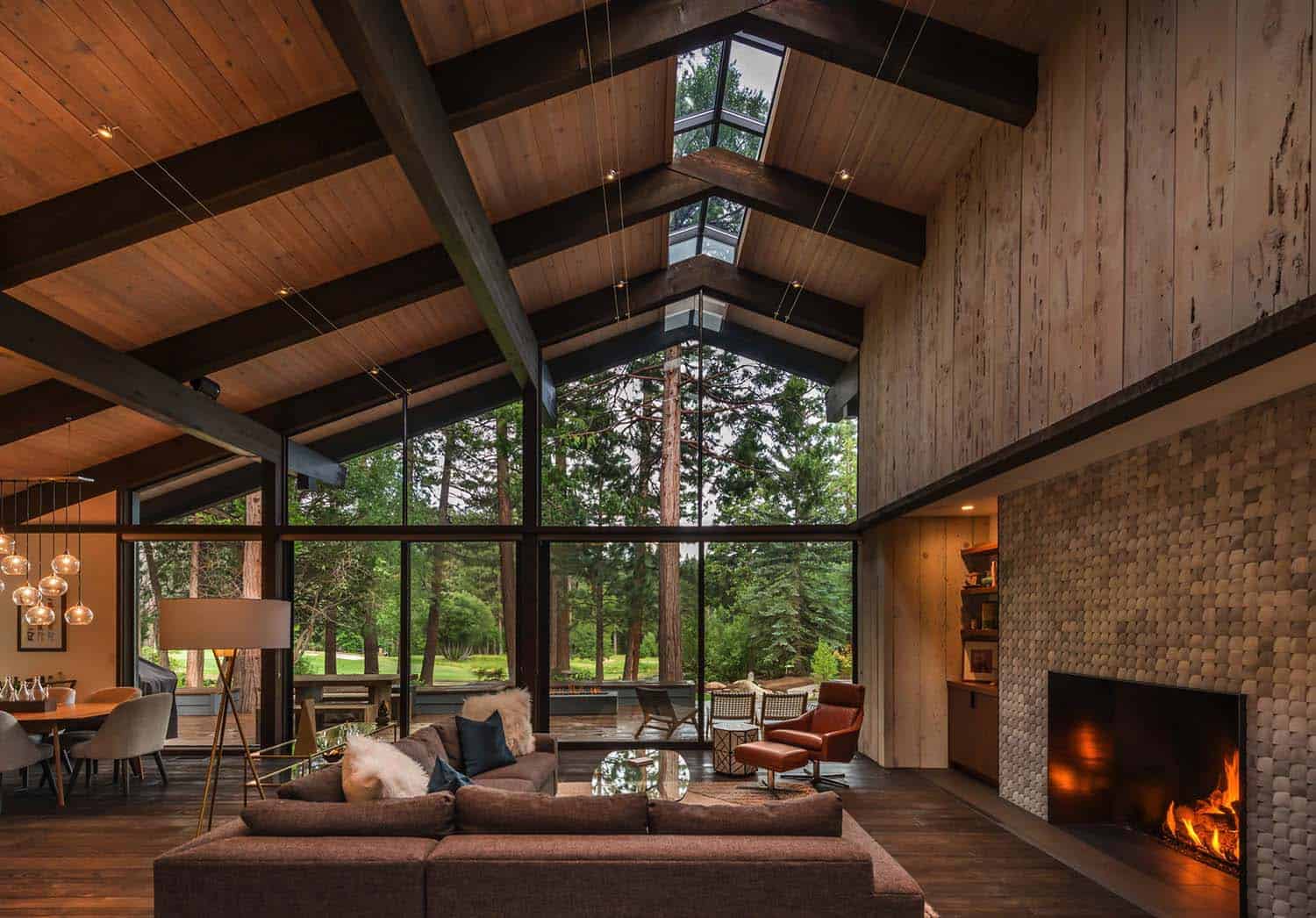 Adding wood accents to a mid-century living room will give it an interesting rustic touch. You can add it in the form of a floor to make it look very elegant. Wooden floor from onekindesign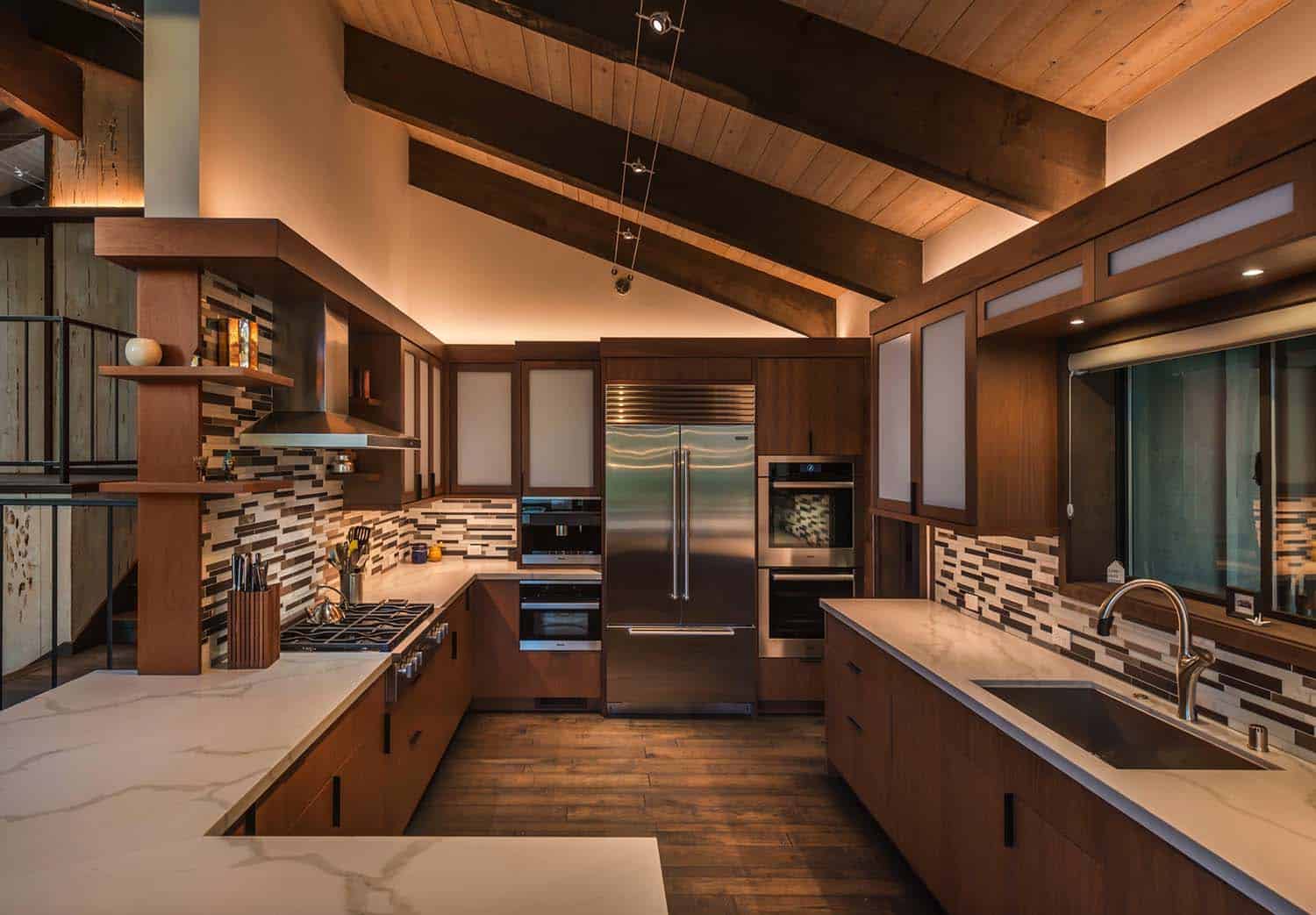 Wood accents on the floor and kitchen cabinets will create a warm impression in the room, thus adding a rustic feel to the mid-century kitchen. Wooden floor and kitchen cabinets from onekindesign
Having wooden floors and wooden furniture in the living room with a mid-century design will add a simple rustic feel and will look elegant. Wooden floors and wooden furniture from themodernvault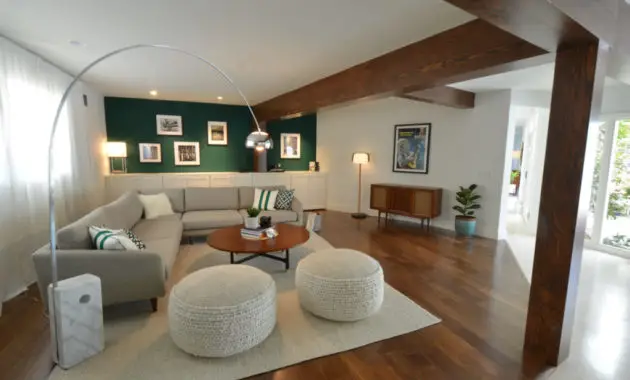 If you have a medieval living room, try adding a touch of rustic to it. Wooden floors will give a rustic look that warms up your living room so it feels more comfortable. Wooden floors from themodernvault
The wood has a natural look that adds a rustic feel to the middle ages. Try using a wooden floor with a heringbone pattern to make it an attractive focal point. Wooden floor with heringbone pattern from inspirationdesignbooks
3. Install Futuristic Lamp or Fireplace
Some furniture or decorative items in Mid-Century style are inspired by the post-war space age. If you lean to rustic style in a house, add the Mid-Century element by installing a Sputnik chandelier or space-age fireplace (or both). These design features are popular in Mid-Century houses, and they add a unique touch in an otherwise rustic room.
You will never fail to use a chrome chandelier in your white dining room to make it look attractive with a simple mid-century touch. White dining room from doorwaysmagazine
A mid-century dining room with traditional sputnik hanging lamps will add a luxurious impression to the room. This is a great idea for a contemporary dining room. Mid-century dining room from doorwaysmagazine
Decorative chandeliers can be an easy way to add detail to a simple dining room. So you don't need to have a large dining area to enjoy a sputnik chandelier. Sputnik chandelier from doorwaysmagazine
Choosing a chrome chandelier for lighting ideas in a country style dining room will look creative. Combining with a wooden dining table will attract everyone's attention. Chrome chandelier from doorwaysmagazine
The use of futuristic lights in your dining room will enhance your decor so that it looks more attractive and beautiful. Futuristic lights from doorwaysmagazine
4. Use Neutral or Earthy Colors
The mid-Century style uses a lot of dark or bold colors, like coral, gold, turquoise, maroon, and sky blue. Bring a more rustic feel by using more neutral colors in the design. White walls with beige, tan, black, and white tones will make a Mid-Century room look more down-to-earth. If you want to insert a fresh color, make it a single focal point, such as a brass table, bar cart, or chandelier.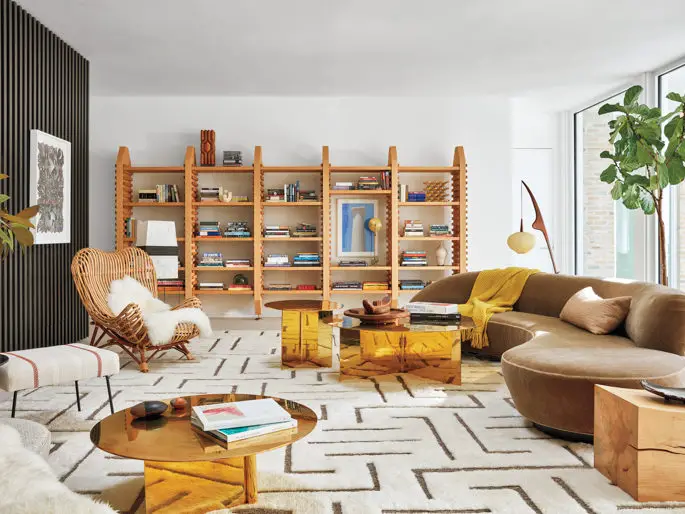 White walls paired with a brass coffee table create the perfect mid-century look. You can add wicker chairs and other furniture. Brass coffee table from interiordesign
Mid-century living room design with white walls looks simple and elegant. Add a round brass table for a strong mid-century feel. White walls from decorpad
Incorporating neutral colors in your mid-century white living room design will be the perfect focal point. Just add a brass coffee table in the room to make it look even better. Mid century white living room from luxatic
White walls will give a simple impression to your mid-century living room decor. Add a pendant lamp there to make it an attractive focal point. Pendant lamp from luxatic
Using brass chandeliers for lighting ideas in your white living room will present a perfect mid century look and keep it simple. Brass chandeliers from blog.modsy
5. Create a "Cabin Chic" Look
A "cabin chic" look combines subtle rustic elements with cozy and modern interior. You can combine white walls with wooden ceiling beams, Mid-Century tufted sofa with throw rugs, and wooden coffee table with Mid-Century tile floor.
To present the look of the cabin in your living room, try to combine white walls with a wooden ceiling. Using a tufted sofa and carpet will make your living room look more beautiful. White walls with a wooden ceiling from finefurnished
You can choose tufted sofas and rugs to suit your mid-century design. A yellow wooden ceiling will complement the decor. Tufted sofas and rugs from southernliving
Try using white walls then complete with a blue tufted sofa and add a wooden coffee table so that it will combine rustic and modern elements in your living room. Blue tufted sofa and wooden coffee table from southernliving
A mid-century living room with white walls and ceiling beams will give the cabin a gorgeous look. Add a tufted sofa and burlap rug for the perfect look. Mid-century living room with white walls from homebunch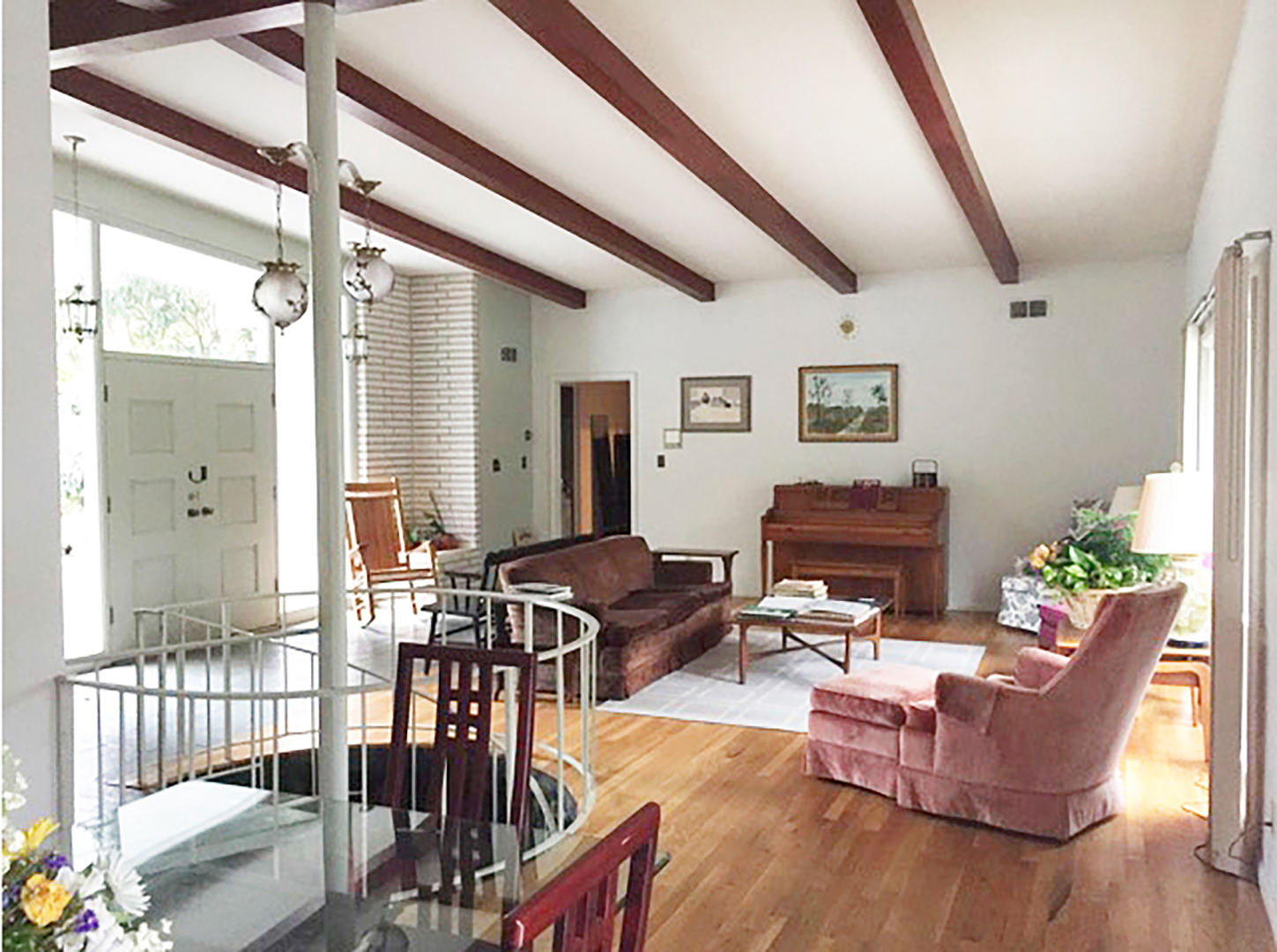 This pink tassel sofa will create an eye-catching look in your mid-century living room. Pair it with white and ceiling beams for a rustic look. Pink tassel sofa from bhg
You can easily combine Mid-Century décor with a rustic style. Just make sure you create a balanced look that feels comfortable, not crowded.
(Visited 456 times, 1 visits today)
Tags:
Rustic and Mid-Century decor
,
Rustic decor
Last modified: December 3, 2020