As an established brand, Pottery Barn has created numerous exciting pieces of furniture and décor for every part of your house. This time, the brand returns with several amazing Pottery Barn outdoor décor ideas you can try at home.
1. Woven lazy chair in the patio
One of the most exciting Pottery Barn décor ideas is the elegant woven lazy chair. Also packed with similarly-styled woven sofa, this adds more comfort and aesthetic to your patio. Try mixing it with some comfy cushion pillows.
If you decide to use a lazy chair with rattan woven material, then there's nothing wrong with lining it with throw pillows for a more comfortable and soft sitting surface. Use two wicker chairs with a small coffee table in matching materials and colors. The green blanket is a warm accent that can be used when the weather outside is getting cold. Woven lazy chairs covered with cushions from home-designing.
Complete the appearance of your patio with outdoor furniture so that it can be used as a relaxing area with a cool and fresh garden view. Use a lazy woven chair repainted with white colors for a more vintage and elegant look. Covering this chair with linen cushions makes the surface warmer and smoother. This woven chair has a fairly strong resistance to outdoor weather because it is made from the main material of rattan which is quite sturdy. Repaint woven lazy chairs from home-designing.
2. Woven sunbathing chair on the pool deck
Woven furniture isn't only for indoor rooms or patio, but it can also work for your pool deck. In this case, Pottery Barn offers a set of woven sunbathing chair, bringing a new sunbathing experience. You can enhance it with other outdoor décor ideas like planting coconut trees in the backyard or placing a woven rug on it.
After doing swimming activities, you definitely need a comfortable relaxing area that can be used for sunbathing in the hot sun. Woven sunbathing with dark colors is perfect for you to try on the edge of the pool, put a small table next to this relaxing area to put the snacks or drinks you have. Lay the woven sunbathing on the fresh green grass. Dark color woven sunbathing from home-designing.
Swimming pool decoration will be more perfect and comfortable to use when it is equipped with adequate furniture as needed. This time you can choose woven sunbathing in neutral colors like white. This woven sunbathing is portable because it can be folded and moved to any area when it is finished, so that it saves the floor area around the swimming pool to be more effective and efficient. Folding woven sunbathing from home-designing.
3. Backyard sun umbrella
You may try other exquisite Pottery Barn outdoor décor ideas, but you absolutely can't miss their amazing sun umbrellas. Elegant with colorful options, the umbrella is great décor for places like a garden, pool deck, or BBQ dining spot. And if you can get a larger size, you can potentially make it a roof for a smaller patio.
Protect your body while relaxing at the back of the house with the installation of an umbrella that is placed right on top of the outdoor furniture. This umbrella is built complete with sturdy poles and is not easily porous. Metal is one of the highly recommended materials for you. The carpet that covers the outdoor floor adds an elegant style that keeps the footwear warmer. Choose a lounge chair made of pallet wood which is repainted in pastel green. Sun umbrella with metal poles from hgtv.
To add patterns and colors to your patio decor, you can add a striped sun umbrella with a combination of black and white. This umbrella becomes your protector from the hot sun, combine it with a chair that has sturdy material when exposed to different outdoor weather. The surrounding greenery with white pots is a refreshing decoration without giving off a boring impression. Striped sun umbrella from hgtv.
4. Galvanized metal lanterns for elegant lighting
Great lighting with exquisite design can turn your outdoor nightlife into an absolutely romantic experience. Pottery Barn has you covered with that, thanks to an array of exciting outdoor lanterns you can choose from. However, the most romantic Pottery Barn furniture in the lantern department has to be the galvanized metal lanterns.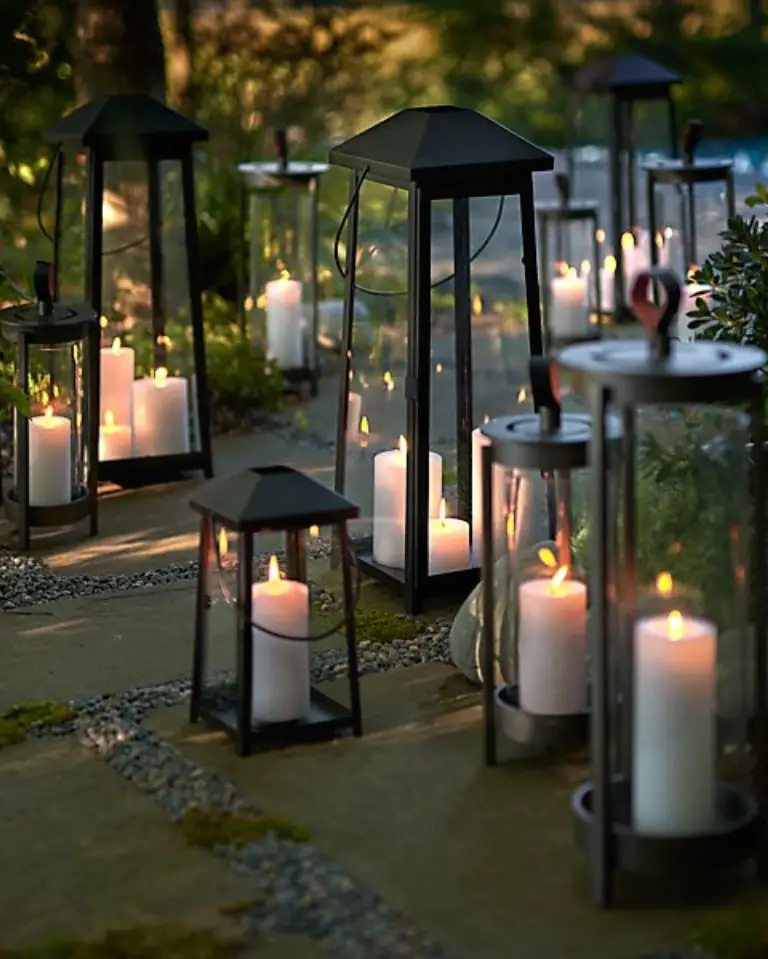 Install and use galvanized lanterns along your outdoor path as a lighting idea that gives a warm and dramatic impression. This lantern is equipped with a transparent glass surface of different sizes. The advantage of this galvanized lantern is that it has a holder so that it is easier for you to move it to the target area. Galvanized material is more durable and doesn't rust easily, you can try it now. Galvanized lantern lighting from marthastewart.
Not only as outdoor lighting, colorful galvanized lanterns also provide a more lively and fun nuance. You can install this lantern in the staircase to your house in a neat and orderly manner. If you want to use a sufficient number of lanterns, then you can suckle them as best as possible so as not to disturb your space when walking. Colorful galvanized lantern from blueistyleblog.
5. Pottery Barn classic rustic sofa and table set
Rustic Pottery Barn furniture is the brand's specialty, such as the elegant rustic sofa and table set for your patio. Made from solid wood and finished with a smooth surface, they offer both comfort and luxurious appeals in one go.
Pallet wood which is reused as outdoor furniture gives a natural rustic impression and does not cost a lot of money. Here, you just need to cover the wooden pallet bench with throw cushions and soft, comfortable and of course provide a warm feeling. Colorful throw pillows are an important accent that makes you feel more comfortable when you are outside this room. Cover the wine barrel table with a glass surface to place the coffee glass more safely and not easily tumble. DIY coffee pallet bench with wine barrel table from homebnc.
This rattan wicker chair equipped with a wooden pallet coffee table looks vintage while simultaneously presenting a rustic style. You can use a patterned throw pillow to cover your chair to make it more soft. The expanse of grass and greenery around it becomes a fresh view and decoration and makes your body feel more relaxed. Rattan woven chairs with wooden pallet coffee table from homebnc.
Of course, there are other exciting Pottery Barn outdoor décor ideas you can get from the brand. But regardless, these exquisite Pottery Barn décors are perfect for maximizing the outdoor excitement around your house.
(Visited 69 times, 1 visits today)
Tags:
Pottery barn outdoor decor
Last modified: May 28, 2021