The rule of thumb for a minimalist living room is to maintain a simple, clean, and tidy interior. Here are five decorating tips you'll need to know when transforming your living room into a modern and minimalist space for your comfort.
1. Paint your walls plain white
White is a neutral background color you can work on easily in your minimalist living room. Having white walls allow you to add a touch of accents in any colors. You can pretty much have wall art, furniture, a curtain, or any other décor in any other colors—soft, bright, bold, dark, and so on.
More importantly, white walls help stimulate calmness and relaxing effect; you'd surely treasure for soothing comfort.
The white paint applied to the living room decor wall looks clean and makes the room look wider. For a more colorful look, you can choose other colored furniture such as leather sofas and green carpets which have warmer and thicker materials. This coffee table made of wood can be repainted with dark colors for a blend of colors that can blend perfectly. Do not forget to install transparent glass windows to enter more sunlight into the room. Paint white walls with other colored furniture from housebeautiful.
Don't let your living room decor look plain and boring, you can use the shades of a white room with red chairs that give the room a bolder vibe. The combination of white with red will work well together in one living room. Wooden floor with light brown color and some galvanized pots filled with greenery is the perfect combination that you can try right now. White nuances living room with red chairs from housebeautiful.
To give another color to your white living room decor, the use of a pink carpet that covers the wooden floor is the right idea that you can try. This rug will look more contrasting when surrounded by indoor plants around it, for the color of the sofa you can use a color that matches the wall paint color to make it more appropriate. Contrast the color of the pink carpet with green plants from housebeautiful.
When choosing white as the wall paint color in the living room, then you can use bold colored furniture such as green. These two colors will work well together in one room, the fireplace next to the sofa is a warm accent that can be used when the weather in the room starts to feel cold. The large glass windows let a lot of sunlight into the room. Bold color sofa in white living room decor from housebeautiful.
Black with white is a color combination that presents a monochromatic feel that combines a modern and minimalist style. The walls with white paint are complemented by carved accents that give a vintage vibe that is not excessive, then this faux fur chair with a dark color is complemented by a matching wooden floor so that it can be a more contrasting mix but still attracts attention. Black and white living room decoration from housebeautiful.
2. Keep a large empty wall space
Always keep one wall with a large empty space. Well, not completely empty for sure! Just keep the décor minimum.
Hang medium-sized wall art, decorate with your collection or perhaps maintain some low-maintenance indoor plants. Minimalistic wall space is key to the minimalist living room, too.
Maximize the appearance of your white walls with the use of abstract canvas paintings that have a mix of neutral colors, namely black, white with a little splash of blue. Hang this painting right above the sofa as an artistic sight that is not easily boring and can blend perfectly when placed close to green plants that are quite large. The combination of black, white and blue splashes of abstract painting from housebeautiful.
This minimalist living room decoration with white walls will look more beautiful and beautiful when using several abstract painting frames with a combination of blue and white, then you can use gold frames to show a little touch of luxury that is not excessive. Hang this abstract painting frame vertically with a distance that is not too far away. Abstract painting frames arranged vertically from housebeautiful.
Decorate your white walls with abstract paintings that have the same color as the walls for an unobtrusive look. Choose this black and white painting with a size that is not too large to leave a wider wall area. This painting makes your living room decoration more artistic, another decoration that you can place in this living room is dry twigs placed in a galvanized vase or rather on a round wooden coffee table. Black and white abstract painting from housebeautiful.
Blue and white are a color combination that is suitable for decorating your minimalist living room. Apply blue color to your walls while white color to your interior such as a small round table, globe chandelier and a nature painting with a square shape. Hang this painting near the tufted sofa with a distance that is not too far away as a beautiful sight and not easily boring. No need to hang other paintings for a minimalist look. Square nature painting from housebeautiful.
3. Focus on a piece of dramatic furniture
In your minimalist living room, it is great to have a uniquely designed furniture as the focal point. Get an artistic piece of the sofa or hang a suspended, rattan chair at one corner, simple throw pillows with striking, cultural motives, or perhaps a high-fashioned chandelier. You choose!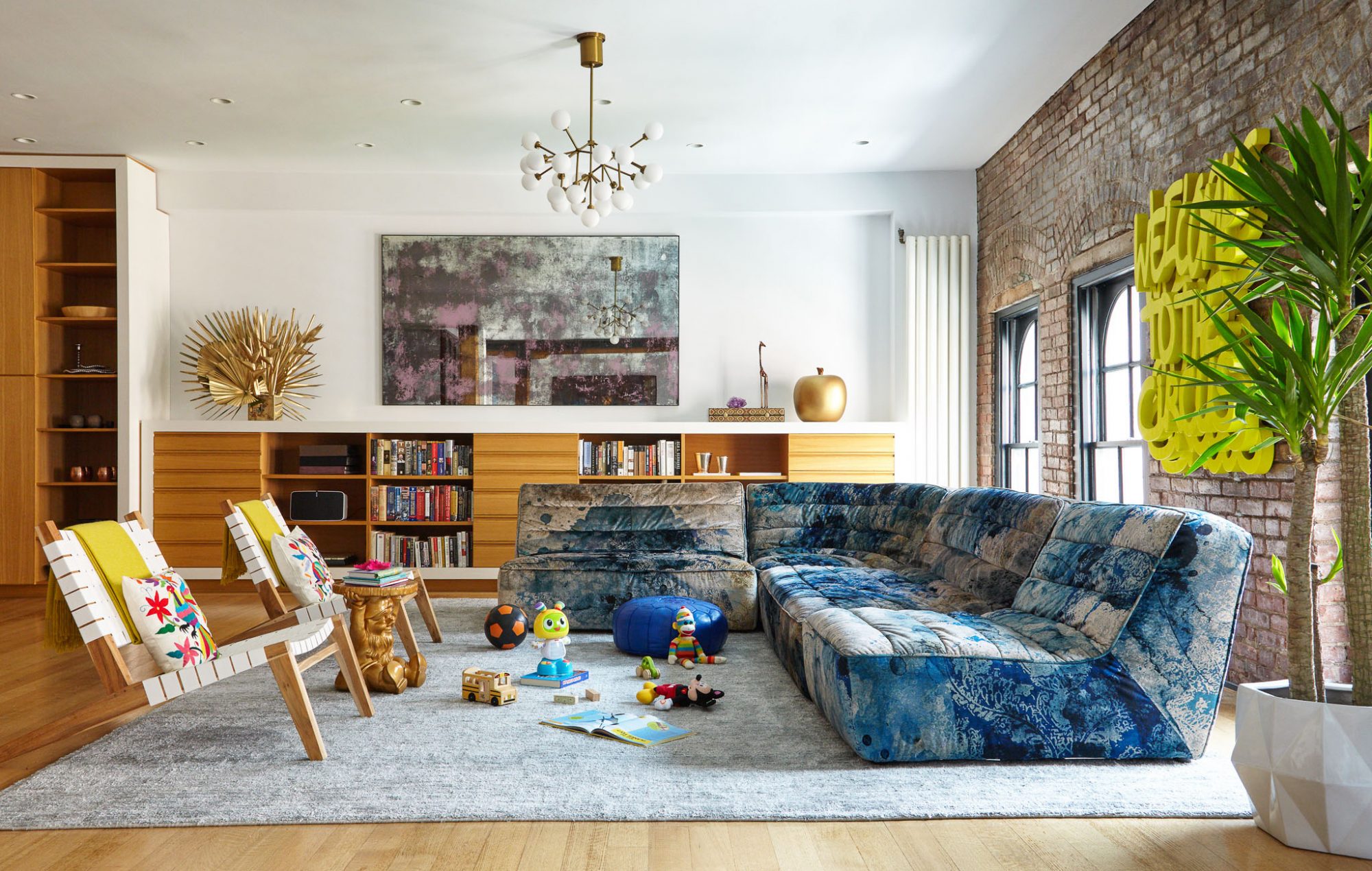 This cultural patterned sofa has a combination of blue with beige so that it looks more able to blend perfectly when combined with a yellow splash chair. To unite these two contrasting colors, you can use paint and a white ceiling. Put all the sofas and chairs on the vintage carpet for a more elegant look and of course a warmer foot surface when stepped on. Cultural sofa with a combination of blue and beige from realsimple.
To enhance the appearance of a minimalist living room decoration, you can use a rattan chair with a unique and funny backrest. Don't forget to cover this chair with a white throw pillow as a comfortable sitting area to use throughout the day. This velvet sofa with feminine colors will look more beautiful and contrast when combined with a round gold table that is not too big. Wallpaper and carpet with different patterns and colors make the living room decoration more lively and colorful. Rattan chair with pink velvet sofa from realsimple.
4. Give impact with bold or dark colors
Whether you have or you don't have dramatic furniture to focus on, you can always incorporate bold or dark colors in details or furniture, such as curtains, sofa, carpet, or even your gigantic piece of the wall art installation. This gives an extra 'umph' to your whole minimalist living room.
Several bright colors that are applied in this living room make it look more colorful and bright. Green, pink, yellow and orange become a combination of wall paint colors that will appear more optimal to perfect your minimalist living room decor. Next, you can choose a sofa with a bold color and a stripe carpet that has a combination of black and white. All the colors in this room would work better. Colorful minimalist living room from thespruce.
This minimalist white living room will appear more colorful when equipped with a dark blue sofa equipped with colorful throw pillows with a combination of several different colors ranging from dark colors to bright colors. A coffee table with hairpin legs will be more sturdy in use for a long time, especially if the top surface is made of glass and wood, the maintenance that must be done is also lower. Blue sofa with colorful throw pillows from thespruce.
5. Add fancy wood textures for a modernized look
You may think that wood textures lead towards a more rustic feel instead of modern. However, it's not totally true. With the right furniture design and finishing, as well as selective placement inside the room, wood and wood-textured furniture or interior components can deliver a contemporary vibe into a minimalist living room.
If you use a minimalist-style living room but still want to use wooden furniture, then apply it to the use of chairs and dressers. You will need to re-polish it for a shinier look when exposed to sunlight or a chandelier. Cover this wooden chair with soft linen pillows in white to make it easier to match with other interiors around it. Green plants become fresh decorations that can be placed in the corner of the room. Re-polish wooden furniture from extraspace.
This hanging chair made of rattan wood is one of the natural furniture in this minimalist living room. Use a coffee table made of marble with wooden legs as the perfect combination. The wooden furniture in this room can be painted or re-polished for a more luxurious and shiny appearance. Leather sofa has a smoother surface and is not easily torn when used for a long time. Shiny rattan hanging chair from extraspace.
With those five decorating tips, you shall now begin exploring and planning for your modern and minimalist living room design. Give your creativity a shot and dare to be bold at some furniture and décor selections.
(Visited 148 times, 1 visits today)
Tags:
minimalist living room
Last modified: May 19, 2022