As the winter will soon end and the spring is saying hello, it is a great time to decorate your home for intimate quality time and enjoy the warmer weather. If there's a place in a house you wish to renovate the most to welcome the primrose, that space would be the living room. For a cozier room, enjoy the five dazzling living room decorating tips below.
1. Extra-Deep Sofa and Throw Pillows
Whether you enjoy snuggling with family, embracing on pages, or having an impromptu visit from friends, super comfy sofa and some throw pillows on it will make anyone wish to drown in the cushy seat. Narrow sofas won't do the trick so skip that one.
This white sofa cushion has a softer surface when used as a sitting area, with this sofa you will feel more comfortable and want to linger in the living room decoration. Layer this sofa with some colorful pillows for a more cheerful look and of course give the room a more vibrant feel, this rattan woven carpet that covers the floor becomes a comfortable footwear. Soft sofa cushion with colorful pillow from ballarddesigns.
You can use the sofa and chairs in the living room as a comfortable sitting area, choose and use this sitting area with matching materials and of course soft. The combination of white and blue is the perfect combination that can make the room feel fresher and brighter, indoor green plants also provide a contrasting color that you can place in the corner of the room so as not to interfere with your space. Combination of white sofa with blue chair from ballarddesigns.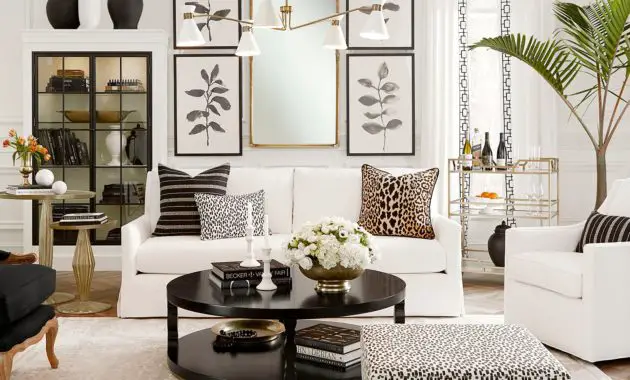 This white sofa with several pillows and a leopard-patterned stool gives the impression of a room color that attracts more attention. Coupled with some wall paintings and mirrors which are a sweet finishing touch. The tropical tree beside the chair is the perfect combination that you can apply as easily and as best as you can. White sofa with leopard pattern pillows from ballarddesigns.
2. Multiply Seating
Will one deep sofa do? Absolutely not. You don't want anyone to sit on the floor for the lack of seating, do you? Provide additional seating to accompany you cushy chesterfield. From bean bag, pouf ottoman, recliner chair, to accent chair.
This tufted sofa which is placed opposite each other is the right choice of furniture to perfect your living room decoration to the fullest. You can choose a sofa material made of velvet with a mustard color which will be suitable when combined with other interiors around it with dark colors. Velvet sofa has a smoother and more comfortable surface of course. Velvet tufted sofa from elledecor.
If you have a larger family, then you can use two sofas equipped with chairs and a striped rug layer that has a splash of blue with white. These two colors will work well to present a more elegant and bright living room decor. The green plants placed on the table provide a different contrasting color but still look fresh. Blue sofa with white chairs from elledecor.
To complete the decor of your living room, then use two white sofas made of linen. More sofas are placed in this living room, then you can also accommodate more of your friends or family who come to the house. White is one of the favorite colors that is very easy to combine with other interiors around it, don't forget to use the wall area to hang paintings that are large enough to give an artistic vibe in the room. White linen sofa from elledecor.
3. Wood to Melt Your Heart
It is widely known that the wood element in your room could create a warm and appealing vibe. Even contemporary and farmhouse home décor emphasize the use of these natural pieces. Start with oak flooring. If that cost you a major revamp, place wood table or bookshelves.
Wood material is applied to several furniture such as coffee tables, side tables and rattan wicker chairs which are relaxing because they are equipped with backrests and armchairs that are comfortable to use all day A reclaimed wood coffee table is one of the furniture that presents a vintage impression that is not excessive, you can coat the plywood floor with a not too bright colored carpet. Reclaimed wood coffee table from countryliving.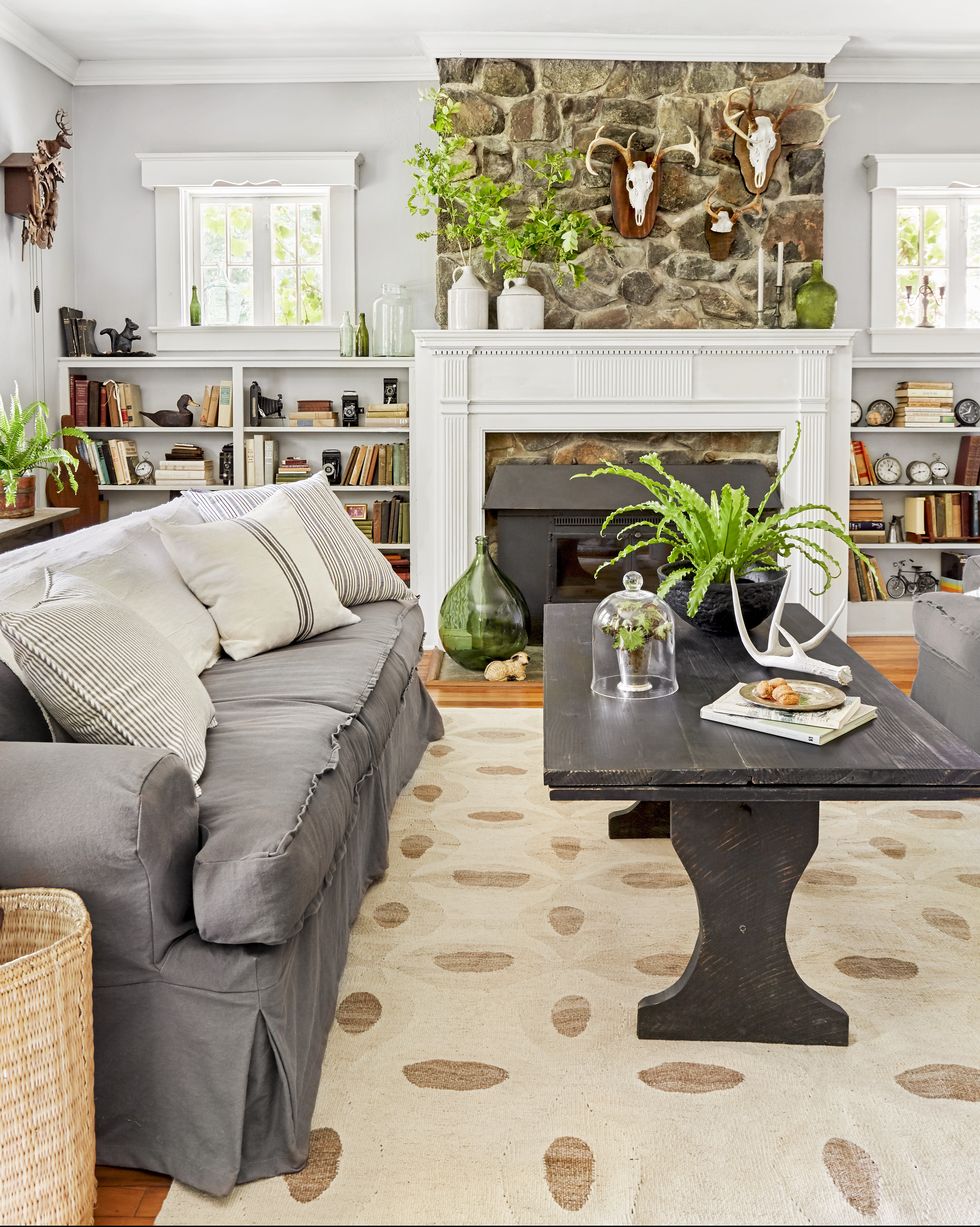 The coffee table is one of the must-have furniture for placing drinks or some room decorations such as green plants and glass terrariums. Repaint this coffee table with a dark color like black to make it easier to combine with other interiors around it. Gray sofa and beige rug are the right combination that you can try as well as possible. Repainted wooden coffee table from countryliving.
To perfect the decoration of your farmhouse living room, the application of white shades with some wooden interiors is a highly recommended design idea. This wood material can be applied to coffee tables and bookshelves next to a transparent glass window. This coffee table is equipped with spindle legs making it easier for you to get a vintage room vibe. Wooden bookshelf and spindle leg coffee table from countryliving.
4. Plants Are Green
A houseplant is one great idea when it comes to living room decorating tips. They can elevate a refreshing and more natural mood to your family space. Besides eye-pleasing, living greeneries inside your cuddling room can help you purify the air.
Not only one type of green plant that you can apply to your living room decoration, the combination of a banana tree with a rubber plant that is applied in a white pot is the perfect combination that you can try easily and of course on a budget. You can get this green plant around your home garden without buying it, isn't it now that your living room looks more attractive and fresh. Combination of rubber trees with banana trees from apartmenttherapy.
The more green plants that are placed in the decoration of your living room, the atmosphere in the room will also be fresher and not make the room easily damp. When you have indoor green plants, balance it with a transparent glass window to be able to enter more sunlight into the room maximally and freely. Assorted indoor greenery from apartmenttherapy.
To perfect your current living room decor, then try applying green plants on the table and on the floor area. These two green plants will work well together to decorate the living room to the fullest. Colorful wall paintings are perfect as well as a sweet finishing touch and make the room look more artistic. Indoor green plants with colorful wall paintings from apartmenttherapy.
5. Floor-to-Ceiling Bookshelves
There's something relaxing about piling books and their colorful covers occupying the room. For that reason, never hesitate to build a mini library inside your living room. Opt for built-in wooden racks and color them white or beige to bring out the warmth.
The living room decoration will be more different and unique when it is equipped with a large and wide bookcase. This built in wooden bookshelf can be applied in the corner of the room with a neat and orderly arrangement of books. With this bookshelf, you can find books more easily when needed in a fast time. Corner bookshelf from elledecor.
Take advantage of your entire wall area with floor to ceiling bookshelves made of melamine wood so that it gives a more modern and contemporary impression. When you choose a shelf with white color, then for your furniture ideas you can use dark colors like black, these two colors will work optimally and present a monochromatic style instantly. Built in floor to ceiling bookshelves from elledecor.
Walls will serve even better when used as a towering bookcase idea. This bookshelf consists of several shelves that are arranged vertically, you can repaint them with colors that match the nuances of your living room. Beige is one of the neutral colors that is easier to mix with any color around it. Vertical built in bookshelf from elledecor.
Aiming for a cozy place is rather tricky because you don't want to make it look lousy but stunningly snuggly. From an extra-deep sofa to the floor-to-ceiling library, those living room decorating tips will cover it up for you.
(Visited 112 times, 1 visits today)
Tags:
Living room decorating tips
Last modified: May 25, 2022