The glass door is the best one for your summer home. It will let you get the sunlight so that your home can be warmer and bright, of course. Especially when you have your living room with this kind of door, you can really enjoy your time there while enjoying the season. Well, of course, you should have the living room that is near the outdoor side that could be the yard or the pool if you have it. Anyway, a glass door won't be only a glass door because you can make it aesthetic also. In this case, you can manage to have the frame for the glass door to create a certain decoration impression. It is awesome how simply a frame can create such a style. Check out the frame design references below for detailed ideas.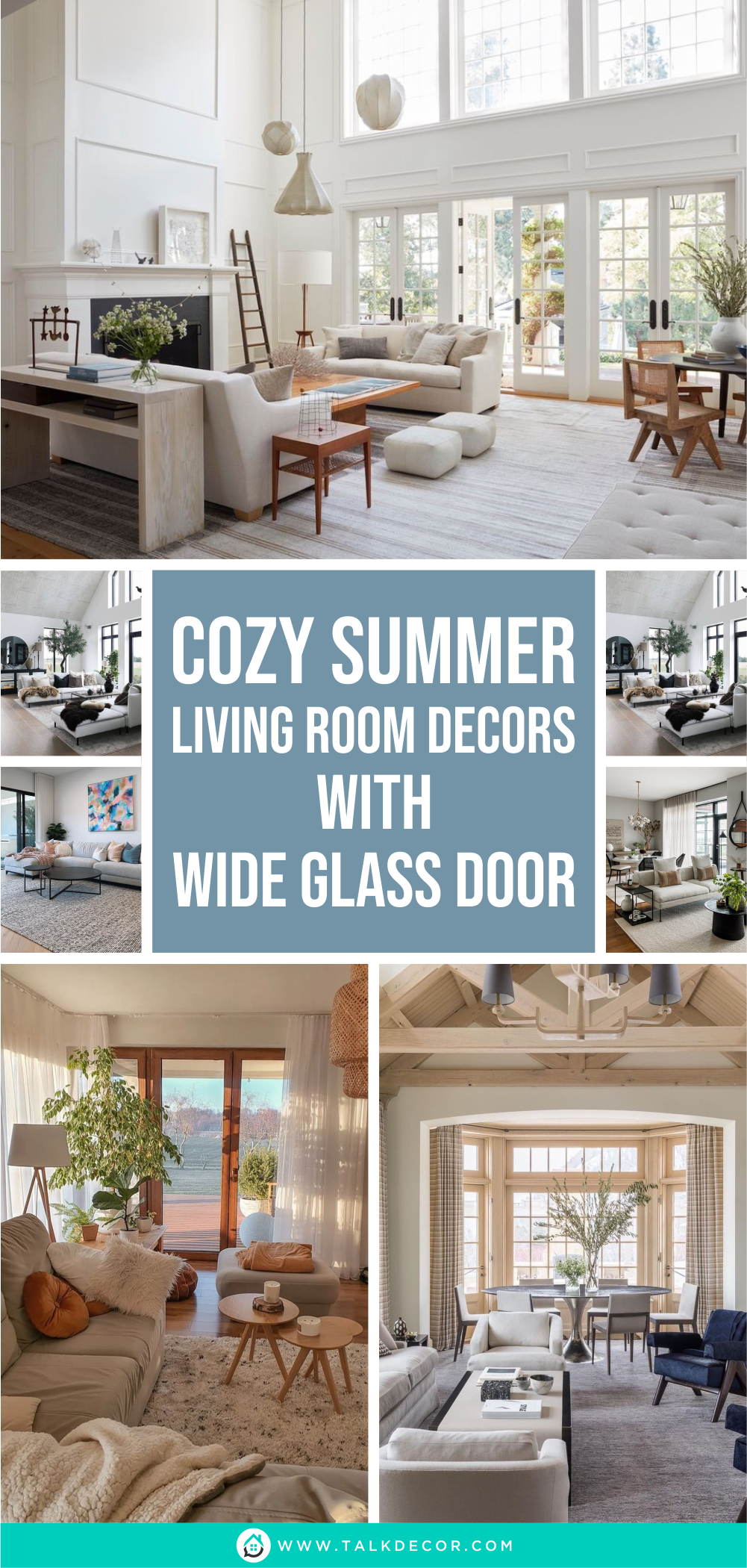 Modern Living Room with Glass Door
Look at the modern style of the summer living room which is perfected with transparent glass doors and windows, doesn't it look bright? Yes, this decoration will be a room idea that many people like. Another advantage that can be obtained from the use of this glass door is that it makes the room feel more open and of course no longer requires lights during the day. Combine these glass doors and windows with a black metal frame to make it easier to match the interior. Also emphasize the summer theme in this room by hanging a colorful canvas painting and a green plant that can be placed in the corner of the room.
Apply Bright Touch Glass Door
Adjust the use of the color tone of the glass door frame that is used in a room decoration with the interior around it. When this living room is equipped with furniture that is dominated by white, then the glass door frame can also use a similar color. Think about using white curtains too. A touch of white never fails and goes well when perfected with any colored indoor plant placed in different areas. In addition, white shades also make the room feel brighter, open and very suitable for those of you who have home decorations with limited space.
Glass Doors as Lighting
Make the glass door in your home decor the main lighting in the room during the day. Not only glass doors, but you can also use windows with the same material. With this, the decoration of the living room and dining room will look brighter. Close some of the glass windows using thin curtains to minimize excessive sunlight and disturb your comfort. The entry of sunlight into the room also makes this wood furniture more sturdy and not easily porous when used for a long period of time. Apply greenery in several different areas as a decoration that gives a natural impression.
Floor to Ceiling Glass Door
Not only windows that are large and high, but you can also use floor to ceiling glass doors with transparent materials so that they can be seen from inside or outside the room. Choose and use glass material that has a thicker surface so that it is not easily broken when used for a long period of time. Also add white curtains with a thin material to cover the window surface at night. This glass door with a thin black iron frame is suitable for use in a modern or contemporary style room decoration. Furthermore, the interior which is dominated by white is a neutral combination that you can try.
Glass Door with Wooden Beams Frame
Summer is the perfect time for you to put more sunlight into the room. Instead of using walls with glass doors that are quite large and wide. Use a glass door design according to the theme of your living room. Wooden beams used as the main material of this door frame bring a natural and environmentally friendly feel to the room. There is no need to repaint the glass door frame to save costs and it is suitable when combined with the wooden ceiling and the white nuances that dominate this living room. The living room dining room combo makes this home decor more open and spacious.
Monochromatic Style Glass Door
The monochromatic style can be applied to any home decor. For now, you can try it in the glass door decoration section in your living room decoration. The first thing you can do is repaint the door frame with a black matte color that looks shiny when exposed to reflected sunlight or light. Not only glass doors, but you can also use glass windows that have the same size as the door so that it looks neater and more elegant. With this, the living room decoration will look bright throughout the day, sunlight entering the room also minimizes the room feeling damp and smelly.
White Themed Glass Door
White is one of the favorite colors that is suitable for use as home decoration. Why is it a favorite color? Because it makes it easier for you to combine it with other interiors around it. For now you can try to apply it to the summer living room which will be a comfortable room to use to relax with your family. Just apply this color to the door frame as well as the glass window so that it has color harmony with the wall paint and some furniture such as sofas, ottomans and rugs. The blooming flowers and green plants applied to the ceramic jug are additional natural decorations that you can get in the backyard garden.
Wide Style Glass Door Design
Look at the transparent glass door that is applied to your living room decoration. Wouldn't it be of good use? Yes, you can use it to see the beautiful outdoor scenery. With this, you can relax with a calming view of the scenery. Decorate this room with several types of tropical green plants to make it feel fresher and seem natural. Then you can use a sofa with a bold color like blue so that it will look in contrast to the green color of the plants. This color tone is perfect when used for a summer-style room theme.
Glass Door with High Curtain Ideas
Combine glass doors with linen curtains to minimize excessive sunlight entering the room. Just choose a curtain with a bright color so that it can be combined with plain white wall paint. The main benefit of this glass door is as a healthier and fresher air circulation so that it makes the room feel more comfortable. You can put a large tree next to this entrance as a decoration and of course it can also be used as a welcome for guests who come to the house. Open these linen curtains in the early morning for a living room decor that is brighter, open and gives the room a warmer feel.
Farmhouse Wooden Frame Glass Door
This door with unified glass window is the right room decoration idea to maximize the summer theme this year. The main purpose of using glass doors is to give the impression of a wider, clean, elegant and bright room. In order to keep these glass doors and windows looking clean, do regular maintenance by wiping them using a soft cloth and glass cleaning fluid that you can get at the nearest store. Place a green plant right next to this glass door so that it gets enough sunlight and can still thrive even though you are indoors. It's not enough to get here, you should also use a glass material that is thick enough and has an anti-oxidation layer.
(Visited 120 times, 1 visits today)
Tags:
glass door
,
living room
Last modified: June 30, 2022