An essential part of a house, windows contribute a lot in providing aesthetic touches, decent ventilation, and good energy saving.
There are a lot of windows types and placements that you can choose from. However, before choosing what kind of window and where to put it, the very first thing you need to note is whether it can provide good natural lighting or not. You wouldn't want your house to feel gloomy under a summer sun, right?
To help you, here are the best proper window for proper natural lighting selections.
1. Ceiling to Floor Window
Like what's previously mentioned, you either go big or go home, and this ceiling to floor window proves to be the former. Aside from providing a bold home signature, this variation is also arguably the best proper window for proper natural lighting.
For those of you who want natural and maximum lighting in a living room decoration, it would be nice if you install transparent glass windows from floor to ceiling. A window-mounted on one side of the wall is sufficient to illuminate the entire room evenly. Add greenery to add a natural freshness to any time in the house. Transparent glass floor to ceiling window from architecturaldigest.
Use glass windows from floor to ceiling as a source of sunlight that can enter the room freely. You can combine this glass window with a wooden frame for a more elegant look. Attach it to several sides of the room that face directly into your garden page to get the natural green look of the plants you have outdoors. A bold look like this is perfect for those of you who want to save electrical energy. High glass window with wood frame from architecturaldigest.
2. Glass Panel Entry Door
A warm way to welcome sunshine and your guests, this glass panel entry door is a unique variation from your usual door. Worried about your privacy? Rest assured, opt for tinted or etched glass and enjoy the abundant sunshine without exposing your interior.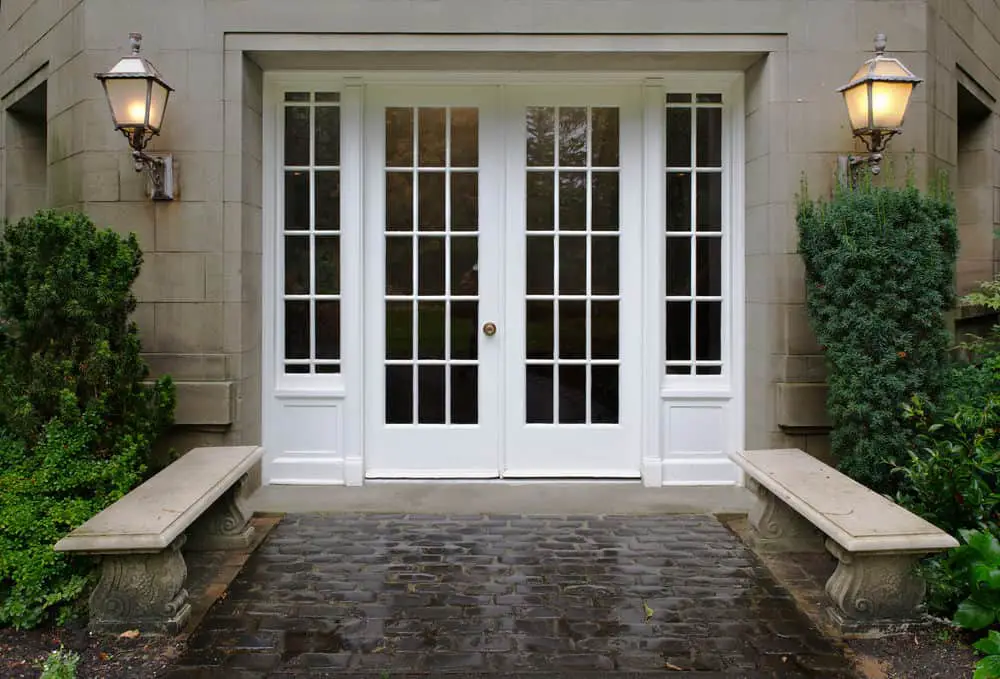 Warmly welcome guests or anyone who visits your home with a large glass panel entry door. This style of door is very unique and classic but will not go out of style. It's not enough to stop here, the glass panel entry door with a white frame also presents a French style that looks cleaner and brighter. Use the black glass on the panel to be able to regulate the incoming light is not excessive. French glass panel entry door from homestratosphere.
You can also combine glass panel doors with open brick walls to maximize the classic look. An open brick wall coated with white paint will be very harmonious if you apply a gray color to the door. Glass panel doors will allow light to enter the house so you can save energy. Choose and use arched glass panel doors as a look and shape that is more different from the others. Arched shape glass panel door from homestratosphere.
3. French Door Window
While it's considered as a door, a French door is a stylish and convenient alternative to spruce up your house and getting the warm rays of the sun at the same time. You can put a French door between rooms to ensure that every room gets its fair share of sunlight.
Present a different atmosphere so that the room in your house always gets natural lighting from direct sunlight, the easy way is to use a French door window. Don't forget to coat this French door window with vintage curtains that have the same color as the wooden frame used. The windows directly facing the green lawn will always refresh your eyesight. French door window lined with vintage curtains from shelterness.
Apply French door windows in your bedroom, this door window also uses glass panels as a distinctive style so you can enjoy the beautiful outdoor view. You can add curtains with bold patterns and colors for a more beautiful appearance while minimizing excessive sunlight. French door window with bold pattern curtain from shelterness.
4. Windows Instead of Walls
If you're aiming for a more extreme option to enhance natural lighting, why not try to replace an entire corner with windows? A proper window for proper natural lighting variation, install it in the dining room, kitchen, or any other space that needs more lighting.
Take one right step to save energy, namely by using high glass windows that also function as walls. The natural light that enters through the window will spread throughout the room to the maximum so there is no need to turn on the lights during the day. Colorful furniture will look more cheerful if it gets enough lighting, besides that, natural lighting also minimizes the occurrence of a humid and stuffy room. High glass window from elledecor.
Not only will it look brighter, the use of windows as walls will also make the room feel spacious and open. Especially if it is supported by an all-white room paint, the wider effect will be maximized. Dispel excess light by using blinds with a striped pattern that looks elegant and not boring, these curtains are very easy to open or close so you can easily adjust the incoming light according to the needs of the room. Large glass windows with curtains blinds from elledecor.
5. Rooftop Window
Another clever and practical way to soak your house in sunlight, rooftop windows are often found in attic bedrooms. It's one of the best proper windows for proper natural lighting ideas, and if positioned carefully, you can avoid most of the sun flares.
This roof glass window with geometric shapes is suitable if applied in living room decorations to give the impression of a different room. To perfect this roof window, you can install several painting frames with different themes as artistic room decorations and of course, take advantage of the empty and boring wall area. Geometric roof window from home-designing.
Position the skylight in the attic bedroom just where the sun will rise. That way the sunlight will greet you warmly every morning and give you the enthusiasm to start your daily activities. The roof window is perfect for decorating the attic bedroom with a modern and minimalist style. The easy and efficient way of application makes it a choice for room decoration this year. The roof window in the attic bedroom from home-designing.
Forget the times where windows are small and secluded. Now, there is a range of proper windows for proper natural lighting variations that you can get creative around.
(Visited 60 times, 1 visits today)
Tags:
Window ideas
Last modified: May 31, 2022