Brown is a great neutral color for a living room, boasting warmth and depth. A brown living room is also the perfect canvas for infusing different colors without clashing them. There are many colors that match nicely with brown, but some colors look better than the others when combined with this neutral shade.
Here are several recommended colors to pair with brown in your living room.
1. Yellow
Yellow can look too bright when used as the main color in the living room. Brown provides a neutral balance and reduces the excessive brightness of yellow. You can use yellow shades as accent colors, such as for sofa pillows and elements of wall ornaments.
Decorating the living room with shades of brown looks simple and elegant. Adding yellow curtains and pillows will make your decor look stunning. This yellow nuance gives a fresh room and attracts the attention of many people. This large mirror with a gold frame gives the room an elegant and luxurious look. Yellow curtains and pillows from housebeautiful.
Choosing to use yellow pillows is the perfect idea to complement your brown living room. So the brown provides a neutral balance and reduces the excessive brightness of the yellow. This large brown and yellow wall decor is also the perfect focal point for the living room. Yellow pillows from decorpad.
2. Purple
Combining brown and purple creates a dramatic look, perfect for a more mature design. Dark brown and plum create a moody yet elegant look. You can intercept these colors with light grey and off white to balance the dark moodiness without reducing the effect.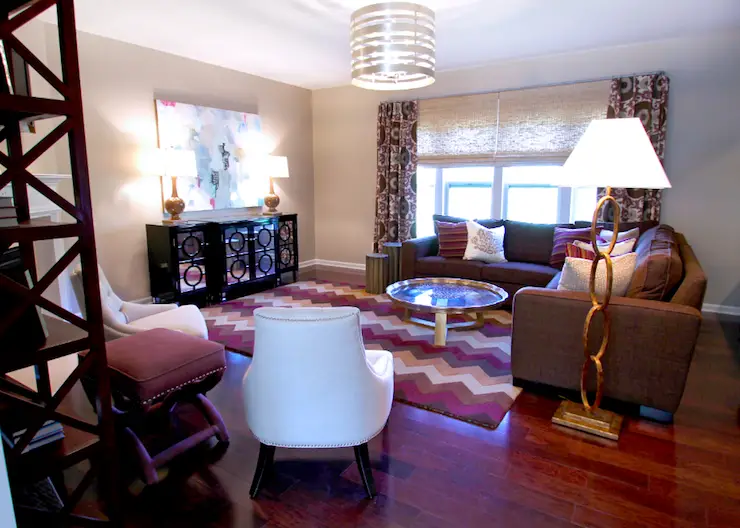 Combining brown with purple will create a dramatic look in your living room making it look very attractive. You can add purple accents to this tribal pattern rug and ottoman chair. The beige color scheme and brown sofa also add a relaxed and comfortable vibe to your living room. This dark wood floor brings a warm look to the room and gives a natural feel to the room. Brown with purple living room from decorpad.
Try using brown and purple to design your living room. So that it will present a dramatic display that can attract the attention of everyone who sees it. The brown wall color scheme blends nicely with vintage chairs and purple cushions to give the room a stunning look and grab the attention of many. This antique mirror with gold frame and crystal sconce lamp adds an elegant and luxurious look to the room. Purple pillow brown living room from homedesignlover.
3. Blush
Blush is a muted pink that exudes elegant femininity. This color looks great when paired with dark and light brown shades. The beautiful, feminine look is balanced with the more grounded brown. You can use the pink as an accent color, such as on the lampshade, rug, sofa pillows, and curtains. For a more festive décor, add a vase with pink cut flowers in your brown living room.
Adding a blush accent to your brown room is an idea that never fails. You can add a cushion blush so that it will give a feminine look. Applying pink color to the decoration of walls, pillows and armchairs is a brilliant idea for you to try. This brown wall scheme and jute rug add extra warmth to your space. Blush pillow on brown living room from article.
Decorating the living room with blush colored walls looks simple but gives a feminine and beautiful look. You can use a brown sofa to make it look elegant. Combined nicely with wooden floors and brown ceilings will bring extra serenity into your living room. Blush wall on brown living room from archzine.
4. Blue
Blue is a cool color, while brown is warm to neutral, and they look perfect together. You can use brown as the canvas to incorporate various shades of blue. Pairing turquoise, sky, and Navy blue in a brown living room creates a distinctive but still humble look.
Choosing to use blue pillows in your brown living room will bring a fresh feel that is simple but still stunning. Combined with this soft brown sofa, it will give an interesting look for you to try. Don't forget to add a glass coffee table for a sleek and inviting look. Brown living room decor from digsdigs.
Bringing blue accents in a brown living room will give a calming yet humble look. Applying this Moroccan patterned rug and patterned pillows become the focal point of the room while also bringing a comfortable feel to the room. You can also add a white sofa complete with a leather ottoman coffee table which will give a trendy look to the room. Blue Moroccan patterned rug from digsdigs.
5. Orange
Warm hues like orange are the perfect companions for brown. Pairing orange with brown invokes fall season, especially if you add other warm colors like red and yellow. Orange flowers, wall ornaments, and throw pillows will make your brown room look lively.
Adding an orange accent to the brown living room decor will give it a pleasing feel to the eye. You can use an orange pillow as an accent to make it look simple but still perfect. The touch of this creamy soft sofa adds to the appearance of a warm and comfortable room. Add a pot of green to give the room a fresh touch. Orange pillows from homestratosphere.
If you have a brown living room, try adding orange accents there. So you can bring a stunning autumn feel. This patterned orange pillow gives a charming look and makes the perfect focal point of the room. This brown sofa also gives a comfortable impression and balances the appearance of your living room. Patterned orange pillow from decoist.
A brown living room exudes grounded stability, a perfect background for experimental colors. Insert one of these colors to create a more interesting look in the room.
(Visited 95 times, 1 visits today)
Tags:
Brown living room
,
Living room color ideas
Last modified: October 11, 2022