A sustainable home is a rising trend, but do you really know how to design an eco-friendly kitchen? You don't need to involve expensive materials and features; there are various solutions to create a green kitchen design without breaking the bank. Here are several useful tips to make your kitchen more sustainable.
1. Use Non-VOC Paint
When painting various surfaces in the kitchen, make sure to choose a non-VOC paint. Regular paint releases volatile organic chemicals (VOC) to the air when applied, which slowly erodes the air quality inside and outside your kitchen. Using non-VOC paint can reduce the pollution level.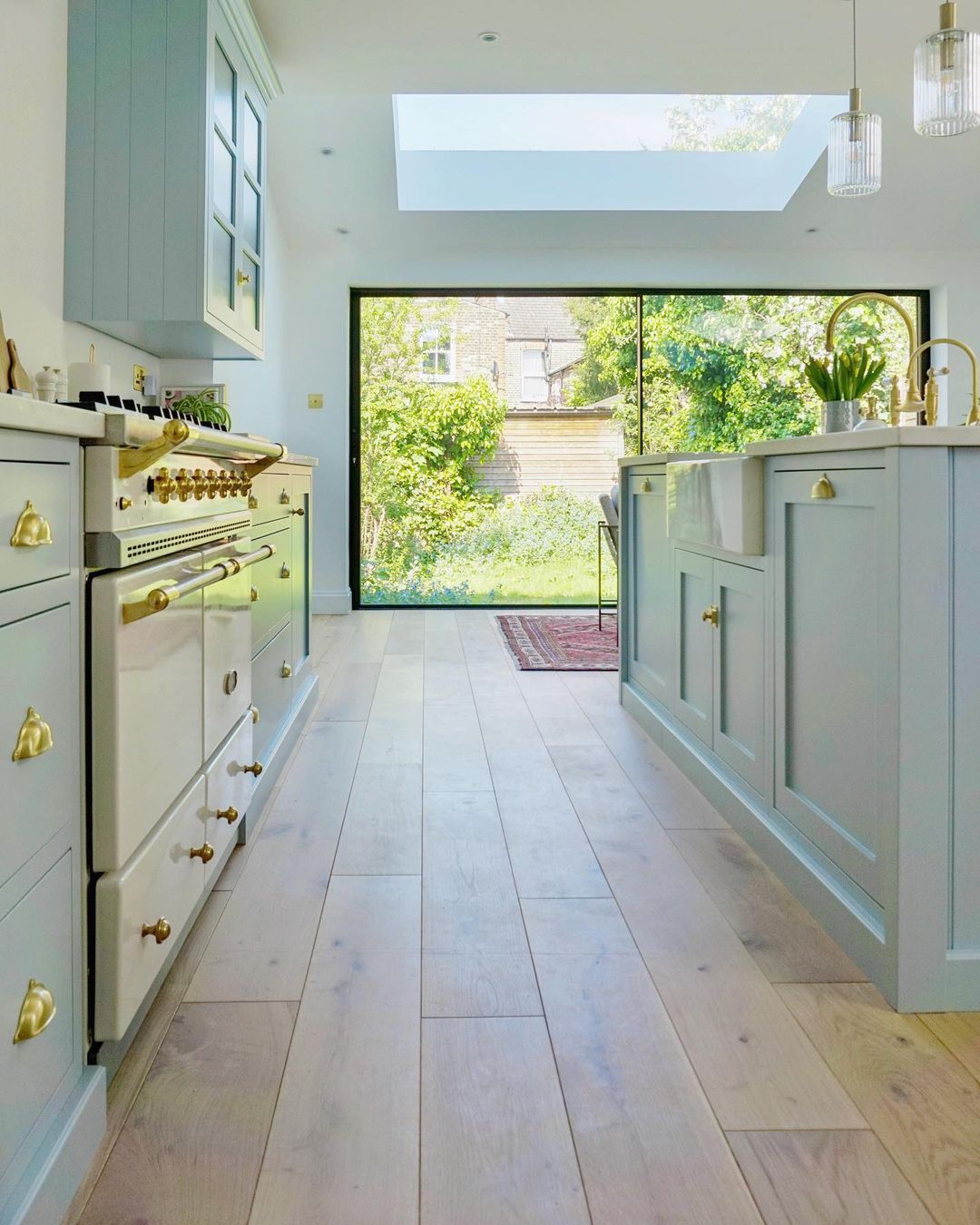 The first step you can try to create an environmentally friendly kitchen is to use non-VOC paint. Use non-VOC paint with light colors so that it can help lighting in your small kitchen so that it will seem wider. White is the right color for an eco-friendly kitchen, its light-reflecting nature will make your kitchen brighter without a chandelier during the day. Non VOC white paint from extraspace.
White non-VOC paint is still the best solution for your eco-friendly kitchen. The white color will never go out of style and is suitable for all rooms in your home because it can save electrical energy. This non-VOC white paint can reflect light optimally throughout the room evenly. Complete this kitchen decor with several interiors that have the same color as the paint used today. Non VOC paint and white interior from extraspace.
The combination of non-VOC white paint that is applied to some of the walls of this kitchen will look more colorful when you combine it with some interiors made of plywood. You can try this plywood material in the design of kitchen cabinets and standing cabinets that have a higher size, you can try it to make it look more striking. The combination of VOC white paint with plywood interior from extraspace.
2. Install Quartz as Countertop Material
Quartz is one of the most sustainable materials for a countertop. It lasts long, doesn't require any chemical sealants, and comes from quarries that present the least environmental impacts. Quartz is also easy to maintain, and you don't need special or harsh chemicals to clean it. Modern quartz comes in various colors and patterns, a perfect companion for any kitchen design.
To emphasize environmentally friendly kitchen decorations, you can use kitchen island quartz which has a pattern almost the same as marble. This quartz material can be combined with teak wood which looks sturdy and is not easily porous. Both materials used seem natural and of course have a very affordable price. You can try this furniture idea perfectly. Kitchen island quartz with marble pattern from thisoldhouse.
Quartz material that is used as the main ingredient of your countertop design is perfect for complementing your eco-friendly kitchen interior. This kitchen island countertop is dominated by white so that it is easier to combine with other colored interiors that are around it. Besides that, you can also enhance the appearance of this kitchen island with a pot filled with blooming white flowers. White color quartz countertop from hgtv.
Instead of using a countertop in your kitchen island design with chemicals that will frustrate your eco-friendly kitchen decor. Currently you can use quartz material with a smoother and softer surface, you can use a small mosaic pattern that is dominated by white. Several transparent glass vases filled with natural room aromatherapy become a double useful decoration. Quartz countertop with small mosaic pattern from extraspace.
3. Be Mindful of the Lighting Sources
Make sure you install a window that gives your kitchen the most of natural lighting. When installing lamps, choose products that use LED bulbs. These bulbs can last 25 percent longer than incandescent bulbs, with 20 percent less of energy spending.
LED bulb lighting which has a larger size can be hung in several different ceiling areas but still in one kitchen room to maximize lighting at night so it looks brighter and open. For example, if you hang it above the kitchen island and above the countertop cabinet, this LED bulb lighting is perfected with a transparent glass window that is long enough so that it can be used as lighting during the day. LED bulb lighting that is hung on the ceiling is different from extraspace.
The kitchen area must have maximum lighting to help your cooking activities during the day or night. You can use an LED bulb that is perfected with an iron hood with a round shape that looks shiny. This lampshade design provides a vintage style that is suitable when applied to modern eco-friendly kitchen decorations. Use these three bulbs simultaneously at night for a more optimal appearance of the room. Bulb lighting with shiny iron hood from extraspace.extraspace
White kitchen decorations will look more perfect when you combine them with LED bulbs that are quite large in size. You can hang this lamp right above a countertop or next to a glass window as an inexpensive and very appropriate lighting idea. Turn on this light when the atmosphere in the room was getting dark. Furthermore, the use of herringbone tile in this kitchen gives the impression of a more modern and clean room. LED bulb beside the glass window from extraspace.
4. Include Living Greeneries
Make your kitchen literally greener by adding living plants. Use recycled tins or other containers to plant herbs, such as sage, rosemary, and cilantro. Place the herbs near the window to create a cute living decoration. If there is an extra space, add a larger pot with the air-cleaning plant, such as a snake plant, aloe, or golden pathos.
Green plants are always a room decoration idea that is suitable to be applied anywhere, including in your eco-friendly kitchen decor. Use a box pot made of thick plastic so that it doesn't break easily when used for a long time, then you can put this pot box in the windowsill area so that your plants and herb plants get enough sunlight and can grow fertile and appropriate. with what is expected. Kitchen windowsill decoration with herb plant box from balconygardenweb.
Not only in the windowsill area, you can also use the wall area as an idea to hang plant herb boxes that look lush and more colorful. This plant will thrive when you do regular maintenance by watering it and giving it fertilizer without overdoing it. If your walls are already using white color, then for the pot box idea you can use black to make it look more contrasting. Herb plants from balconygardenweb.
In order for your eco-friendly kitchen decor to look bolder, you can use the sink area to put some herb plants in larger quantities. These indoor herb plants will grow well because they are equipped with large glass windows and of course are able to provide sufficient sunlight during the day. Also use several herb pots with different materials and sizes to make it look more diverse. Indoor herb plant decoration from balconygardenweb.
The wooden ladder rack that is used to hang some herb plant pots can be used as an environmentally friendly kitchen decoration that will produce fresher room air and seem natural. You can use several white ceramic pots with the same color and shape to make it look more harmonious and matched. This herb plant ladder ladder does not interfere with your space because it is placed right in the corner of the countertop. DIY wooden ladder rack from architecturaldigest.
5. Add Water-Saving Appliances
Invest in a good water filtration system to reduce the need for buying bottled water (or boiling water). You can install an aerator in the tap of the kitchen sink, which can reduce the amount of water spent when you turn it on.
To save costs and reduce the need to buy mineral water, you can easily use the aerator feature for your current daily drink. The aerator that is placed as a water filter provides a function to make it easier for you to get clean and healthy drinking water without cloudiness or the presence of bacteria that causes the water to no longer be healthy. Use an aerator that saves energy to keep your kitchen decor environmentally friendly. Energy-saving water aerator from lushome.
If you want to get tap water that is clean and not cloudy, then installing a filtering aerator in the faucet is the best option that you can try to decorate your eco-friendly kitchen. Match the selection of the aerator with the faucet that is used to make it appear more elegant and of course it is very suitable when combined with a white cabinet made of glossy melamine wood. Aerator and faucet pitch black from extraspace.
You can support your eco-friendly kitchen design with the right appliances. Choose electric appliances with the Energy Star label to make sure that they are energy-efficient.
(Visited 84 times, 1 visits today)
Tags:
Eco-friendly Kitchen Ideas
,
kitchen decoration
Last modified: October 11, 2022