Is your teenage daughter moving to her own bedroom? Or are you a teenage girl who's trying to find inspiration instead? Designing the bedroom for teenage girls can indeed spark some confusion, but only if you haven't known the tricks. Teens can still have their dream room with a little bit of adjustment and help of our ideas below—100% teen approved!
1. Geometric Space-Saver
Geometric patterns are widely universal, and teenage girls will love having some bold geometric-themed art walls or furniture in their bedroom. Try to go for a geometric bedroom with a dramatic accent wall, pendant lights, and a nightstand slash the dressing table.
This wooden shelf painted in white has a hexagon shape that seems unique and rarely owned by others. You can hang it on an empty wall area or more precisely above your bed, use this hexagon shelf to put some decorative ornaments that can be used as wall decorations that beautify teenage girls bedroom decorations to the maximum. Hexagon wooden shelf from thespruce.
Pink and gray are pastel color combinations that are suitable for use in decorating a teenage girl's bedroom that has a modern style. This room wall pattern has a geometric pattern so that it displays a more different and unique room, you can also use canvas paintings with a mix of matching colors and patterns as a sweet finishing touch, LED lights on the mirrors and walls are lighting ideas that you can try now. also. Pink and gray geometric canvas painting from thespruce.
Geometric patterns that are applied through canvas paintings and pillowcases become one of the focal points of teenage bedroom decorations that seem more modern and contemporary. You can also use several pastel colors in one room as a combination of bright colors that make your room more colorful and not easily boring. Some of the paintings placed on this wall area become artistic decorations that are suitable for minimalist bedroom decorations. Geometric canvas painting from idealhome.
2. Dressing Diva
Teenage girls are also at a stage where they're curious about self-beauty and want to experiment with their makeup. A makeup room décor, though, doesn't have to be like a backstage arena for a concert! Go simple with beautiful lighting and an oversized mirror, before lining up the tools and brushes.
Do you need a comfortable makeup area in the bedroom decor? If so, then you can use a set of diva dressings that are dominated by white. You can also apply lights in the mirror to maximize your makeup when the room starts to look dark, use white lights for brighter and maximum lighting. Mirror lighting in the white dressing diva area from thespruce.
A elegant dressing table that is equipped with several drawers underneath you can use as a closed storage idea. You can also complete this diva dressing decoration with an oval-shaped standing mirror that is able to check your appearance thoroughly. Place this dressing table right in front of the glass window so you can get maximum sunlight during the day, so you no longer need a table lamp. Use lights only at night. Dressing diva in front of the glass window from rachelparcell.
3. On the Record
Showcase your love for music through the music room décor that seamlessly incorporates framed record albums as the wall art. Posters of favorite artists can also apply to this!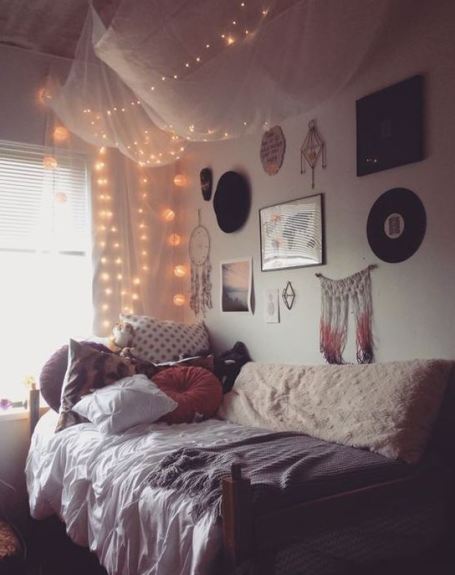 Wall decorations with subtle emphasis can be created by hanging a recording album of a size large enough, on the same wall you can also complete it with other wall decorations such as dreamcatchers, macramé and some framed paintings with a layout that is not too far away. White wall paint is the best choice to give a neutral impression so that it is easier to combine with any wall decor that will be applied. The combination of a record album and DIY wall decor from society19.
Print some photos of the artists you like in sufficient quantities to be used as polaroid photos that will fill and decorate the empty bedroom walls. You can use a rope and clamp when applying it to the wall so it doesn't fall off easily and requires you to redecorate it, this will waste your time in vain. The walls painted in pastel green make this polaroid photo appear bolder so it can be used as the focal point of the room. Polaroid favorite artist photo from idealhome.
Are you one of those people who like music? If so, then you can hang some recording albums with a size large enough to be used as wall art decorations that attract attention. Hang this record album just above the headboard with sufficient distance. Some of the patterns in this bedroom add color to the room which makes it look more colorful and fun. Recording album wall decoration above the headboard from deavita.
4. Embrace Minimalism
Sometimes, teens also don't want to have too much stuff standing in front of their way. Designed to keep the décor simple, a minimalist bedroom redefines "less is more" concept, and teenage girls can start their day without hassle and difficulties.
Avoid using excessive furniture with large sizes in order to keep creating a minimalist and modern bedroom decor. Bed furniture, linen benches, iron chairs and tables as well as nightstands are a very appropriate interior mix and suit your needs when you are in the bedroom. Some interiors with pastel colors add beauty and make the room more sweet in color. Minimalist pastel furniture from idealhome.
If you want to get a free and wider floor area in this room, then you should use just enough furniture. Because too much furniture will cause the room to feel more cramped and uncomfortable, one bed and one slim nightstand is enough to be a minimalist teenage girl bedroom decoration furniture with limited space. Canvas painting is a wall art decoration that is worth trying. Combination bed with nightstand from idealhome.
To keep the decor of your teenage girl's bedroom minimalist, the use of furniture in a not too much amount is a smart idea that you can try right now. Standing ledders and cabinet nightstands are space-saving storage ideas that you can try right now. Several mirrors with different sizes and shapes can be used as wall decorations that are able to spread light or sunlight throughout the room evenly. Minimalist bedroom furniture from idealhome.
The combination of a study table, nightstand, chair and bed is a combination of minimalist bedroom furniture that you can apply today. Floral bedding which is dominated by white and blue is the best pattern that can also be made into a bold color for the room because it is covered with a pink blanket that is neatly applied on top. Don't forget to cover your white chair with faux fur fabric for a smoother and softer surface. Use only the main furniture from idealhome.
5. Bohemian Chic
Teens who claim themselves as hippies: a chic bohemian bedroom may be exactly what they need! Featuring sets of rich layers, the bedroom will result in a dreamy yet superbly serene room to show off.
This floral blanket placed right above the white bed can be used as the focal point of a fun room. In addition, this blanket can also be combined with indoor green plants and this geometric patterned rug into a combination of bohemian-style bedroom interior decorations that are not easily boring. You can use a shutter window to let more sunlight into the room so it looks brighter and brighter. Bold color floral blanket from society19.
This wooden floor covered with a colorful boho carpet is one of the most appropriate bohemian interiors. You can perfect the appearance of this carpet with colorful tapestry to add a fun color to the room. Bedding and faux fur carpet with white nuances are interior neutralizing rooms that you can try easily without having to spend a lot of money. Randomly placed greenery is the finishing touch that emphasizes the bohemian style. Bohemian pattern carpet and tapestry from society19.
When the walls of your bedroom look plain, then you can hang a tapestry cloth with a bohemian pattern to perfect the appearance of this room. This tapestry fabric can be used as a substitute for your headboard, the layer of faux fur fabric on the pillows and bedding becomes a comfortable and smooth surface that makes you feel more relaxed while resting in this bed. Hanging bohemian tapestry from society19.
We hope you can successfully decorate the bedroom for teenage girls with the tips above!
(Visited 69 times, 1 visits today)
Tags:
Bedroom decoration
,
Teenage girls bedroom decor idea
Last modified: October 13, 2022