As an extension of your house's master bedroom, the master bathroom sometimes follows the bedroom design or looks completely different. Either way, there are tons of ways to enhance the appearance and vibe of this particular area! Feel free to start getting inspired by some of our ideas below.
1. Tropical Bathroom
Feel as if you're on an exotic vacation every day by carving a tropical master bathroom with new wallpapers in palm trees motifs. Complement the look with small potted plants and elements giving off the vibe of beach-y style. The key here is to make use of bright and bold colors.
An easy way to bring a tropical feel to your bathroom decor is to use banana leaf wallpaper, which is dominated by green. In this room, you can also paint some of the shiplap walls in dark green as a perfect accent that can blend and work well together. This glass window that has a fairly large size makes the bathroom room not humid and minimizes your wooden furniture porous. Green banana leaf wallpaper from digsdigs.
Hexagon tiles combined with some banana leaf wallpapers can be perfected with monstera plants that have a fairly large size. You can place these indoor plants right next to the toilet so they don't interfere with your movement while in the bathroom, some pink interiors give a feminine impression that looks beautiful and sweet. Patterned tiles on the floor add texture to the room instantly. The combination of hexagon tiles with banana leaf wallpaper from digsdigs.
Not only applied to wallpaper and with just a banana leaf motif, now you can use a shower room curtain with a Monstera leaf pattern that has a blend of green and white. This green wall tile is perfected with some fresh and lush indoor plants, then the thing you can do in this tropical master bedroom decoration is to paint some of the walls with the same color to make it look more elegant. Monstera motif curtain shower room with green tiles from digsdigs.
When you don't use tropical wallpaper in the master bathroom decoration, then another way that you can apply to bring a tropical style is to apply some green plants randomly but still look neat and orderly. You can place it on the floor, on a table or hang it on the ceiling using a sturdy rope and a shiny brass pot. A palm tree that is quite tall is the focal point of a fresh room. Indoor tropical plants from digsdigs.
2. Black Tiled Bathroom
You can focus only on tiles by going to the main bathroom black tiles that will contrast with other colors. If you think black tiles will get too dark, you can dim them a little with warmer accessories.
Solid black wall tiles combined with white floor tiles are the perfect combination that brings a masculine feel and makes your current bathroom decor look more masculine. These two colors are loved by many people and will never fail to decorate a bathroom with any style including modern style which is added with some furniture made of natural wood. Masculine black tile from decoist.
Choose and use the black tile of the master bathroom as a luxurious appearance when perfected with several recessed lamps that are applied to the ceiling with a distance that is not too far away. In addition, this lamp also has brighter lighting so it is suitable for the feel of a dark bathroom. Toilets and countertops in white will instantly bring out a monochromatic feel. Dark color tiled master bathroom from decoist.
Black and gold are the perfect and luxurious color combinations that you can apply to the master bathroom decoration, gold colors and wall scones lights give the room a warm feel to the maximum. The gold color can be applied through the use of iron pipes and sinks. In addition, you can also use a simple patterned wallpaper that is dominated by solid black. A marble countertop with a splash of white is a neutral room color that works well. Black bathroom wallpaper and tiles from decoist.
3. Nautical Bathroom
Adding some nautical accents to the bathroom makes it a seaman's paradise that brings beach life every time you bathe. The maritime main bathroom utilizes the color of the walls and decorations of crystal ships such as spaceships and corals to get the dream bathroom.
The first impression when entering the bathroom is like a fun trip under the sea that you can easily apply, namely the use of a nautical style that is dominated by blue and white. Hang some marine ornaments such as starfish and crabs using natural wood frames that are quite large in size. The ship ornament in front of the mirror rack is an additional ornament that you can apply simultaneously. White and blue nautical bathroom from sebringdesignbuild.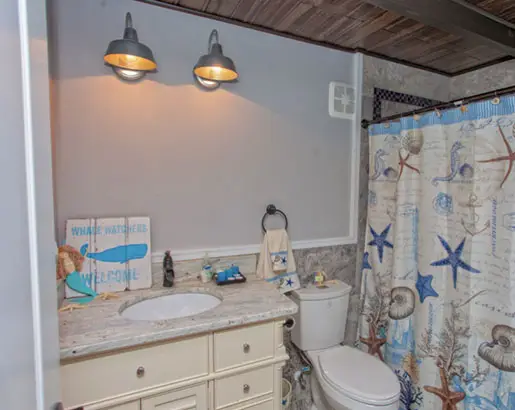 Not only using marine ornaments, but you can also use shower room curtains with a nautical pattern that has a starfish and shell pattern. Usually this nautical bathroom style uses a lot of white so you can apply it to the vanity cabinet, wall paint and toilet. Vintage wall pendant lamp is a warm bathroom lighting idea. Nautical pattern shower curtain from sebringdesignbuild.
Choose and use bathroom tiles with a combination of blue and white to emphasize the nautical style of decorating the room. Hang two anchors on different parts of the wall as a room decoration that looks contrast when you use white paint. The tiles used are permanent so they are very durable and not easy to do renovations that will cost a lot of money. Nautical color tiled bathroom from sebringdesignbuild.
The colorful geometric backsplash applied in this nautical bathroom decoration becomes the focal point of the room because it has unusual patterns and colors. Complete the appearance of this backsplash with a marble countertop and plain white shiplap wall. Then you can use a rattan wicker basket as the best storage idea that can be placed under the vanity cabinet so it doesn't take up a lot of floor area. Colorful geometric backsplash from sebringdesignbuild.
To emphasize the nautical style in your bathroom decor, use a hanging frame mirror rope on the wall of the vanity area as an important accent that can check your appearance or make up. The walls, which are dominated by blue, are the right combination, don't forget to decorate them with seaweed paintings framed using wood that has been painted using pure white color. Small herringbone tile floor ideas that you can try. Rope mirror frame mirror from sebringdesignbuild.
4. White and Brown Bathroom
The beautiful combination of the classic color of white and versatile brown requires no further explanation: you should've done a white and brown bathroom already! Play with the crystal light fixtures and decor accents to create a sophisticated look once blended with ivory.
Brown is one of the choices of earth tone color that can give a warm impression to the room. You can try to combine it with white in some of the interiors around it, such as bathtubs, sinks and ceilings. The dark brown color on some parts of the walls and floating vanity will look brighter when you complete it with several recessed lamps arranged on the ceiling with a distance that is not too far away. The LED built-in wall is an open storage shelf idea that you can make the most of. Brown wall and floating vanity from homestratosphere.
If you have chosen brown wall tiles, the next bathroom interior idea that you can apply is a clean white floor without a pattern. You can also apply floating transparent glass as an open storage idea that you can make the most of. Green plants become small decorations that are fresh and seem natural, you can move them from the garden to this bathroom decoration using a mini orange pot. Brown tiles from homestratosphere.
Wood material is one of the best choices that you can try on the walls and floors and ceiling shower rooms. This material has brought a natural brown color without having to be repainted. Choose and use a white oval bathtub as an additional interior idea that must be in the bathroom for bathing. Paint the remaining walls and ceilings with a clean and plain white color. Brown wooden floor, ceiling and walls from homestratosphere.
5. Cottage Bathroom
Going for a cottage master bathroom requires the neat combination of antique shelves, a wooden chair, and plenty of natural light. If you satisfy these, then your cottage bathroom is soon on the way.
Cottage-style bathroom decorations usually use some vintage furniture such as clawfoot bathtubs, wooden cabinets, woven rattan rugs and reclaimed wooden chairs. Natural wicker baskets make the perfect container for some clean, dry towels. Open your shutters during the day to let more sunlight into the room freely. Vintage bathroom furniture from bhg.
White is one of the best color choices that is widely used in traditional cottage bathroom decorations. Wooden vanity cabinets and small stools add personality with the classic color and style of the bathtub. For a less permanent addition of color, use a rose arrangement with a white ceramic vase to both energize the room. White nuances cottage bathroom from bhg.
We hope those ideas above can help improve your master bathroom splendidly.
(Visited 111 times, 1 visits today)
Tags:
Bathroom Decoration
Last modified: October 17, 2022