A true farmhouse decoration uses some of a lot of salvaged and repurposed objects. They are perfect for rustic and sustainable living room décor ideas. Using old objects in unique ways can bring fresh twists into an otherwise regular-looking living room.
There are endless possibilities in using repurposed objects for a farmhouse living room. Some objects may be more popular than others, which you can find at online stores, flea markets, or storage spaces. Here are some great ideas to try.
1. Old Chests
Old wooden chests provide both decorative and practical functions. You can use a chest as a coffee table and store magazines, books, or other stuff in it. Cover the chest with a fabric you like to make it more suitable for a charming farmhouse living room.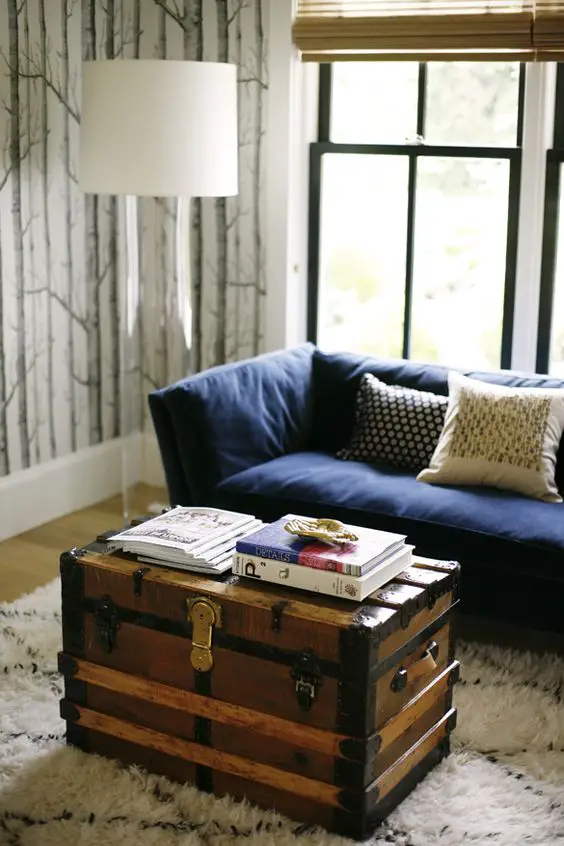 An easy way to get the impression of a farmhouse in your home decor is to use used items that are used again for conversion. For example, if you still keep the old chest in the warehouse, try to repaint it using a shiny finish to make it look like new. Use this old chest for a coffee table as well as a book storage that is neatly arranged on a decorative table surface in the living room. Reuse the old chest as a coffee table from digsdigs.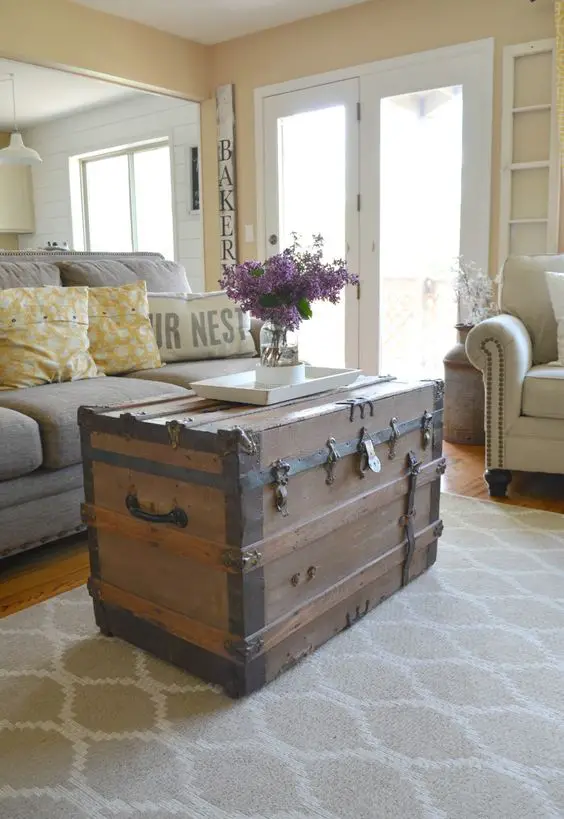 Using a coffee table from an old chest is a smart idea to create a farmhouse decor in your living room decor. Old chests can also make your living room look more artistic, so your living room will have a new focal point that is very eye-catching. In addition, an old chest made of reclaimed wood will also make the atmosphere of the room warm. The flower vase is a beautiful decoration that you can place on this table with a white ceramic look. Old chest coffee table from digsdigs.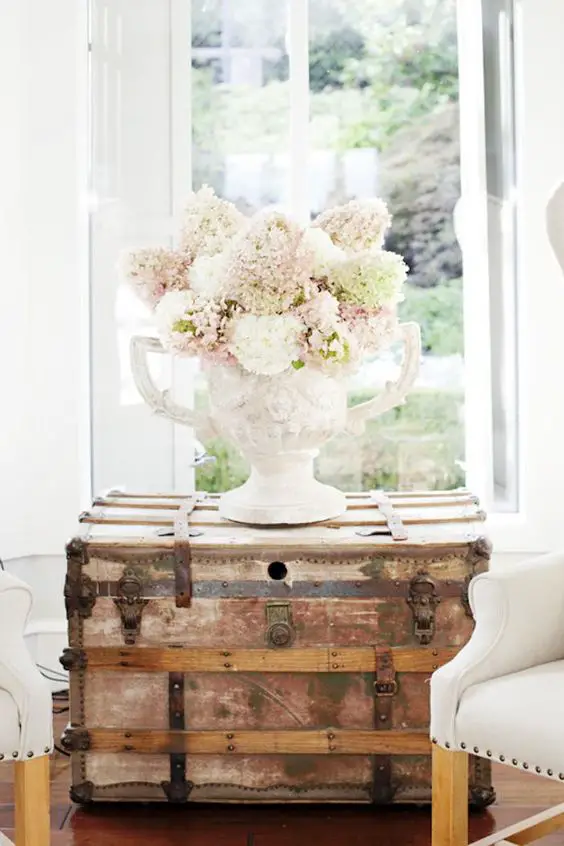 You can also use an old wooden crate for a side table in the living room in your home. So that your living room looks more cheerful and not boring, try to combine an old chest side table with flower plants in large ceramic pots that will give a cheerful color to the living room. No need to reapply paint for a more vintage look. Vintage style old chest side table from digsdigs.
If you want an all-white farmhouse living room theme, you can also match the color of the old chest of the side table that you will place in the living room with white. White is a neutral color that is still popular and many people use it, this old chest table has a storage function underneath so it will work better when placed in a small room. You can try this furniture easily and without having to spend a lot of money. Old chest table with storage underneath from digsdigs.
2. Glass Jars
Old glass jars are quaint decorations that you can repurpose for a lot of things. You can turn them into flower containers, filling them with summer flowers and twigs to create a rustic garden look. You can also fill them with colorful pebbles, sand, and seashells for a beach-themed living room.
An easy idea that you can apply to other farmhouse living rooms is to use glass jars as a beautiful additional decorative item. You can convert the glass jars as fake flower pots that don't require complicated maintenance, place these glass jars on floating shelves to keep them safe from the reach of children. Enough in this way your farmhouse living room will look more beautiful with a small budget. Glass jars pots on floating shelves from homebnc.
You can put some glass jars on the coffee table in the living room of your farmhouse. Glass jars that are placed in groups with wooden board containers will make your farmhouse living room look more beautiful. You can also paint some of these glass jars with a dull color to make them look more aesthetic, you can also add more supporting accessories, such as ribbon straps that are tied to each jar. Repaint jare vase from homebnc.
To give a cheerful impression to your farmhouse living room, try adding several types of flowers with bright colors. For the right container you can use a glass jar filled with water. This glass jar filled with water will help the flowers to survive to look fresh and bright and not wilted, you can try this room decoration easily without having to buy it at a more expensive price. Flower jar with water planting media from homebnc.
You can place a glass jar that is used as a flower container on the top edge of the fireplace in the living room. This is done to fill the empty space in the fireplace area. To make your fireplace decoration look more balanced, you can place jars on both sides with the same height and size. Use colorful flowers to add a more pleasant atmosphere to the room. Glass jars of colorful flowers on both sides of the fireplace from homebnc.
3. Distressed Wooden Furniture
Old wooden furniture that are too worn out to sit on can be used as accent tables. Repaint the chairs with your favorite colors, but let the distressed effects stay. Place a table lamp, a stack of old books, or flower containers on top. They are simple but unique living room décor ideas that work in almost any living rooms.
You can try distressed wooden materials by using a coffee table that looks vintage and shabby chic. On the surface of this table you can put a wooden tray filled with matching vintage decorations, farmhouse living room decorations usually use neutral colors that are not flashy so that they are easier to combine with other interiors around it. A rug lining in faded colors makes for a lovely vintage accent. Distressed wood coffee table from digsdigs.
Do you have distressed wood that is no longer in use? If you have it then you can turn it into a DIY coffee table that is cheap and easy to make. You can do a sweet final look by repainting it with gray and a ceramic vase containing blooming roses. This flower gives a fragrant aroma around the room evenly. Repainted distressed wood coffee table from digsdigs.
If you need a comfortable and inexpensive sitting area in the farmhouse living room decor, then you can use a wooden bench that has a splash of white paint and is covered with some throw pillows and a shabby blanket. This bench can be combined with a rattan wicker side table which both has a natural and vintage impression. Combination of wooden bench with rattan wicker side table from digsdigs.
The interior decoration of the farmhouse living room which is dominated by white and wood accents is a room idea that feels more comfortable and natural. Currently you can use a high distressed wooden table that has been repainted in brown so it looks new and not shabby. The table behind the sofa is equipped with drawers and empty space underneath which can be used as an open storage idea by adding a wicker basket. High wooden table with built-in storage from digsdigs.
This rustic farmhouse living room is perfected with some shabby interiors such as a shabby linen sofa, wooden beams ceiling and a distressed wood side table that looks more natural and inexpensive. This side table can function as an area to put some small items that are often used such as a TV remote or some magazines that are often read. Small distressed wood side table from digsdigs.
4. Shutter Panels
Old window shutter panels can be repurposed individually as various objects. You can install a floating shelf on it and attach the shutter on the wall. If you have a lot of shutter panels, you can arrange them to create a wall accent. You can also attach a chalkboard to create a message board.
Giving a touch of wall art to your farmhouse living room by using a shutter panel is an idea that you can try. To keep it looking elegant, repaint the shutter panel with brown wood color to maintain a natural impression. You can also hang an equal number of white ceramic plates on both sides of the shutter panel hanging between the classic mirrors. Don't forget as a fresh finishing touch, you can complete it with the presence of a moss green bouquet. Shutter panels wall decor with plate accents and wreath from homebnc.
DIY wall decor that can change your farmhouse living room to look beautiful and cheap is to use shutter panels which are perfected with galvanized pots that are hung on both sides of this DIY wall decoration. For example, by adding motivational words or special words that you will always remember. With this you can make the center of attention of everyone in your farmhouse living room. Shutter panels wall decor with sign from homebnc.
This shutter panel made of reclaimed wood can be re-polished a bit using a color that matches the color tone of the room so that it blends in more perfectly. White is always the best color choice that can be applied in the farmhouse living room. The white wreath that is hung between the shutter panel wall decorations is a perfect accent that can be applied simultaneously in one room. Shabby shutter panels with white wreath from homebnc.
Decorate the walls of your living room with two wooden shutter panels that are no longer in use, so that this wall decoration does not interfere with your space and can be used as the focal point of the room, then you can hang it on the back wall area of the sofa. The design of these shutter panels looks more natural because it doesn't apply paint with a flashy or bright color. Paintings are perfect wall decorations that you can imitate. Natural wooden shutter panel wall decor from homebnc.
You have unlimited living room décor ideas with some creativity. Explore many possibilities to create the best farmhouse living room by being more environmentally conscious.
(Visited 327 times, 1 visits today)
Tags:
Farmhouse Living Room
,
Repurposed object for farmhouse living room decor
Last modified: October 18, 2022