While all plants are sleeping during the winter, your planters should not be left empty. You can fill those containers with all the greeneries you always have for decorations. Pine tree sprigs, evergreen branches, decorative branches, cranberries, you name it. All those are the essentials of your winter planter. Let's learn how to decorate your planter from these ideas. It can be a solution for your winter decoration ideas.
1. Two Planters for Each Side
Do you have two traditional urns outside? It's too bad if they go in vain. Rather than filled with snow, decorate them with greeneries. Live up your house in this cold weather with decorative birch tree branches, greenery, cranberries, and pinecones. Place them by the door to get the house an instant, bright look.
Adding two traditional black jars complete with some pine plants and pine cones will make your patio decor more stylish and will welcome your guests cheerfully. You can add Wreath greenery to the entryway for a stunning display. Two traditional black jars from thespruce.
Transforming the winter terrace by adding traditional white urns to the right and left of this entrance will welcome your guests with joy. You can add pine trees and cones to give a charming terrace appearance. You can also add lanterns and galvanized pots to spice up your winter décor. Traditional white urns from thespruce.
Making jar arrangements for the winter can be cheaper than you think. You can add cheap artificial flowers with natural elements found on the page. Placing it on the right and left of the entrance will welcome your guests cheerfully. Jar winter porch decor from thespruce.
A container arrangement filled with natural elements that can withstand winter weather is a great way to spruce up your patio. This urn is beautifully appointed featuring tough fir and pine cones and decorative branches. This falling snow also vibrates winter to your terrace. Ceramic container from thespruce.
Two large planters filled with spruce trimmings, pinecones, logs and berries are the perfect solution for framing your front door. This decoration will welcome guests with a cheerful feeling. These tiny lights and fake snowflakes will add a winter vibe to your patio decor. Two large planters from digsdigs.
2. Welcoming Planters
Welcoming items should be colorful and bright. Thus, all-green is not an option. Combine the green with some red and yellow from berries. Add some brown and white colors from pinecones and birch tree branches. Arrange them in one or several planters around the entrance. Your guests will love seeing your winter planter.
Spruce, branches and berries make a festive welcome when placed in antique galvanized buckets. You can even save a few bucks by using an actual sled instead of props. This is an attractive, low-maintenance winter patio decor. Snow flakes on the terrace of this house will give a charming appearance. Branches and berries ornament from countryliving.
The charming terrace decoration will welcome your guests cheerfully. Just add a green pine tree complete with some white winter ornaments such as birch wood, weathered chests, and bare branches that will make your room decor look attractive. Don't forget to add a garland of tree branches to create the perfect look. Pine tree winter ornament from thespruce.
You can use this red truck for an interesting planter decoration idea. You can easily decorate your terrace with this flower arrangement. This is an easy and effective way to breathe the holiday spirit into your patio. Complete this planter with cotton flowers, pine trees and ribbons that will offer an attractive look to your winter patio. Planter winter decor from homebnc.
Welcoming guests with this cheerful feeling you can try in decorating your terrace. Complete the look by adding a planter complete with pine trees, pine cones and lumber. This will set up your patio planters. Place them in antique jars for an eye-catching display. Pine trees and pine cones from southernstateofmindblog.
For a sophisticated and refined winter-ready patio, adding flowers to make these two over-the-top arrangements will steal the attention of every guest who comes to your home. Use these planters as inspiration. Adding color to these planters will cheer up your guests. Winter patio decor from housebeautiful.
3. Going Rustic
If your house has a rustic design, this idea is perfect. When mentioning rustic, your planter must be in the form of a metal bucket or anything made of reclaimed wood. Anything will do as long as you match the color of pinecones with the planter. Keep greeneries you use in their natural color. Finish the look with some brown ribbons or papers.
This charming farmhouse-style terrace features galvanized pots and tall urns on your front door. You can use this planter to grow greens, magnolia wreaths, wooden "Welcome" signs, and Welcome Mats. This layered black and white mat also completes the look of your terrace. Galvanized pots and tall urns from onekindesign.
You can create a stunning winter wonderland view on your front porch. Choosing white pine complete with wood planters and wire baskets will make for an attractive patio decor with a natural touch. Placing it on the right and left side of the door, which is equipped with several candles, will present an attractive room display for you to try. Winter wonderland ornament from homebnc.
The use of this reclaimed wood planter will give a natural touch to your terrace. You can also arrange fairy lights around the house to brighten up the room. Don't forget to add lanterns, garlands, and garlands from this wicker basket to give it a charming atmosphere. Reclaimed wood planter from homebnc.
There are so many fun ways to decorate your winter patio. Using several galvanized pots of various sizes will provide an attractive appearance for you to try. Complete the look with a small pine tree and some twinkling lights on the trees to help them stand out. Galvanized potted from homebnc.
Like this sink look for planters, you can add it to your winter patio décor. It has a lovely rustic look if you complement the decor with red ribbon. This vintage sink planter will perfectly complement your DIY farmhouse winter decor. Adding chopped firewood, green and clear light to the sink ii will be the perfect focal point of the room. Winter patio décor from diyncrafts.
A few baskets and old pinecones will create a festive look for your winter front porch. Just add a pinecone and a few sprigs of spruce to your basket. Complete the look by adding lights, ribbons, ribbons, and ornaments with a little decorative touch. These are the easiest and probably the least expensive planters to make. Old basket planters from diyncrafts.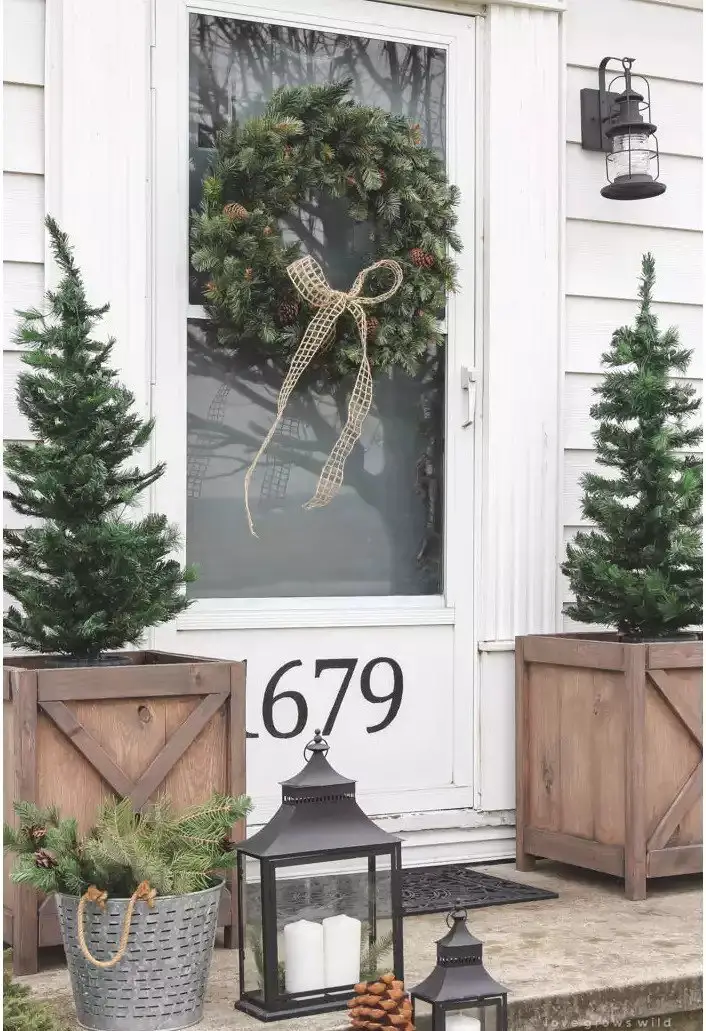 Wood planters, lanterns and of course fresh greenery are the main ingredients that make for an inviting winter patio. Adding this galvanized metal case will also add a rustic feel to your decor. Don't forget to add a wreath to the door, which is finished with burlap ribbon for a stylish touch. Wood planters from thespruce.
These winter patio decorating ideas are beautiful and striking. This terrace has a large display, and this towering display will look magnificent on a fairly large veranda. It will give a rustic look to your room decor. Add some long birch branches that make a bold contrast to the lush greenery, and along with some red trimmings. This decor creates a fun red, green, and white winter theme. High planter from homebnc.
4. With Birds
Seeing birds in the winter can cheer you up. Their appearance suggests that the winter will soon pass, and the sunny days are near. While waiting for the real birds to appear is almost impossible, use bird toys. Attach them on the decorative branches in a planter. Perfect the look with greeneries, berries, pinecones, and a birdhouse.
Decorating a winter garden with a few birds in this interior will make a charming patio decoration and steal the attention of many. You can complement this plant with car berries, pinecones, and bird cages for a charming design. Place this plant next to the patio door of your house. Winter garden with a few birds from gardentherapy.
This charming winter patio pot is decorated with a Red Cardinal and a birdcage. Some of these red-colored birds would also make amazing planter decorations. Choosing this black urn planter will balance the decor. Winter patio decor from apieceofrainbow.
5. The More the Merrier
You can always put everything you have in your planter. If you have everything needed for the container, arrange them in such a way that looks beautiful. Combine some colors from white to red to look festive.
This winter planter range will add a rustic vibe to your patio decor. Choosing pine leaves complete with carn berries and fruit will give a charming look. Don't forget to add bare wood which will give a rustic touch to the room. Winter planter range from homebnc.
Country milk can be an attractive planter for your home's winter patio design. With evergreens and carm berries this will make for a beautiful patio decor. Don't forget to add a final touch of burlap ribbon to the mouth of the milk can for a stylish look. Milk can planter from homebnc.
These winter white branches with spruce will complete your patio decor. You can do this yourself to produce the perfect focal point of the room. The white color on these twigs will create an attractive appearance. Winter white branches from homebnc.
This festive poinsettia milk can planter uses some greenery, red twigs and carn berries to make the perfect room decor. These faux burlap flowers will also make for a charming planter decor. Don't forget to add candy canes for the perfect patio decor. Milk can planter from homebnc.
The rustic style of this winter planting adds a natural vibe to the entire room. You can use some rustic ornaments such as tree branches, pine leaves, pinecones, star decorations from ropes and burlap ribbons for satisfying results. Placing this planter in the corner of the terrace will warmly welcome your guests. Rustic style planter from homebnc.
So, which one is your favorite winter planter?
(Visited 43 times, 1 visits today)
Tags:
Winter planter ideas
Last modified: December 17, 2021