If you only think of a real snowman shape to be presented to your winter decoration, then you should continue to read this page. Well, there are so many ways that you can do to present the snowman for your home decoration. The materials and the design itself could be varied. Well, imagine that you can even have the snowman wreath or fence! It will be awesome to have the snowman here and there for winter decoration this year. You can have it in different designs so that your decoration won't be seen as boring. Find the ideas on how to bring the snowman for your winter home decor this year and get an adorable decoration during the season!
Snowman Wreath
Snowman is one of the ornaments that can be installed and used to welcome winter this year. Now you can use a front door wreath with a snowman pattern made from a series of green plants. Green is a natural base color that can be complemented with red ribbons, hats, and scarves to make it look more festive and contrasting. This greenery snowman wreath provides a traditional style that's perfect for dressing a white front door so it doesn't look too plain. Furthermore, the hands of dry twigs become the final perfection that can be obtained easily.
Hanging Snowman Wreath from homebnc
Reuse Fabric Snowman
Do you have some white clothes that are no longer used? If you have it, you can reuse it as a DIY snowman cloth that can be placed as a winter theme outdoor decoration. The fabric used will be more resistant to all weather changes outside the room. So that this cloth can form around, then you can also add Styrofoam on the inside. Add some other materials to perfect the shape of this snowman, for example, you can use branches as hand accents and burlap fabric as a tie which will be a beautiful companion to put on the terrace or near the door.
Reuse Fabric Snowman from homebnc
Wood Log Snowman
Take advantage of a little floor area to put snowman ornaments made of logs. Currently, you can put it in the area around the stairs that are often visited by people so that it can be used as a winter-themed home decoration. Usually, these snowman logs have a rustic touch because they appear naturally without polishing and repainting. A snowflake pattern tie and eye and nose painting are the finishing touches that complete this snowman look. Don't forget to combine it with other ornaments such as hanging velvet socks which have black and red colors.
DIY Log Snowman from homebnc
Upcycled Book Snowman
Boost your creativity in winter by making DIY snowman craft ideas made from recycled old books so they don't become trash when you throw them away. This is one of the very clever and fun winter decorating ideas, use some books to make several levels of round shapes so that they resemble a snowman. The plastic tie and dry twig hands make this snowman design look simpler and less expensive to make. After everything is neatly arranged, you can put it on a table that is often visited by people as a different view and decoration.
Upcycled Book Snowman from homebnc
Pallet Snowman Wall Ornament
If you want to bring a rustic feel to your winter-themed home decor, then you can use one of the ornaments made of wood pallets and then paint and paint them like a snowman. This DIY craft has more freedom to make a snowman according to your personality. After everything is finished being painted and painted, then you can wait for it to dry and then hang it on the empty wall of the house. The wall with a blue background makes this snowman look more contrast, you can try it now.
Pallet Snowman Idea from homebnc
Glass Bowl Snowman
The hot cocoa bar is a must-have centerpiece in winter home decor. This place will be an area to warm your body with guests or family by making a cup of warm chocolate while watching the snowfall outside. Furthermore, to bring the snowman into this room is to use several glass bowls which are stacked in three vertical sections, this snowman bowl is functional because it can also be used as a storage for cocoa powder and chocolate bars. Complete the appearance of this snowman with a tie, button-down shirt with a size large enough, and a hat for a more maximal look.
Glass Bowl Snowman from homebnc
Snowman Fence
If you want to make cute snowman crafts outdoors then you can use wood that can be repainted using pure white color. Once finished, this artificial snowman can be applied to the porch fence. You can make this snowman a larger size so that it can be used as an outdoor focal point. A red scarf and black hat make perfect accents that can build a winter scene for all your guests and household members to admire.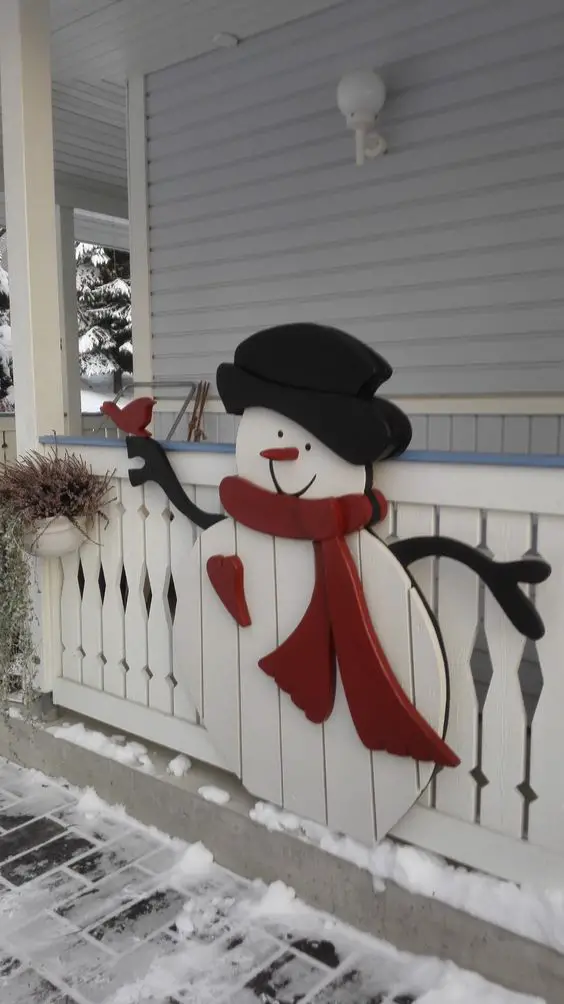 Snowman Fence Ideas from digsdigs
3D Pallet Snowman
To emphasize the winter decoration on the porch decoration, you can put a 3D snowman in the corner of the room so it doesn't interfere with your space. You can make it bigger and taller so it can be seen more clearly, don't forget to combine it again with hanging flower bouquets for a more festive and fun look. Hang this wreath with a white ribbon that looks shiny. Usually, this snowman pallet is used in a rustic-themed porch or farmhouse decoration.
3D Pallet Snowman from homebnc
Sign Snowman
The sign on this snowman displays a warm winter greeting, this sign uses red paint so that it looks clearer and of course can be seen from a greater distance. The snowman has a more friendly and funny face that will make your guests smile when they see it. Complete the appearance of this snowman with a black hat, striped scarf, and greenery that are arranged neatly and orderly. Align your snowman placement with the fence leading to your house.
Outdoor Sign Snowman from homebnc
Snowman Painting Board
Choose and use a wooden board to be used as a winter porch decoration by turning it into a snowman painting dominated by a combination of black and white. Use a black background so that this snowman painting looks clearer and certainly attracts attention. In addition, this painting will also show off your creativity with designs that you can do according to what you want. The presence of ornaments on the porch decorations is fun to be seen by your guests or family who come to your house when winter arrives.
Snowman Painting Board from homebnc
(Visited 119 times, 1 visits today)
Tags:
home decoration
,
snowman
,
Winter Decoration
Last modified: December 24, 2021