It is known that winter has a magical impression so that it can be great if you apply the winter touches to your home decoration including your furniture. We do recommend you to have the winter touches to your centerpiece decoration especially the dining table. Imagine that you can have such a magical look when having a meal together with your family or close friends. There are some accessories that you can add to the decoration such as evergreen, pinecones, snowy effect, decorative candles, or a small Christmas tree that will add a magical impression to the decoration. You will see some perfect magical winter centerpiece table arrangements below. Choose the ones that can match well with your table size and shape. Also, consider matching it with the decoration style you have for your house.
It's a good idea before arranging the centerpiece decoration on your dining table to coat the table surface with a plaid table runner layer which has a combination of red and white colors so that it will look more colorful. Furthermore, for the winter centerpiece theme, you can combine several materials that are easy to get. For example, a combination of greenery, a mini Christmas tree, and some candle holders is a smart idea that you can use. With this, the appearance of your dining table will look very festive and fun. Plaid table runner centerpiece layer from digsdigs.
There's nothing wrong with decorating your winter centerpiece with a rustic style and theme that looks natural and shabby chic. Currently, you can use a dining table made of reclaimed wood without polishing and repainting. Combine pine needles, pinecones, and wooden tree ornaments that are quite large, then the candle pillar with a splash of red gives a warm effect to the surrounding room. Everything on this dining table can be arranged neatly and orderly so as not to interfere with your space when eating on this table. The wicker rattan dining chair is a suitable sitting area to use with this reclaimed wood dining table. Rustic theme centerpiece from digsdigs.
To add to the visual appeal of decorating your winter dining table, it's a good idea before arranging the centerpiece decorations, you can layer it first with a checkerboard tablecloth which has a mix of black and white. Next, you can put pinecones, greenery, and glass candle holders which are quite large in size. The dining table and white napkin placed on this wood slice add a natural feel that can be easily found at the craft store near your home. Choose a napkin made of cotton that is equipped with a pine tree and a small deer pattern. Checkerboard tablecloth centerpiece from digsdigs.
Do you want to present a monochromatic and modern style and theme on the winter dining table? Black and white candle pillars are a smart idea that you can apply. Furthermore, pine leaves, frosted pinecones, and paper ornaments are perfect items that you can arrange as part of the centerpiece decoration that you can easily try. You can get pine leaves and frosted pinecones in your backyard garden, so you don't have to buy all of them and of course, save a lot of money on decorating this winter theme. Turn on all these pillar candles at the same time so that they can be used as lighting as well as warm the room temperature. Monochromatic and modern centerpiece from digsdigs.
Adjust the use of the centerpiece design with the size and shape of the dining table that will be used. When you use a round dining table with a size that is not too big, then you can put a greenery Christmas tree on the dining table to be used as a winter centerpiece decoration that can be combined with strong light and a series of fresh green leaves. Because this dining table is covered with a white tablecloth, it looks more neutral and your centerpiece decorations can be seen more clearly and in contrast. Striped napkins on your dinner plate add color and texture to designs that never go out of style. Greenery Christmas tree centerpiece from digsdigs.
So that your centerpiece decorations are neatly arranged on the dining table, then you can use a wooden box that can be filled with greenery pine trees, and candle holders. All of these winter ornaments will work well together to decorate a shabby chic dining table that has neutral colors such as white and light gray. Add a bit of a different color by using a plaid napkin that has a red tint. This dining table decoration is perfect when applied in a rustic or farmhouse style dining room. Shabby chic centerpiece from digsdigs.
The combination of pine tree ornaments and dry twigs repainted in white is a good combination to make a centerpiece decoration. You can complete the look of dry twigs with a silver metallic hanging ball. Plaid tablecloths with neutral colors are an excellent layer to coat your current wooden table because they can also give a room a texture that looks elegant. Some slice wood placemats can be obtained easily and present a natural feel that is not excessive. Neutral winter centerpiece from digsdigs.
The series of greenery garlands placed on this rustic-themed dining table keep the setting low and allows you to more easily have conversations with your guests or family when having lunch or dinner together. Not only garland, but you can also add several candlesticks with different heights as an additional warmer accent. Before applying this centerpiece decoration, it's a good idea to coat the wooden dining table with a table runner made of shabby fabric which has a neutral color. Greenery garland centerpiece from digsdigs.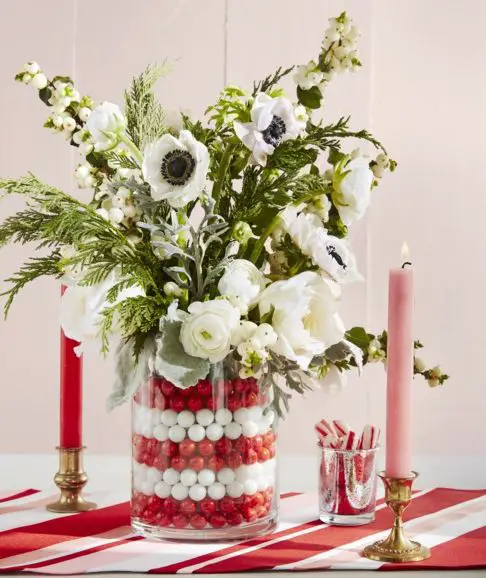 Cover your white table with a red and white tablecloth for a fun and colorful initial look. Now you can put a transparent glass vase containing minty green and white florals that are blooming. Both make a very good combination for a winter centerpiece decoration, these two candlesticks that have a shiny gold color provide a splash of luxurious color that is not excessive. You can fill the vase with small balls that have the same color as the tablecloth used. Winter floral centerpiece from countryliving.
There is nothing wrong with using classic ornaments as winter centerpiece decorations. For example, you can use a classic candlestick that has a shiny gold color. Furthermore, blue candles can brighten the atmosphere of the room or rather on the dining table that is used. Metallic and greenery balls are additional decorations that can be combined perfectly. Layer some ornaments and candles with a table runner that has a feminine color like pink for a more extra beautiful look and a different look. Colorful centerpiece from countryliving.
The table will get extra warmth thanks to several candle holders that can be perfected with other ornaments such as star grain ornaments and bottle vases filled with dry tree branches repainted in white. All the combinations of materials that are on the dining table can be neatly arranged to be made into a winter centerpiece decoration, you can just use a few neutral colors to make it easier to combine with other interiors around it. Previously, you could resurface this wooden dining table with a patterned table runner that has a combination of white and beige. This centerpiece decoration can be arranged alone or with your family to fill the void during the weekend. Neutral color centerpiece from countryliving.
This farmhouse-style dining room decoration can be perfected by using a simple forest-themed centerpiece design by using a mini winter forest tree placed in an antique reclaimed wood crate. This centerpiece design will last longer because it is not equipped with other small ornaments that are usually around it. Tables, chairs, and wooden walls are a blend of the interior of the dining room which emphasizes the vintage feel that is not excessive. Furthermore, the hanging wreath applied in front of the window becomes an additional room decoration that can be assembled easily. Forest themed centerpiece from countryliving.
Pinecones are indeed quite popular to use as winter centerpiece decorations, but it's a good idea to arrange these pinecones with a different design. Instead, fill your unique vase with pine cones that come in a variety of different sizes. Not only pinecones, but you can also combine them with some dry twigs that you can easily get in your backyard garden. Arrange the centerpiece according to your wishes for maximum results and as expected. Vase of pinecones and dry twigs from lizmarieblog.
Creating the perfect winter dining table scene doesn't always require an elaborate centerpiece. Instead, it can be as simple as using candlesticks and candleholders of different heights and sizes. In addition to candles, you can also put a ceramic vase filled with small white flowers that are placed well between the two sides of the candle. This candle accent is a warmer as well as lighting that can be used according to your room temperature needs. Combination of candlesticks and candleholders from lizmarieblog.
Why buy if your winter centerpiece material is in the backyard garden, this will be very profitable for you because it only costs a little. The log candle centerpiece is an idea that you can try that will inspire you to make your own with a more traditional natural look. The log candle centerpiece is also surrounded by pinecones and pine needles which makes it look even more perfect. You can arrange it neatly so that it becomes a pretty impressive sight. Log candle centerpiece from lizmarieblog.
If you want to bring a snowy feel to this centerpiece dining table decoration, then you can use green plants that are sprayed with white fake snow. It's not enough to get here, you can also put deer ornaments and white candles in an elegant and very neat arrangement. This all-white decor is more of a winter theme when you cover the dining chairs with a faux fur blanket that has a warm and soft surface. You can imitate this dining table decoration right now. Snowy centerpiece from lizmarieblog.
Before applying the winter centerpiece idea to your wooden dining table decoration, it's a good idea to coat the table with a table runner that has a neutral color. After it is installed neatly, you can put various sizes of candle lanterns, greenery, and pinecones that seem natural. Place the largest candle lanterns on both sides of the dining table as a counterweight. This candle lantern functions as a heating accent as well as a lighting idea that gives a warm effect to the room and makes the area around it seem more dramatic. Candle lantern centerpiece from lizmarieblog.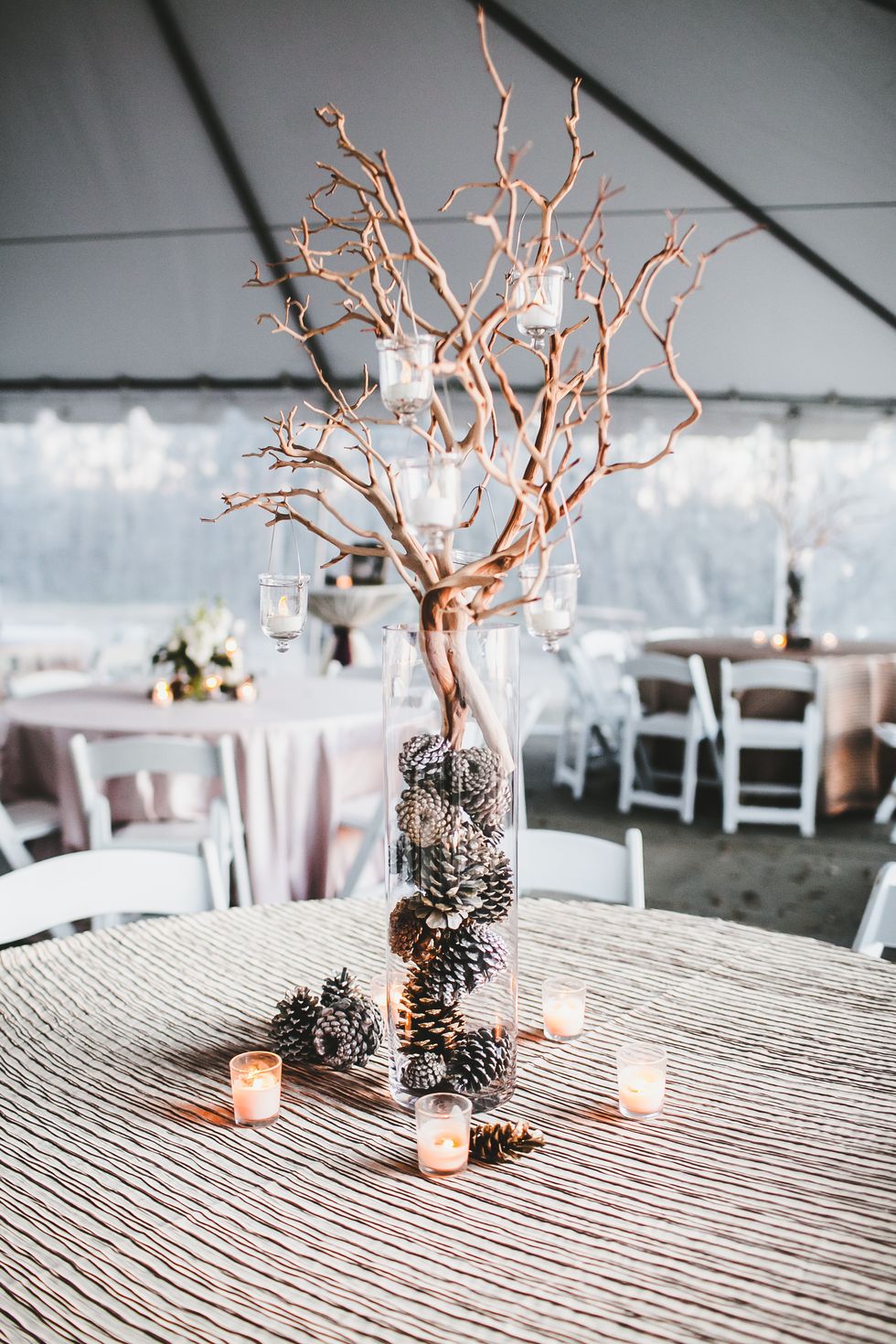 If you have a larger number of pinecones, then you can use them as centerpiece decorations that can be put in a transparent glass vase with a fairly high size. This vase is also perfected with the use of dry twigs which are perfected with a lantern candle holder. Then you can surround it with several small glass candle holders that will give a warm and dramatic effect to your dining table decoration. Because this centerpiece only uses natural materials that can be found in the garden, the expenses will be more efficient and cheaper. Pinecones and candle holder centerpiece from elledecor.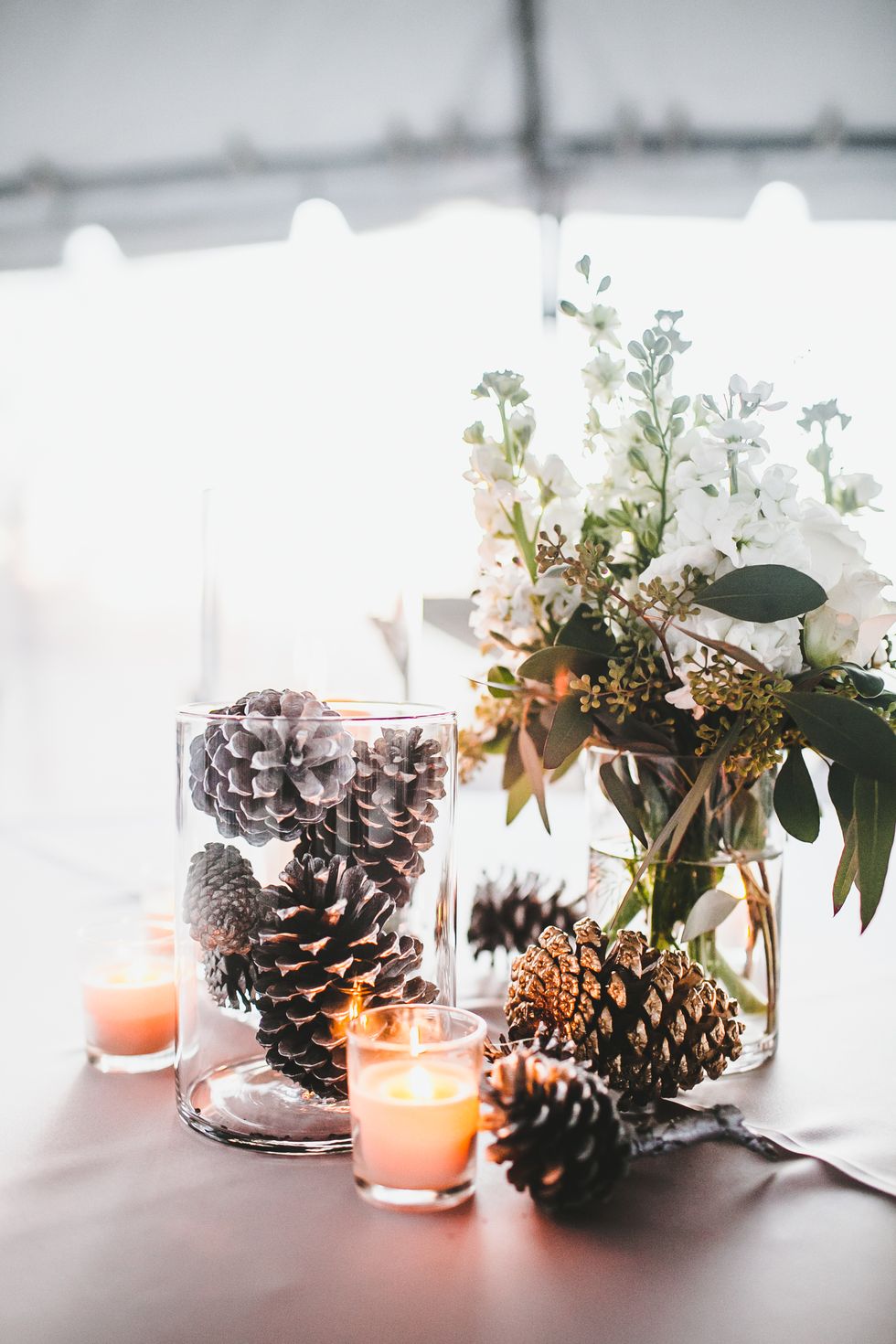 For a change on the winter-themed dining table, then you can add a simple centerpiece decoration that can combine pinecones ornaments, candle holders, and blooming white roses. Select and use two transparent glass vases filled with the centerpiece material that you have. Fill a glass vase with water as a medium for growing flowers to keep them growing lush and fresh. Before being used, the vase that is used needs to be cleaned first so that it still looks clean and shiny when exposed to the reflection of the candle holder around it. Flowers, pinecones and candle holder centerpiece from elledecor.
Nothing adds more warmth to your dining table decor. From glass candle holder vases to greenery and low paper ornaments that bring the most basic candles to life on this dining table. Create a multi-height centerpiece with glass vase candle holders of different sizes and heights. The faux fur blanket that is applied over the dining chair becomes an additional heating accent that can be used when needed. Candle holder glass vase from elledecor.
You don't have to think too much about the center of your centerpiece. Here, you can see how beautiful the boho table runner is when it is decorated with garland greenery which is perfected with twinkling string lights that give the room a warmer and more dramatic effect. The teak wood dining table is one of the furniture choices for the farmhouse dining room which has a more solid surface and is not easily porous. To bring a modern touch, then you can use the sofa as a comfortable sitting area which you can complete with a thick knitted blanket. Boho style centerpiece from thepioneerwoman.
Just because it's winter, doesn't mean you have to decorate the entire dining table in white. Now you can try to use greenery garland which is perfected by using candlesticks that have different heights and sizes so that it looks more varied. In addition, some furniture made of wood is an important part of presenting a farmhouse theme that looks natural without any paint. Candle chandeliers that are hung right above the dining table are an additional heating accent that can be used simultaneously with the centerpiece candlesticks that you have. Farmhouse centerpiece decor from thepioneerwoman.
Or when you want to present a modern and minimalist style, then you can use a white dining table decorated with some shiny winter ornaments such as metallic balls that have silver, white and blue colors. A fairly large deer ornament with the use of candle pillars is a very firm winter centerpiece idea. Layer the centerpiece design on this dining table with a table runner made of white faux fur for a warmer look and of course giving a luxurious effect that is not excessive. This centerpiece theme is quite popular to try this year. Minimalist winter centerpiece from thepioneerwoman.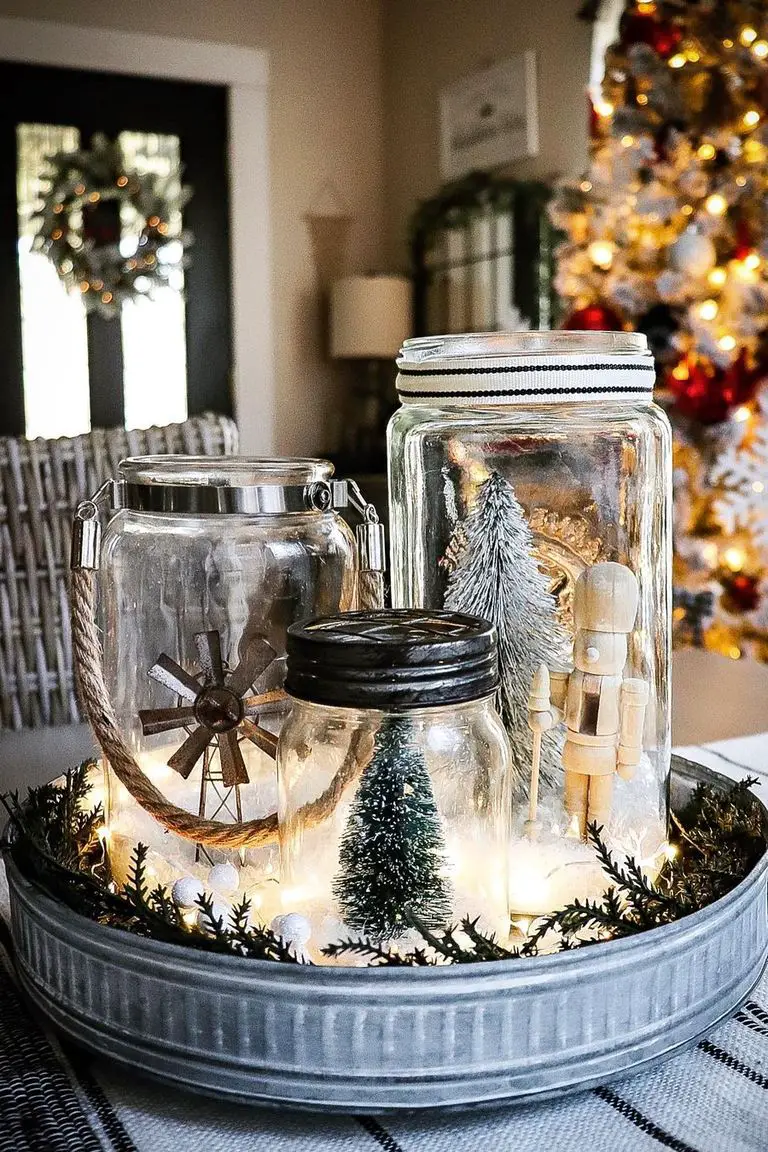 Do you have an unused mason jar at home? If you have it, you can reuse it as a winter centerpiece decoration that can be placed in a galvanized tray that has a vintage touch. You can fill this mason jar with pine tree ornaments which are equipped with string light lighting that has a warm orange color. Use more than one mason jar so that it can be used as the focal point of your winter dining table. This galvanized tray is also decorated with green plant accents that are suitable for use in rustic-style dining room decorations that look simple and inexpensive. Rustic mason jar centerpiece from thepioneerwoman.
Candles are one of the biggest symbols of winter, so why not spread out your table with a grove of its own? Pinecones and pine leaves can be a good combination that can be sprinkled on the centerpiece of the dining table neatly. A layer of ruffle fabric with a neutral color such as white is the best choice that can be used as a vintage-looking dining table background. You can copy and copy these winter centerpiece ideas for different looks and dining table views. Centerpiece with forest view from thepioneerwoman.
(Visited 130 times, 1 visits today)
centerpiece decoration
,
decoration
,
winter centerpiece
,
Winter Decoration
Last modified: December 31, 2021